Philadelphia Eagles Game Plan Guide vs. Baltimore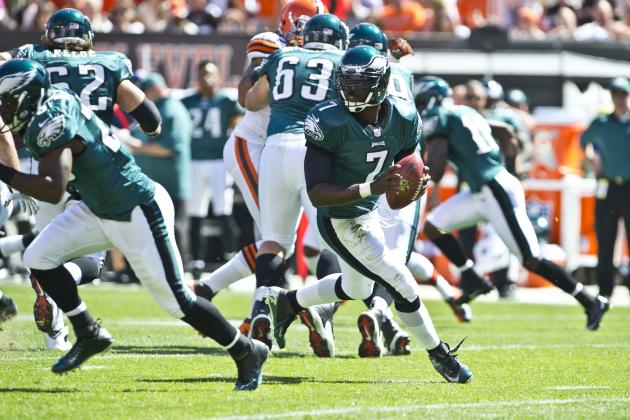 Jason Miller/Getty Images

Week 1 wasn't pretty.
Michael Vick threw the ball 56 times, including four interceptions, in the Eagles' 17-16 win in Cleveland. LeSean McCoy only carried the ball 20 times, but he averaged 5.5 yards per carry and finished with 110 yards on the ground.
Turnovers and penalties in Week 1 made the Eagles look like an 8-8 team at best. Finishing 8-8 isn't going to cut it this year.
Now it's Week 2, and the Baltimore Ravens come into Lincoln Financial Field for the first Eagles home game of the season.
The Ravens were very impressive in their 44-13 Week 1 win over a Cincinnati Bengals team that made the playoffs a year ago. As a result of this impressive win, the Ravens are the popular pick to win the battle of the birds in Philadelphia.
If the Eagles want to advance to 2-0, they will need to play a near perfect game. With the home crowd on their side, it's possible.
Begin Slideshow

»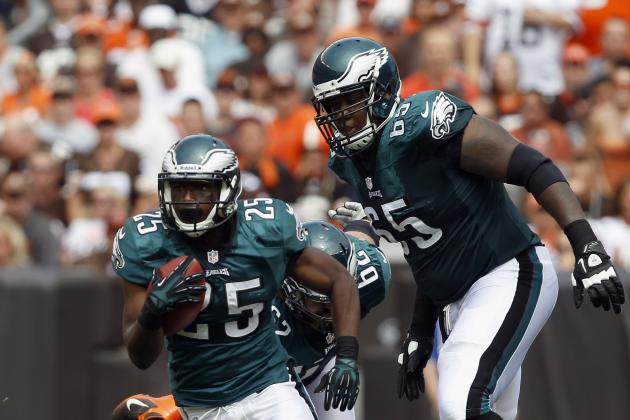 Matt Sullivan/Getty Images

It's no secret that Andy Reid likes to throw the football. That was never more clear than when he had Michael Vick throw 56 passes against Cleveland. But when you have one of the best running backs in the league, he needs to get at least 25 carries per game.
Baltimore gave up 129 rushing yards last week against Cincinnati, including 91 yards and a touchdown on 18 carries to BenJarvus Green-Ellis. Baltimore has a strong defense, but their rushing defense isn't what it used to be, and the Eagles can take advantage of that.
The Eagles love the deep ball, and if the offense can establish a strong rushing attack, that will open up the field for deep passes and explosive touchdown plays.
LeSean McCoy needs to get somewhere between 25 and 30 carries against Baltimore.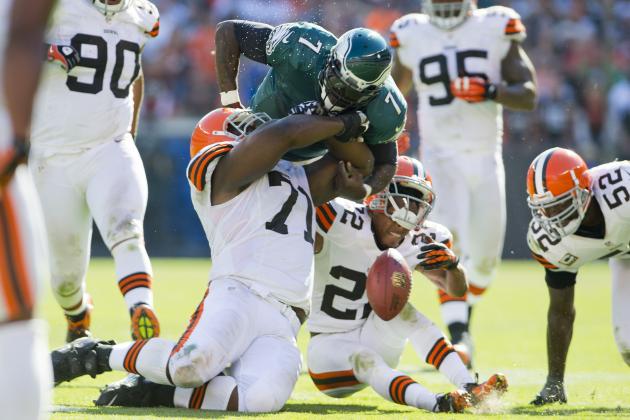 Jason Miller/Getty Images

The Eagles turned the ball over five times against the Browns in Week 1. It is rare in the National Football League that a team commits five turnovers and still manages to win the game.
Ed Reed is a turnover machine in the Baltimore secondary, and he will be licking his lips when he comes up against Michael Vick on Sunday. If the Eagles want to win, Vick needs to make smarter decisions with the football. Basically, he needs to keep the ball away from Reed.
If Vick can avoid forcing passes, then the offense will be fine. If not, it could be a long day.
There were also many instances in the Eagles' Week 1 game against Cleveland that players were clearly not securing the football. Eagles fans have become painfully familiar with watching Vick, LeSean McCoy, DeSean Jackson and Jeremy Maclin running with the ball open for the taking.
Turnovers could be the biggest deciding factor in this weekend's game.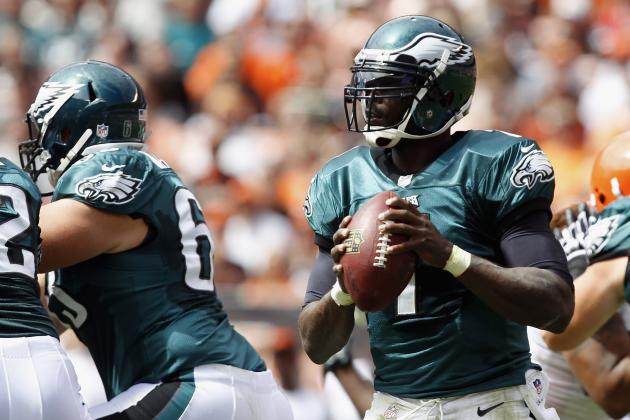 Matt Sullivan/Getty Images

Was it a coincidence that when the Eagles started mixing run plays and short passes they moved the ball down the field and scored a touchdown?
Michael Vick loves to show off his arm strength with deep balls, but it's time that he shows off his accuracy with short passes. There is nothing wrong with running slants, outs, ins and hooks.
During the Eagles' game-winning drive against Cleveland, Michael Vick threw 12 passes, completing six of them. The longest completion on that drive was a 17-yard completion to Brent Celek. The next longest was 11 yards to Jeremy Maclin.
Mixing short passes and runs will allow the Eagles to drive up the field and set up the deep ball so Vick can show off a bit.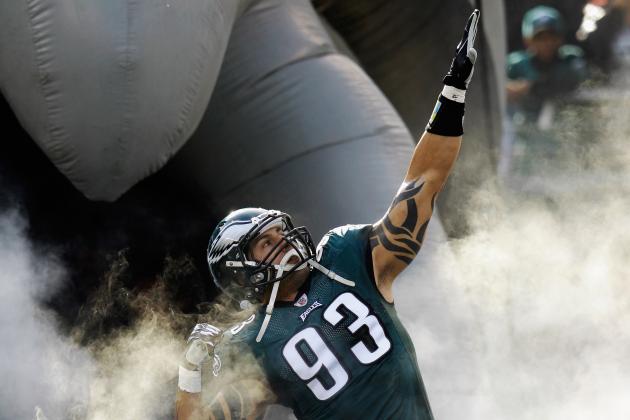 Rob Carr/Getty Images

Joe Flacco looked like an MVP candidate on Monday night against Cincinnati.
The Ravens signal-caller complete 21-of-29 passes for 299 yards and two touchdowns. Flacco has weapons to throw to, so the Eagles need to make him uncomfortable in the pocket because Flacco is not a mobile quarterback. If the Eagles can flush him out of the pocket he will have trouble making a play.
The Eagles have one of the best defensive lines in the league, and they can change a game.
Jason Babin and rookie Fletcher Cox each got a sack in Week 1, and Cullen Jenkins and Trent Cole will be eager to get their first sacks of the year against Flacco and the Ravens.
If the defense can pressure Flacco, he will make mistakes and the Eagles can capitalize. If they give him too much time to throw, he can pick the defense apart.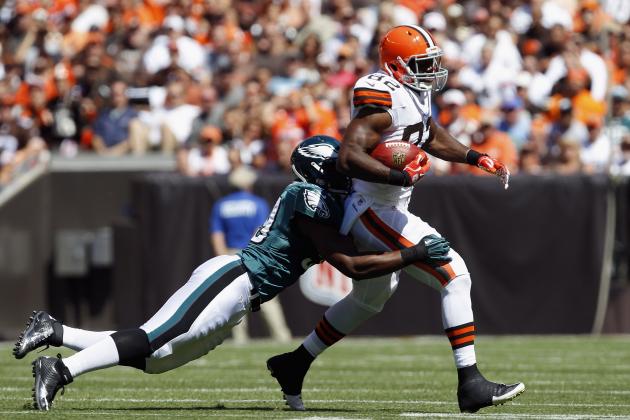 Matt Sullivan/Getty Images

It's not easy, but it's necessary.
The Eagles' run defense looked strong in Week 1, surrendering only 99 yards on the ground against Cleveland. But Ray Rice is a strong back who can create fits for this defense.
Rice only carried the ball 10 times last week, but he ran for 68 yards and two touchdowns. Expect well more than 10 carries for Rice against the Eagles.
Philadelphia's linebackers will be challenged, but this is why the team brought in veteran middle linebacker DeMeco Ryans, who recorded five tackles last week, including one tackle for loss. Akeem Jordan and rookie Mychal Kendricks will play a huge role for the Eagles' defense this week.
If the defense can slow down Rice, then the Ravens' offense could have a tough time getting anything going.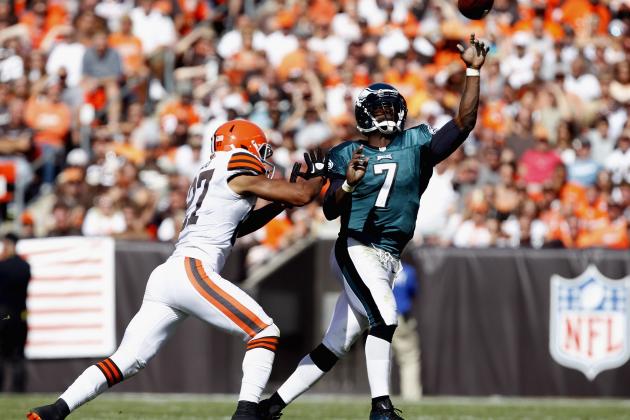 Matt Sullivan/Getty Images

This is a huge test for the Eagles and the type of game that could set the tone for the remainder of the season.
If they can give LeSean McCoy the ball 25-30 times, avoid turnovers, throw more short passes, pressure Joe Flacco and contain Ray Rice, then there should be no reason that the Eagles don't win this game.
But, I expect Andy Reid to stick with his game plan of deep pass after deep pass, Michael Vick will turn the ball over three times and Ray Rice will rush for over 100 yards.
Call me a pessimist, but what can I say? I'm an Eagles fan.
Ravens 24, Eagles 20
Follow @TimStoeckle on Twitter