The Cincinnati Bengals are hoping to rebound from a brutal Week 1 beating at the hands of the Baltimore Ravens when they host another divisional rival, the Cleveland Browns, this Sunday.
The Browns, despite losing last week to the Philadelphia Eagles, are a formidable opponent, one the Bengals cannot take lightly even though they have some significant questions on their offense that have yet to be answered.
But a blueprint for victory isn't all that complicated. If the Bengals can attack the Browns in these three ways, they can come out on top on Sunday
Bring the Pressure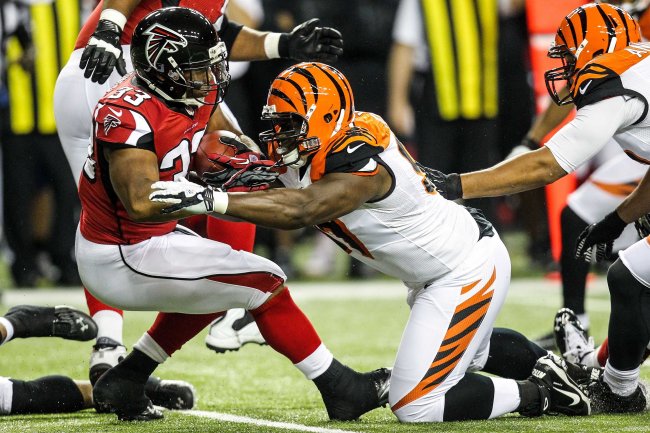 Daniel Shirey-US PRESSWIRE
The Bengals defense had a world of trouble bringing consistent pressure to Ravens quarterback Joe Flacco in Week 1, thanks to the offense running a great deal of fast-paced, no-huddle plays designed to prevent Cincinnati from swapping defensive players and get a rhythm.
That won't be an issue this week against Cleveland with rookie Brandon Weeden under center.
Though the Browns may try to speed up and shorten their passing game to not only mitigate any pressure that may come his way, and also to get him some easier completions, the Bengals should find it far easier to get their hands on Weeden and trip him up.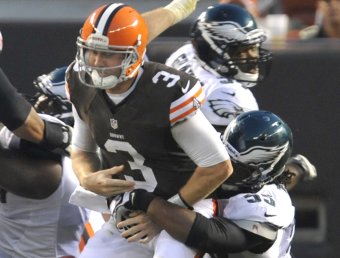 David Richard-US PRESSWIRE
Weeden was under unyielding pressure last week against the Eagles, and according to Pro Football Focus, his offensive line carries part of the blame.
Weeden completed no throws longer than 10 yards down the field, with guards Jason Pinkston, Shawn Lauvao and Mitchell Schwartz all struggling to protect him. If this continues into Week 2, it's a potential field day for Robert Geathers (or Carlos Dunlap, should he play) and Geno Atkins.
The Achilles heel of any rookie quarterback is defensive pressure. With an offensive line struggling to protect Weeden, it opens up a ton of possibilities for the Bengals to get to him and shut down the Browns' passing game.
Run the Ball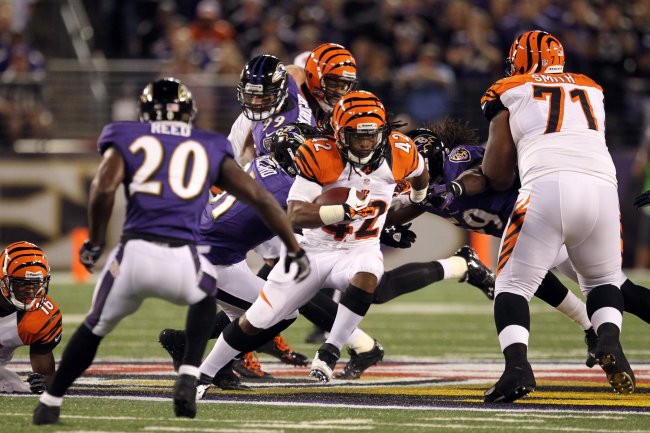 Mitch Stringer-US PRESSWIRE
With seven receivers on the active roster and A.J. Green as Andy Dalton's biggest target, it appeared as though the Bengals' plan this year was to rely heavily on the passing game. And while that still may be the Bengals' priority, there's no reason for them to not run the ball when it works so well.
Last week, the Bengals put up 129 rushing yards against the Ravens' usually strong defense, with 91 of those yards coming solely from BenJarvus Green-Ellis.
At the same time, the Browns (who had trouble stopping the run last season) gave up 150 yards on the ground to the Eagles, 110 of those belonging to running back LeSean McCoy.
So clearly, the key to the Bengals having a successful offense against Cleveland this week will be to run the ball often and well. There's a chance that Bernard Scott could be joining Green-Ellis on the field, as he's back to full practice, which means a double-headed running threat for Cleveland to stop.
The Browns yet again have a strong passing defense. Though they'll be without cornerback Joe Haden this week as he serves his first of a four-game suspension, the rest of the Cleveland's secondary is still talented.
If the Bengals can run the ball, it will make up for whatever they can't get via the pass, allow them to move the ball down the field and, ultimately, give them more red-zone chances.
Andrew Hawkins. Period.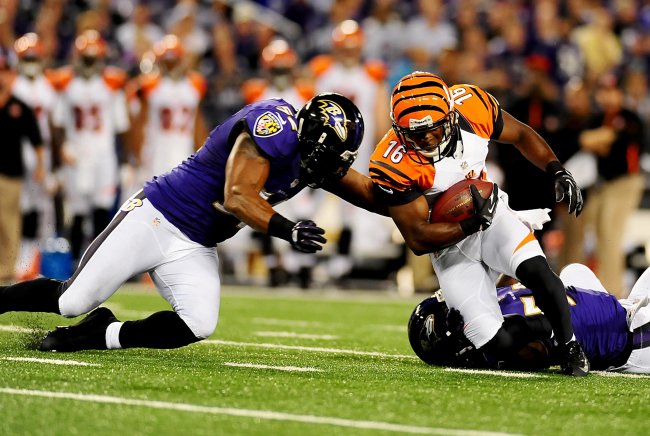 Evan Habeeb-US PRESSWIRE
Clearly, the Bengals won't be able to just run the ball on every play, every down. They'll need to pass as well, and though deeper passes may not come, thanks to Cleveland's pass rush and secondary, there is still a way that Cincinnati can air it out with success.
Enter the screen pass.
It's how the Bengals were able to get anything going in the air against the Ravens last week, and it will be Cincinnati's best chance to make something out of its passing game versus Cleveland. And namely, it's about Dalton throwing those screens to Andrew Hawkins.
Hawkins spent much of the summer on the Bengals' roster bubble, but the release of Jordan Shipley forced his promotion into the top slot receiver job. In one week, he's been impressive. Sure, he's only 5'7", but his speed propelled him into the league leader in yards after catch after Week 1.
His 86 yards on eight receptions (with nine targets) is impressive. Throwing screens his way, combined with a heightened emphasis on the run, should produce good results for the Bengals on Sunday.
Granted, the Browns' coverage linebackers are a bit sharper than what the Ravens threw at them in Week 1, but Hawkins is elusive and reliable and should provide a good complement to the run game.