Week 1: 2013 NFL Mock Draft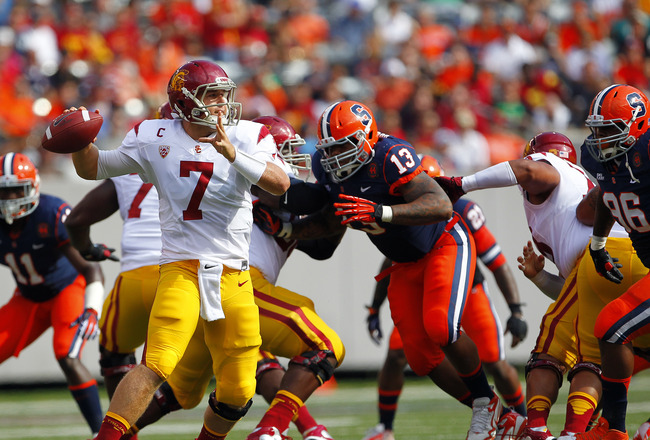 Matt Barkley returned for his senior season at USC and is line to be the top overall pick in 2013
Rich Schultz/Getty Images
If we knew nothing about most NFL teams before Week 1, then we know slightly more than nothing about them after Week 1. With two weeks now (almost) in the books, it almost appears we know even less after teams like New England, Baltimore and Dallas lost.
These things are hard to predict. New York lost both of its openers before winning Super Bowls in the 2007 and 2011 seasons, and New England was blown out in Week 1 by the Bills before one of its Super Bowl-winning seasons.
Here's what we do know: There are a handful of really good teams, a handful of really awful teams and everyone else.
The NFC looks like the 49ers, Packers and everyone else, although the Cowboys and Bears look like they're right there in terms of being contenders with a few others nipping at their heels.
On the other hand, the AFC appears to be a much top-heavier, as Baltimore, New England and Houston all look Super Bowl-ready, while most of the AFC looked pretty bad.
Team positioning will change as will player rankings, but it's fun to be take a look, in real time, which directions teams and players are moving, as well as the evolving needs of teams as the season progresses.
Buffalo, for instance, invested heavily in pass-rushers and got nothing from Mario Williams and Mark Anderson in Week 1, while the Patriots loaded up on young defensive talent and appear a team reborn upfront. Will those trends last and what do they mean for their respective teams? We'll see.
1. Cleveland Browns: Matt Barkley, QB, USC (Pos. Rank: 1, Overall Rank: 1)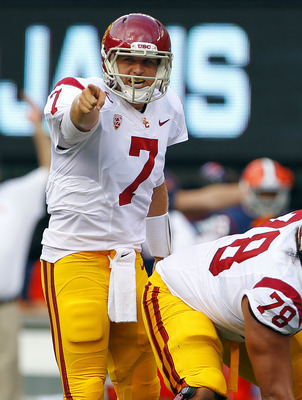 Rich Schultz/Getty Images
Needs: WR,G/C,S,OLB,CB
A week into the season, the Browns look like one of the worst teams in the league. Perhaps their fans should be buoyed by the fact that even an all-time horrific showing by their rookie quarterback didn't prevent Cleveland from being in the game until the end.
That being said, in a tough division, with so few explosive offensive players, I don't know how the Browns score enough to win games. I doubt the Browns would actually make this pick if they get the top selection, but Barkley appears to be the consensus top player available and his strong start to the season has done nothing to put that in jeopardy.
Barkley has more talent than Mark Sanchez, a stronger arm than Matt Leinart and better accuracy than Carson Palmer all did coming out of USC, making him perhaps the most complete USC signal-caller to come out in a long time. He's one of the franchise players in this draft, and I don't see how a team is better off with a 29-year-old baseball retread than with a 23-year-old blue-chip QB. (And I liked Weeden coming out. He's just not better than Barkley.)
2. Miami Dolphins: Jarvis Jones, OLB/DE, Georgia (Pos. Rank: 1, Overall Rank: 3)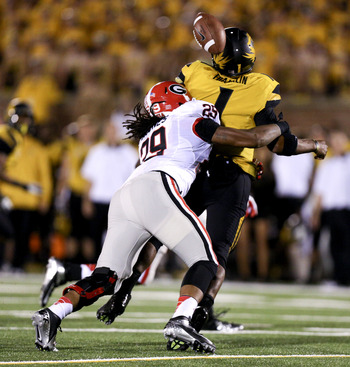 Ed Zurga/Getty Images
Needs: WR,DL,LB,S,TE
There was a funny byte of Arian Foster during the Week 1 Texans blowout of the Dolphins in which he asks a player to turn around to read his jersey because Foster doesn't know who the defender is.
That's the feeling you get watching this team: Who are these guys? They have one of the best pass rushes in the NFL, an explosive running back and an elite left tackle. That's about it.
Enter Jarvis Jones, the most disruptive defender in college football. After a slow start, Jones put on a clinic last week for the Bulldogs, lining up all over the field and causing mayhem. His versatility and proven production playing on a defense slightly less loaded than LSU's gives him the nod of Barkevious Mingo here, particularly since Mingo is a much better fit playing outside in a 3-4.
Jones has the athletic ability to play linebacker in a 4-3 ala Von Miller or end in passing situations. Jones is a special talent.
3. Indianapolis Colts: Barkevious Mingo, OLB/DE, LSU (Pos. Rank: 1, Overall Rank: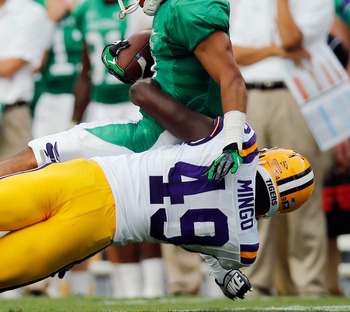 Chris Graythen/Getty Images
Needs: DL,DB,OL,RB,WR,LB
Indy is heading in the right direction. It played Chicago extremely tough until Dwight Freeney injured his ankle, and after that, simply couldn't generate enough pressure to knock Jay Cutler off his rhythm.
Mingo could go a long way to changing that. An idea fit for the newly-implemented 3-4 defense, Mingo is a long, rangy athlete who is very raw but has unlimited potential. At around 240 pounds, Mingo struggles once a tackle has latched on and will get swallowed by bigger blockers, but playing linebacker will allow him more opportunities to play in space where his quickness and burst will be better utilized.
Andrew Luck is a cornerstone, but there are plenty of holes to address. Getting one of the best defensive players in the draft would be a good start.
4. Oakland Raiders: Logan Thomas QB Virginia Tech (Pos. Rank: 2, Overall Rank: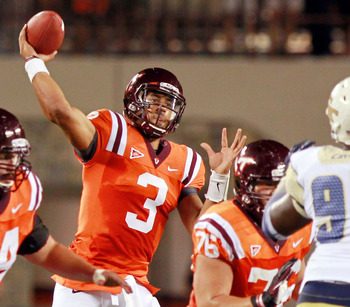 Geoff Burke/Getty Images
Needs: OL,WR,CB,DE,OLB,TE
This pick will come down to one question: What does Oakland do with Carson Palmer? The Raiders still owe at least $28 million through 2014 to Palmer on a team clearly rebuilding. New GM Reggie McKenzie didn't make the deal that brought Palmer to Oakland, but had to suffer the consequences with no early picks in the 2012 draft.
Palmer's presence, though, could be a blessing in disguise for Oakland who would have the luxury of sitting a player like Thomas for a year or two while he learns the offense. Thomas is a physical freak and has tremendous physical tools, although for a player his size, his arm isn't as strong as you'd think. Accuracy issues are also there, but with some time to refine his skills at the position, Thomas has one of the highest ceilings in this draft class and could be a franchise signal caller for the Silver and Black.
If Oakland feels OK moving ahead with Palmer, a local product like Keenan Allen from Cal makes sense on a team lacking explosive talent at receiver. A defense end like Sam Montgomery from LSU could also be a possibility.
5. Minnesota Vikings: Keenan Allen, WR, California (Pos. Rank: 1, Overall Rank:4)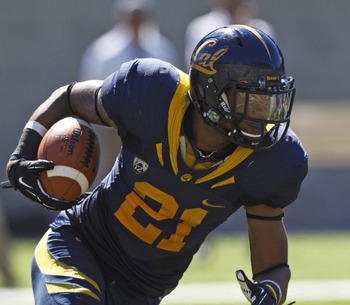 Jason O. Watson/Getty Images
Needs: G,WR,CB,LB,RB
One of the stranger things about Week 1 in the NFL was both Christian Ponder and Blaine Gabbert looked like NFL quarterbacks...in the same game. Ponder was spotty as a rookie, but the Vikings appear to have found a way to utilize Percy Harvin and have a budding star at tight end in Kyle Rudolph.
One of the major missing pieces is a receiver to compliment Harvin and make big plays. Think of Allen as Megatron Lite, a 6'3", 210-pound receiver with strength and explosiveness, able to make tough catches in traffic. Having Allen would free Harvin up to work out of the slot, and even the backfield, where the Vikings appear open to using him more frequently.
Allen could be a welcome security blanket for Ponder, whose continued development the Vikings are counting on in order to move from cellar-dwellers to contenders in the tough NFC North.
6. Jacksonville Jaguars: Star Lotulelei DT Utah (Pos. Rank: 1, Overall Rank: 7)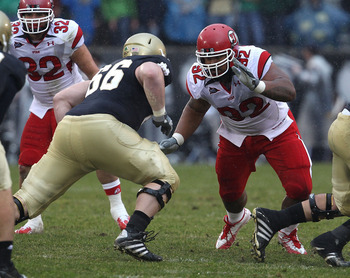 Jonathan Daniel/Getty Images
Needs: QB,WR,DB,OL,RB
The "need" for a quarterback on this list will remain until Gabbert can string together a few quality games, but I don't think he's quite in danger of losing his job. Jacksonville has invested heavily in the receiving core, and Justin Blackmon, if he can keep his head on straight, is a potential stud.
While the offense is the biggest key to the development of this team, there just isn't value here for Jacksonville and after nabbing Andre Branch in 2012, a mega-talent like Lotulelei makes sense. Similar to Dontari Poe in that his play doesn't always live up to his physical abilities, Lotulelei is a unique talent. Not many 320-pound nose tackles are asked to drop in coverage, but the Utah senior can and does for the Utes.
Jacksonville used to have the most formidable defensive tackle duo in the game with Marcus Stroud and John Henderson, but that was a long time ago. In a division with rushers like Chris Johnson, Arian Foster and Ben Tate, it's imperative that the Jaguars have a stalwart inside, and Star can be just that with his ability to clog his gaps and push the pocket.
North Carolina State corner David Amerson makes sense here as well.
7. Buffalo Bills: Manti Te'o, ILB, Notre Dame (Pos. Rank: 1, Overall Rank: 9)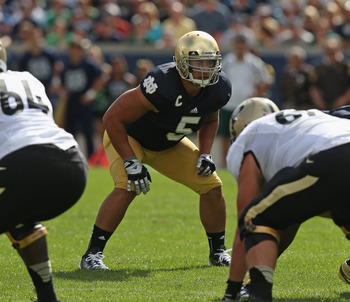 Jonathan Daniel/Getty Images
Needs: OL,WR,LB,S,TE,CB
As impressive as Buffalo's start to 2011 was, the opening of 2012 was a nightmare.Getting routed by a team who, in the preseason, looked utterly incapable of scoring, is a bad omen for a team who just invested millions in its defensive line. There are questions about Ryan Fitzpatrick, but the financial investment the Bills made is too significant to consider a quarterback this early.
The same goes for a defensive end or corner here, although there are quality players available at both positions. That leaves Te'o, the best inside linebacker in the draft and the kind of impact player this defense could really use. Te'o is an athletic, explosive player with excellent range for a player his size.
Johnathan Hankins at defensive tackle or Luke Joeckel at offensive tackle make sense for the Bills as well, but neither have the value here of Te'o, who is a potential decade-long starter in the middle of this struggling, but talented defense.
8. Tennessee Titans: Sam Montgomery, DE, LSU (Pos. Rank: 2, Overall Rank: 6)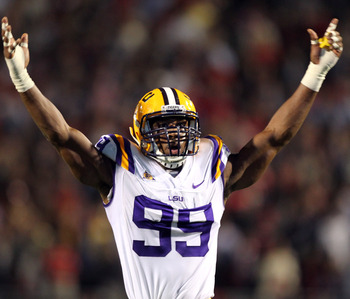 Joe Murphy/Getty Images
Needs: CB,TE,DE,OL,WR
Tennessee has been trying without much success to replace Kyle Vanden Bosch ever since he left. Derrick Morgan has just 2.5 sacks in two years since being drafted in the first round, and Kamerion Wimbley, signed as a free agent this offseason, is an average end at best (four of his seven sacks last season came in one game).
Montgomery does come with some risks. He's added about 30 pounds heading into this season, which could help him hold up better against the run, but it could also take away from his quickness and burst, thus hurting his pass-rush abilities. He's also missed time with a major ACL injury, although he still managed to lead a historically good LSU defense in sacks last year.
I'm not as high on Montgomery as some (I saw him get handled by tight ends last year...that worries me), but if his added weight means he anchors better and still has the speed, he's certainly a first-round talent.
David Amerson from North Carolina State would be a significant upgrade in the secondary, and this draft is deeper with pass-rushers than corners, but Montgomery has the best value here.
9. Arizona Cardinals: Luke Joeckel, OT, Texas A&M (Pos. Rank: 1 Overall Rank: 11)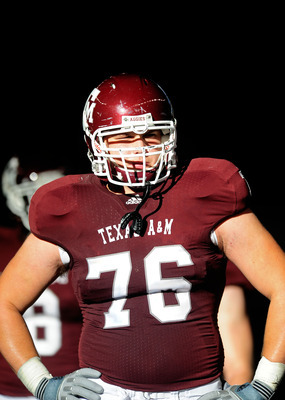 Mark J. Rebilas-US PRESSWIRE
Needs:QB,OL,LB,DB,TE
If this offense had any semblance of direction, the Cardinals would be a playoff team because the defense is on the verge of being elite. Unfortunately, there isn't an NFL quarterback on this team, and a player like Tyler Wilson could be in play here despite what Arizona gave up to get Kevin Kolb.
Joeckel, though, is the best offensive player on the board and fills a key area for the Cardinals, who have serious problems in the trenches. Joeckel acquitted himself nicely in his first SEC game, able to handle the athletes Florida can bring off the corner.
In terms of his agility and technique, Joeckel has the physical tools you look for in a left tackle and, if he can get stronger, should be a sizable upgrade for the Cards. With an improved offensive line, Arizona would at least give its quarterback, whomever it is, a fighting chance to make plays.
10. Carolina Panthers: David Amerson, CB, NC State (Pos. Rank: 1, Overall:8)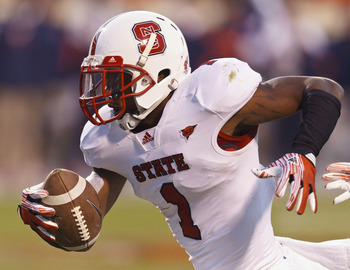 Jason O. Watson-US PRESSWIRE
Needs: CB,WR,DT,OL,TE
This is a match made in heaven for the Panthers, who are in desperate need of an impact secondary player and are in position to get the best one in the draft. Carolina has an explosive offense lead by Cam Newton and could have been much better at closing games if it could stop anyone.
The defense played better in the opening-week loss to Tampa Bay, but corner remains a serious concern for this team. Amerson is a player with elite size at 6'2", 193 pounds, and while he isn't explosive in and out of breaks, he's explosive to the ball in the air and can close ground. He's a better zone corner than man, but reads routes well and has tremendous ball skills.
If the Panthers fall in love with a big body like Johnathan Hankins, he could also be the pick here, but Amerson plays an impact position in the team's biggest need area. A receiver like Justin Harper or Robert Woods would make sense here as well, as the Panthers do lack perimeter talent outside of Steve Smith.
11. St Louis Rams: Johnathan Hankins, DT, OSU (Pos. Rank: 2, Overall Rank: 10)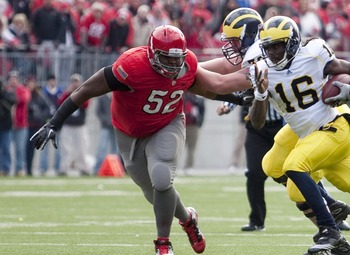 Greg Bartram-US PRESSWIRE
Needs:OL,WR,LB,TE,DB
While I think Marcus Lattimore could get serious consideration here, Jeff Fisher is all about winning in the trenches, and the Rams simply don't have the horses along the defensive interior.
Michael Brockers, the team's 2012 first-round pick, was lost for the year with a knee injury and there's no guarantees he can come back being the athletic force he was at LSU. Hankins is an underclassman for the Buckeyes and remains raw, but has the talent to be an impact player in both the run and passing games. He must get better diagnosing plays, but when he's in a position to simply utilize his quick feet and power, he can be disruptive.
A guard like Chance Warmack would also make sense to me here, given the need for offensive linemen, and Warmack is the best interior player in the draft. With two first-round picks, the Rams have the luxury of taking a gamble with one of them, knowing they have the other close by. That's part of the reason why a back like Lattimore could be in play here.

12. Seattle Seahawks: Dee Milliner, CB, Alabama (Pos. Rank: 2, Overall Rank: 14)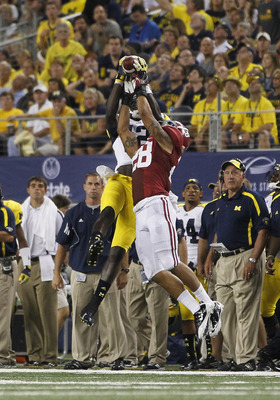 Tim Heitman-US PRESSWIRE
Needs: CB,WR,G,OLB,RT
It was surprising to see Seattle fail to address the corner position in April's draft, but given the talent level of receivers in the NFC, particularly on the conference's elite teams, the Seahawks have to improve at that position at some point. It doesn't appear Pete Carroll is thinking he's rebuilding by starting Russell Wilson, and Wilson had his team in position to win Sunday, although he couldn't quite get it done.
Milliner is one of my favorite players in the draft and is shooting up boards following his sensational game against Michigan. Milliner is a big, rugged corner who loves to press at the line and is physical in run support, even taking on offensive linemen at the point of attack. Milliner isn't elite in terms of speed, but is explosive coming up out of his back pedal in zone coverage and does an excellent job locating the football in the air. He would be a Day 1 starter in Seattle.
13. Tampa Bay Buccaneers: Jackson Jeffcoat, DE, Texas (Pos. Rank: 3, Ovr. Rank 13)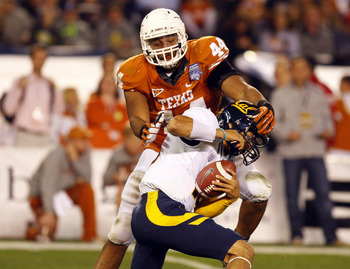 Jody Gomez-US PRESSWIRE
Needs: LB,DL,TE,G,WR
Loading up in the offseason on offensive weapons didn't prevent the Bucs from being just plain offensive on Sunday, mustering just 128 net passing yards. Doug Martin was effective and Tampa Bay won the game, but the offense has to be better. Defensively, the Bucs struggle to create pressure because they lack an elite pass-rusher off the edge.
Jeffcoat is considered a top-five talent by some scouts because of his pass-rushing talents and would be a welcome addition to the Tampa D. The Texas standout will have to add muscle to play 4-3 end in the NFL, but his explosion off the corner is special and he could be an impact player right away as a result.
Despite the presence of Carl Nicks, a player like Chance Warmack would fit what Greg Schiano is trying to do with a physical, smash-mouth approach to offense. Pass-rushers are, however, a much more valuable commodity in today's NFL.
14. St. Louis from Redskins: Chance Warmack, G, Alabama (Pos. Rank 1, Overall :17)
Butch Dill/Getty Images
Needs:OL,WR,LB,TE,DB
Stephen Jackson could be a free agent after the 2013 season given his contract, and that puts Marcus Lattimore in play here, but the offensive line is a much more pressing need. In fact, the offensive line was such a problem that the Rams traded former second overall pick Jason Smith for Wayne Hunter, one of the worst starting tackles in the league.
Warmack is being touted by some scouts as a potential top-five talent, much like David DeCastro last season, who ended up slipping to Pittsburgh at the end of the first round. Warmack may be every bit the talent, with more power than DeCastro and similar athletic ability to move laterally and find defenders in space.
In a division with outstanding defensive line talent, it's imperative that you have linemen who can protect your quarterback and are physical enough to withstand the punishment of guys like Justin Smith and Calais Campbell. Warmack is that kind of player, making him an idea Jeff Fisher candidate.
15. Kansas City Chiefs: Robert Woods, WR, USC (Pos. Rank: 2, Overall Rank: 18)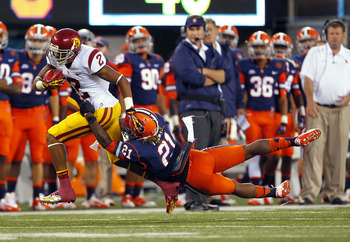 Rich Schultz/Getty Images
Needs: WR,CB,TE,S,QB
Depending on the effectiveness of Peyton Hillis, this could be another spot for Marcus Lattimore, but it speaks volumes about the nature of the league when a franchise running back can't get picked in the top half of the first round. (Even if Hillis is good, Lattimore makes sense here.)
Woods, though, is a better fit given the impending loss of Dwayne Bowe and dearth of explosive talent in this receiving group. For that reason, Justin Harper might make more sense, and the Vols receiver has been moving up draft boards coming off injury. For now, Woods is the second-best receiver in the draft, and despite his size, would give this team an explosive element it lacks.
Woods is smooth at running routes and is adept at finding opening spaces as well as making catches in traffic. I'm not sold on Matt Cassell in Kansas City either, and RG3 was supposedly discussed in KC last season. Tyler Wilson could be an option here.
16. Cincinnati Bengals: Marcus Lattimore RB South Carolina (Pos. Rank:1 Ovr: 12)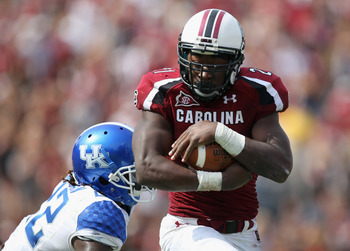 Streeter Lecka/Getty Images
Needs: RB,WR,S,OLB,TE
Cinci could be in a position here to trade down with someone wanted to snag one of the quarterbacks left. I think there will be at least three, maybe four or five quarterbacks taken in the first round, and someone may be be willing to trade this far back into the first to get one. The Bengals have one of the best front sevens in in football, and while safety remains a concern area after this secondary got torched by Joe Flacco and Co., a stud running back fits the designs of an offense being built around young studs.
With Jermaine Gresham and A.J. Green, Lattimore would bring balance to an offense which is inconsistent when it can't generate big plays. The South Carolina back has been slowed by injuries, but when he's healthy, Lattimore can be as dynamic a back as there is in college football. Not only can he hit home runs, Lattimore is a tough, imposing runner who isn't afraid of contact, even with the big, bad, SEC defenses he faces week in and week out.
I do think Eric Reid should be considered here, but a franchise running back may be too good to pass up for Cinci.
17. Detroit Lions: Eric Reid, S, LSU (Pos. Rank: 1, Overall Rank: 16)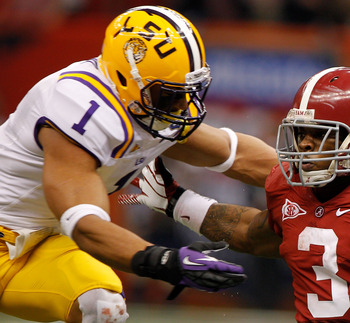 Chris Graythen/Getty Images
Needs: CB,LB,RB,OL,TE
In the NFC North, the Bears are vastly improved, and Green Bay comes in with a chip on its shoulder, which means Detroit will have to clean up its sloppiness from a year ago in order to remain a playoff team.
For me, Week 1, did nothing to prove that the Lions are ready for prime-time; in fact, if anything, they showed the opposite. Coming off an impressive season with a mostly healthy roster, the Lions laid an egg against St. Louis and the struggles of Matthew Stafford were a big reason why.
That being said, the secondary remains this team's biggest problem, and Reid is a starting-caliber safety who can be an asset in both the run and passing games. He has big-play potential and is a hitter in the secondary, but his most important talent is being able to read and react from the deep half and break on the ball.
18. New Orleans Saints: Corey Lemonier, DE, Auburn (Pos. Rank: 4 Overall Rank: 1)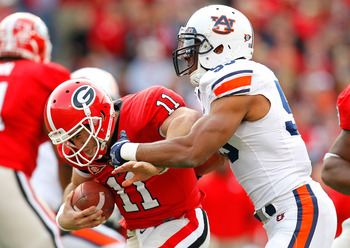 Kevin C. Cox/Getty Images
Needs: OL,OLB,S,DL,CB
Even after being reinstated by the NFL, Will Smith may not be long for this world in New Orleans given that teams don't usually pay non-sack defensive ends $10 million-plus per year, especially after they turn 30. New Orleans owes Smith a $6 million bonus this march and more than $20 million in salaries for 2013.
Lemonier has the burst to be an impact rusher in the NFL, although he'll have to get stronger to hold up against the run. The Saints have long relied heavily on blitzes to create pressure, and as offenses respond, it will become more important for teams to have base package players who can generate pressure.
Lemonier led Auburn with 9.5 sacks last season and has shown a penchant for making explosive plays off the edge. He has the frame to put on the necessary weight to make the transition to end, although he is probably better suited to play linebacker in the 3-4.
Taylor Lewan would make sense here as well.
19. Philadelphia Eagles: Taylor Lewan, OT, Michigan (Pos. Rank: 2 Ovrl Rank: 20)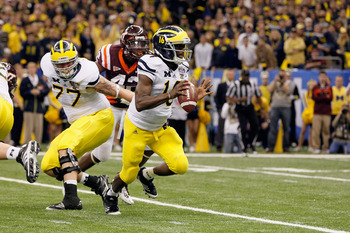 Kevin C. Cox/Getty Images
Needs: OLB,OL,DB,TE,QB
Week 1 was ugly for the Eagles, and part of the reason was Mike Vick being asked to pass 50 times. LeSean McCoy is one of the best players in the game, and Philadelphia would be smart to get him more touches. Part of their problem is that the offensive line isn't a stellar group, and making an improvement there has been this team's priority for a number of years now.
Lewan is a long-armed mauler who does have a tendency to lean on defenders a little too much, making him susceptible to counter moves. He is built like a left tackle, but plays more like a right tackle, which is actually ideal for the Eagles, who have the left-handed Vick. Red-zone problems could incite the Eagles to take a tight end like Tyler Eiffert or a receiver like Justin Hunter here, but offensive line is a bigger need for this team, and Lewan could help right away.
20. Pittsburgh Steelers: Knile Davis, RB, Arkansas (Pos. Rank: 2, Overall: 22)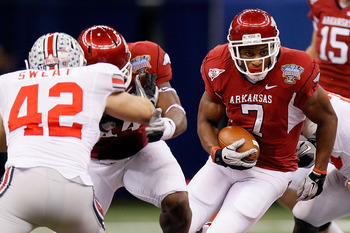 Kevin C. Cox/Getty Images
Needs:G,RB,OT,DL,DB
While I'm not ready to write off Pittsburgh, the Steelers didn't look very good against the Broncos Sunday night. I know they were in the game late, until a pick-6 spoiled it, but Pittsburgh, frankly, doesn't have the horses it used to. The defense is aging, and the offense isn't built for power anymore.
Knile Davis is a better fit for the Pittsburgh offense than any back on the roster. He's a slightly less talented version of Darren McFadden, which is to say he's an explosive back in the running and passing game, but tends to run a little upright and has some injury concerns. I can see a tackle like D.J. Fluker or Taylor Lewan if he falls, as well as a corner like Johnthan Banks here.
The biggest issue in Week 1, though, wasn't protecting Ben so much as it was trying to develop some continuity offensively. Davis would help provide that.
21. San Diego Chargers: Johnthan Banks, CB, MSU (Pos. Rank: 3, Overall Rank:21)
Butch Dill/Getty Images
Needs: OL,CB,RB,ILB,SS
San Diego has used a number of high picks on cornerbacks in the past, and none of them have truly lived up to expectations, although Quentin Jammer and Antoine Cason are nice players.
Banks is actually similar to both Jammer and Cason in that he's a big, physical corner with some speed concerns, but is instinctive and has better ball skills than either Jammer or Cason. Banks has been on NFL scouts' radar since before the 2011 season, and his steady play against the speedy SEC receiving groups has hardened their high opinions of him.
Banks will have to time well at the combine to retain a first-round grade, simply because a player like Xavier Rhodes could leap frog him if he doesn't.
An offensive lineman makes sense here, as does a running back like Knile Davis if he falls, given the health problems Ryan Matthews has had since coming to the California coast.
New York Giants: D.J. Fluker, OT, Alabama (Pos. Rank: 3, Overall Rank: 27)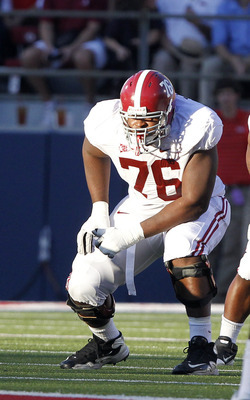 Butch Dill/Getty Images
Needs:TE,OT,LB,DT,DB
If Tyler Eifert is here, he will surely be tempting because if there is one part of the Giants passing game missing, it's a threat from the tight end.
The Giants were at the bottom of the league last year in rushing and drafted David Wilson to try and help.
Unfortunately, this offensive line just isn't a physically imposing group and are instead much more adept and giving Eli Manning time to throw.
Fluker is exactly the kind of forceful presence this offensive line could use, given his brute strength and sheer size. Fluker is not as agile as some of the tackles in this class, but for what the Giants need him to do, namely open up holes for running backs, he's plenty mobile and would be a welcome addition whether he plays guard or tackle.
23. Dallas Cowboys: Kenny Vaccaro, S, Texas (Pos. Rank: 2, Overall Rank: 23)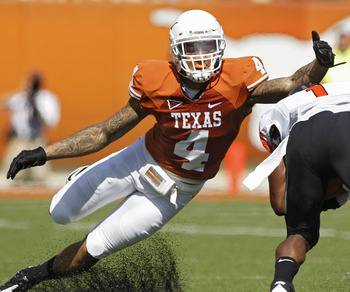 Erich Schlegel/Getty Images
Needs: S,G,WR,OLB,TE
This makes so much sense you know Jerry Jones is going to screw it up. Your biggest need position player is the best player on the board and he plays on the local team. (I've never understood why NFL general managers don't see the commercial appeal of having a player with local appeal if skill is roughly similar, but that's a different issue.)
Dallas has taken great pains to upgrade its secondary, but it has only done so at the cornerback position. Safety remains a glaring weakness on an otherwise solid defense.
Vaccaro is the latest in a long line of Texas defensive backs who should go early in the draft with his blend of size, speed and burst. He can impact the passing game, is an adept blitzer and even contributes on special teams with blocked kicks. While not an enforcer, Vaccaro tackles well in space and closes with explosiveness to the football.
Suddenly, this secondary would be awfully young and awfully talented.
24. New York Jets: Justin Hunter, WR, Tennessee (Pos. Rank: 3, Overall Rank: 25)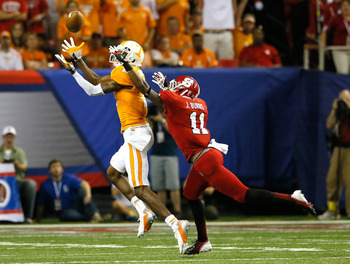 Kevin C. Cox/Getty Images
Needs: WR,OL,QB,OLB,RB,S
I wish I could tell you a quarterback was going here (for the Jets' sake), but they've committed long-term to Sanchez, and maybe adding a dynamic playmaker like Hunter gives this team enough weapons that not even Mark Sanchez could screw it up.
This team had plenty of scoring in Week 1, although it got 14 points from defense and special teams, not to mention it was against a horrible Bills team.
Stephen Hill looks like a budding star, and pairing him with Justin Hunter could give the Jets the makings of an elite duo. The Vol underclassman is coming off injury; otherwise, he'd be much higher, and some scouts already peg him as the top receiver in this class. He has a unique blend of size to go with his blazing speed, giving him a No. 1 receiver pedigree.
If the Jets continue to play well, it would make sense to likewise continue to upgrade the offense at the skill positions, but if this season doesn't go well, my joke about the Jets and a quarterback may come closer to being true.
As a prospect, I would take Wilson or Bray ahead of Sanchez, but I was much lower on Sanchez when he was coming out of USC than many scouts.
25. Chicago Bears: Tyle Eifert TE Notre Dame (Pos. Rank: 1, Overall Rank: 29)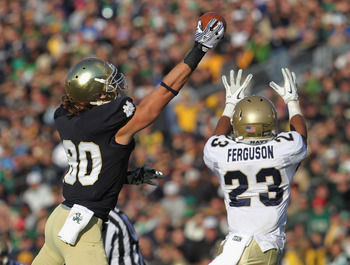 Jonathan Daniel/Getty Images
Needs: OL,S,TE,CB,LB
Some joked that maybe the Bears were going to convert Alshon Jeffery to tight end after they drafted him last year given that reports were the South Carolina receiver had put on a considerable amount of weight since leaving Columbia. The joke is on those people because Jeffery has been excellent for Chicago through the offseason and preseason, not to mention caught a long touchdown pass against the Colts.
That being said, tight end remains a significant need position, and Eifert is the best one in this class. He's similar to former Notre Dame and current Minnesota Viking Kyle Rudolph in that he's not explosively athletic, but can make athletic catches with his long arms and huge hands.
Eifert is not a terrific blocker yet, but part of the reason is because he spends so much time split out to create mismatches in space for him. The Bears would likely use him in a similar manner, and Eifert is strong enough, with a wide enough frame, that he could be a decent to good blocker if he wanted to be.
26. Denver Broncos: William Gholston, DE, Michigan State (Pos. Rank: 5 Ovrl Rank: 24)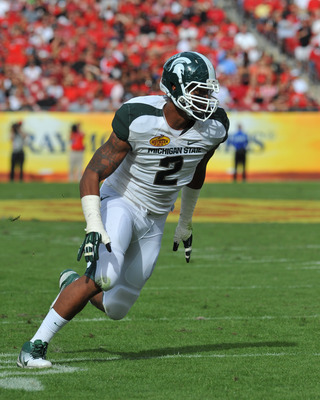 Al Messerschmidt/Getty Images
Needs: WR,G,DL,DB,TE
Denver appears to be an improving team, although Peyton Manning's presence certainly helps. The Broncos have the look of a playoff team, and having a Hall of Fame quarterback makes them a potentially dangerous out.
Defensively, this team is much different with a healthy Von Miller, but given that both he and Elvis Dumervil have had their share of injury problems, getting an uber-talented pass-rusher would provide considerable security. Gholston is an athletic freak, while he's raw in terms of being a tactician. Gholston is being enough to play end in Denver's 4-3 defense, but could slide inside on passing downs much like Justin Tuck does in New York.
We are still waiting to see Gholston achieve his tremendous potential, as his production level in college hasn't matched his talent level. An interior lineman like Barrett Jones or inside linebacker like Kevin Reddick make sense here as well.

27. Atlanta Falcons: Kevin Reddick, LB, UNC (Pos. Rank: 2, Overall Rank: 28)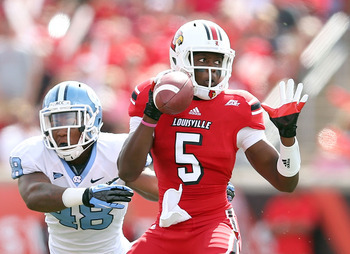 Andy Lyons/Getty Images
Needs: OL,DT,TE,LB,CB
Offensively, Julio Jones has elevated this team to elite status. Matt Ryan appears in command, and there are suddenly playmakers all over the field for this team.
Unfortunately for the Falcons, the defense is a work in progress. The front seven lacks difference-makers, and losing Curtis Lofton to New Orleans was a major blow. Kevin Reddick has a chance to be a solid player and is similar to Lofton in that he's instinctive and smart, although not overly athletic.
Reddick has solid burst filling gaps and has a knack for sniffing out the ball-carrier, but because he's a little stiff, doesn't quite have the lateral quickness you'd like out of a middle linebacker. As a 3-4 inside linebacker, he'd probably be better off, but would be an upgrade for Atlanta.
28. Green Bay Packers: Barrett Jones, OL, Alabama (Pos. Rank: 2 Overall Rank: 32)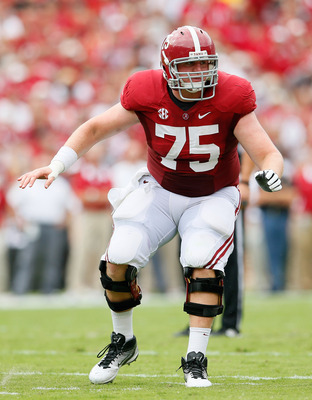 Kevin C. Cox/Getty Images
Needs: OL,S,RB,LB,QB
Green Bay's defense may or may not be better after what we saw against Chicago, but it remains clear that the offensive line group is a major question. Bryan Bulaga is a potential Pro Bowl tackle and Josh Sitton is a Pro Bowl guard. The left side of the line is the weak side with Marshall Newhouse and T.J. Lang, although Lang was just re-upped by Green Bay.
Jones has Packers written all over him as a smart, hard-working player whose production matches his talent. Not an elite-level athlete, Jones is somewhat underrated in that department and does a nice job in pass protection of recognizing and sliding his feet. His added versatility being able to play pretty much anywhere on the line may make him even more attractive, as the Packers currently only have seven offensive linemen on the active roster.
29. Houston Texans: Xavier Rhodes, DB, FSU (Pos. Rank: 3, Overall Rank: 34)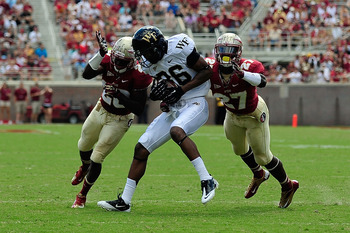 Stacy Revere/Getty Images
Needs: S,OL,ILB,WR,QB
Houston's rise has been caused by the overwhelming improvement the Texans have made defensively. J.J. Watt is playing like a Defensive Player of the Year candidate (hard to argue anyone other than Clay Matthews at this point, though), and the front seven is as good as any of the league.
If there is a weak link on this defense, it's at safety. While Rhodes has been a corner at Florida State, his size, 6'1", 217 pounds, means he could transition to a backend role. Rhodes has already shown an affinity for hitting and does lack some of the fundamentals for a corner.
Able to simply use his athleticism and instincts, Rhodes would be an excellent fit at safety for Houston and would benefit from having such a great group in front of him generating pressure. I wouldn't be surprised to see Houston grab a QB here, though, if someone like Tyler Wilson falls. Matt Schaub just got a new contract, but has an injury history and is already 31.
30. New England Patriots: Chris Faulk, OT, LSU (Pos. Rank: 4, Overall Rank: 33)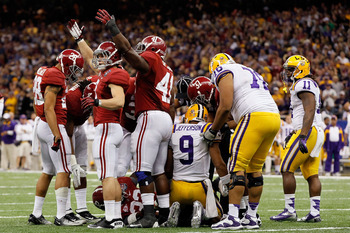 Kevin C. Cox/Getty Images
Needs: CB,RB,OT,DE,S
Chandler Jones and Dont'a Hightower have energized this Patriots defense, and oddly, it's been the offense which has held the Patriots back so far this season. Tom Brady has had to run for his life, and this offensive line group simply hasn't done the job. Chris Faulk was lost for the season with a knee injury; otherwise, he may have been a top-15 pick.
If he chooses to declare, he could still be a first-round pick given his talent level. Considering he would have another year of eligibility, it might behoove Faulk to return to school, but if he gets a first-round grade from the Draft Advisory Board, it could be too temping to pass up.
Faulk is extremely talented in both facets of blocking and is nimble for a man his size. It seems likely Faulk will return to school, particularly given that he's only had one full season as a starter in college, but even if he doesn't return, the talent could be tempting for the Pats in need of talent upfront.
31. Baltimore Ravens: Ricky Wagner, OT, Wisconsin (Pos. Rank: 5 Overall Rank: 38)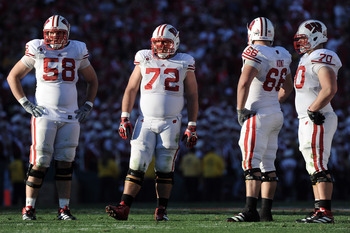 Harry How/Getty Images
Needs: CB,OL,RB,S,WR
Baltimore has been one of the most impressive teams in the league through two weeks despite last Sunday's loss to Philadelphia (on a dubious call to negate a touchdown). Baltimore's defense remains impressive even without Terrell Suggs, and the offense has shown much more consistency than in years past.
The offensive line, particularly at tackle opposite Michael Oher, has been a question mark for this team since Oher was drafted. Wagner is a talented player from a school known for putting out some of the best offensive linemen in the country. Given the Badgers' struggles early this season, especially running the ball, Wagner's stock has taken a hit (not to mention Montee Ball's stock).
On the other hand, Wagner is an athletic tackle with experience playing on either side of the line and could even move inside if necessary. Wagner would help protect Joe Flacco, to whom the Ravens have committed long-term.
32. San Francisco 49ers: Tyler Wilson, QB, Arkansas (Pos. Rank: 3 Ovr. Rank:21)
Wesley Hitt/Getty Images
Needs: CB,QB,OL,TE,S
It certainly seems unlikely the 49ers would invest a first-round pick in a quarterback with the way Alex Smith is playing and the way coaches in San Francisco feel about Colin Kaepernick. That being said, there are too many teams who need quarterbacks for there not to be at least a few trades toward the end of the first round.
The 'Niners, who don't have any glaring weaknesses, are the ideal trade partner for a team like Kansas City or Arizona to trade back into the first round to grab one of the sliding signal callers. Wilson's recent injury shouldn't hurt his stock too much, although it does illustrate the risk of a player who can make plays with his feet.
Wilson is a top 20 talent and probably won't fall this far, but it is just hard to pinpoint which teams are targeting quarterbacks this early in the season. The Bills, for instance, could be a team to target Wilson if they continue play like they did in Week 1. but if they play like they did in Week 2, they seem more likely to remain with Fitzpatrick.
It's more probable that San Fran would be trading out for a team to get a player like Landry Jones or Tyler Bray, as Wilson should go in the top 15, or even higher.
Keep Reading