Notre Dame Is Not a Top 25 Team, and Here's Why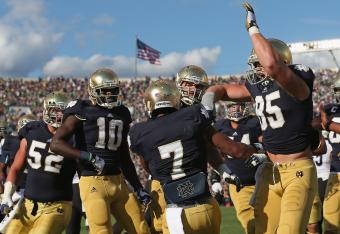 Jonathan Daniel/Getty Images
The gentle breeze of humid August air made me feel as if I was in the jungles of South America, a place far, far away from my home state of Indiana. That location is where, for the first time, I saw a mirage.
That mirage wasn't an oasis in the far reaches of the desert; rather, it was seeing Notre Dame begin the 2012-13 season ranked 24th in the preseason USA Today Poll. Surely, the Fighting Irish were not worthy of a spot in any preseason poll or ranking system. Not after a ho-hum 8-5 record to finish the 2011-12 season, which ended with a painful 18-14 loss to the Florida State Seminoles in the former Champs Sports Bowl.
But there it was, Notre Dame next to the number 24 on the preseason edition of the USA Today Poll.
"Not again," I said as feelings of impending disappointment began to course through my veins. After all, I grew up watching the Fighting Irish begin each season with mountainous expectations, only to see them limp and stumble to the finish line. Sadly, I grew to expect mediocrity from the most polarizing college football program in America.
Nothing has changed this season, either. Not after last week's blood pressure-increasing win over a Purdue team that entered the contest as a 14.5-point underdog. Was this not the same Purdue squad that the Irish steamrolled 38-10 in West Lafayette last October?
Yes, it was, but Notre Dame has become a different animal in under a year's time.
Third-year head coach Brian Kelly only has himself to blame for the Irish not deserving inclusion in the top 25 rankings.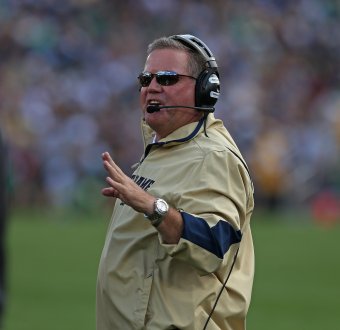 Jonathan Daniel/Getty Images
It all begins at the quarterback position, the most important in the game of football.
Last August, Kelly declared that Dayne Crist would be Notre Dame's starting quarterback for 12 games, 13 if the Irish reached a bowl game. Rather shockingly, that declaration lasted all of 30 minutes, with Kelly electing to start Tommy Rees for the remaining 11 games on the schedule.
Rees was never the ideal quarterback for Kelly's spread offense, and he knew it. All the while, true freshman quarterback Everett Golson, a perfect fit for Kelly's offense, ran the practice squad offense and watched hopelessly from the sidelines each Saturday. Should he have been named the starter last season? It's a question that lingers in the subconscious of Notre Dame fans far and wide.
Golson now finds himself the starting quarterback, a redshirt freshman with a whopping two games' worth of starting experience on his résumé. The nation's elite programs are led by veteran quarterbacks, not raw, first-year starters.
It doesn't help that Brian Kelly inserted Tommy Rees for the final, game-winning drive of the Irish's 20-17 victory over Purdue. It was a decision that had to be made given the circumstances, but did not provide a speck of clarity for the long-term picture at the quarterback position.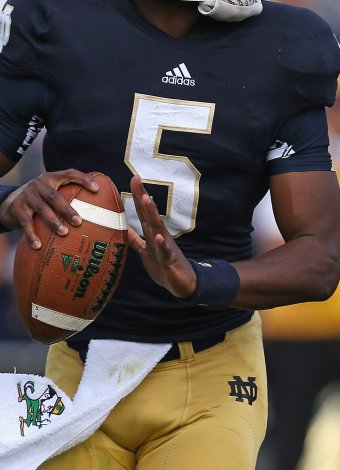 Jonathan Daniel/Getty Images
As he trotted off the field minutes after Kyle Brindza chipped in the game-winnning field goal, Brian Kelly confirmed to NBC's Alex Flanagan that Everett Golson would remain as Notre Dame's starting quarterback, theoretically quelling any talk of a quarterback controversy. I wouldn't rest assured that that's the case in South Bend, not as long as Tommy Rees is on the roster.
The fact that this scenario even requires discussion further proves that Notre Dame is a few paces behind the teams currently ranked in the top 25.
This argument doesn't end with the quarterback situation, mind you.The Irish offensive line is a significant cause for concern as well.
Against Purdue, a seasoned, veteran Irish offensive line was toyed with by a Purdue front four that may be the best among Big Ten Conference teams. Defensive tackles Kawann Short and Bruce Gaston used a beautiful combination of brute strength and technique to break into the Irish backfield time and again.
In fact, the Purdue front four accounted for five sacks, which was the same amount yielded by Notre Dame's offensive line through the first nine games of last season.
Penalties were a chronic problem against the Boilermakers, as well. Whether it be the mind-numbing false start penalties or personal fouls, the Irish offensive line looked disinterested and lost.
Is Notre Dame a top 25 team?
The last time I checked, those are not traits found in the offensive lines of top 25 teams. More often than not, those teams dominate opposing fronts at the line of scrimmage for all 60 minutes of regulation, even against premiere pass rushes. If the Irish offensive line can't get the job done against Purdue, just imagine how it will fare against the likes of USC, Oklahoma and Michigan State.
In doing so, those same feelings of impending disappointment begin to slowly and forcefully crush any rationalization of why Notre Dame may belong in the top 25 rankings. Concisely, it doesn't belong.
So when you flip to ABC on Saturday night to take in the Irish's game against Michigan State, and you notice the number 20 next to the Notre Dame graphic, remember that it's simply a mirage.
That's all it is.
This article is
What is the duplicate article?
Why is this article offensive?
Where is this article plagiarized from?
Why is this article poorly edited?

Notre Dame Football: Like this team?