Fantasy Football Week 2 Rankings: Top 5 Players at Each Position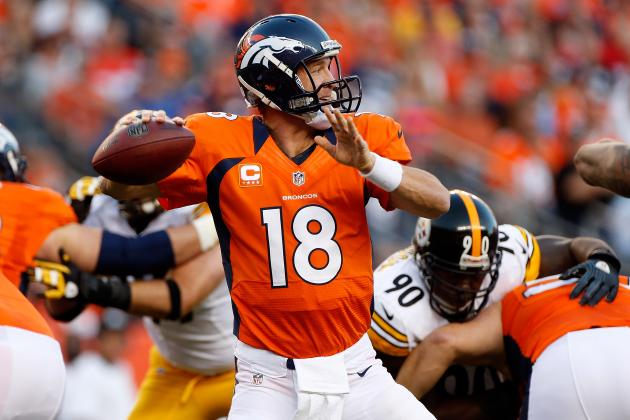 Doug Pensinger/Getty Images

Week 2 is one crucial deciding factor that determines your fantasy football fate.
If you won in Week 1, getting to 2-0 is proof of a strong draft and having selected consistent players. A loss last week, though, and a victory now is more imperative than ever: Because going 0-2 all but kills your playoff hopes.
So, what we have here are the top five players to watch for at each position for this week.
Peyton Manning is an obvious quarterback, as his performance/return against the Pittsburgh Steelers was like he never missed any time in 2011. Manning, however, isn't alone, and there are quite a few favorable matchups offered this week.
With that, let's get to it so you can adjust your fantasy roster accordingly.
Begin Slideshow

»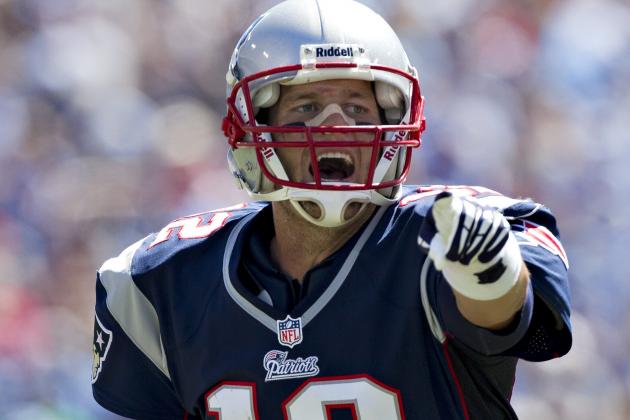 Wesley Hitt/Getty Images

1. Aaron Rodgers, Packers (vs. Bears)
Last season, Aaron Rodgers had an 8-to-1 touchdowns-to-interceptions ratio against the Chicago Bears. Unsurprisingly, the Green Bay Packers swept their NFC North rivals.
2. Tom Brady, Patriots (vs. Cardinals)
Tom Brady had a typical day at the office against the Tennessee Titans. Although the Arizona Cardinals present a stronger defense, the New England Patriots present too many threats. In short, Brady has another field day in 2012.
3. Philip Rivers, Chargers (vs. Titans)
The Oakland Raiders defense was excellent inside their own red zone. Well, the Tennessee Titans aren't nearly that stellar, and Philip Rivers will spread the field. With plenty of reliable targets, the San Diego Chargers and Rivers put on a super performance.
4. Drew Brees, Saints (at Panthers)
Facing an improved Carolina Panthers defense, Drew Brees has his hands full. Then again, expect nothing but dominance as he remains the New Orleans Saints' best chance to win.
5. Peyton Manning, Broncos (at Falcons)
Per the Associated Press via ESPN.com, the Atlanta Falcons have lost cornerback Brent Grimes for the year:
Brent Grimes is out for the year after an Achilles tendon injury in a 40-24 win at Kansas City, coach Mike Smith said Monday.

Grimes left in the fourth quarter with what was initially described as a calf injury. After an MRI, it was determined he will need surgery for a torn Achilles, costing Atlanta one of its best coverage players.
Not to mention the Falcons faced Matt Cassel in Week 1, which doesn't prep them for Peyton Manning whatsoever.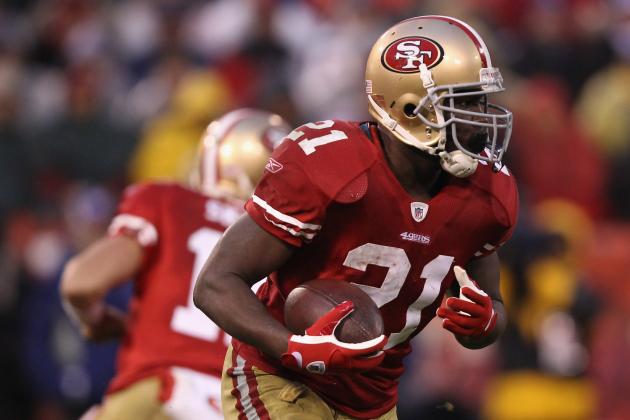 Ezra Shaw/Getty Images

1. Frank Gore, 49ers (vs. Lions)
In Week 1, Frank Gore averaged seven yards per carry against the Green Bay Packers. The Detroit Lions also aren't suffocating up front, and another strong day for Gore is in the making.
2. Adrian Peterson, Vikings (at Colts)
Adrian Peterson is back, and he's a top-five back with confidence. In playing a better-than-given-credit-for defense from Jacksonville, Peterson amassed 84 yards and scored twice.
This week, Peterson gets a slightly easier defense in the Indianapolis Colts, who allowed 122 rushing yards and three scores between Matt Forte and Michael Bush.
3. Jamaal Charles, Chiefs (at Bills)
The Buffalo Bills may have an upgraded defense on paper, but it failed to show against the New York Jets. Jamal Charles had a nice display against the Atlanta Falcons, so expect the Kansas City Chiefs to feed him more in Week 2.
4. Ray Rice, Ravens (at Eagles)
Ray Rice would be higher here, but the Philadelphia Eagles are a sound defensive team. That said, Rice may not compile 100-plus yards, but he knows how to find the end zone.
5. Arian Foster, Texans (at Jaguars)
Much like Ray Rice, Arian Foster faces a tough defense in Week 2. The Jacksonville Jaguars will slow him down at first, but the Houston Texans have too much talent not to move the ball. So although Foster won't amass elite yards, he'll get it done inside the red zone.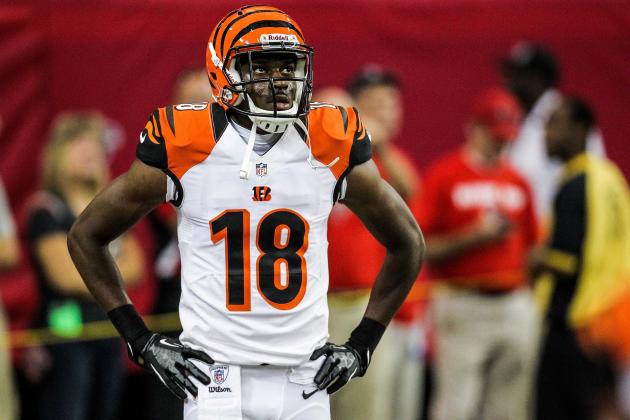 Daniel Shirey-US PRESSWIRE

1. Brandon Marshall, Bears (at Packers)
Alex Smith diced up the Green Bay Packers defense, so the Chicago Bears are likely to do the same. Brandon Marshall is in a more explosive offense, and the cheese haven't shown to be improved from 2011.
2. A.J. Green, Bengals (vs. Browns)
The Cleveland Browns have a solid defense, but the Cincinnati Bengals present a more sound offense than the Philadelphia Eagles. A.J. Green will dominate against man coverage, and Andy Dalton is a better game manager than Michael Vick.
3. Steve Smith, Panthers (vs. Saints)
As we saw courtesy of Robert Griffin III, the New Orleans Saints still lack on defense. Well, don't expect anything different from Cam Newton and Steve Smith in Week 2.
Carolina faced a tougher defense in Tampa Bay last week—the Saints won't be nearly as difficult of a matchup.
4. Julio Jones, Falcons (vs. Broncos)
Julio Jones is quickly emerging as a top-10 receiver. The Denver Broncos do present an improved pass defense, but the Atlanta Falcons are much more explosive than the Steelers. Jones won't dominate like he did Kansas City, but he'll be the Falcons' top target against man coverage.
5. Calvin Johnson, Lions (at 49ers)
It's Calvin Johnson, so he's a top-fiver each week. Unfortunately for Megatron and the Lions, Detroit faces the NFL's best defense in San Francisco this week. Johnson gets his usual impact numbers, but don't be surprised if he gets completely isolated.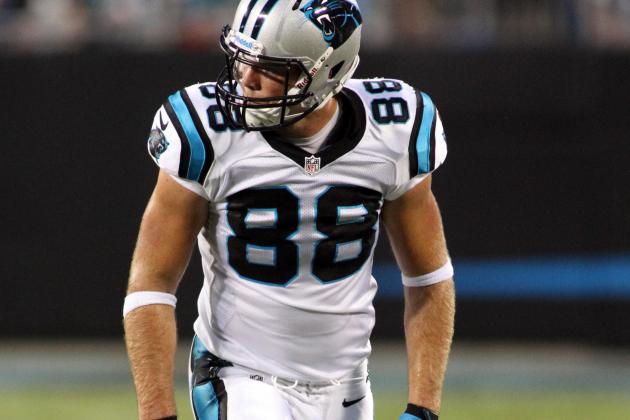 Jeremy Brevard-US PRESSWIRE

1. Jimmy Graham, Saints (at Panthers)
Jimmy Graham remains one of Drew Brees' favorite targets. And against a vulnerable Panthers defense on the road, Brees will need to target Graham quite often for consistent ball movement.
2. Rob Gronkowski, Patriots (vs. Cardinals)
The Arizona Cardinals field a better defense than the Tennessee Titans. However, that won't extremely affect Rob Gronkowski's production. The Cards are more susceptible over the middle, and Gronk's size will dominate against any zone or man coverage between the seams.
3. Greg Olsen, Panthers (vs. Saints)
This is one guy to watch for in 2012. Greg Olsen caught six passes against Tampa Bay, which was the second-most of anyone in that game. With the Saints fielding another weak pass defense, anticipate Cam Newton spreading the field and Olsen complementing Steve Smith quite well.
4. Antonio Gates, Chargers (vs. Titans)
The Titans can't stop the run or the pass, and the Chargers will be able to do both on Sunday. That just leads to another solid performance from Antonio Gates, because he is the Bolts' best receiving target.
5. Tony Gonzalez, Falcons (vs. Broncos)
No matter who it's against or where the contest is played, Tony Gonzalez continues to defy age and be one reliable tight end. Also, the Broncos are weakest against the pass over the middle, so expect Gonzalez to put up some nice numbers on Monday.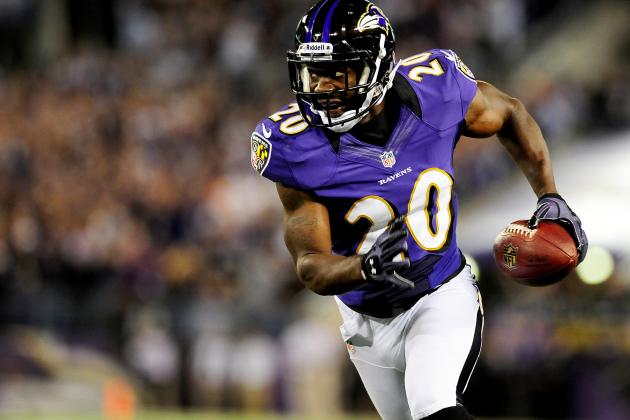 Evan Habeeb-US PRESSWIRE

1. San Diego Chargers (vs. Titans)
The Oakland Raiders didn't present much until toward the end, and the Titans offense won't either. Lacking a passing attack and reliable running game, San Diego's aggressiveness and blitzing will stop the run and get consistent quarterback pressure.
2. Baltimore Ravens (at Eagles)
If the Philadelphia Eagles managed just 17 points against the Cleveland Browns with five turnovers, we have to expect even more from the Baltimore Ravens. Period.
3. Cincinnati Bengals (vs. Browns)
Cincinnati may have gotten exploited by the Ravens, but Baltimore is light years ahead of Cleveland. The Browns didn't score an offensive touchdown in Week 1 and totaled just 210 yards. In short, the Bengals will crush Brandon Weeden and Co. even better than Philadelphia.
4. San Francisco 49ers (vs. Lions)
Believe it or not, this is a matchup of polar opposites. The St. Louis Rams played impressively against the Detroit Lions, and arguably the NFL's best offense (Green Bay) was suffocated by the 49ers. As we've come to know in pro football, the better defense usually wins.
5. Kansas City Chiefs (at Bills)
The Buffalo Bills are hurting offensively. Per ESPN.com:
The Buffalo Bills not only got blown out Sunday but top running back Fred Jackson is out at least three weeks and receiver David Nelson is gone for the rest of the 2012 season.

Coach Chan Gailey gave the injury updates at his weekly news conference Monday, confirming an earlier report by ESPN NFL Insider Adam Schefter.
This just makes game-planning easier for the Chiefs. And although Kansas City was burned by the Atlanta Falcons last week, the Dirty Birds are a much more explosive offense than Buffalo.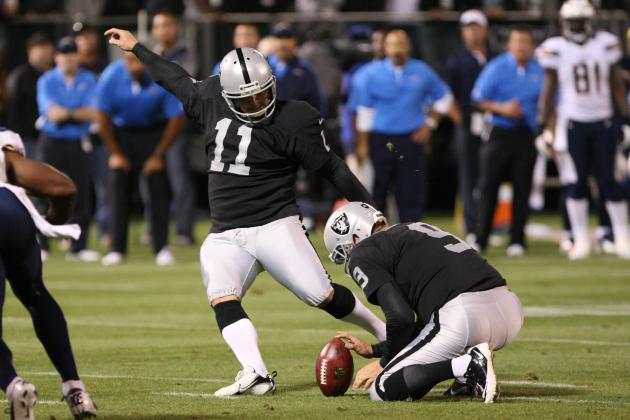 Kelley L Cox-US PRESSWIRE

1. Sebastian Janikowski, Raiders (at Dolphins)
All the Oakland Raiders have to do is get the rock around the Miami Dolphins' territory. This at least gives the Raiders a three-point lock, because Oakland's offense remains horrendous inside the red zone.
2. Connor Barth, Buccaneers (at Giants)
Last week, the Tampa Bay Buccaneers moved the ball impressively well and at a consistent rate. The New York Giants are also vulnerable to Tampa Bay's balanced attack, but Big Blue has the ability to lock down when backed up. So Connor Barth kicks the Bucs to the scoreboard once again.
3. David Akers, 49ers (vs. Lions)
The man proved he could knock from 63 yards out. Well, that only enhances the 49ers' scoring effectiveness, because the Detroit Lions still lack on defense. In turn, San Francisco will be in position to add points throughout, and David Akers remains a busy kicker this week.
4. Greg Zuerlein, Rams (vs. Redskins)
At least the St. Louis Rams were able to move the ball in Week 1. Granted, the Lions aren't great defensively, so scoring will be tougher against the Washington Redskins. Fortunately, kicker Greg Zuerlein is quite reliable and can hit from around 50 yards (long of 48 against Detroit).
5. Phil Dawson, Browns (at Bengals)
If there's anyone who can score for the Cleveland Browns, it's Phil Dawson. A few times, Cleveland saw some success offensively against Philadelphia, but drives kept stalling as expected. Fortunately, Dawson was able to connect, and the Browns will need this dependability against Cincinnati for any shot at scoring.
Follow John Rozum on Twitter.