SEC Football: Picks for Every Week 3 Game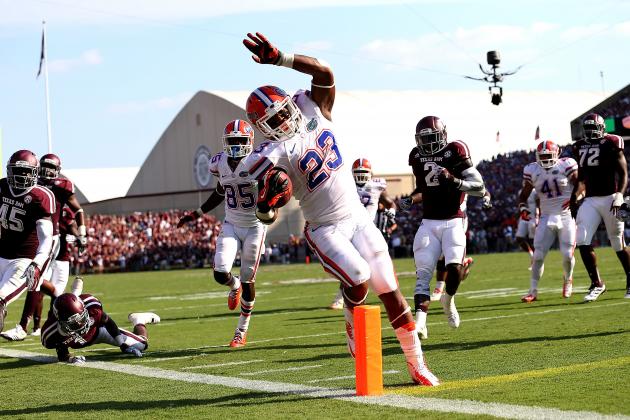 Ronald Martinez/Getty Images
Florida RB Mike Gillislee
Week 2 is in the books, and in the process, the SEC newcomers received their first taste of what SEC football is all about.
But what's in store for Week 3?
We thought Alabama at Arkansas was going to be one of the premier games of the 2012 season, but Arkansas' overtime loss to ULM last weekend quelled that hype.
Tennessee hosts Florida in the most important game of the week. The winner will establish itself as a legitimate East contender, while the loser will need some help from around the division to get back into contention.
Here are the picks for Week 3.
2012 Record: 19-4 (6-12 ATS)
All lines courtesy: VegasInsider.com
Begin Slideshow

»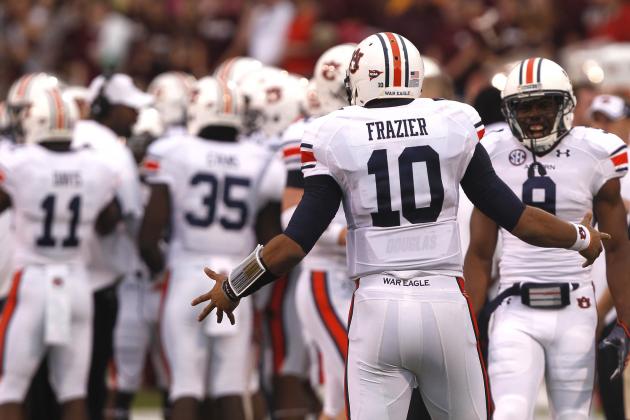 Butch Dill/Getty Images
Auburn QB Kiehl Frazier
Saturday, Sept. 15 at 12:21 p.m. ET
In August, this game was viewed as a tune up for the Tigers prior to hosting LSU in Week 4.
Now...not so much.
Auburn's 0-2 start coupled with Louisiana-Monroe's upset last week of then No. 8 Arkansas has the Tigers on upset alert.
That won't happen.
Auburn will open the game with the idea of getting quarterback Kiehl Frazier some confidence early, and he will respond with a decent game. That's progress.
Defensively, the Tigers have their work cut out for them slowing down Warhawk quarterback Kolton Browning. Considering they struggle with tackling and have been playing a lot of soft zone, that's a problem.
ULM will keep it interesting, but Auburn escapes Jordan-Hare Stadium with its first win of the season.
Score Prediction: Auburn 35 - ULM 17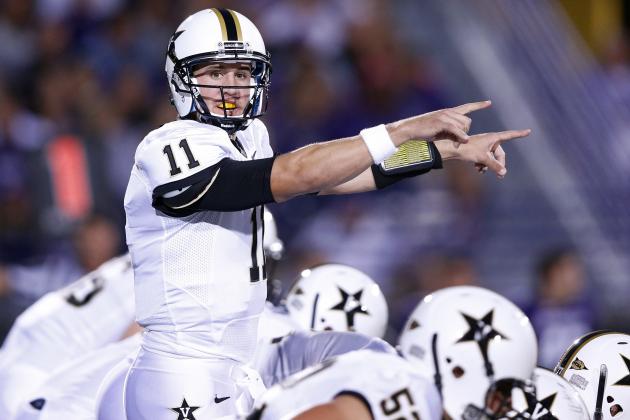 Joe Robbins/Getty Images
Vanderbilt QB Jordan Rodgers
Saturday, Sept. 15 at 12:30 p.m. ET
About the only thing worth talking about in this game is that we get to mention that Presbyterian's mascot is the "Blue Hose."
That's phenomenal.
Unfortunately for the Blue Hose, the Vanderbilt Commodores are more talented, better coached and desperate.
Running back Zac Stacy will cruise north of the century mark and the 'Dores play dial-a-score with the Blue Hose.
Score Prediction: Vanderbilt 42 - Presbyterian 6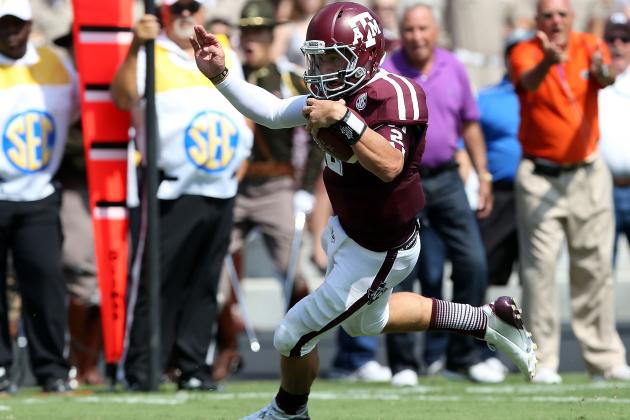 Ronald Martinez/Getty Images
Texas A&M QB Johnny Manziel
Saturday, Sept. 15 at 3:30 p.m. ET
Texas A&M may have lost its SEC opener to Florida, but the Aggies can use that game to their advantage.
They came out hot with that new offense under redshirt freshman quarterback Johnny Manziel, punched Florida in the mouth and were then punched back by the Gators.
Even though the Gator defense landed the knockout blow, now Texas A&M knows how SEC defenses will adjust to its offense.
That gives A&M something to work on this week vs. the Mustangs.
The Gators spread the Aggies out and used their speed to neutralize the offense, so expect A&M to work on how to exploit that this week. It may be sloppy, but A&M pulls away.
Score Prediction: Texas A&M 35 - SMU 20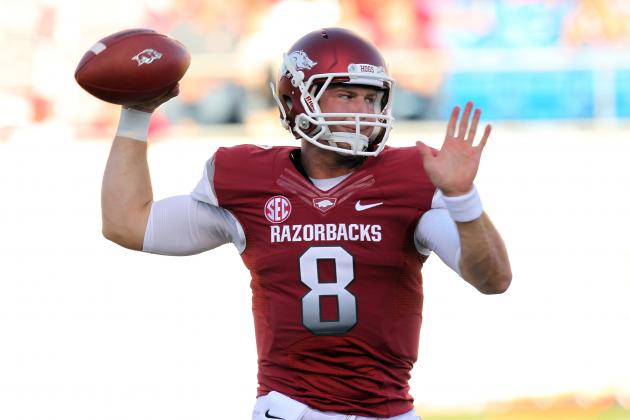 Nelson Chenault-US PRESSWIRE
Arkansas QB Tyler Wilson
Saturday, Sept. 15 at 3:30 p.m. ET
This was supposed to be the game of the week, and perhaps even the game of the year in the SEC.
Yeah...about that.
Louisiana-Monroe wrecked Arkansas' best-laid plans last week with its 34-31 overtime win over the Hogs in Little Rock.
But don't let that spread fool you, Arkansas is a dangerous team.
The status of quarterback Tyler Wilson remains in doubt, and head coach John L. Smith said that Brandon Allen and Brandon Mitchell will both take snaps if Wilson is unable to go. (h/t ESPN)
It is a huge disadvantage to have your Heisman quarterback on the shelf, but forcing Alabama to prepare for the typical Razorback pro-style offense and the dual-threat capabilities of Mitchell isn't the worst thing in the world.
Regardless of who takes the snaps, it's fairly certain that none of the three will play defense—and that's Arkansas' biggest issue.
Alabama's offensive line allows running backs Eddie Lacy, T.J. Yeldon and quarterback AJ McCarron to control the game...but not enough to cover that spread.
Score Prediction: Alabama 31 - Arkansas 16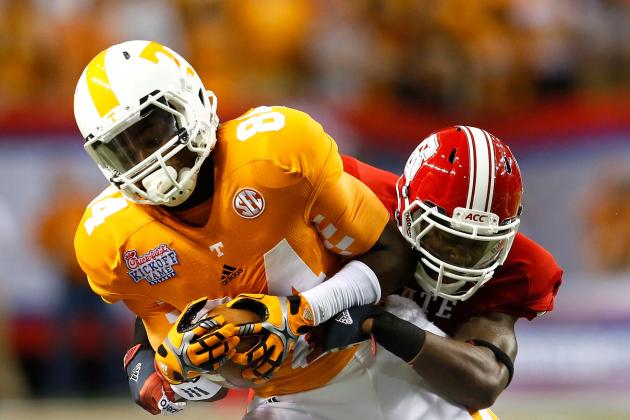 Kevin C. Cox/Getty Images
Tennessee WR Cordarrelle Patterson
Saturday, Sept. 15 at 6 p.m. ET
For the first time since 1995, this game is not featured as the SEC national network broadcast on CBS.
Whoops.
As it turns out, the Florida vs. Tennessee game is probably the most important game of the weekend.
Tennessee has solved all of its pressing questions from the offseason with the emergence of wide receiver Cordarrelle Patterson, running back Marlin Lane and an aggressive defense that forces turnovers.
Florida solved its biggest issue as well, with the revelation that Mike Gillislee isn't just a capable SEC running back—he's a stud.
Gator quarterback Jeff Driskel is good, but he takes too many sacks and is apprehensive to pull the trigger at times. That's dangerous against a Vol defense that likes to bring the heat.
Tennessee will win on the heels of a couple of Driskel picks, but this one comes down to the final five minutes.
Score Prediction: Tennessee 24 - Florida 21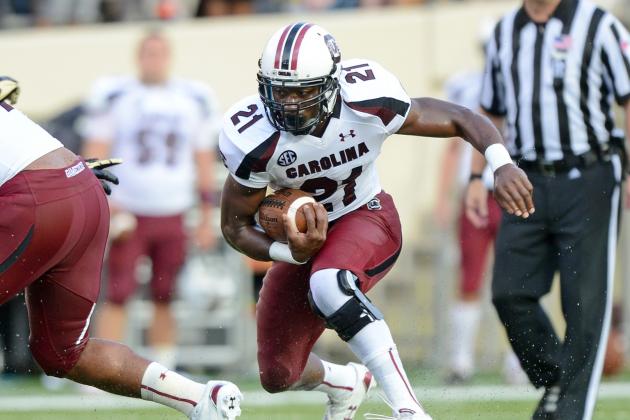 Don McPeak-US PRESSWIRE
South Carolina RB Marcus Lattimore
Saturday, Sept. 15 at 7 p.m. ET
Dylan Thompson filled in admirably for quarterback Connor Shaw last week vs. East Carolina, to the point where the vocal minority has been suggesting a quarterback controversy.
Yeah, that's not going to happen.
But Thompson's performance vs. the Pirates was important because Shaw's ability to run the zone read does put him in harm's way more than the average drop-back quarterback.
Shaw's status for this weekend's game vs. UAB is still in doubt, but it doesn't matter.
Thompson will be able to light the Blazers up. Plus, if all else fails, there's always that Marcus Lattimore guy to turn around and hand the ball to.
Score Prediction: South Carolina 42 - UAB 6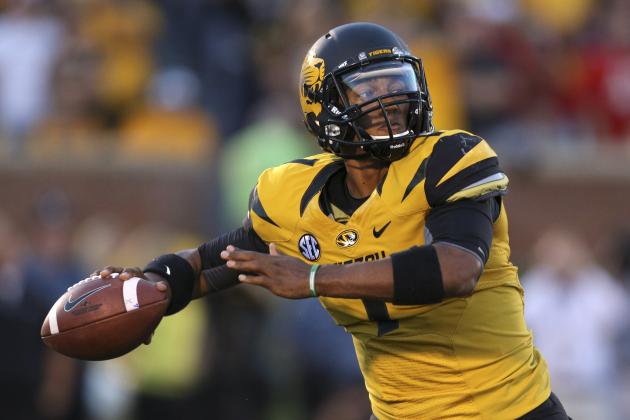 Ed Zurga/Getty Images
Missouri QB James Franklin
Saturday, Sept. 15 at 7 p.m. ET
Missouri got its first taste of SEC football last week, and that taste was sour.
Georgia linebacker Jarvis Jones dominated the second half against Mizzou to help lead the Bulldogs to a 41-20 win over the Tigers in Columbia. But there's no rest for the wary.
Arizona State rolls into Columbia 2-0 off a dominating win over Illinois last weekend in the desert.
Missouri offensive coordinator David Yost likes to run that fast-paced offense, but if there's one thing that the Tigers learned last week, it's that you can't sacrifice protection for tempo.
Tigers win behind a steady ground attack from quarterback James Franklin and running backs Kendial Lawerence and Marcus Murphy.
Score Prediction: Missouri 28 - Arizona State 24
Butch Dill/Getty Images
Mississippi State QB Tyler Russell
Saturday, Sept 15 at 7 p.m. ET
Mississippi State finally got an SEC West win over a team other than Ole Miss last week, with a dominating 28-10 drubbing of Auburn. Now the Bulldogs step out of conference with a road game vs. Troy.
This is a dangerous game.
Troy always has athletes and has a track record of springing upsets over teams from BCS conferences.
If Bulldog quarterback Tyler Russell plays the way that he did vs. the Tigers, it won't be an issue.
Mississippi State's defense proved last week to be one of the best in the SEC and Russell had his breakout game at quarterback. The Bulldogs ride that momentum to an easy win.
Score Prediction: Mississippi State 31 - Troy 13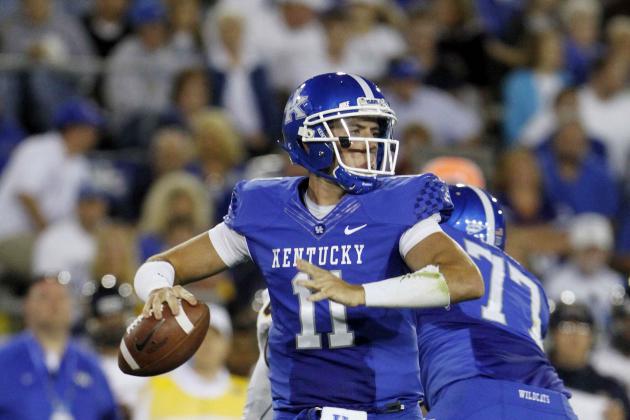 Mark Zerof-US PRESSWIRE
Kentucky QB Maxwell Smith
Saturday, Sept. 15 at 7 p.m. ET
Don't look now, but Kentucky quarterback Maxwell Smith is 12th in the country in passing yards per game with 317. This is the same Kentucky team that finished last in the SEC in passing offense a year ago at 135 yards per game.
That trend will continue vs. the Hilltopers, who head to Lexington after a trip to Tuscaloosa last weekend.
The Wildcats will also get running back CoShik Williams back after he missed last weekend's win over Kent State with back spasms.
In this game last weekend, we learned that Western Kentucky isn't intimidated by the "SEC" patch on Kentucky's uniforms.
They will be when this one's done.
Score Prediction: Kentucky 31 - Western Kentucky 16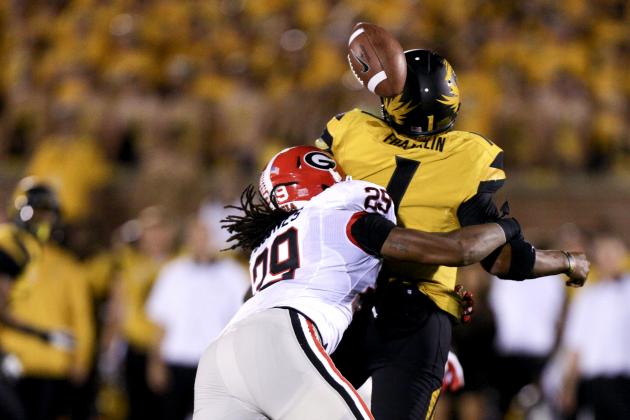 Ed Zurga/Getty Images
Georgia LB Jarvis Jones
Saturday, Sept. 15 at 7:30 p.m. ET
Please...are you serious with this game?
Expect Georgia to work on a few specific things and get its starters out of the game early.
Job No. 1 will probably be to get its issues on the offensive line worked out. Quarterback Aaron Murray was pressured early in the win over Missouri, and that needs to be fixed before the Bulldogs head into the meat of their SEC schedule.
Expect Todd Gurley and Keith Marshall to get plenty of carries. They may be focal points of the offense now, but they still need to get some experience under their belts.
This game won't have a big impact on linebacker Jarvis Jones' Heisman campaign, because he'll probably play a quarter and get out of there.
This one gets ugly.
Score Prediction: Georgia 55 - Florida Atlantic 10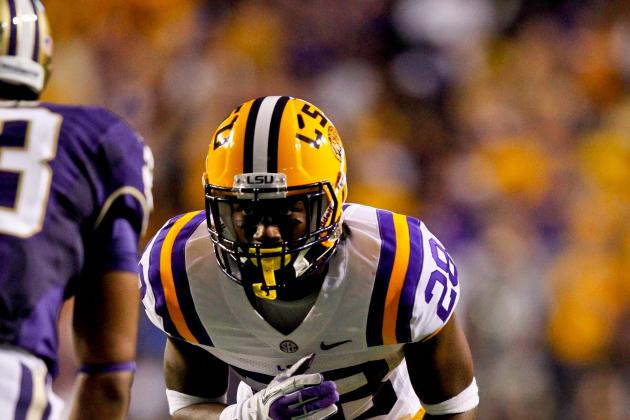 Derick E. Hingle-US PRESSWIRE
LSU DB Jalen Mills
Saturday, Sept. 15 at 8 p.m. ET
Still waiting on an SEC team to head to Moscow, Idaho and play a game in the fabulous Kibbie Dome.
I guess Death Valley is a decent substitute though.
Everyone is waiting on quarterback Zach Mettenberger to have a big day through the air, but it won't happen on Saturday night.
LSU uses a ground-and-pound attack and goes north of 275 rushing yards as a team.
This game is all about the backups, as LSU rolls.
Score Prediction: LSU 55 - Idaho 6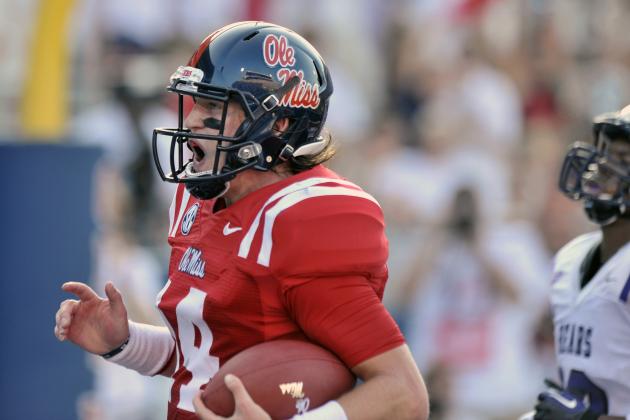 Jim Brown-US PRESSWIRE
Ole Miss QB Bo Wallace
Saturday, Sept. 15 at 9:15 p.m. ET
Don't look now, but Ole Miss is 2-0 and looks like a decent SEC football team.
Quarterback Bo Wallace has established himself as a legit SEC weapon. The junior college transfer has completed 76.1 percent of his passes for 438 yards, five touchdowns and one interception in his first two games with the Rebels. He has also added 135 rushing yards and two rushing touchdowns.
But that was against Central Arkansas and UTEP, and the Texas Longhorns are a different animal.
When you combine Wallace with running back Jeff Scott, you've got a potent offense that can give the Longhorns fits.
Texas defensive linemen Jackson Jeffcoat and Alex Okafor will harass Wallace, but he will make enough plays to keep the Rebels close.
Score Prediction: Texas 38 - Ole Miss 35