With a thoroughly dominant victory against the Tennessee Titans in the bag, the New England Patriots turn their attention to the Arizona Cardinals.
The Cardinals, who escaped with a victory against Seattle last week, will present a different challenge to the Patriots with their impressive defense as well as several offensive playmakers.
Despite a shaky quarterback situation, the Cardinals come into Gillette Stadium with eight victories from their last 10 games, dating back to last season.
With several established stars on defense in Adrian Wilson, Darnell Dockett, Calais Campbell and Patrick Peterson, Tom Brady and Co. could have a much tougher outing than against the Titans.
The Cardinals also boast one of the best wide receivers in the game in Larry Fitzgerald, whom Bill Belichick labelled as someone who will "go down as one of the all-time greats."
Sunday's game promises to be a physical matchup between two teams with fairly different styles.
Here are some things to follow on Sunday afternoon at Gillette Stadium.
Blip or Trend for Stevan Ridley
Against the Titans last week, Stevan Ridley took full advantage of the starting running back role and rushed for a career high of 125 yards.
Al Messerschmidt/Getty Images
Ridley demonstrated great explosion and toughness with some nifty footwork to boot. It was the type of performance that Pats fans have been waiting to see from a Patriots running back for a long time.
While BenJarvus Green-Ellis was always a safe and serviceable back, he never had the explosiveness that Ridley showed on Sunday.
With that being said, Ridley will need to be consistent with this level of production if he is to make that leap into becoming a great running back.
Ridley was up and down last season, with a terrific performance against Oakland offset by some less-than-desired performances.
With a consistent running game like the one they had on Sunday, the Patriots offense is unstoppable.
Offensive Line Shuffles Again
Throughout the preseason, the Patriots were unable to put together a consistent five-man offensive line, and it showed with several lackluster performances.
Against the Titans, New England was finally able to start the five projected starters and the results were fairly promising.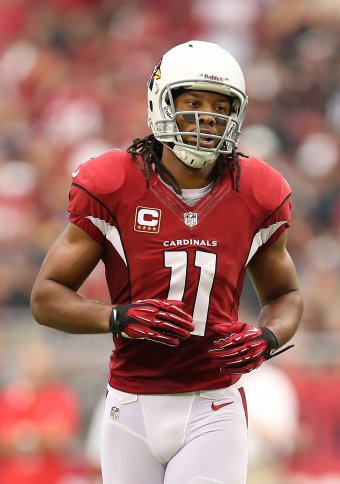 Christian Petersen/Getty Images
However, with Dan Connolly doubtful to play on Sunday with a head injury, the offensive line shuffle could start up again. And with Sebastian Vollmer still not 100 percent, the line may not be at its best on Sunday.
This could be trouble against an Arizona defense that features elite defensive lineman Darnell Dockett and Calais Campbell. As the New York Giants have painfully exposed, the key to beating the Patriots is to get pressure on Tom Brady—and you'd better believe the Cardinals will be gunning for Brady on Sunday.
Will Defense Put Together Another Elite Performance?
Probably the best news to come out of last Sunday's game was the dominant performance by the Patriots defense.
Whether it was holding former All-Pro running back Chris Johnson to four yards rushing on 11 attempts, getting pressure on the quarterback or making plays on the ball, the Patriots defense did it all. Even better were the performances by rookies Chandler Jones, Dont'a Hightower and Tavon Wilson, who all made significant plays in the game.
The performance had most Pats fan reminiscing about the great Super Bowl defenses led by Tedy Bruschi and Willie McGinest. This defense certainly has the potential to match up with those defences, but they will have to be consistently great.
Over the past couple of years the Patriots defense has put on dominant performances, but they haven't been able to string together several great performances.
Last week, it was clear that the No. 1 goal for the Patriots was to stop the Titans' best offensive player, Chris Johnson, so you can be sure the goal this week will be to take out the Cardinals' best option, Larry Fitzgerald.
Taking Fitzgerald out with go a long way in helping the Patriots put together another dominant defensive performance.
Last Sunday's game was great, but if the defense regresses to last season's form, the performance will mean little.
Will Wes Welker Show Up?
Wes Welker has been the Patriots most consistent offensive player over the past five years; so, it was quite bizarre when he was replaced several times by Julian Edelman last week.
Throughout his time in New England, Welker has rarely—if ever—left the field, and Sunday's game seemed to fuel the rumors that New England is phasing Welker out of the game plan. CSN New England reports Brady and Josh McDaniels said Welker's absence was game-plan specific, but it was confounding as to why Edelman was on the field and Welker was not.
With Welker's contract situation still a primary topic of discussion around Foxborough, games like that certainly don't help him out.
Come Sunday it will be interesting to see how often Welker is on the field, and if Brady looks to him regularly.