St. Louis Rams: The Blueprint to Beat the Redskins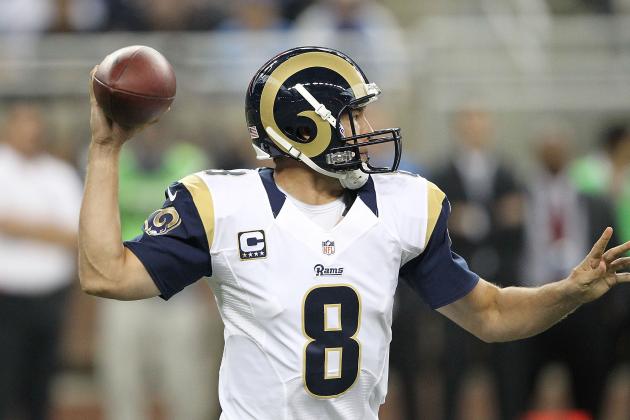 Leon Halip/Getty Images

The Washington Redskins invade St. Louis, so let the "should the Rams have drafted RG3" debate begin.
The Internet might literally explode this week, as St. Louis fans trip over themselves trying to rip Les Snead and Jeff Fisher for sticking with Sam Bradford instead of drafting RG3. After all, RG3 did have that one game where he played really well, against a team without a coach and isn't known for playing very good defense in the first place.
Rams' fans, don't get caught up in that noise. The Rams are going to win this game.
Read along with me today, and I'll break it down for you. Here is the blueprint for how the St. Louis Rams are going to beat the Washington Redskins.
Begin Slideshow

»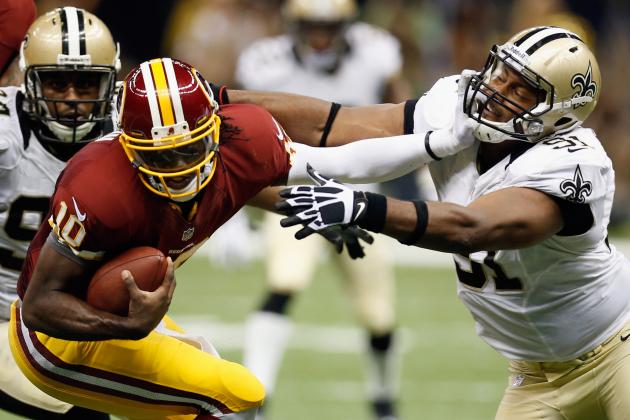 Chris Graythen/Getty Images

Sure, Griffin threw for 320 yards. However, 88 yards came on one long play to Pierre Garcon. Griffin was 19 for 26 passing, but his first eight completions were behind the line of scrimmage or at the line of scrimmage.
Griffin is still a rookie.
Washington did a fantastic job in putting together a game plan that was "rookie QB friendly." Take away a busted play here and there, and Griffin's stat line, along with his national reputation as "people's QB champ," would be totally different.
The Rams need to hit RG3.
Robert Quinn and Chris Long, I'm talking you. Kendall Langford, get in there and get you some, too. We have to hit RG3 again, and again, and again.
Welcome to St. Louis, Robert.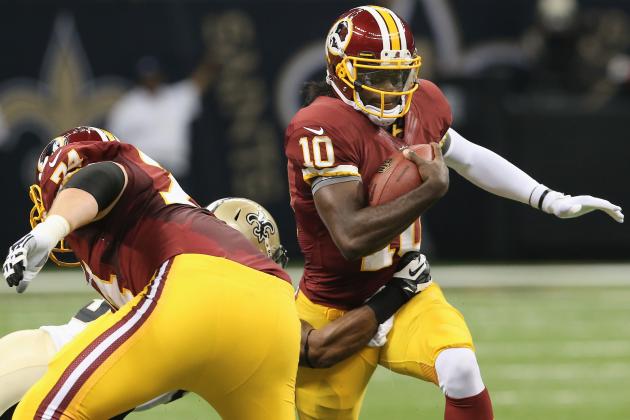 Ronald Martinez/Getty Images

A strong running game is a young QB's best friend. As I just said, Griffin only attempted 26 passes. Washington ran the ball 44 times. Griffin had 42 rushing yards on 10 carries, with his longest run being 12 yards.
The Rams need to get ready to stop the run.
Washington runs a lot of spread formation stuff, where they run basically the same thing the Jets run with Tim Tebow. Griffin might hand it to the back on the stretch play, or he might keep it and try to run away from the flow of the defense.
Griffin is so fast that this is a hard play to defend.
The Rams are going to have to do a good job in diagnosing "pass or run?" Once they see run, the defensive ends have to contain the edge and keep Griffin in the middle of the field. From there, it's up to Langford, Laurinaitis and company to clean up the rest.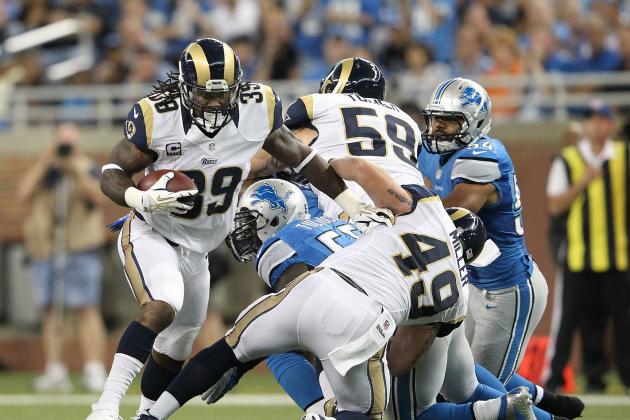 Leon Halip/Getty Images

A strong running game is a young QB's best friend, right?
Steven Jackson ran hard in Detroit, but couldn't gain any traction because the O Line struggled against Ndamukong Suh and the Detroit front. Washington also has some talented players up front, but not at the same level the Rams just saw in Detroit.
We know the Rams will be without Scott Wells (broken foot, 6-8 weeks). The Rams will probably be without Rodger Saffold (neck injury) and Rok Watkins (foot injury) as well. So that means the Rams will start backup Wayne Hunter at left tackle, backup-backup Quinn Ojinnaka (welcome back!) at left guard, and starting left guard Robert Turner will slide over to center.
Can these guys blow holes open for Steven Jackson?
If they do, the Rams are going to win this game. I'd also like to see the Rams use Brit Miller on the field more this week. He would help in pass protection, by keeping an extra player in to block. He would also help in the running game by giving Jackson a lead blocker.
If we're going to be a "power running team," why hide it? Put a fullback out there and run downhill.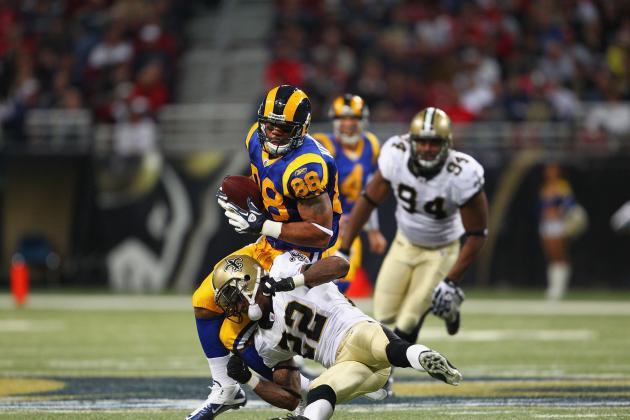 Dilip Vishwanat/Getty Images

Like I just said, if we're going to be a power running team, why try to hide it? Put Brit Miller out there and let him lead block, or put two tight ends on the line and create an advantage that way.
By creating an advantage in the running game, the Rams could open things up in play action. If two tight ends are on the field, this could create a lot of easy short-to-intermediate throws for Sam Bradford. Last week the tight ends only caught three total passes.
Matthew Stafford completed 12 passes to his tight ends.
In my opinion, this is the biggest missing piece in the Rams' offense. They have to create a security blanket for Sam Bradford. Lance Kendricks is a big, athletic target. He could chew up yards after the catch if put in the right position.
The Rams need to get a lot more out of the tight end spot this week.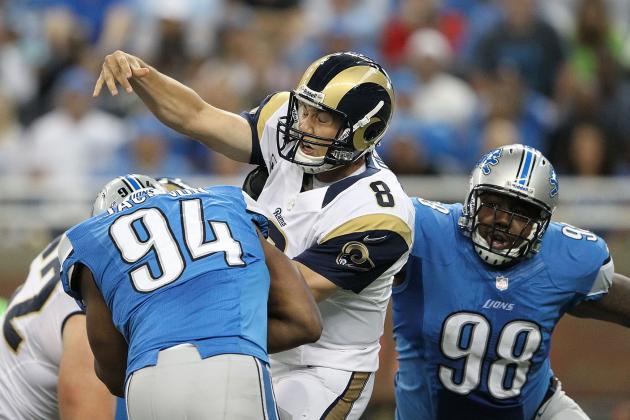 Leon Halip/Getty Images

With RG3 coming to town, you're going to hear a lot of people saying the Rams should've drafted Griffin. After all, the Rams were holding the No. 2 overall pick. They had Griffin if they wanted him.
You know there were several teams (Cleveland, Washington) that coveted Bradford coming out of college, and those teams would have traded picks to the Rams for Bradford, just not the king's ransom they got from Washington for the No. 2 pick.
So did the Rams make the right move by keeping Bradford?
I think they did, and I wrote about that yesterday. I still believe in Sam Bradford, and I think we're going to see him play his best game as a Ram on Sunday afternoon against the Redskins. So much of Bradford's success is going to come down to Wayne Hunter blocking Brian Orakpo.
Like I said earlier, we need Brit Miller in the game as an extra blocker!
If the Rams will give Bradford time to throw, he can do some damage against this Redskins secondary. I also look for Brian Quick to get on the field this week, as Steve Smith was basically a non factor on the outside. We need a big, physical receiver to make plays on the outside.
If we're not going to give Quick a chance, then why did we waste the No. 33 pick on him?
I expect the Rams' offense to rally around Sam Bradford this week. They hear the same talk we hear, and if they have any respect for Bradford, they are going to step up. The O Line will keep him clean, and the receivers will go make plays for him.
Sam Bradford is about to silence his critics. He's going to outplay Griffin, and that is the biggest reason the Rams will be 1-1 come Monday morning.