NFL Week 2 Picks Against the Spread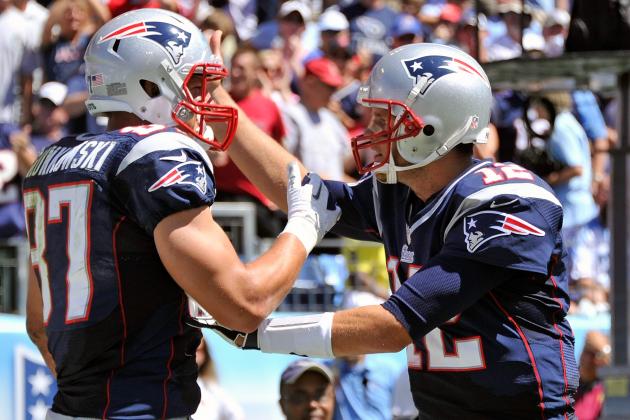 Frederick Breedon/Getty Images

The bad news? Last week didn't go so well for me in the picks department. Jacksonville's late touchdown cost me a win, as did several dropped touchdown passes by Seattle's receivers. The Jets scored 48 more points than I thought they would, and I wish I could say Monday night was the first time I'd ever lost money because of a long snapper.
Alas, life goes on.
The good news is that as badly as Week 1 went for me, it went just as badly for everyone else. Nobody picked Cleveland, Detroit or Washington to cover. It was a great week to run a casino.
Whether this is just my justification for a bad week or a sign that I really just don't know football is irrelevant. I'm going to keep pounding away at these lines and, assuming you have any faith in me, you'll keep winning (or, more likely, losing) money thanks to this column.
We're coming back stronger than ever in Week 2. This is going to be a 12-4 week. I just have a feeling. Here are my Week 2 picks against the spread.
Record For the Season: 6-10
Begin Slideshow

»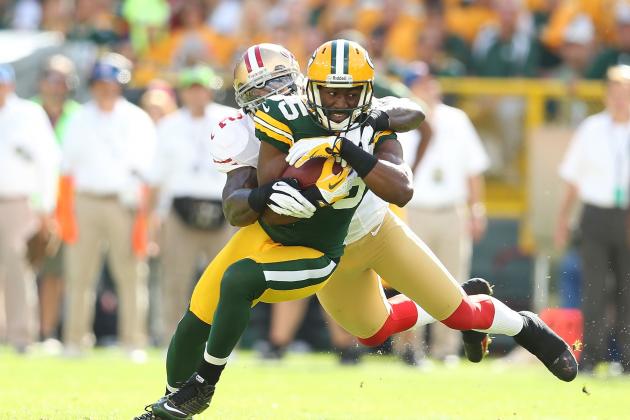 Andy Lyons/Getty Images

Since there should be at least some objective analysis at you in this column, I'll give you a few numbers to keep in mind.
This is Jay Cutler's fourth season as a Bear. In the first three combined, he threw seven interceptions in his first game against Green Bay of the year. In those same three games, Aaron Rodgers threw only two.
Those numbers get a lot more depressing when you remember that Chicago has had an elite defense in each of those three seasons while Green Bay had one great season (2010) sandwiched between two terrible years (2009 and 2011).
Now that we have that out of the way, time to talk about the intangibles and emotional factors that nobody actually knows how to quantify, yet still gets thrown around as a relevant point in deciding games.
This is an absolute must win game for the Packers. They can't fall two games behind Chicago, and they were just embarrassed on their home field by the 49ers. Something tells me that isn't happening twice in a row.
Meanwhile, doesn't this feel like a classic Jay Cutler game? He pulls you in with a marvelous performance against Indy, makes you believe that he's tamed the gunslinger within, and then throws four interceptions in a big night game against the Packers? It certainly looks that way to me, which is why I'm taking Green Bay.
The Pick: Green Bay (-5.5).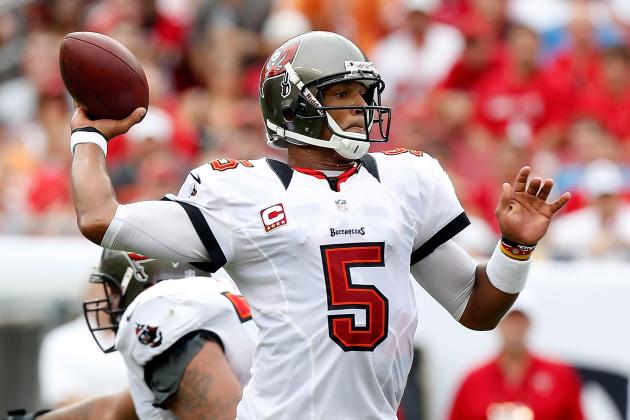 J. Meric/Getty Images

My favorite sleeper vs. my favorite regression team. Who do you think I'm taking?
I'm just going to put this out there—I don't trust Eli Manning. At all. I've made the case that he isn't elite, but his performance against Dallas just made me realize that there's no real way to accurately predict his performance. He's great one week and then terrible the next. It makes no sense.
This is either going to be Week 2's obligatory random blowout to signal the arrival of a new contender (last year it was Detroit's 48-3 decimation of Kansas City), or it's going to be one of those games when Eli sucks for three quarters and then rallies in the fourth for a comeback win.
In either of those scenarios Tampa covers. Take the points.
The Pick: Tampa Bay (+7.5).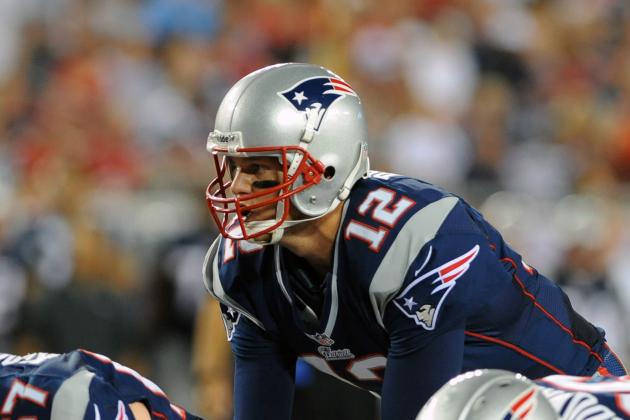 Al Messerschmidt/Getty Images

Before trying to get cute and taking Arizona, ask yourself one very important question: if you had to bet your life on this game, how many points would Arizona have to get for you to take them?
I wrestled with that question for a while before coming up with the following number: 28.5 points. The spread would have to be New England (-28.5) to take Arizona. The Pats just love pounding terrible teams, and that 28.5 is really 35.5 minus one garbage time touchdown.
There's a reason I currently have this game in three parlays. The spread seems high until you remember it's Tom Brady playing against a terrible team.
The Pick: New England (-13.5).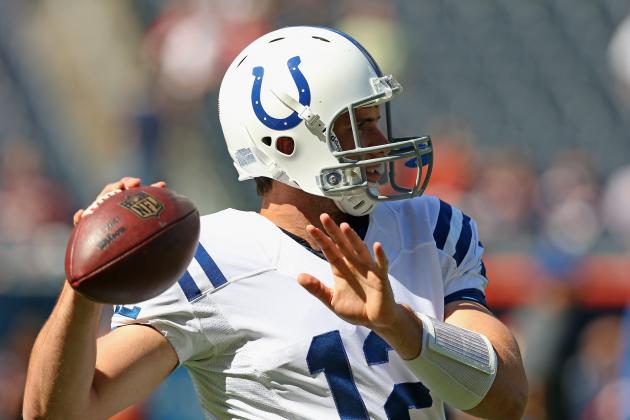 Jonathan Daniel/Getty Images

Andrew Luck is probably sitting in Indy's film room right now thinking to himself "Man, Blaine Gabbert just scored 23 on these guys in their house, even on an off day I should be able to put up 35."
That's the difference here. If Minnesota struggled to beat Jacksonville at home why should I believe they can beat a better Indianapolis team on the road?
Chicago made Andrew Luck look like a rookie last week. They're one of the few teams that are good enough to do that. The Vikings aren't. Robert Griffin III had his breakout performance last week, I think Luck's will come this week.
The Pick: Colts (+1.5).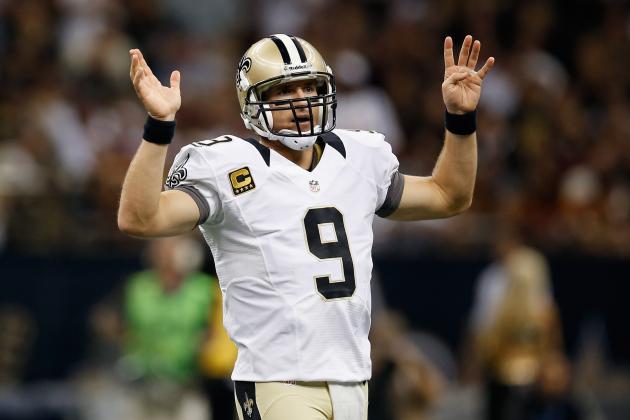 Chris Graythen/Getty Images

The Saints can't open the season 0-2 against two teams that won a combined 11 games last year, right?
The Pick: New Orleans (-2.5).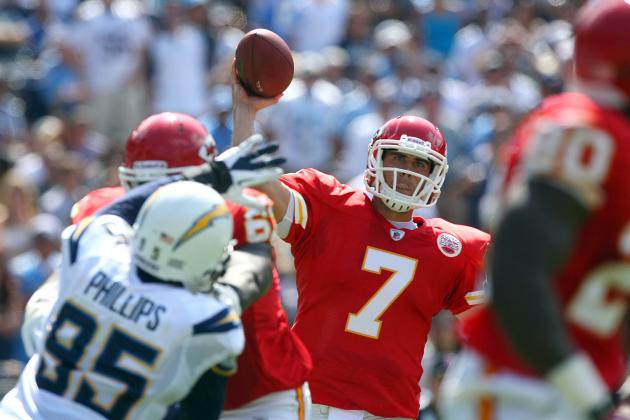 Donald Miralle/Getty Images

This is the ultimate litmus test of atrociousness. Both of these teams were blown out last week. If one of them blows out the other we know the loser is terrible.
Maybe I'm just bitter. I predicted that the Bills would make the playoffs before the Jets fustigated them (yes I just used a word created on The Simpsons, look it up). At least Kansas City had the decency to lose like I thought they would.
But I'm not picking the Chiefs out of spite. I'm picking the Chiefs because I think they actually lost to a good team (yes that's a slight against the Jets).
I'm picking them because I know Ryan Fitzpatrick is terrible while the jury is still out on Matt Cassel, and most importantly I'm picking them because they ruined everybody's preseason predictions, not just mine.
The team everybody projects to break out never does. It's one of gambling's most irrefutable rules. The Chiefs at least have a shot to sneak out a bad division, but the Bills shot themselves in the foot the moment they decided to invest in an elite free agent and give people a reason to talk about them.
Logical? Probably not, but most of my picks aren't.
The Pick: Kansas City (+3).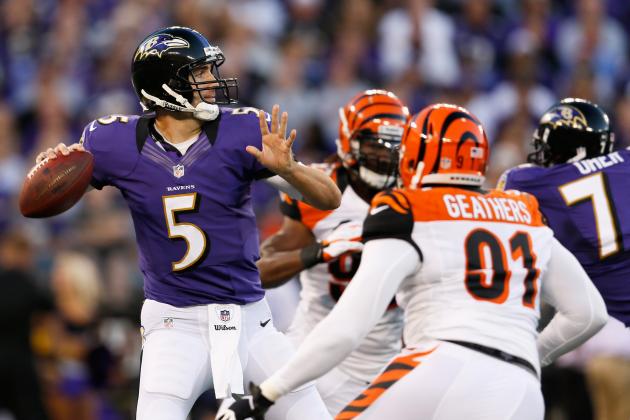 Rob Carr/Getty Images

Let me get this straight: last year the Eagles went 8-8 and the Ravens made the AFC championship game.
Last week, the Eagles need a fourth quarter comeback to beat the worst team in the league starting a quarterback who threw four interceptions (probably the only four interception game in which the stats don't tell the entire story of how terrible he was), while the Ravens fustigated (yes I'm going to keep using that word) a playoff team on national TV.
And the Eagles are favored?
Does somebody want to explain that logic to me? I had Ravens (-4) when I initially looked at the schedule, and I thought that was being generous to Philly. This line makes no sense to me. Take the Ravens and thank me later. This is my lock of the week.
The pick: Baltimore (+2.5).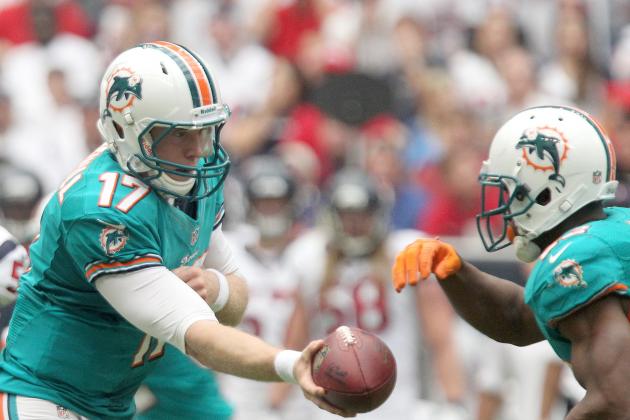 Thomas B. Shea/Getty Images

Ryan Tannehill got a pass last week because of how terrible Brandon Weeden was, but the Texans made him look like a converted wide receiver playing quarterback.
To those of you who don't know, Tannehill actually is a converted wide receiver playing quarterback. And he was just picked No. 8 in the NFL Draft. Gotta love the Dolphins.
I'm betting against Tannehill until he proves me wrong. Same goes for Weeden (I don't care if he covered last week, he might be the first modern quarterback to throw 40 interceptions in a year and I refuse to not profit off of it).
The pick: Oakland (-2).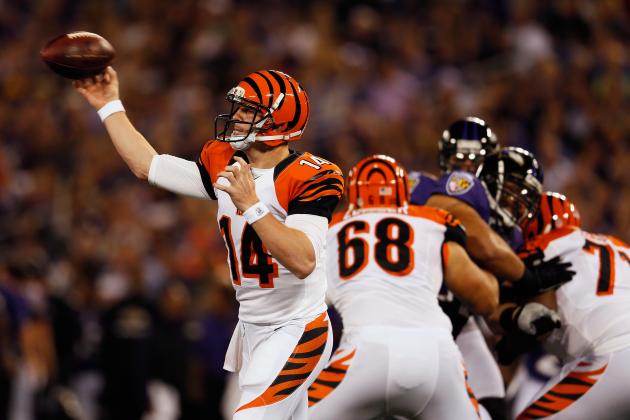 Rob Carr/Getty Images

I'm so excited about betting against Brandon Weeden that I accidentally typed "Cincinnati Bengals (-7) vs. Brandon Weeden" in the title box before fixing my mistake. Doesn't that give away my pick?
The Pick: Cincinnati (-7.5).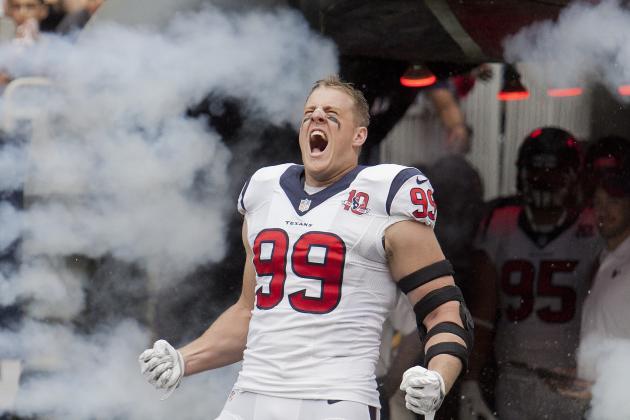 Bob Levey/Getty Images

Did you all see what the Texans did to Ryan Tannehill? Well, Blaine Gabbert is worse. Yes, he's worse than someone I have vowed to bet against until he covers a spread.
He's that bad.
The possibilities here are endless. Could Gabbert throw four interceptions? Five? Will he wet himself once he sees J.J Watt lining up in front of him? Could we get a Chad Henne sighting here?
Betting on a good quarterback doesn't guarantee you anything, but it's hard to find a better bet than a great defense playing against a crappy quarterback. I call this the Brian St. Pierre theory (because of this game).
The Pick: Houston (-7).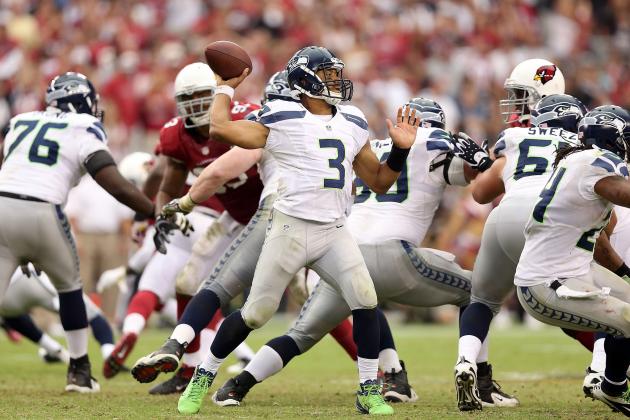 Christian Petersen/Getty Images

Remember how I described this week's game against Green Bay as the ultimate Jay Cutler game? Well, this is the ultimate Tony Romo game for Dallas.
He's coming off of a big win against the Giants. Everyone thinks he's made the leap. Now he's gonna lay an egg against the Seahawks on the road.
What's funny is that we've seen this. Several times actually. Remember Romo's first playoff win over the Eagles and how the Vikings destroyed him the next week? Or maybe you'll recall his four interception stinker on Monday Night football against the Bills after a red hot start in 2007.
We've seen this before. I'm not falling for it again. The Seahawks are great at home, I still believe in Russell Wilson, and this is another potential random Week 2 upset.
The Pick: Seattle (+3).
Ronald Martinez/Getty Images

Why is this only a three point spread? Last week Robert Griffin III made the Saints look like the Rams. Now he actually gets to play the Rams. Will he make them look like Savannah State?
Playing one good game against Detroit doesn't suddenly make the Rams decent. The Lions always find ways to fall behind early in games, it's just in their nature. RG3 won't hand them the same gift.
A random aside: last year I proclaimed to all who would listen that Cam Newton was my Madden soulmate. I exposed the QB sneak glitch for easy touchdowns every game, I threw bombs to Steve Smith every third play, and it was just an overall awesome experience.
I've had Madden '13 for three weeks and RG3 has already stolen that title. Sorry Cam, I want a divorce. RG3 is a more fluid thrower, the Redskins have a nice caché of speedy receivers, and Washington actually has a passable defense. How could I possibly bet against my Madden soulmate twice in a row?
The pick: Washington (-3).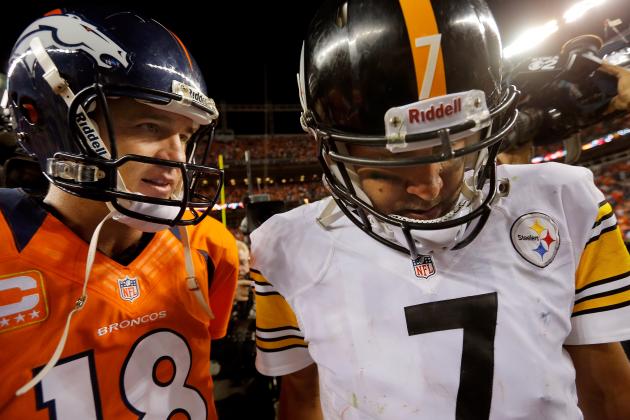 Doug Pensinger/Getty Images

These aren't the same teams that played in Week 1. The Steelers were without Ryan Clark and James Harrison on the road, now they should get both guys back at home against a quarterback who isn't Peyton Manning.
In fact, Mark Sanchez is about as far from Peyton Manning as you can get. Maybe that's why the Jets chased him as a free agent.
The Jets just blew out a dysfunctional Bills team at home, now they have to travel to Pittsburgh and play the picture of stability in the Steelers. Oh, and they might have to do it without Darrelle Revis. Not a big deal, he's only the best defensive player in football.
Don't use Week 1 as a barometer for this game. Mark Sanchez always has trouble against creative defenses like Pittsburgh, and the Steelers should tear up the Jets defense if Revis is out.
The pick: Pittsburgh (-7).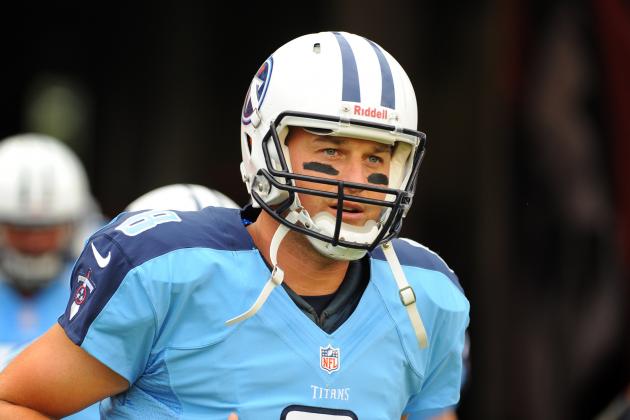 Al Messerschmidt/Getty Images

Lost in Monday night's debacle is that the Raiders actually outplayed the Chargers. In fact, about midway through the first half it seemed like once the Raiders discovered some discipline they'd be a playoff team.
Well I've got news for you Chargers fans, you aren't going to get two backup long snappers in a row. San Diego will actually have to earn this win.
And I don't think they will. San Diego simply couldn't run the ball against Oakland, and assuming Ryan Matthews is still hurt, that isn't changing against the Titans.
It's tough to beat any team one-dimensionally, but doing it twice in a row seems like a tall order. Especially for a Norv Turner coached team. There's enough film on Philip Rivers and the passing game from last week that I feel fairly confident in saying they can slow it down enough to stop them from scoring.
The Pick: Tennessee (+6).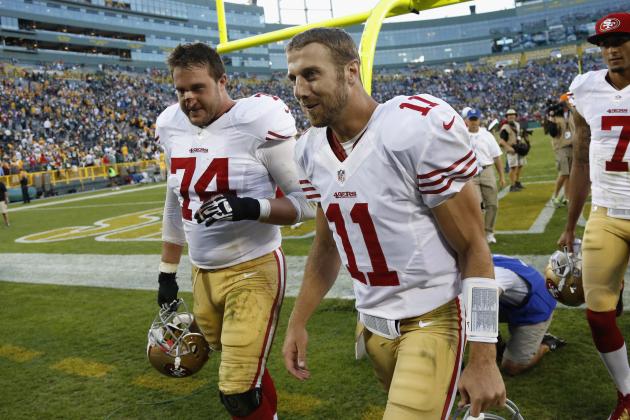 Joe Robbins/Getty Images

Several reasons never to bet against the 49ers:
-If Green Bay can only score 22 points against them, seven of which came in garbage time and another seven came on a terribly called punt return, how many points can any other team reasonably expect to score?
-Their style isn't spread-conducive. The ridiculous number of field goals they kick makes them end up with weird scores like 19 or 23 points in a game. Vegas never accounts for this—when you factor in Jim Harbaugh being several steps ahead of every other coach in the league, it basically means free points. He'll treat a 23-14 lead as a 21-14 lead, which really screws you over if you laid seven points with a challenger.
-You have no chance of winning the turnover battle, a classic gambler bailout.
-They're so deep at every position that there is literally no player they could lose that would actually slow down this team. Last year they lost Patrick Willis, arguably the best defensive player in football, and didn't miss a beat.
-If you bet against the 49ers, you're essentially saying you think the challenger can cover using only their second and third options, because that defense is going take away whatever you do best.
Which brings me to the Lions. The 49ers are going to take Calvin Johnson out of the equation. Obviously they can't do it completely (nobody can), but they won't let him beat them. Do you really want to bet on Titus Young and Brandon Pettigrew beating what seems like the best team in the league?
The Pick: San Francisco (-7).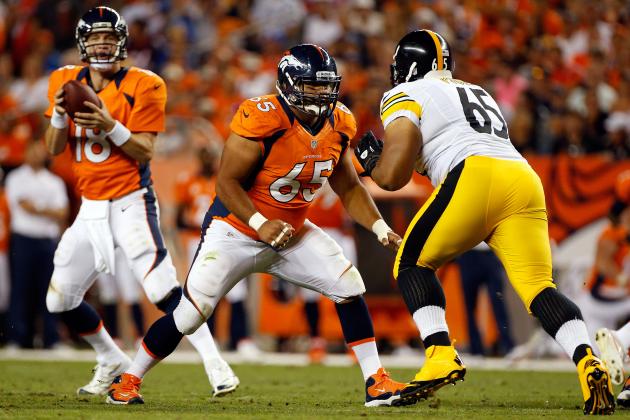 Doug Pensinger/Getty Images

Logic states I should bet on Atlanta here. They're awesome at home, they looked fantastic last week and I've been hearing unconfirmed reports that Julio Jones is actually the Martian Manhunter. On paper, they seem like a slam dunk.
Problem is, logic doesn't apply to Peyton Manning. Last week I made the classic mistake of picking against him in a night game against someone other than San Diego and he burned me. I'm not making that mistake again.
The Pick: Denver (+3).