January Transfer Window: 10 Players Who'll Be Desperate to Move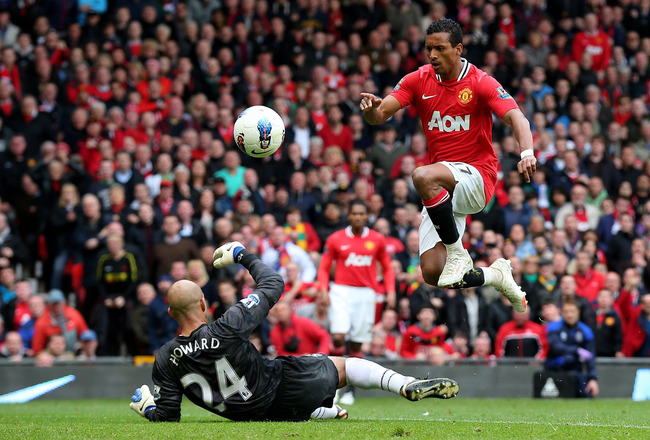 Alex Livesey/Getty Images
It might seem like the summer transfer window just finished, but already we're looking forward to the January transfer window and the potential moves that could take place.
The midseason window provides teams with an excellent opportunity to assess their strengths and weaknesses and address them accordingly. It also provides players with the chance to move on from their current club, where injury, squad rotation and performance all might be hampering their ability to play to their full potential.
Here are 10 players that, for one reason or another, will be desperate to move on during the January transfer window.
Nicolas Gaitan
Warren Little/Getty Images
Club: Benfica
Nicolas Gaitan could well be a player on the move over the January transfer window. The midfielder has said he wants to move on from Benfica if there is any interest from top clubs.
The Argentinian's agent, Jose Ibarren, told Record prior to the summer transfer window (via Click-Manchester.com): "It is normal that a footballer always tries to improve the situation. If the opportunity arises, Gaitan must seize it."
The youngster was rumored to be joining Manchester United earlier in the year, and if the club renew their interest in him, it seems Gaitain will happily make the move.
Leandro Damiao
Jeff J Mitchell/Getty Images
Club: Internacional
Leandro Damiao almost left Internacional over the summer transfer window. Had he not been away at the London Olympics with Brazil, he may well have already made a switch from his current club, with the likes of Tottenham Hotspur reportedly interested.
According to the Daily Mail, Damiao recently revealed that he indeed was the subject of an offer from a European club this summer. However, while he insists he is happy to remain in Brazil, the 23-year-old admits that he'd be more than happy to move should the right offer come through:
"The value of the offer was very good for me and for Internacional... I'm happy to be playing in Brazil. I'll certainly leave at some point for sure."
Tottenham, it seems, would be wise to try again in January.
Joao Moutinho
David Ramos/Getty Images
Club: Porto
Joao Moutinho, another Tottenham target, could be on his way out of Portugal in January.
With Porto losing star striker Hulk, it seems that Moutinho has an excellent opportunity to step up, but the 26-year-old may well struggle without the Brazilian's influence in the team.
It is that line of thinking that could spark a move away from Porto—a club seemingly willing to sell their best players, as long as they receive a good price in return.
Moutinho recently sang the praises of former Porto and current Tottenham boss Andre Villas-Boas, providing some interesting food for thought (via the Daily Mirror):
I was flattered by the interest, especially by the coach. Andre Villas-Boas is one of the best coaches in Europe today.

The transfer window is closed but now I am focused on Porto and prefer to talk about something which may or may not happen.
Andre Schurrle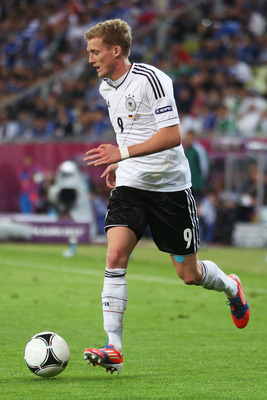 Joern Pollex/Getty Images
Club: Bayer Leverkusen
Chelsea tried desperately to sign Leverkusen attacker Andre Schurrle on the final day of the summer transfer window (per The Telegraph), but were unable to wrap up a £20 million deal for the German international.
With the Blues probably short at striker for the year to come, the European champions could well spend big and offer Schurrle a big offer once January rolls around.
Roman Abramovich has shown he will not hold back in buying the best to win the Champions League. Therefore, if another striker is what the Blues need, he could throw the book at Schurrle and make an irrefusable offer.
The 21-year-old is understood to be keen on a move to the Premier League, and if Chelsea feel that they need to add another attacking weapon up front to join Fernando Torres, Schurrle could well be heading to London.
Cheick Tiote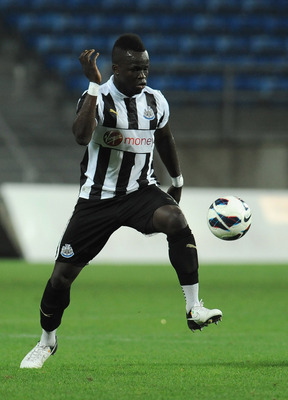 Valerio Pennicino/Getty Images
Club: Newcastle United
Several clubs were reportedly interested (per the Daily Mail) in signing Cheick Tiote from Newcastle over the summer transfer window, but were unable or not willing to meet Alan Pardew's valuation of the midfielder.
Yet, with an attack that already boasts names like Demba Ba, Papiss Cisse, Hatem Ben Arfa, Yohan Cabaye, Jonas Gutierrez and Vurnon Anita, the reality is that Tiote will not start every match in the Premier League—despite the fact he probably deserves it.
The frustration from potentially not receiving enough game time, coupled with the right offer and interest from a club like Arsenal, could well encourage the Ivory Coast international to make a move this January.
Fernando Llorente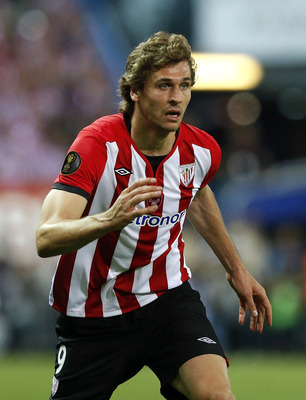 Angel Martinez/Getty Images
Club: Athletic Bilbao
With his current contract expiring in June 2013, and the player adamant that he will not re-sign with his current club (per The Independent), it seems that Fernando Llorente is a perfect candidate for a move over the January transfer window.
He is at odds with management at the club and has a strong desire to play Champions League football (per Goal.com). Therefore, given his ability and proven skills, expect a few clubs to try to wrap up a deal with Llorente before his time at Athletic Bilbao ends.
Real Madrid, Liverpool and Juventus are all reportedly interested in the striker, according to Goal.com.
Nani
Michael Regan/Getty Images
Club: Manchester United
Nani's future at Old Trafford was one of great discussion over the summer transfer window, with reports suggesting there was a breakdown in communication between the two parties. Therefore, no agreement was reached over a new contract for the winger (per the Daily Mirror).
With Ashley Young and Antonio Valencia also in the side, Nani is unlikely to experience a great deal of game time this season and could be used as a substitute for much of the year.
If that's the case heading into January, expect some clubs to come knocking for the Portuguese winger. I'm not sure that the Red Devils will want to sell him, but if he's at a point where he wants to leave and a decent offer is there, United may be forced into taking whatever is on the table.
Romelu Lukaku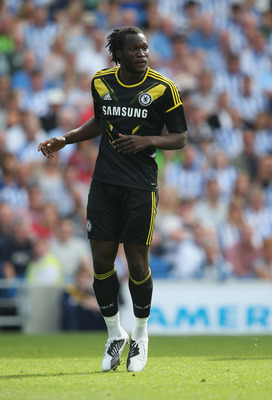 Mark Thompson/Getty Images
Club: Chelsea (on loan)
Currently on loan at West Bromwich Albion, Romelu Lukaku could well be the subject of a midseason bid from the Baggies.
Weird, I know—hear me out on this one.
Lukaku has already expressed his frustration at being left in the dark by Chelsea. He made a big-money move to Stamford Bridge in 2011, but received no real first-team opportunities.
He is scoring goals and impressing at West Brom, and the Baggies could well try to wrap up their latest loan signing on a more permanent deal. If it frees up money for players like Schurrle or Edinson Cavani, Chelsea could agree.
West Brom did the same thing with Ben Foster. The 29-year-old goalkeeper was on loan at the Hawthorns, and the Baggies were so impressed that they signed him on a permanent deal once the summer transfer window began.
With West Brom proving to be no slouch this year, Lukaku could recognize the opportunity in front of him and potentially leave Chelsea in January in favour of some decent playing time.
There's a lot of "ifs" there, but it isn't completely out of the question.
Isco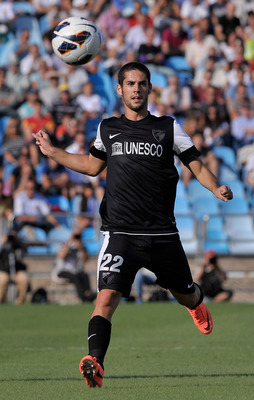 Gonzalo Arroyo Moreno/Getty Images
Club: Malaga
With Malaga's financial problems well known, don't be surprised to see clubs around the world try to once again buy their best players when the transfer window opens.
Arsenal have shown that you can pick up an absolute bargain in Santi Cazorla, and Isco could be another player that clubs try to lure away from the Spanish club this January.
The Spanish youngster, who appeared in the recent 2012 London Olympics, was linked to several Premier League clubs this summer including Tottenham and Manchester United (per the Daily Mirror).
Should Malaga start to struggle this season on the pitch—as well as off—expect a few players to be prepared to jump ship in order to stay at a top-class club, particularly if there's Champions League football on offer. Isco could well be one of those players.
Christian Eriksen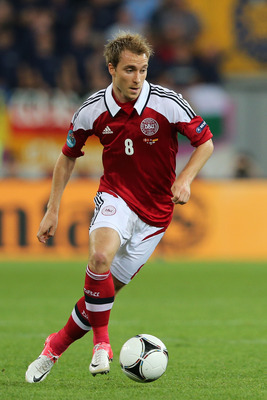 Joern Pollex/Getty Images
Club: Ajax
Christian Eriksen was one of the hottest names over the summer transfer window. Whilst no move materialised for the Denmark international, expect clubs to do their best to sign him during the January transfer window.
Ajax have already lost Jan Vertonghen and Vurnon Anita this season, meaning that Eriksen will be forced to shoulder a lot more of the responsibility if Ajax are to compete in both the Eredivisie and the Champions League this season.
The 20-year-old has had a number of European clubs show interest in him over the past year. Could he finally make a move this January if the club's season just isn't as strong as last year?
Any players that you think will be on the move this January?
Comment below or hit me up on Twitter: Follow @dantalintyre
Keep Reading