Philadelphia Eagles: Week 2 Position-by-Position Preview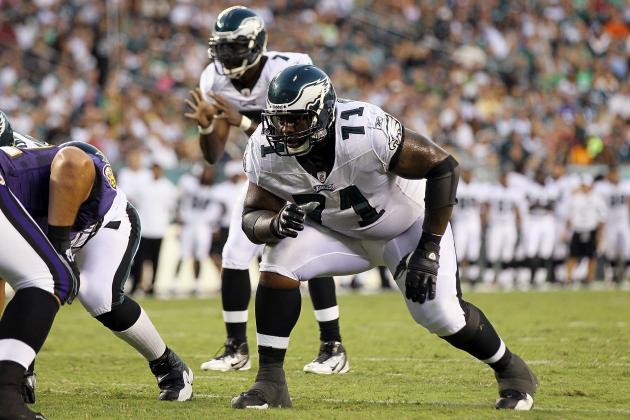 Jim McIsaac/Getty Images

The Eagles performed admirably against the Cleveland Browns, but their real test will come in their next game against the Baltimore Ravens. The Ravens are a much better team, and their much-improved offense complements well with their already staunch defense.
While the Eagles have many problems, they seem to be improved as well, most notably on defense. However, the defense will not be able to carry the Eagles to a win over Baltimore as it did against Cleveland. Beating the Ravens will take a strong team effort.
Here is a position-by-position breakdown in anticipation of Sunday's showdown between the Eagles and the Ravens.
Begin Slideshow

»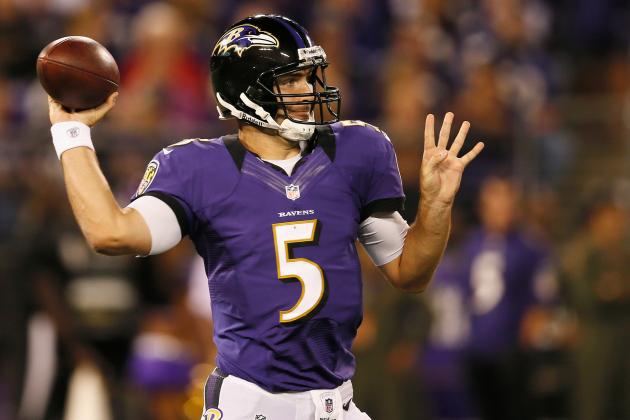 Rob Carr/Getty Images

Much can change in the NFL over just one season—or even just one week. Last season, it appeared that Vick was the superior quarterback when healthy. However, Vick is coming off a four-interception game, and Joe Flacco is coming off a stellar performance against the Bengals.
In that game, Flacco showed improved accuracy and decision-making ability. Flacco seems to have taken another step forward as an NFL quarterback. Vick, on the other hand, regressed a bit back to his turnover-prone ways.
He will likely bounce back, and it is possible that he just needed to shake off some rust. But Flacco is clearly the more consistent and reliable quarterback right now.
Edge: Ravens
Matt Sullivan/Getty Images

When it comes to talent at the wide receiver position, only a handful of teams can compete with Philadelphia. The Ravens, unfortunately, are not one of these teams.
They have Anquan Boldin, but he is getting old and is not the player he once was. Torrey Smith can be a big-play threat, but he is not consistent.
Philadelphia, on the other hand, boasts speedsters DeSean Jackson and Jeremy Maclin at wide receiver. In addition to those two, Jason Avant is arguably one of the best slot receivers in the NFL. Vick has no shortage of weapons at his disposal.
Edge: Eagles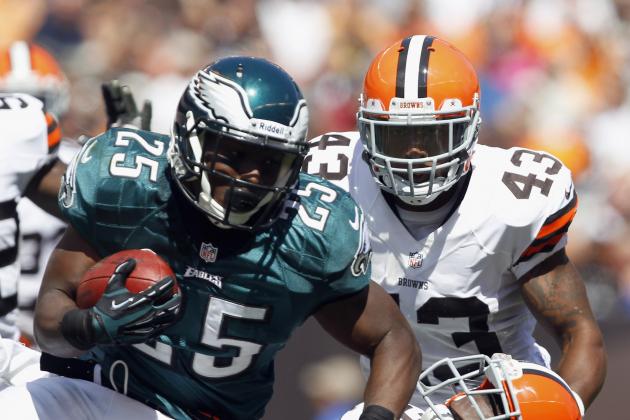 Matt Sullivan/Getty Images

This position is a tough call, as both running backs are among the best in the NFL. Ray Rice is a powerful runner with impressive speed, but few players possess LeSean McCoy's explosiveness and elusive running style. Both running backs are also excellent receivers.
It's a tough decision, but I'm going with McCoy. As good as Ray Rice is, McCoy has the ability to take a touchdown to the house on any given play. And he has shown that he can be successful without the blocking of star left tackle Jason Peters.
McCoy is arguably the finest running back in the NFL.
Edge: Eagles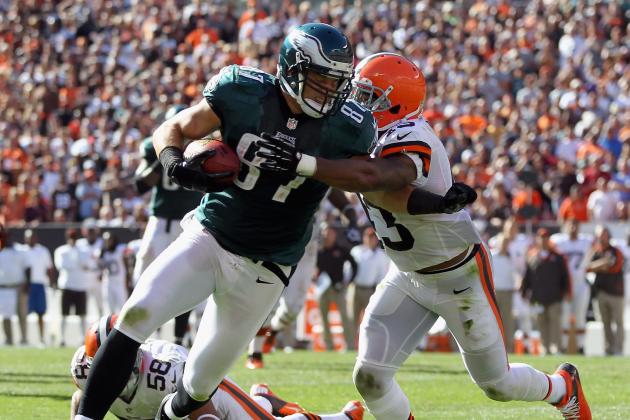 Matt Sullivan/Getty Images

Ed Dickson is not a bad tight end; he managed to haul in five touchdown passes and over 500 yards last season. However, he has a bad habit of dropping passes.
The Eagles have a much more reliable tight end in Brent Celek. Celek is a physical player who runs excellent routes and has great hands. He is also a good blocker. If the Eagles wide receivers are the focus of Baltimore's defensive game plan, Celek will get many passes thrown his way.
Edge: Eagles
Rob Carr/Getty Images

After losing Pro Bowl left tackle Jason Peters, the Eagles offensive line looked dreadful in their season opener. The left tackle play was atrocious, and the offensive linemen were penalized over and over again.
The Ravens offensive line, on the contrary, is one of the better lines in the game. It has a good combination of both veteran players and young talent. Even with Bryant McKinnie on the sideline, the line still played fairly well.
It is not a stellar line, but it is certainly better than Philadelphia's, where the left side remains a huge question mark.
Edge: Ravens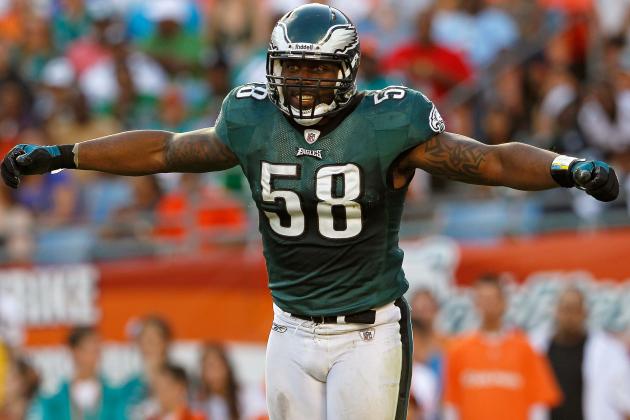 Mike Ehrmann/Getty Images

The Ravens defensive line contains the likes of Haloti Ngata, possibly the best D-lineman in the world. However, the Eagles defensive line is the superior one.
The Eagles line contains two Pro Bowlers in Trent Cole and Jason Babin, a borderline Pro Bowler in Cullen Jenkins, a fine player in Derek Landri and a plethora of depth, such as Fletcher Cox, Vinny Curry and Cedric Thornton, just to name a few.
It is a frighteningly talented and deep defensive line that strikes fear into the hearts of opposing quarterbacks. Few D-lines in the NFL can possibly hope to match it.
Edge: Eagles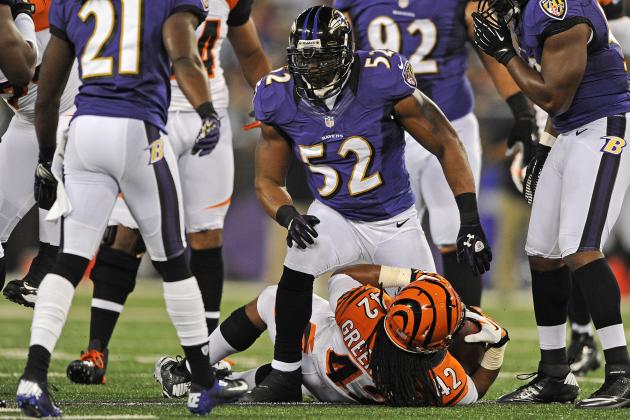 Patrick Smith/Getty Images

This is also a tough call, as both defenses have excellent linebacker corps. The Eagles have turned the linebacker position from a liability into a team strength. DeMeco Ryans has rejuvenated his career, and the rookie Mychal Kendricks shows excellent speed, instincts and tackling.
The Ravens linebackers are also excellent. Ray Lewis is a first-ballot Hall of Famer and is still an excellent player even at this late stage in his career. Jameel McClain is also a solid player.
Overall, the edge would have to go to the Ravens. Despite Philadelphia's improvements at linebacker, Ray Lewis is a rare player who can change a game with his play alone. Few players can match his knowledge of the game, his football instincts or his veteran leadership.
Edge: Ravens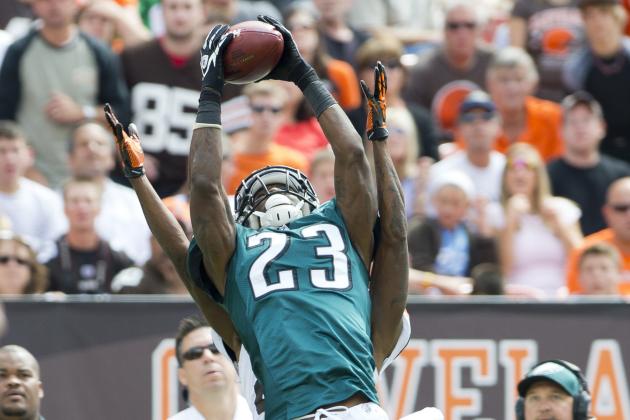 Jason Miller/Getty Images

Now that the Eagles cornerbacks are playing to their potential, there are few cornerback duos in the NFL that can match them. Nnamdi Asomugha and Dominique Rodgers-Cromartie are both excellent press corners.
Asomugha, while not quite as dominant as he was in Oakland, has re-emerged as a shutdown corner or close to one. Rodgers-Cromartie has not only demonstrated improved tackling, but he is excellent in man-coverage and has big-play ability, picking off two passes last week.
Lardarius Webb is an excellent player, but his play is not enough to warrant giving the edge to Baltimore here. Especially as the Eagles also possess a promising young nickel corner in rookie Brandon Boykin.
Edge: Eagles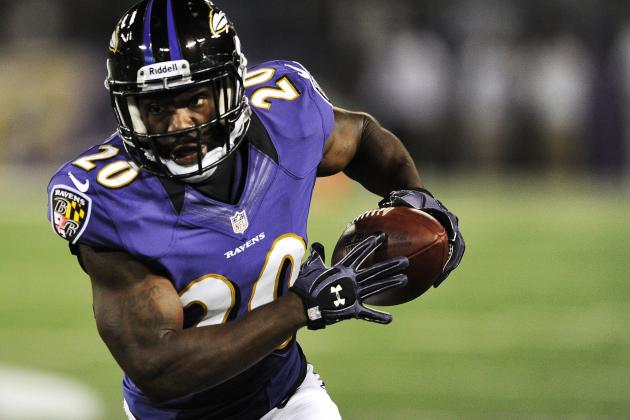 Patrick Smith/Getty Images

The Eagles safeties have improved, and both free safety Nate Allen and strong safety Kurt Coleman are better players now than they were in 2011. But none of those players can even remotely compare to the player that is Ed Reed.
Coleman may have a knack for grabbing picks, but Reed is one of the best interception machines in NFL history, and like Ray Lewis, he is getting a bust in Canton in his first year of eligibility.
There is no room for error against Ed Reed. One bad throw is all it takes for him to pick it off and take it to the house. Reed is likely licking his chops at this very moment while watching film of Vick's four interceptions.
Edge: Ravens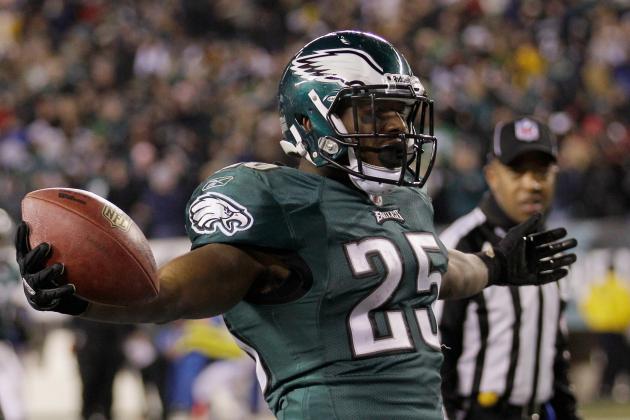 Rob Carr/Getty Images

This is a very even matchup, with neither team clearly overpowering the other. Both teams have talent on both sides of the ball, and a win by either team would not be surprising.
Due to how close the game appears to be on paper, this game could come down entirely to quarterback play and coaching. The Eagles will find themselves hard-pressed to get a win if Vick turns the ball over two or more times; the same can be said if Andy Reid and Marty Mornhinweg choose to call 50 passing plays this week.
If Flacco plays as well as he did last week against the Bengals, this game will be especially challenging. The Eagles must play mistake-free football and limit mental mistakes if they want to win their home opener.