WWE's 10 Most Important Championship Matches Featuring a Title Change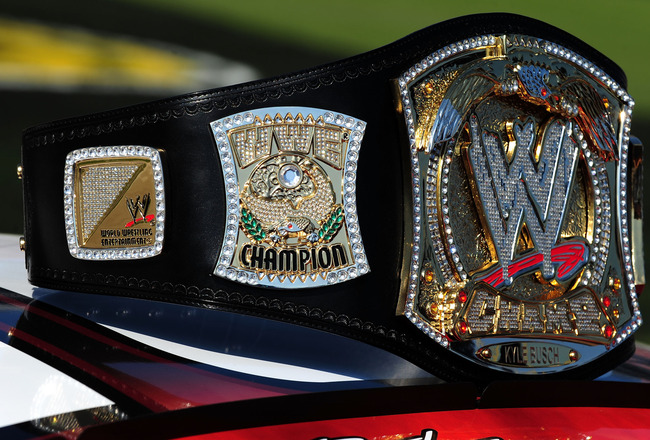 WWE Championship Belt
Robert Laberge/Getty Images
Iconic and legendary championship matches are the cornerstone of WWE history. They provide "where were you when..." moments that fans never forget. The following is a list of the 10 most important WWE championship matches in which there were title changes.
The judging criteria is simple:
- Only WWE matches
- Only original WWE titles (Heavyweight, Intercontinental, World Tag Team, Women's)
What are your favorites? Read on to see if they made the list...
Ricky 'The Dragon' Steamboat Defeats Randy Savage: Intercontinental Title

Steamboat/Savage highlights

Match Results: Ricky Steamboat defeats Randy Savage
Title: Intercontinental Championship
Event: WrestleMania 3
This match featured two budding superstars at the beginning of their primes squaring off in what many fans and analysts consider to be one of the best technical wrestling matches in WrestleMania history. This match really put the Intercontinental title into the spotlight and ushered in a long reign of legitimate champions such as Honky Tonk Man, Ultimate Warrior, Rick Rude, Mr. Perfect and Bret Hart.
Additionally, this would be the match that cemented Savage's rise to main-event status in WWE. He would headline the next two WrestleMania events, winning the WWE Championship at one of them. This match style would also serve as inspiration for many classic bouts, featuring ring technicians such as Kurt Angle, Chris Jericho, Chris Benoit and Eddie Guerrero.
The Ultimate Warrior Defeats Hulk Hogan: WWE Championship

Warrior/Hogan Highlights

Match Results: Ultimate Warrior defeats Hulk Hogan
Title: WWE Championship
Event: WrestleMania 6
This match was dubbed the "Ultimate Challenge" and for the first time would feature a champion vs. champion match as the main event of WrestleMania. Warrior came into the match as the Intercontinental champion while Hogan was the world champion. Perhaps the best technical match of either man's career, fans were treated to an epic test of strength with each man kicking out of the others' finishers, a classic Earl Hebner referee bump and a title change that would usher in a new era in the WWE.
Hulk Hogan passes the torch to the Ultimate Warrior in this match that took place in front of a (then) record crowd at the Skydome in Toronto. This was Hogan's first-ever loss at a WrestleMania. His only other loss of note would come 12 years later against the Rock at WrestleMania 18.
Razor Ramon Defeats Shawn Michaels: Intercontinental Title

Ramon/Michaels Highlights

Match Results: Razor Ramon defeats Shawn Michaels
Title: Intercontinental Championship
Event: WrestleMania 10
Quite simply, this match is etched into the history of WWE title matches because it was the first ever ladder match on a WWE broadcast pay-per-view or network TV show. Fans had no idea what to expect and to this day, I would be surprised if Michaels and Ramon realized that they were laying the groundwork for future gimmick matches such as TLC (Tables, Ladders, Chairs).
Similar to the Savage/Steamboat match from WrestleMania 3, this match cemented Shawn Michaels as a power player in the main-event scene. He would win his first World Championship two years later. The match featured high spot after high spot and thrilled the crowd at Madison Square Garden in New York City.
Shawn Michaels Defeats Bret "Hitman" Hart: WWE Championship

HBK/Hitman Highlights

Match Results: Shawn Michaels defeats Bret "Hitman" Hart
Title: WWE Championship
Event: Wrestlemania 12
This match featured a host of firsts. It marked the first WWE title win for HBK. It was also the first 60 Minute Iron Match on a WWE PPV. Finally, it was Shawn Michaels' first WrestleMania main event and the match that began his run as "Mr. WrestleMania."
As the match approached the 60 minutes, neither Hart nor Michaels had scored a pinfall. The match would become destined for overtime and at the 61:52 mark, HBK would connect with Sweet Chin Music and capture the Heavyweight title.
This was an epic technical match and a lesson in storytelling. It is a must watch for any fan.
Shawn Michaels Defeats Bret "Hitman" Hart: WWE Heavyweight Championship

Match Promo Video from Survivor Series

Match Results: Shawn Michaels defeats Bret "Hitman" Hart
Title: WWE Championship
Event: Survivor Series, 1997
One-and-a-half years, after their epic Iron Man Match at Wrestlemania 12, Shawn Michaels and Bret Hart would wrestle in the most infamous match in wrestling history. This is the "Montreal Screwjob" match that would send Hart to WCW and cause a rift between Bret Hart and Vince McMahon that would last for over a decade.
The video for this slide is not the match itself, which has been replayed countless times. Instead, it is the promo video that WWE showed leading up to the match. Not only does it capture the real-life hatred that these two men had towards each other but also the undeniable chemistry that they had while working together.
Mankind Defeats The Rock: WWE Championship

Mankind/Rock Highlights

Match Results: Mankind defeats The Rock
Title: WWE Championship
Event: Monday Night Raw, 1999
The Monday Night Wars between WCW and WWE were in full swing, and WCW was in the midst of a two-year ratings winning streak. WWE used to tape two Raws per week, meaning that one would go on live and then the following week would be taped directly after. Due to this, Mankind's title win was prerecorded and WCW was aware of it, as they went on live TV for Monday Nitro.
WCW decided to tell its audience that it could tune into Raw to see a fired WCW has-been win a title, or it could watch Nitro where "anything can happen live." Fans opted for the sure thing and switched to Raw to watch The Rock lose his title. This was a turning point for the Monday Night Wars, as just a few years later, the WCW would be out of business and the WWE would once again be the top wrestling promotion in the world.
Stone Cold Steve Austin Defeats The Rock: WWE Championship

Austin/Rock Highlights

Match Results: Stone Cold Steve Austin defeats The Rock
Title: WWE Championship
Event: WrestleMania 17
If the Steve Austin/Vince McMahon feud was the beginning of the Attitude Era in the WWE, then the main event of WrestleMania 17 could be called the end of an era. Austin entered the match as the clear fan favorite and wrestled an epic match against The Rock.
Back and forth for almost 30 minutes, Austin and Rock put their bodies on the line for the highest honor in the WWE, the Heavyweight Championship.
Vince McMahon made his way down to the ring towards the conclusion of the match. He was presumably there to ensure that Austin lost. Suddenly, after the Rock kicked out of a Rock Bottom, and the Stone Cold Stunner, McMahon, did the unthinkable and gave Austin a steel chair.
Austin hit Rock with the chair 16 times and finally covered him to win the title. Steve Austin officially turned heel and aligned with Vince McMahon.
Edge & Christian Defeat the Hardy Boyz and Dudley Boyz: Tag Team Championship

TLC Highlights

Match Results: Edge & Christian defeat the Hardy Boyz & Dudley Boyz
Title: World Tag Team Championship
Event: Summerslam 2000
Tag Team wrestling has seen its share of peaks and valleys in terms of mainstream attention and popularity.
In the mid 1990s, the tag team division in WWE lacked the top quality stars and teams needed to garner attention away from other storylines and divisions. This all changed when the three teams began a multi-year feud that would put tag team wrestling back on the map.
Edge & Christian and the Hardy Boyz and the Dudley Boyz had fought in tables matches. They had also fought in ladder matches. So to heighten the stakes, they created TLC (Tables, Ladders & Chairs), a match in which anything was legal and bodies would be put to their ultimate test.
This match revolutionized tag team wrestling and set the stage for a staggering 17 title wins by the three teams combined, over the years of 2000 to 2001.
Chris Jericho Defeats Steve Austin & The Rock: WWE Heavyweight Championship

Jericho/Rock/Austin Highlights

Match Results: Chris Jericho defeats The Rock and Stone Cold Steve Austin
Title: Undisputed WWE Championship
Event: Vengeance, 2001
When the WWE purchased the WCW, it also inherited the World Heavyweight title.
The Vengeance PPV would be when the two titles were unified and one heavyweight champion would be crowned. The Rock and Stone Cold Steve Austin were the favorites to win the title until, in a single night, Chris Jericho defeated them both in separate matches to become the first ever undisputed heavyweight champion of the world.
To this day, in terms of exposure and big match impact, this is likely Jericho's crowning achievement in pro wrestling.
Trish Stratus Defeats Lita: Women's Championship

Stratus/Lita Highlights

Match Results: Trish Stratus defeats Lita
Title: Women's Championship
Event: Unforgiven, 2006
Trish Stratus and Lita are responsible for leading the rejuvenation of the WWE Women's division and proving that women could be respected for their in-ring ability as much as their beauty.
Sometimes allies but often foes, Stratus and Lita feuded on and off for several years with this match serving as the climax. Stratus had confirmed prior to the match that she would be retiring from in-ring competition after the PPV. In truth, to this day, this was the last time that she wrestled in a singles match for the WWE.
Stratus and Lita hold the distinction of being the only women to ever be in a singles match that was the main event of Monday Night Raw.
Their technical skills have really not been matched by a WWE Diva since their respective retirements. At Unforgiven in 2006, Stratus would get the best of her arch-rival Lita, and in her final match, she captured the Women's Championship one last time.
Keep Reading