Detroit Red Wings: Predicting the Top 5 Scorers This Season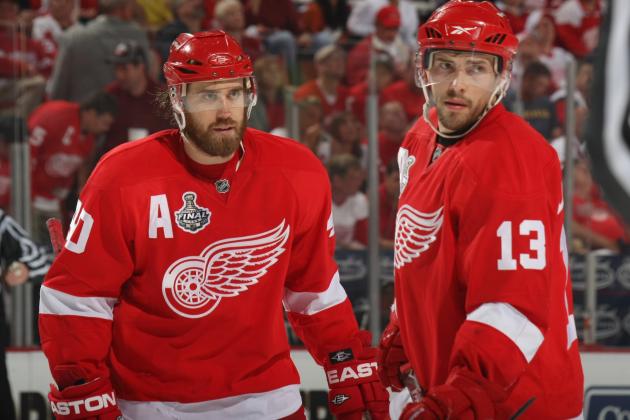 Bruce Bennett/Getty Images

With the league and players union still trying to figure out if there will be a season, we shall take on the more optimistic view of predicting the season. The Detroit Red Wings will have a different look this year. While there are questions on defense, there is no doubt that this team can score.
Will any of the new players crack the top five? Was Valtteri Filppula a one-year wonder? Can Dan Cleary rebound? Will Darren Helm finally have the breakout season many have called for in the past? These are just some of the issues leading into who will be the top point-earners this season.
Begin Slideshow

»
No sense in keeping you in suspense. Datsyuk finished second on the team last year with 67 points in only 70 games. Playing in all of the games this season will push him into the lead.
While he is one of the best all-around players in the league, he rarely scores as many goals as many would like. His best season was 2008-09 when he scored 32 and he has yet to have a 100-point season.
This year he will top both numbers. The team will need a more aggressive scoring version of Datsyuk and he will deliver. Look for 33-36 goals and 102 points.
Last year was not a fluke. Filppula had his best season in goals and assist with 23 and 43 respectively. He bettered his previous totals of 19 and 28. His 66 points were third on the team.
He cooled towards the end of the regular season, scoring one goal over the final 14 games. On the plus side, he was still active on the score sheet over that time. He was still able to have eight assists during his shooting slump.
That bodes well in that he showed improvement in both aspects of the game. When one area suffered the other did not. He will be able to grow on that this season.
He will come close to 80 points this season. He will just miss the 30-goal mark with 28 goals.
Zetterberg has produced at the consistent rate over his career. With the exception of his explosive 2007-08 season when he had 92 points, he has averaged 74 points since the 2005-06 season.
He will once again be in that neighborhood. Last season he led the team with 69 points. His goals will stay in the low 20's; however, his assists should increase due to his new playing partner which lands next on the list.
The Red Wings scouts are known to be the best in the game. Players like Datsyuk, Zetterberg and Holmstrom are just a few of the players that other teams passed on, but the Red Wings saw something in.
The team already has plans to use Brunner as a top six forward. Playing with Zetterberg will benefit him and he should excel.
He has been a point per game player in the Swiss A league and has maintained that average for several seasons. He proved during the World Championships that he can handle playing against NHL level talent.
He should be in the 25-30 goal range and will add to the Red Wings talent discovery legacy.
For those needing an additional introduction to Brunner, here is another video.
Franzen will be pushed by Mikael Samuelsson for the fifth spot. Franzen should have more time on better lines which will give him the edge.
Franzen does have a habit of running hot and cold. When he scores, he tends to do so in bunches, but he can also fall into slumps. Unfortunately, he is one-dimensional in that he does not dole out many assists. In fact in five of the last seven seasons he has had more goals than assists. Over his career, he has 150 goals to go with 125 assists.
Over his last four fully healthy seasons, he has averaged 29.5 goals. He should hit those numbers again.
He should be right below the 30-goal mark again with 25 assists.