7 Creative Changes for Boxing to Catch Back Up to MMA
Image courtesy of mmaforum.com
It is no secret that MMA has surpassed boxing in many respects in recent years. While boxing certainly has a more storied history, the sport seems to have been resting on its laurels for some time as corruption, sanctioning bodies and senseless promotional feuds have prevented the best fights from taking place.
MMA is one of the world's fastest growing sports, and while I do not regularly watch the UFC or other promotions like Strikeforce, it is even obvious to the casual observer how far the sport has developed since UFC 1 in 1993.
The rise of MMA has put boxing fans on the defensive, which is unfortunate. While it would be ideal if both sports could grow together and complement each other in some way, fans of both combat disciplines often resort to hypothetical matchup scenarios to argue about which sport is greater, or they level ad hominem attacks against every conceivable aspect and personality involved in boxing and MMA (depending, of course, on where you stand).
As we saw when James Toney deigned to fight UFC legend Randy Couture, when these ridiculous hypothetical matchups become a reality, it is embarrassing for everyone involved. In that particularly fight, Toney made a mockery of himself and those in the boxing world who arrogantly look down on MMA, while the UFC shamed itself by agreeing to stage the fight (on Pay-Per-View no less!).
The bottom line is that this tension between MMA and boxing should stop. Both sports have carved out their respective niches, and boxing, given that it is at an all-time low, is still around and won't be disappearing anytime soon.
That said, boxing can learn a thing or two from how the UFC is run, and the following is a list of ways boxing can perhaps bridge the recent gap between both sports and return to its former level of prominence. Some are more realistic, while others are a pipe dream. Either way, how boxing can reclaim bygone prestige is a subject worth debating.
Begin Slideshow

»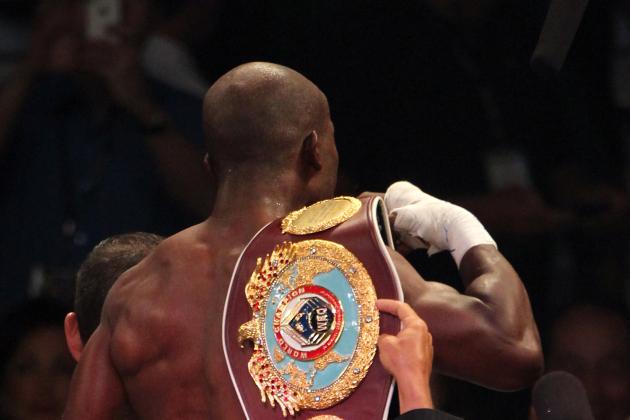 Jeff Bottari/Getty Images
The WBO must go!
It would be too easy to simply say get rid of all the sanctioning bodies, even though that is exactly what should happen. One of the reasons the UFC has a clear edge over boxing is due to the fact that they crown only one undisputed champion per weight class.
This harks back to the era when boxing had one World Heavyweight Champion, or one World Light Heavyweight champion (and so on and so forth).
The corruption and absurdity of boxing's current sanctioning bodies is rendered even worse by the UFC's uniformity, and the way boxing now has "Emeritus," "Silver" and "Diamond" champions makes a given sanctioning body's list of belt-holders look like a jewelry store catalogue.
In order to move towards eliminating all sanctioning bodies and only have the Ring title crown the true champion in each weight class, abolishing the IBF and WBO is the first necessary step. The IBF, in essence, is a splinter group that fractured from the WBA at that organization's convention in 1983, adding more confusion to an already muddled landscape.
Naturally, the WBO has somehow managed to lower the IBF's already dubious standards. Founded in 1988 as another WBA splinter group, the WBO is clearly the first choice for a sanctioning body casualty as it has the shortest history of the four IBHOF-recognized organizations.
But here's the real kicker: The WBO ranked deceased boxer Darrin Morris in the top 10 of its super middleweight rankings for four months after he had died of HIV-related meningitis.
Morris held the fifth spot in the WBO's rankings until the error was corrected, upon which the deceased fighter was dropped from the rankings due to "inactivity." No kidding.
The fact that a deceased fighter maintained a top-10 world ranking says everything you need to know about sanctioning bodies. This kind of negligence is disgraceful, and boxing is at a point where it needs to clarify the landscape of every division.
Immediately eliminating the IBF and WBO can only benefit boxing by cutting the number of world titlists in half, and it is also the first step towards having only one lineal champion per weight class.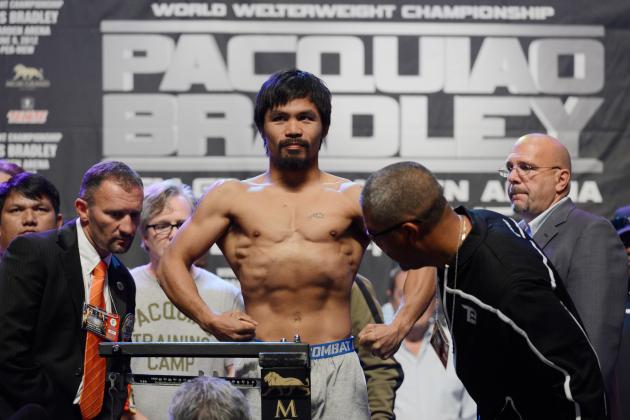 Kevork Djansezian/Getty Images

Boxing currently has 17 weight classes, but there was once a time when it only had eight, and they were recognized as follows:
Flyweight: 112 pounds.
Bantamweight: 118 pounds.
Featherweight: 126 pounds.
Lightweight: 135 pounds.
Welterweight: 147 pounds.
Middleweight: 160 pounds.
Light Heavyweight: 175 pounds.
Heavyweight: 175+ pounds.
While it would be ideal to return to only eight weight classes, this is simply unfeasible given how humans have physically evolved. It is no secret that the heavyweight division has lost much of its luster, but the one area where the division has developed is the literal size of its combatants.
Going back to the heavyweight division as a 175-pound-and-up category would be legitimately dangerous for smaller fighters, and much of the general weight class expansion has to do with fighter safety.
That said, it is still possible to compromise, and boxing must decrease the excessive number of "light," "junior" or "super" prefixes that have created so many additional divisions.
The UFC has only eight weight divisions, and by having 17, boxing further complicates the championship picture. A reasonable compromise could be to reform boxing's weight classes by replacing them with the ones used for the Olympic boxing tournament in London:
Light Flyweight: 108 pounds.
Flyweight: 114 pounds.
Bantamweight: 123 pounds.
Lightweight: 132 pounds.
Light Welterweight: 141 pounds.
Welterweight: 152 pounds.
Middleweight: 165 pounds.
Light Heavyweight: 178 pounds.
Heavyweight (to be called Cruiserweight): 200 pounds.
Super Heavyweight (to be called Heavyweight): 200+ pounds
This categorization would eliminate seven divisions from professional boxing, which would, at this point, erase up to a maximum of 28 paper champions. What lessening the number of weight classes ultimately does is make the championship picture more competitive, and this will only benefit the project of restoring the sport's credibility.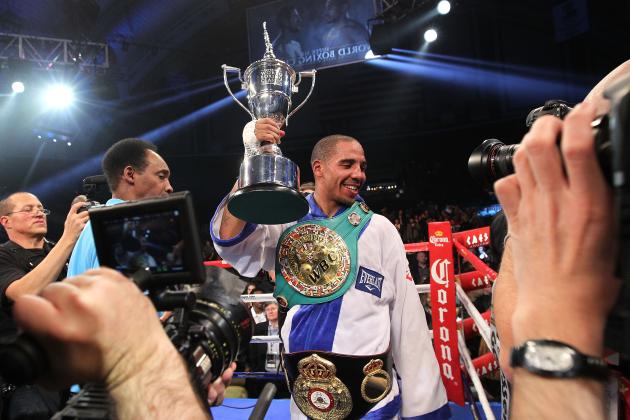 Nick Laham/Getty Images

The Super Six World Boxing Classic had its fair share of logistical problems, but the fact remains that it was an innovative and groundbreaking tournament that accomplished its primary goal of crowning a clear, unified champion in the super middleweight division.
The proof of the Super Six's viability can be seen in Andre Ward's success, and he further justified the tournament's competitive process by recently dismantling lineal light heavyweight champion Chad Dawson via 10th round TKO last Saturday in Oakland.
The Super Six allowed Ward to emerge as a household name and test himself against the division's best, all while eliminating much of the tedious negotiations that keep fighters inactive by establishing a schedule up front.
The Super Six's format also encouraged fighters to go for knockouts given its round-robin scoring format, and the fact that each participant—injuries aside—was guaranteed at least three fights ensured the possibility of redemption if a boxer lost his first fight.
It also created the framework for rivalries to develop, and in most cases the international field forced the fighters to travel, making it a global event.
It is reasonable to go as far to suggest that every division should have to schedule a tournament similar to the Super Six. Networks should work with fighters in each weight class to pick a date and stipulate that everyone involved has a year to schedule such an event.
This would allow each weight class to crown an undisputed champion, and titlists who refuse to participate should be stripped of their belts (yes, I realize this is more noble than realistic).
The bottom line is that boxing needs more lineal champions, and forcing divisions to adopt such a tournament to crown a true undisputed king can only raise the sport's profile.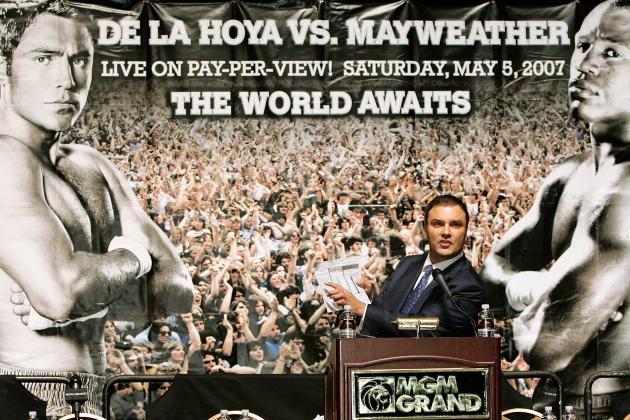 Ethan Miller/Getty Images

A problem that both the UFC and boxing share is the risk of an uneventful Pay-Per-View card. In spending 50-60 dollars to order Pay-Per-Views, fans of combat sports are shelling out large sums of cash for events that could either produce boring fights or a series of quick knockouts that hardly match the investment.
Of course, much of this is subject to chance, and there is only so much that networks, promoters and fighters can control. That said, one thing the UFC does is provide incentive for its fighters to entertain. While some might feel that the UFC's bonus awards are peculiar gimmicks, they are a step in the right direction.
Though boxing cannot offer a bonus for submission of the night, there are three obvious categories where extra money could be awarded: Fight of the night, knockout of the night and round of the night.
Two of these categories (fight of the night and knockout of the night) are already awarded in the UFC, and given that boxing bouts have significantly more rounds, PPV cards should have an abundance of options for choosing one memorable stanza.
In order for this to work, all the promoters of a major PPV boxing card would have to work together to make the monetary bonuses worthwhile. Also, allowing the fans to vote for these awards would increase audience participation and interest in the PPV events, and giving the fans a concrete voice in this matter would perhaps further increase PPV revenue.
Another issue PPV events must address is the overall strength of their undercards. Assuming my suggestions for eliminating sanctioning bodies and using Super Six-style tournaments to crown a lineal champion in every weight class aren't taken, PPV cards should be forced to have at least two viable title fights on the televised portion.
Given the number of current paper champions, this should be an easy task. Also, prospects fighting tomato-can opponents on PPV cards should be strictly forbidden, and every fight should have to meet a certain standard of quality and competitiveness, which leads me to my next point…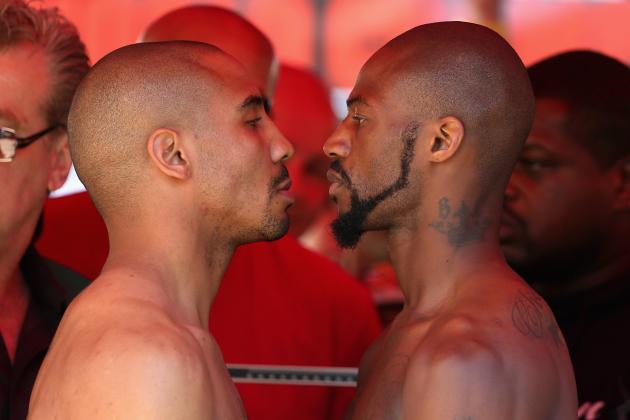 Ezra Shaw/Getty Images

The number of boxing cards held throughout the world is staggering, so this section will have to focus on the events that are granted the privilege of significant television or PPV exposure. If fans are expected to pay to see big fights, it is only fair that the best possible matchups are made.
To begin, networks like HBO and Showtime should still retain the right of using their own matchmakers to approve and suggest the fights that will appear on boxing cards televised on their respective networks (from the first bout on a card to the main event). This will essentially be the first step, as networks need to iron out details and work with promoters to propose bouts that make logistical and financial sense.
However, once HBO, for instance, has proposed a major card, the bouts should be sent to a separate panel for approval.
The suggestion here is that the final arbiters of whether the proposed bouts are acceptable should be comprised of specially selected retired fighters and writers who are members of a reputable organization like the Boxing Writers Association of American (BWAA).
Also, a fan vote should count for a small percentage of the approval process.
In order for a fight to be approved, the bout in question would need, say, a 75 percent approval rating from this panel. Merely 51 percent, for instance, would not be satisfactory enough, and having a strong majority supporting the fight in question would go a long way towards ensuring that finances are not the only element guiding the building of major boxing cards.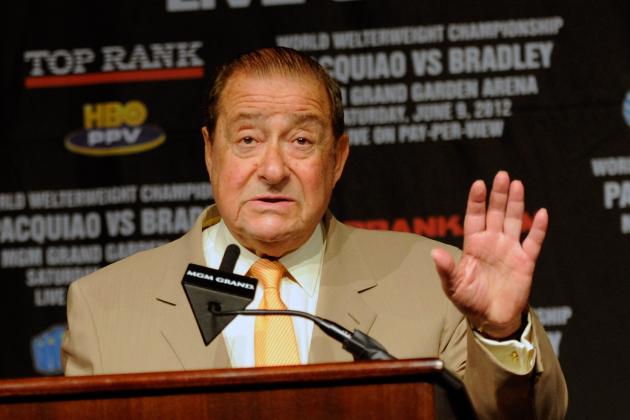 David Becker/Getty Images

What? More governing bodies? The proposal here is to have clear organizations that act as umbrella groups looking out for fighter's interests and holding promoters accountable for their dealings and negotiations.
It is no secret that the Top Rank-Golden Boy feud is hurting boxing, and creating a type of supervisor board that establishes uniform negotiation standards and helps with arbitration cases could be beneficial.
There is no reason fights like Abner Mares-Nonito Donaire should not get made, and having an impartial committee to answer to would help keep promoters honest and prevent personal differences from blocking bouts that are in the best interest of fans, fighters and the sport itself.
Issues between Floyd Mayweather and Top Rank CEO Bob Arum, for instance, have consistently destroyed the prospects of a Mayweather-Manny Pacquiao fight, which would clearly be the most significant bout of this millennium.
The fact that a fight between two pound-for-pound greats has not occurred due to a myriad of petty issues is inexcusable, and boxing needs to match its biggest stars against each other if it wants to grow.
As for fighters, the idea would be to have something akin to Player's Association in some ways similar to what leagues like the NFL, NBA and NHL have in place.
As it stands, the boxing landscape is run by rogue and maverick promoters, networks only interested in the financial bottom line and wildly divergent state commissions. At some point, uniformity is necessary to protect athletes engaging in such a brutal sport.
The idea here is to have an organization that helps fighters secure proper health benefits and sign fair contracts with promoters and for specific fights. Much of this has to do with legal proceedings, and it would appear that having an organizing with a mandate to promote fighter's interests would help with issues like contract disputes and arbitration.
It is a shame when fighters like Guillermo Rigondeaux are rendered inactive due to legal issues, and it is clear that boxing needs some type of reform in this area. While this section is somewhat vague—clearly I'm no lawyer—boxing does need some sort of unified supervisory board to combat corruption and negligence.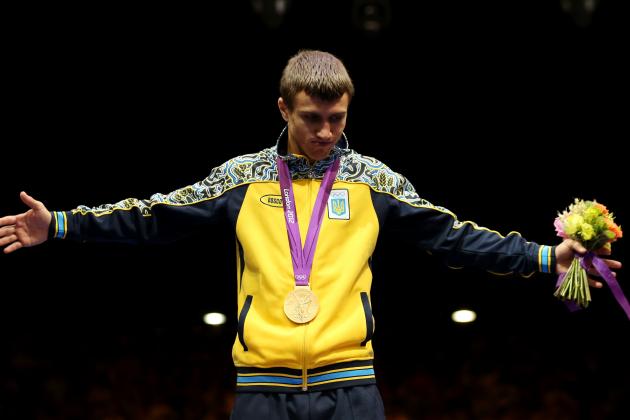 Scott Heavey/Getty Images

Anyone who has watched Olympic boxing since 1992 is well aware that the amateur and professional ranks have little in common. Amateur boxing's computer-based scoring system where three of five judges need to strike a keypad within a second of punch landing for it to count equates a jab with a powerful hook and also risks ignoring landed punches while giving credit for phantom blows (amongst other things).
While boxing at both the amateur and professional level is ripe with controversial and downright outlandish decisions, the amateur system is especially flawed. Luckily, amateur boxing at the 2016 Olympics will revert to the pro-style, 10-point scoring system that thankfully gives fighters credit for body punching and subtler aspects of the sweet science.
This is certainly positive, and these reforms will allow boxers who enhance their profile during the Olympics to transition more seamlessly to the professional ranks.
Also, given that Americans are trained to throw combinations and shots to the body in a professional manner, the new amateur system will help the U.S. perform more respectably at the Olympics.
Increasing boxing's viability from the grassroots level is essential, and if more excitement is generated from Olympic medalists transitioning to the professional ranks, boxing could perhaps return to networks like CBS, ABC or NBC and garner a more mainstream following.
This is obviously a long ways away, but networks need to make a concerted effort to promote Olympic boxing, the World Amateur Championships, as well as the World Series of Boxing (WSB).
Professional promoters should also aim to build working relationships with the WSB, as the pro-style rules would translate well to professional cards. If a deal can be negotiated, it would be enticing to see highly competitive WSB bouts as undercard bouts on major cards.
Incorporating these elite international amateur boxers fighting with pro-style rules into professional cards would help increase the hype surrounding amateur tournaments, while also providing professional cards with more competitive supporting bouts.
Towards the end of the 2012 Olympics, I wrote a piece about the newly created APB promotions. This new outfit allows fighters to retain their Olympic eligibility while contesting pro-style bouts. Furthermore, APB ensures that its fighters have a minimum number of bouts per year, that they have insurance and that their salaries are consistent.
Run by the AIBA (amateur boxing's governing body), APB promotions, if it manages to work with major players like Golden Boy and Top Rank, can help boxing grow by both setting quality standards and raising awareness about upcoming prospects who will someday be full-fledged professionals.
If fans are easily able to follow prospects—much like the way the NCAA feeds into the NFL or NBA—boxing will only grow in popularity.