UCLA Football: The Top 5 2013 NFL Draft Prospects from UCLA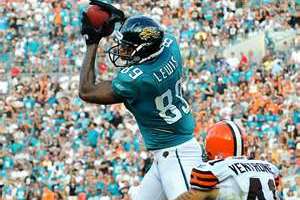 Quick....who was the last first-round NFL draft pick from UCLA?
Come on...it was a tight end in 2006 who went to the Jacksonville Jaguars.
Still don't know? It's okay, you can look at the picture.
He was a consensus All-American and First-Team All-Pac-10 in 2005.
He won the John Mackey Award and is a Pro Bowler. Give up?
Okay, it's TE Marcedes Lewis. Actually, I didn't know that either.
So, how many players might UCLA put in the first round in 2013?
Begin Slideshow

»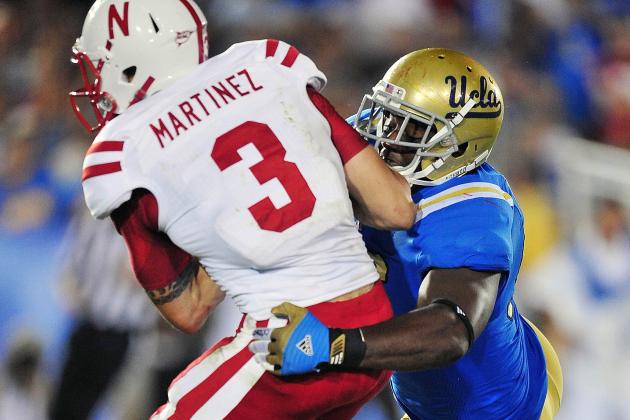 Gary A. Vasquez-US PRESSWIRE
DE Datone Jones sacking QB Taylor Martinez for a safety.
Datone Jones, DE, No. 56
Height: 6'4" Weight: 275 lbs.
Projected 40 Time: 4.65 sec
Projected Round: 1st
Class: RS Senior
High School: Compton (CA)
What a beast! Did you see what Datone Jones did to Nebraska on September 8th? Simply a force to be reckoned with. He is the best looking DE in the nation when it comes to tackles-for-loss against Top 25 opponents (yes, I love stats). He is actually ranked in the top 10 nationally in that category.
Jones was selected to the 2012 Senior Bowl Watch List. Last year he started all 14 games and topped the team with 6.5 tackles for loss and 3.0 sacks. He led the Bruins linemen with 41 tackles.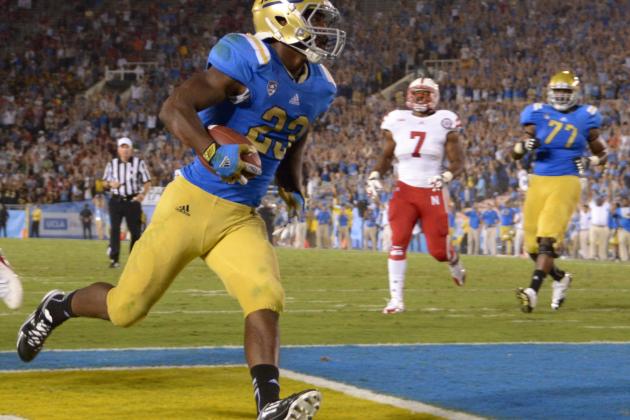 Kirby Lee-US PRESSWIRE
RB Johnathan Franklin leads the nation in rushing.
Johnathan Franklin, RB, No. 23
Height: 5'11" Weight: 195 lbs.
Projected 40 Time: 4.47 sec
Projected Round: 1st
Class: RS Senior
High School: Dorsey (CA)
Here is the No. 1 rusher so far in the nation for 2012. Better than Ball from Wisconsin. Better than Miller from Ohio State. Better than Bell from Michigan State. Better than all of the rest in the country.
Johnathan Franklin leads the nation with 431 yards after two games and is currently averaging 216 YPG. His next opponent is hapless Houston. Watch the stats climb into the stratosphere next week.
In 2011, Franklin led the team with 976 yards rushing and was named to the Doak Walker Award and Maxwell Award preseason watch lists. He's rushed for 2,103 yards in the last two seasons.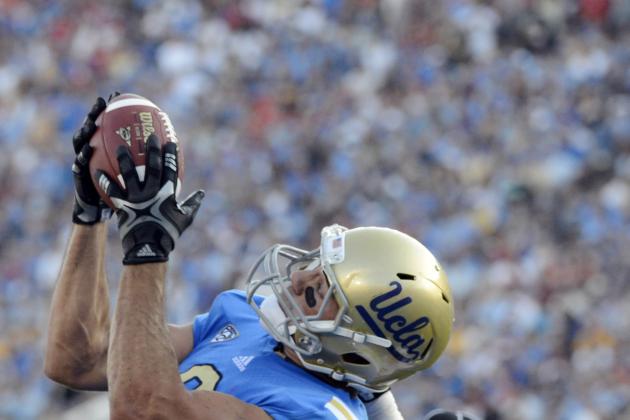 Richard Mackson-US PRESSWIRE
TE Joseph Fauria is the automatic first-down machine.
Joseph Fauria, TE, No. 8
Height: 6'7" Weight: 255 lbs.
Projected 40 Time: N/A sec
Projected Round: 2nd
Class: RS Senior
High School: Crespi (CA)
Joseph Fauria is like having a vacuum cleaner on stilts. He had three receptions for 53 yards and a touchdown in the first game against Rice.
The part about Fauria that really frustrates other teams is when UCLA really needs a first down on 3rd-and-long, he just zaps the ball with his "Spidey-web" and reels it in.
Last year he was UCLA's No. 2 receiver with 39 catches for 481 yards and six scoring receptions (which was the most by a Bruin since Marcedes Lewis in 2005). He is the tallest TE in the draft and would be in the first round if not for Tyler Eifert and Dion Sims.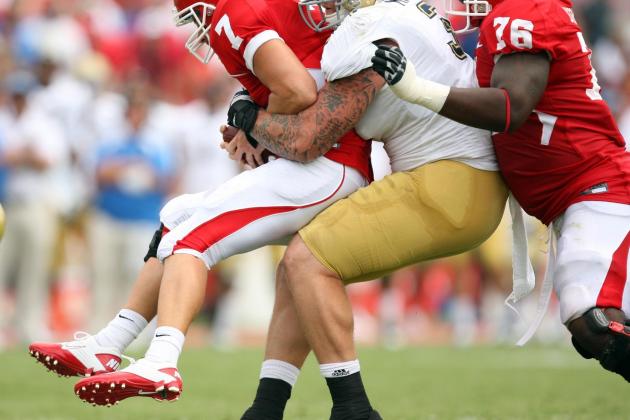 Thomas Campbell-US PRESSWIRE
DT Cassius Marsh is a force in the middle.
Cassius Marsh, DT, No. 99
Height: 6'3" Weight: 290 lbs.
Projected 40 Time: 5.01 sec
Projected Round: 2nd
Class: Junior
High School: Oaks Christian (CA)
Cassius Marsh hasn't really shined brightly yet in 2012, but his day is coming soon. It may come as soon as Saturday against Houston.
Marsh had a solid sophomore season with 22 tackles, four tackles for a loss and two sacks. He is very quick for his size and is looking for 25 tackles or more in 2012. UCLA went to the 34 defense in 2012, something that requires great nose tackles.
Marsh has held his own so far, but he may perform even better against the spread offenses that UCLA will face, starting with Houston's run-and-shoot.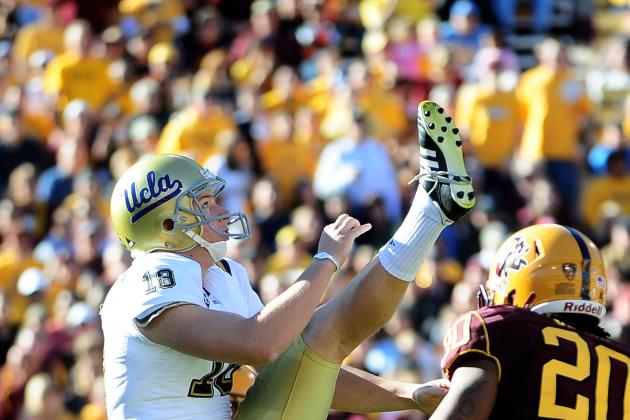 Mark J. Rebilas-US PRESSWIRE
P Jeff Locke has a foot up on the competition.
Jeff Locke, P, No. 18
Height: 6'0" Weight: 207 lbs.
Projected 40 Time: 4.70 sec.
Projected Round: 6th
Class: RS Senior
High School: Mountain Ridge (AZ)
Jeff Locke's career punting average of 44.58 ranks No. 2 in UCLA history. He ranked 12th in the nation in punt average (44.34) last year and was named to the Second-Team All-Pac-12 academic team for the third straight season. Locke also won the Tommy Pronthro team award for Outstanding Special Teams Player.
So far in 2012, Locke is averaging a decent 42 yards per punt. He needs to push that up to 50 yards to lead the nation, and that won't come against Houston.