New York Jets: 3 Most Intriguing Practice Squad Players
Jeff Zelevansky/Getty Images
Ah, the practice squad. A lovable group of eight men, all vying to eventually reach Sunday glory.
It is a somewhat disappointing assignment for a player; some practice squad members never make the full roster, while others develop and go on to have long careers in the league.
Fans speak of members of the practice squad as if they were mythological creatures, not quite certain if what they've heard is too enticing or ridiculous to actually be true.
"I heard he led the NCAA in receiving?"
"Someone said he spent several years in England playing rugby?"
Yes, this is the practice squad, full of potential, devoid of recognition. . . yet.
Here are the three most intriguing members of the New York Jets practice squad, all of whom we may see suited up for Gang Green some Sunday this season.
Jordan White, WR
Jeff Zelevansky/Getty Images
Jordan White was one of the Jets draft picks I was most excited about entering this year's preseason. A seventh-round wide receiver selection may seem trivial, especially in the shadow of second-rounder Stephen Hill's break out opening game for Gang Green, but White just has the certain je ne sais quoi that makes him a cult hero among hardcore fans.
White played his college ball at Western Michigan University of the Mid-American Conference, where, in his senior season, he led all NCAA FBS receivers in total receiving yards, receiving yards per game, total receptions and receptions per game.
Despite recovering from a broken foot, White still showed the Jets coaching staff enough to land a spot on the practice squad to start the 2012 season.
Part of White's appeal is his likeness to former Jet Danny Woodhead, an undersized player that posted staggering college numbers against lesser competition.
With the Jets waiving WR Patrick Turner, strong performance from White could definitely earn him an opportunity to break into the wide receiver rotation midseason.
Antonio Allen, SS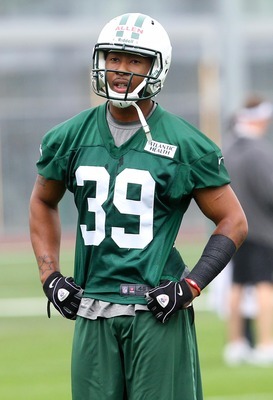 Ed Mulholland-US PRESSWIRE
It was surprising to see the Jets waive Antonio Allen when slimming down their roster nearly two weeks ago. Having cleared waivers and re-signed onto the team's practice squad, Allen was simply a victim of numbers on the Jets preseason roster.
Josh Bush was clearly the better of the two rookie safeties the Jets had on their preseason roster, but Allen definitely showed enough promise to warrant a practice squad spot. Through working with seasoned veterans Yeremiah Bell, LaRon Landry and Eric Smith, Allen has excellent resources at his disposal.
If he is unable to crack the deep Jets secondary, he could find himself eventually making the regular roster as a member of the Jets special teams.
Hayden Smith, TE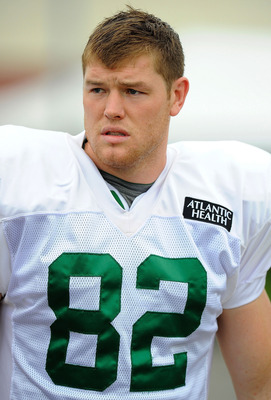 Rich Barnes-US PRESSWIRE
Every practice squad has one spot reserved for a "project player."
Hayden Smith is the quintessential project player.
His 6'7", 260 lb. frame projects well for an NFL tight end, but his development has been anything but typical. Smith joined the Jets this preseason at age 27, having played rugby professionally in England the last four years.
An encouraging side to his story is that he only began playing rugby after graduating from Metro State College and, within a several weeks, joined the US National Rugby Team. While at Metro State, he played on their Division II basketball team.
Antonio Gates and Jimmy Graham are just a few examples of the recent NFL phenomenon of basketball-players-turned-tight-ends. Tim Brewster, the coach responsible for grooming Antonio Gates into a Pro Bowl tight end, worked with Smith in preparation for Jets camp.
The physique, attitude and toughness are all visible in Smith, and he might be the most interesting storyline to watch among the Jets' practice squad players this season.
Keep Reading

New York Jets: Like this team?