5 Soon-to-Be MLB Free Agents Who Will Lose Millions in October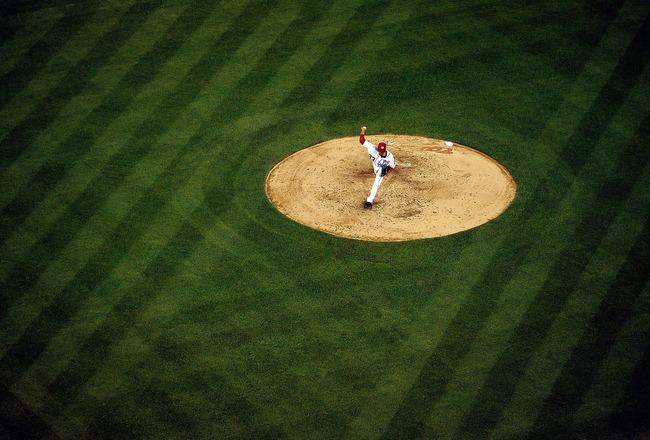 Patrick McDermott/Getty Images
This will be an exciting October. There are some great teams in the playoffs and some great players as well.
While some will explode with godly stats, others with disappear and disappoint. It happens every October.
For those unlucky few that struggle, they can only hope that it's not during a contract year. Believe it or not, money can be won and lost in the postseason.
While many stars are relaxing after their teams missed the playoffs, others are being thrust into the limelight. This is baseball's biggest stage, and if you struggle it's going to be noticed.
Here's a list of guys that have a lot to lose this October.
Melky Cabrera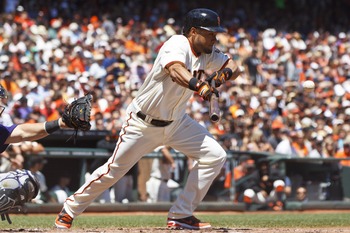 Jason O. Watson/Getty Images
I may be going a little obvious here. But it really is worth mentioning that Melky Cabrera is not going to be a big winner this upcoming offseason.
After his recent PED issues, the Giants left fielder—and arguably best hitter in 2012—will not be joining his team in October.
His absence is going to be a reminder to the MLB that he may not be a guy you want to invest the future in.
Nick Swisher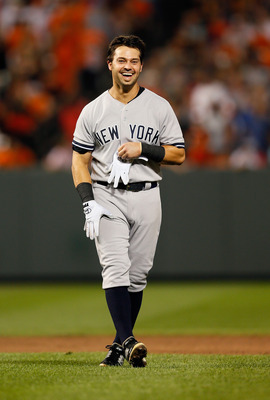 Rob Carr/Getty Images
For the first time since coming to New York, Nick Swisher is going to be a free agent.
The underrated outfielder should be in for a good pay day. For the fourth straight season, he's on his way to 20-plus home runs, 80-plus RBI and an OPS near or above .800.
But when it comes to the playoffs, they're not Swisher's friend. In 38 postseason games, he's batting a mere .169/.295/.323 with four home runs and six RBI.
When you're as underrated as Swisher, everything counts. You need to be at your best every time you're being watched. Unfortunately, when it comes to the biggest stage in baseball, Swisher is at his worst.
Ryan Dempster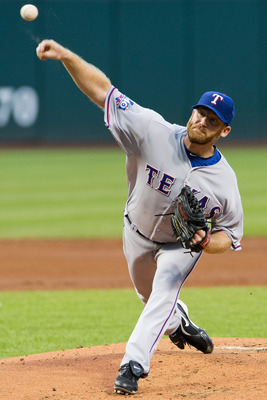 Jason Miller/Getty Images
I'm not sure where in the rotation Ryan Dempster will pitch in the playoffs, but make no doubt about it, he will pitch.
When those starts come, look out.
Dempster's only postseason start came with Chicago in 2008. He came out with a loss, pitching only 4.2 innings while giving up four runs on four hits and seven walks.
Now Dempster is expected to do better in a hitter's league. He's already struggled in the AL, posting a 4.36 ERA and 1.315 WHIP in seven starts with the Rangers.
He's a one league pitcher, meaning less suitors. The less suitors you've got, the less money you get.
Mike Napoli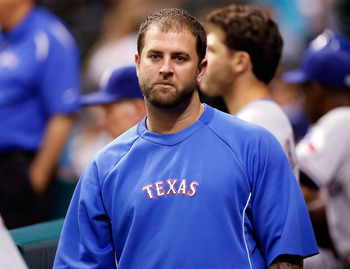 J. Meric/Getty Images
Mike Napoli had a tremendous 2011 season. It seemed he would be well on his way to a huge payday.
Since then 2012 has brought disappointment. Napoli is batting a mere .223 with just 17 home runs and 40 RBI. His 108 strikeouts is a huge jump from his 85 in 2011.
Napoli's been very solid in postseasons past, batting .281/.377/.472 with five home runs and 19 RBI in 31 games.
Based on how his season is going, I'd expect a lackluster showing in October. It'll be just another reminder of how far Napoli is from his 2011 dominance. You can almost hear the money blowing away.
Edwin Jackson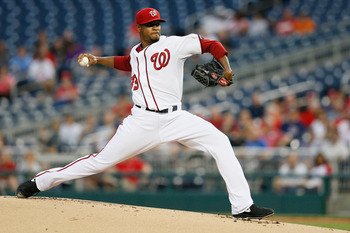 Rob Carr/Getty Images
Edwin Jackson's ability to pitch continues to surprise me. Just when I write him off he revives his career in the NL, first with the Cardinals and this season with the Nationals.
What can't be overshadowed is Jackson's inability to pitch in the postseason. In seven October appearances—four starts—he's 1-1 with a 4.91 ERA.
Though he'll still earn a nice contract, October will be another reminder that Jackson isn't a reliable No. 2—maybe even No. 3—starter.
Keep Reading