NFL Week 2 Predictions: Latest Odds & Picks Against the Spread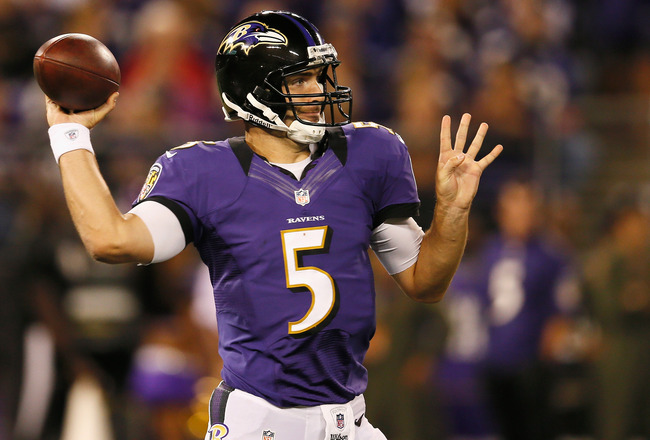 Rob Carr/Getty Images
Got to love Week 2 in the NFL.
It's the annual prove yourself week for all 32 teams.
Prove that Week 1 win wasn't an aberration. Prove you're a sound football team. Prove you aren't as bad as the trouncing you took in Week 1. Prove you can bounce back from the last-second defeat.
Let's take a look at the Week 2 schedule and make picks against the spread.
(All lines courtesy of Bovada.lv.)
Chicago Bears (+6) at Green Bay Packers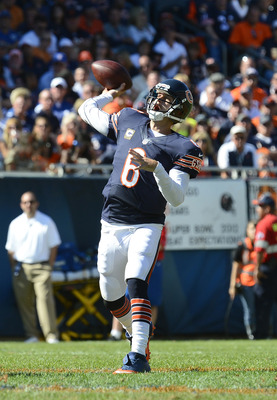 Mike DiNovo-US PRESSWIRE
The Bears and Packers kick off Thursday Night Football, in a game that should be wildly entertaining. Jay Cutler already took a little shot at Green Bay, saying "good luck" to them in their man-to-man press coverage against the Chicago receivers.
Both clubs do boast a fine set of pass-catching targets and have gun-slinging quarterbacks capable of making any throw.
The difference will be in the running game and on defense. The Bears have a sound front seven, a viable secondary and one of the league's most versatile running backs in Matt Forte.
The Packers' defensive line isn't bad, but their cornerbacks will struggle with Brandon Marshall and Alshon Jeffery, and the running game needs work.
All signs are pointing to the Bears covering.
Bears +6
Kansas City Chiefs at (-3) Buffalo Bills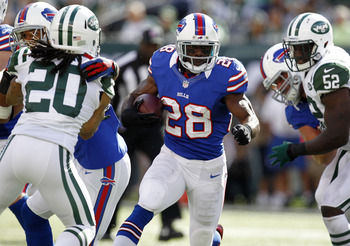 Jeff Zelevansky/Getty Images
Both teams are coming off devastating Week 1 defeats in which they allowed over 40 points and deal with poor efforts from their quarterbacks.
Buffalo is without Fred Jackson and reliable slot receiver David Nelson, but C.J. Spiller's multi-faceted game will be put on display in Chan Gailey's offense.
The Bills must apply more pressure than they did against Mark Sanchez in Week 1 and do a better job covering what is a talented group of receivers against KC.
The Chiefs must lean on Jamaal Charles and hope to get a spark from defensive end Tamba Hali, who is returning from suspension.
Buffalo is getting the home-field advantage boost of three points, so Vegas essentially sees this game as a toss up.
Even if the Bills win, it'll be by a point or two.
Take Kansas City.
Kansas City +3
Cleveland Browns at (-7) Cincinnati Bengals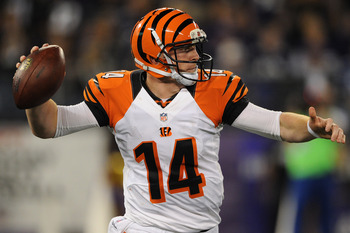 Patrick Smith/Getty Images
The Bengals were thrashed by the Ravens in Week 1, but the 44-13 score wasn't indicative of the competitiveness of the game.
Andy Dalton struggled, as many quarterbacks do against Baltimore, and Joe Flacco put on a show against a stout Cincinnati defense.
BenJarvus Green-Ellis performed well, and Andrew Hawkins appears to be the speedy complement to A.J. Green out wide.
For the Browns, Brandon Weeden is fresh off a nightmarish start to his NFL career. He threw four interceptions against the Eagles in a home-opening loss.
Trent Richardson hardly got going, as he carried the ball 19 times for a mere 39 yards against Philadelphia.
At home, you have to believe the Bengals will win by more than a touchdown.
Bengals - 7
Minnesota Vikings at (+1.5) Indianapolis Colts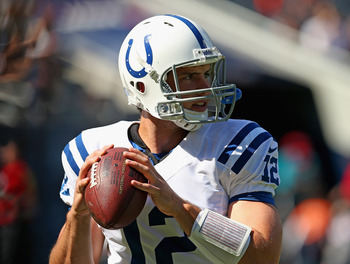 Jonathan Daniel/Getty Images
Andrew Luck eclipsed the 300-yard mark against the Bears, but turnovers were costly and ultimately led to defeat.
To his credit, he did make a handful of fine throws and didn't seem flustered in his professional debut. Dealing with the Bears' wideouts is not an easy task, and they exploited a relatively weak Indianapolis secondary.
The Vikings squeaked out a win against the Jacksonville Jaguars at home. Christian Ponder was efficient, and Adrian Peterson looked fine coming off a devastating knee injury.
The Colts are currently 1.5-point underdogs at home, and I actually like them to win this game.
I'll take Luck over Ponder in the always important quarterback duel.
Colts +1.5
Oakland Raiders (-3) at Miami Dolphins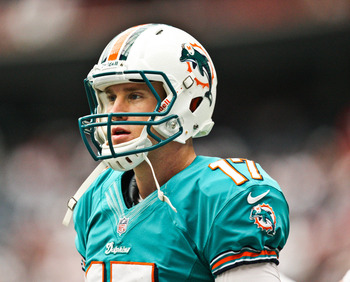 Thomas Campbell-US PRESSWIRE
Ryan Tannehill got off to a rather disappoint start against the Houston Texans in Week 1, throwing three interceptions, but at least two were of the tipped variety.
The defense, a group some believed would carry the team in 2012, was scorched by Matt Schaub and Arian Foster.
The Raiders were totally inept against the San Diego Chargers. Although Darren McFadden had a big fantasy day because of his production as a receiver, they totaled 43 yards rushing on 20 carries.
The special teams miscues ultimately cost them the game, but there weren't many positives to take from their opening loss, besides a stingy red zone defense.
Miami's getting three points at home, but I like the Raiders' defense and expect McFadden to rebound, so take the Raiders.
Raiders -3
Arizona Cardinals at (-14) New England Patriots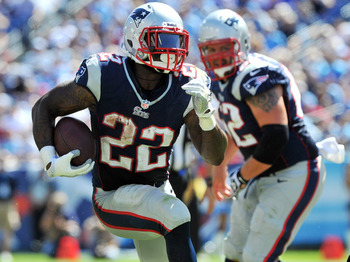 Don McPeak-US PRESSWIRE
The Patriots were juggernauts in their Week 1 win. They dominated in all phases of the game. A typical showing from Bill Belichick's club.
Though the Cardinals squeezed out a win at home against the Seahawks, they were far from impressive. Kevin Kolb was surprisingly efficient filling in for the injured John Skelton and Kolb will make the start this week.
It's not easy covering a 14-point spread in the NFL, but I like Brady and Co. to do so at home this week.
Patriots -14
Tampa Bay Buccaneers (+9) at New York Giants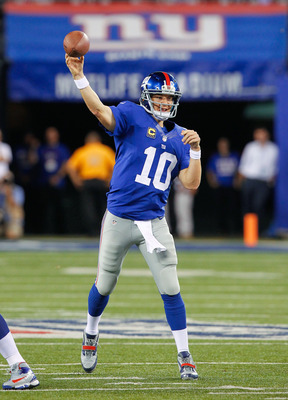 Jim O'Connor-US PRESSWIRE
The Giants were stunned by the Cowboys to start the 2012 NFL season, and Big Blue now gets a revitalized Buccaneers team fresh off a win over Cam Newton and the upstart Carolina Panthers.
New York isn't known for being remarkably successful in the regular season, but I don't see them squandering another game at home.
The Giants have more talent but won't cover the nine-point spread against a Tampa Bay team that could be better this year than initially advertised.
Winning by a touchdown is more reasonable.
Buccaneers +9
Baltimore Ravens (+3) at Philadelphia Eagles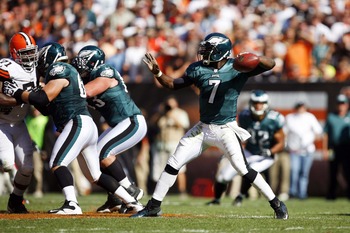 US PRESSWIRE
What should we make of Michael Vick's four-interception debacle against the Browns. Is it a sign of more to come, or is the fact that he won more important?
Either way, the Eagles should learn from their mistakes, give the ball to LeSean McCoy more frequently and lean on what looks to be a sound defense from nose tackle to free safety.
The Ravens were stellar against the Bengals and will throw an array of blitzes at Vick to get him out of his throwing comfort zone. Expect a heavy dosage of Ray Rice mixed into the up-tempo, no-huddle attack.
Philadelphia is actually favored by three points at home, which is a little surprising.
Vegas oddsmakers typically know something the common folk do not, but I like the Ravens to win this game.
Ravens +3
New Orleans Saints at (+3) Carolina Panthers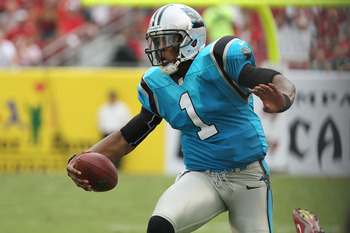 Kim Klement-US PRESSWIRE
The Saints and Panthers surely didn't look like NFC contenders in Week 1.
New Orleans was hit by the Robert Griffin III earthquake, and Cam Newton couldn't figure out Greg Schiano's defense. Yes, Newton and Brees both eclipsed the 300-yard passing mark, but they weren't themselves.
Each defense has talent, but both are susceptible to lapses on occasion.
Vegas has made Carolina a three-point dog at home, and though I'm not sure they'll win, they'll keep it close with New Orleans and cover the spread.
Panthers +3
Houston Texans (-7.5) at Jacksonville Jaguars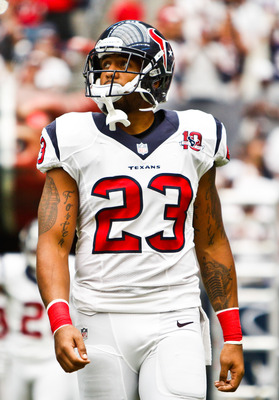 Thomas Campbell-US PRESSWIRE
Arian Foster and Co. were supposed to thrash the Dolphins at home to begin the 2012 season, and they did. A job well done.
The Texans' defensive front seven is nasty, and the balance on offense is clear.
Jacksonville was competitive against the Vikings, and for the first time in his career, Blaine Gabbert didn't look completely lost as the team's starting quarterback.
However, this matchup isn't a good one for the Jaguars, even at home.
Houston is a 7.5-point favorite, and it should win by closer to 10.
Texans -7.5
Washington Redskins at (+3) St. Louis Rams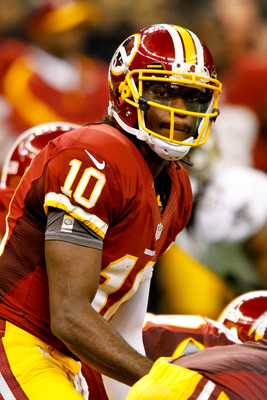 Derick E. Hingle-US PRESSWIRE
Robert Griffin III is the talk of the NFL after his stunning performance in leading to the Redskins to a win over the Saints inside the Superdome on Sunday.
While he won't be as dynamic against a bolstered Rams secondary that gave Matthew Stafford fits in Week 1, he won't thoroughly disappoint, either.
The Rams are probably still a year away from contending, but Jeff Fisher won't let his team lie down to anyone.
St. Louis is a three-point dog at home, and I like them to cover, and could pull out the victory.
Rams +3
Dallas Cowboys (-3) at Seattle Seahawks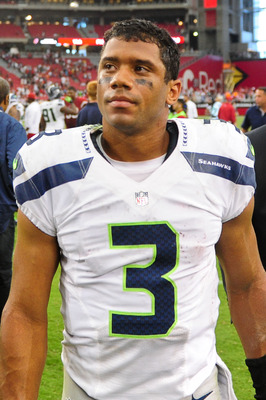 Matt Kartozian-US PRESSWIRE
This is one of the more intriguing matchups on the Week 2 schedule.
Russell Wilson was good but not great in his NFL premiere, and the Seattle defense was respectable against the Cardinals in defeat.
If Tony Romo plays like he did against the Giants, the Cowboys will roll to a big win.
But the Seahawks front seven is stout, and their secondary is leaps and bounds better than New York's.
The Cowboys are three-point favorites on the road, and though Seattle should keep it close for most of the game, I like Dallas to win by at least three points here.
Cowboys -3
New York Jets at (-6) Pittsburgh Steelers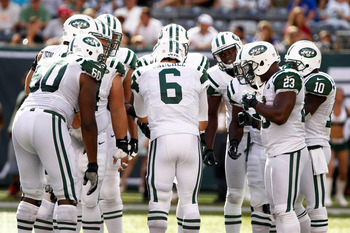 Debby Wong-US PRESSWIRE
The Jets smacked the Bills in Week 1, silencing all doubters who believed they'd field an anemic offense in 2012. Mark Sanchez was fabulous and the receivers did their part and then some.
Rex Ryan's defense confused Ryan Fitzpatrick, but it did allow 169 yards to C.J. Spiller.
This week, the Jets are facing an angry, aggressive and experienced Steelers group in Pittsburgh.
Not the greatest matchup.
In what should be a classic, hard-nosed battle, Ben Roethlisberger and Co. will win by a touchdown, covering the six-point spread.
Steelers -6
Tennessee Titans (+6) at San Diego Chargers
Kirby Lee-US PRESSWIRE
The Chargers were clearly the better team against the Raiders but simply struggled finishing drives in the red zone.
That's what not having Ryan Mathews or Vincent Jackson will do.
While Bovada doesn't have a line for this game, BetOnline lists the Chargers as a six-point favorite at home.
I'll give Chris Johnson one more chance to prove 2011 was a fluke, as the Titans should rebound in San Diego.
They may not win the game, but if they lose, it'll be by less than a touchdown.
Titans +6
Detroit Lions (+7) at San Francisco 49ers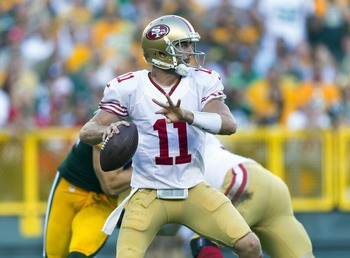 Jeff Hanisch-US PRESSWIRE
Jim Harbaugh vs. Jim Schwartz, Part Two.
Well, actually the players will be playing against each other, but you get the picture.
The 49ers were arguably the most impressive team in Week 1, while the Lions sputtered and barely got past the Rams at home.
In 2011, San Francisco upset the Lions at Ford Field by dominating the line of scrimmage on offense and defense.
The 49ers are seven-point favorites, but Detroit's big-play offense should keep it closer than that.
Lions +7
Denver Broncos at (-3) Atlanta Falcons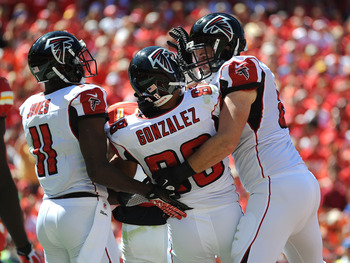 John Rieger-US PRESSWIRE
What a fun Monday Night Football matchup this is.
Matt Ryan, who's coming off a tremendous 299-yard, three-touchdown effort against the Chiefs, against Peyton Manning, who looked like his former self against the Pittsburgh Steelers in his Denver debut.
Both teams have silky smooth quarterbacks, underrated defenses and some offensive line issues. The Falcons are only three-point favorites at home—they should win by at least a touchdown.
Falcons -3
Keep Reading