Tampa Bay Buccaneers: 3 Burning Questions Left Unanswered After Week 1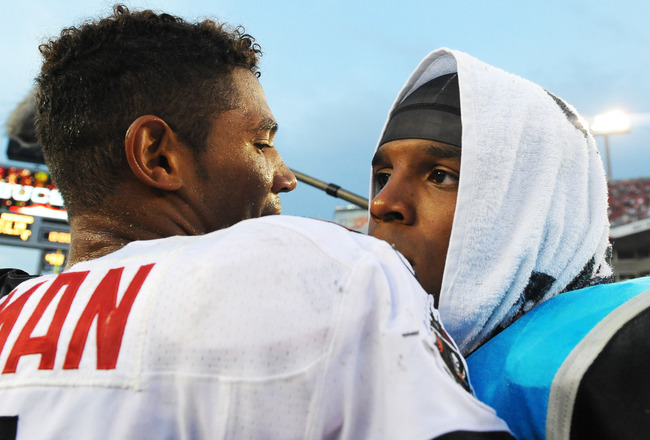 Al Messerschmidt/Getty Images
The Tampa Bay Buccaneers beat up and knocked down the Carolina Panthers last weekend on their way to an unexpected 16-10 win.
The victory not only stopped the Bucs' 10-game losing streak in its tracks, but it was also a great start to the Greg Schiano era. Oh, and it provided a stark contrast in toughness and physicality to that of the Raheem Morris regime.
Not only that, but there were several encouraging developments that came from the Panthers' game as well, such as better tackling, the disruptive play of the defensive line and a blocked punt (the first in three years) by cornerback Aqib Talib that swung momentum back in Tampa Bay's favor.
With that in mind, what didn't we see that should have the Bucs and their fans a little worried and nervous moving forward?
That is, what needs to be figured out and corrected if the Bucs intend on stunning other teams and winning more than the handful of games many expect them to?
Question 1: Will the Offense Continue to Rest on Small Leads?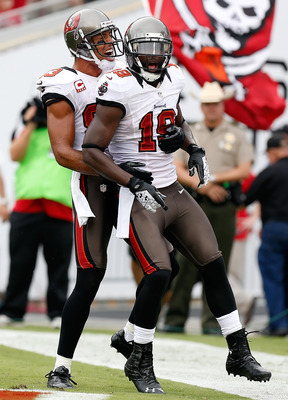 J. Meric/Getty Images
Yes, I know, there were dropped passes and penalties that negated a few "big" plays downfield.
Even still, it shouldn't be lost on anyone that the offense grew decidedly conservative after halftime. Case in point, Freeman attempted just two passes in the third quarter and 10 total in the second half.
Which begs the question: will the offense continue to rest on small leads?
Because, let's face it, the defense is going to give up 16-plus points on more occasions than it won't. Not only that, the Bucs still only won by six points—six!
By sitting on the lead and being content with running down the clock, the Bucs put themselves in a position to get beat by a last-second touchdown drive, rather than 'going for the kill' at some point in the second half.
If the play-calling mentality doesn't change soon, the Bucs may find themselves with more last-second losses than the fans care to stand for.
Question 2: Can Doug Martin Withstand 30 Touches Per Game over 16 Weeks?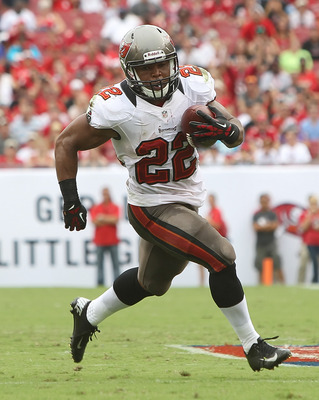 Kim Klement-US PRESSWIRE
In Sunday's victory, Doug Martin carried the ball 24 times and hauled in another four passes. All told, the rookie from Boise State saw quite the workload in his professional debut.
The question is, however, can Martin hold up if he is asked to carry the offensive burden all season long?
LeGarrette Blount, D.J. Ware and Michael Smith were all absent on Sunday as ball carriers, so it's clear Greg Schiano felt comfortable with Martin as his primary running back.
Which is all fine and well, but is it reckless to expect the lead dog to pull the entire sled?
If you factor 28 touches over a 16-game season, Martin would touch the ball 448 times. As in, 60 more times than Maurice Jones-Drew touched it last season.
Simply put, the Bucs shouldn't look to its rookie back to carry such a load moving forward, unless they're content on taking years off his career.
You have four running backs, Mike Sullivan—use them all!
Question 3: Will the Defensive Line Continue to Generate Backfield Pressure?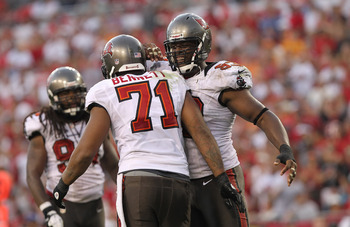 Kim Klement-US PRESSWIRE
Against the Panthers, the Bucs' defensive line was about as disruptive a force as they've been in years—and that is no exaggeration.
They were faster and stronger than the Carolina offensive line, and found themselves in the Panthers' backfield all afternoon.
But after seeing how completely ineffective the defensive line has been for most of the past few seasons, it has many wondering if Sunday's performance is a one-and-done type deal, or if the group has the ability to duplicate such showings on a consistent basis.
Because their play on Sunday was clearly the differentiating factor in how the entire defense played. As such, if their play goes down drastically, it's a safe bet that the defense as a whole will as well.
Keep Reading

Tampa Bay Buccaneers: Like this team?