5 Things Dwight Howard Can Learn from Kobe Bryant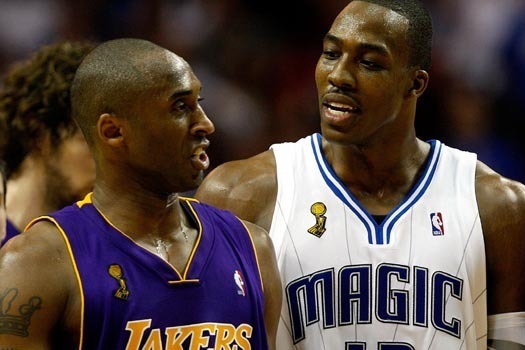 photo courtesy of cbsnews.com
For the first time in his career, Dwight Howard is on a team where he is not expected to shoulder most of the load. On his new team, the Los Angeles Lakers, he has a bevy of teammates, led by five-time champion Kobe Bryant, who can be top contributors, so much to the point where it could be argued that Howard could very well become the odd man out at some point (though that his highly unlikely). Still, the All-Star center has a desire to be the alpha dog wherever he plays and in LA, that may not happen at all.
Long story short, if the Dwight-Howard-in-LA experiment is to be a success, Howard needs to learn his place, and fast. Instead of just getting on the court and expecting to have a certain role, he should sit down with Bryant and get some life lessons. Bryant has been in the league since 1996 and given how he has gone through his fair share of on-court drama, most notably with former teammate Shaquille O'Neal and although he and Howard are two of the top players in the NBA, it is clear which one has more words of wisdom that can be passed on.
That all being said, though he may feel his skills are unquestionable, Dwight Howard has to eat some humble pie now that he's a Los Angeles Laker. If he can learn these few lessons from Kobe Bryant, then the Lakers will once again become the powerhouse of the Western Conference.
Begin Slideshow

»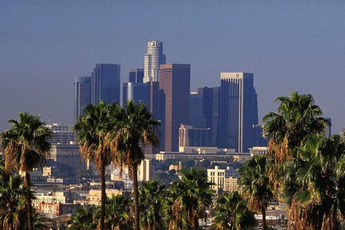 photo courtesy of cityyear.org
Nothing against Orlando, but Los Angeles is a far superior city. While one location has a bunch of theme parks and not much else, the City of Angels is one full of culture and history. To paint a better picture, I visited Los Angeles last summer, spent a week there, and didn't get to do half of the things on my to-do list. The city itself is that big and amazing!
That said, in the weeks before training camp opens, Bryant should hang out with Howard for a day and just show him the sights around the city. Seeing as how the former No. 1 pick is going to be spending a season there, he should fully take advantage of what it has to offer.
More importantly, if he likes it, his love of the city could very well play a role in his ultimately choosing to re-sign with Los Angeles next summer.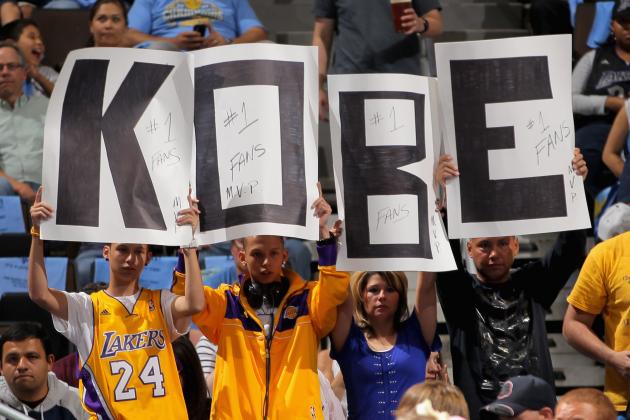 Doug Pensinger/Getty Images

Throughout the history of the game, basketball fans have loved the player who can put the team on his back and come through in the clutch. In fact, take a look at the picture to the left. If Kobe Bryant weren't one of the best leaders in the NBA and hesitated when it came to taking the final shot, there's no way those fans would be holding up individual letters.
In Howard's case, while he has been used to being the go-to guy for most of his career, that doesn't necessarily make him a good leader. In Orlando, he was the best player simply because the system made him so. Yes, his lack of a solid supporting cast led him to demand a trade, but leaders never quit on their team. Keep in mind, the Magic were in the NBA Finals not too long ago and were regularly contending before Howard wanted out.
What the man should have done is try to make the best of his situation instead of complain about it and turn Orlando's season into a soap opera. In Los Angeles, if he starts complaining, chances are Bryant is going to sit him down and tell him how that isn't allowed on the Lakers.
Thus, Howard needs to look at his upcoming season as a new beginning. He lobbied for a trade so hard and if he acts like a prima donna again this year, he's only further tarnishing his reputation. By showing a genuine desire to win and a willingness to work with all of his teammates, he will win over not only the Lakers higher-ups, but the team's fans.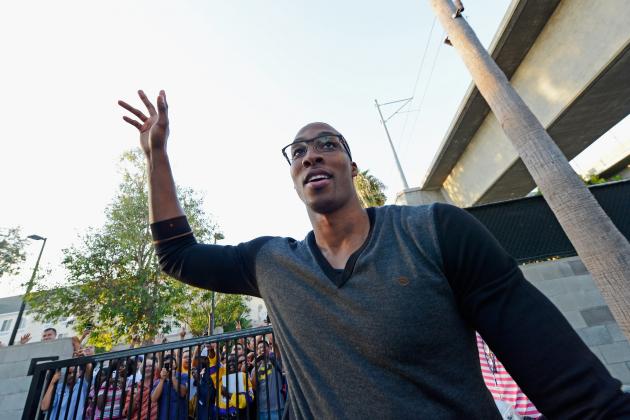 Kevork Djansezian/Getty Images

As was mentioned before, Howard stated last year that he wanted to be "the guy" wherever he played. It's admirable that he wants to be the one to put the team on his back, but that attitude can sometimes be detrimental to the team and sets up a situation where one may look like a ball hog, hot dog, etc.
Now, in Orlando, Howard really had no choice but to be the top contributor. On a team full of young players and inconsistent veterans, he was the sole consistent producer on both ends of the floor.
In Los Angeles, however, he'll be playing on the hardwood with the following people: Kobe Bryant, Pau Gasol, Steve Nash, Antawn Jamison and many other talented men. That being said, does he really need to be the best on the team? Each of the players mentioned is a star in his own right and can bring their own unique skill set to each game.
So long as Howard does his job and plays some ridiculously dominant defense in the middle, how much he produces on offense shouldn't even be a concern.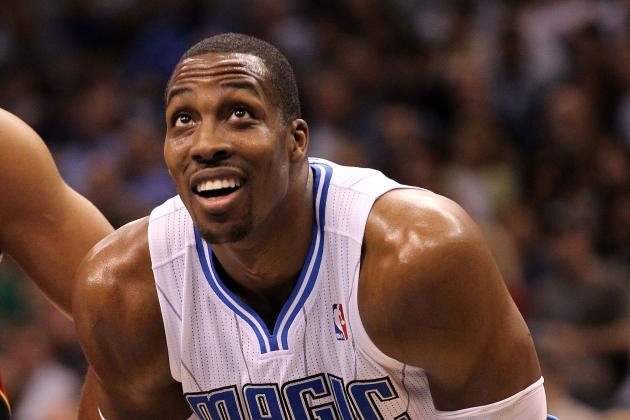 Sam Greenwood/Getty Images

Last season for the Orlando Magic, Howard averaged 20.6 points, 14.5 rebounds and 2.1 blocks per game. For his career, he has averaged 18.4 points, 12.9 rebounds and 2.2 blocks. As one can see, he is a deadly force on both sides of the floor.
Yet, it can be argued that Howard's scoring numbers are a bit inflated seeing as how he was the only reliable scorer for most of his time in Orlando. In Los Angeles, he has two fine scorers in the starting lineup with him in Bryant and Gasol. Steve Nash could also provide some solid numbers in that department.
That said, Bryant needs to let Howard know that his first priority should be to play defense. The Lakers are looking to get back to the NBA Finals and without Howard doing some fine work under the basket on the defensive end, there's no way that will happen. Sure, his scoring may take a hit, but won't the ring be worth it?
Rob Carr/Getty Images

As we all saw last season, the Orlando Magic went from being an Eastern Conference contender to a really bad soap opera. Howard demanded a trade before the season even started and from the get-go, people kept waiting for a deal to happen. Yet it never happened, and then the three-time NBA Defensive Player of the Year opted in for the 2012-2013 season after being issued an ultimatum by team management.
Still, that clearly meant nothing as a feud between Howard and then-coach Stan Van Gundy came to light, with Van Gundy going so far as to accuse his All-Star center of wanting him fired. Simply put, the behavior that Howard exhibited last season will not fly on the Los Angeles Lakers.
Whenever they meet next, Kobe Bryant must let Dwight Howard know that although he is happy to have him as a teammate, the Lakers are still his team. If there's an issue, bring it to Bryant. If he's unhappy for any reason, talk to Bryant.
Long story short, Howard is on the Lakers to be seen by fans, not heard by them. Unless he is ready to praise the Lakers and their fans nonstop, he should be wise to keep quiet on a team where he has yet to even establish a true presence.