USC vs. Stanford: Complete Game Preview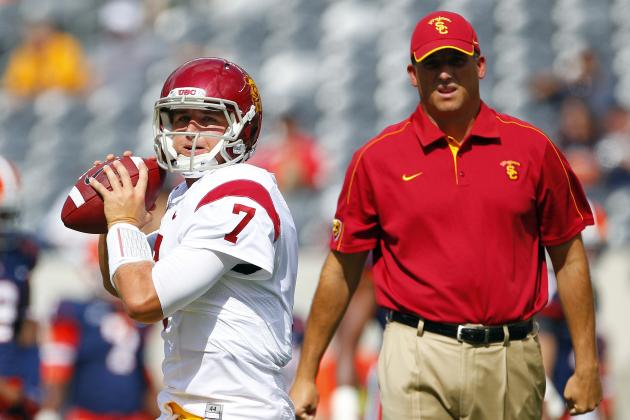 Rich Schultz/Getty Images

USC (No. 2) opens its 2012 Pac-12 schedule on Saturday in Palo Alto when the Trojans face off against Stanford (No. 21).
The Cardinal has proven to be a problem for the Trojans over the past several years, including last season when USC fell to the Farm at home 56-48 in three overtimes.
Matt Barkley and the Trojan team look to avenge that loss on Stanford's home turf.
Saturday's game is the 90th meeting between USC and Stanford in a series dating back to 1905. USC leads the series 58-28-3, but Stanford has won the last three matchups and four of the last five.
USC's last win at the Farm was in 2008 when they beat the Cardinal 45-23. Three of the last five games between these conference foes have been decided by eight points or less, including the last two years.
Begin Slideshow

»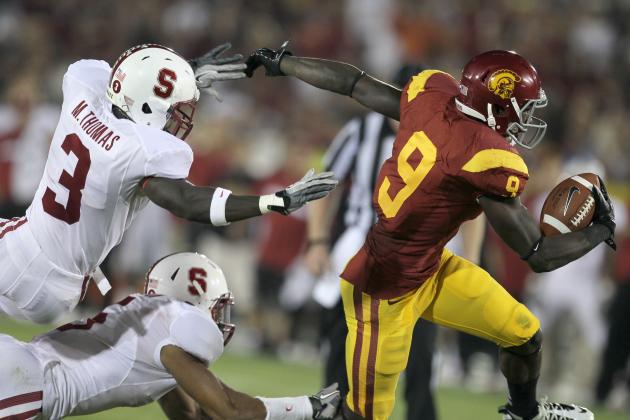 Stephen Dunn/Getty Images

Who: USC at Stanford
When: Saturday, 9/15/12, 430 p.m. PT
Where: Palo Alto, CA
Stadium: Stanford Stadium (50,000 capacity)
TV: Fox
Radio: 710AM ESPN Radio in Los Angeles, KTRB 860AM in San Francisco
Internet Stream: USCTrojans.com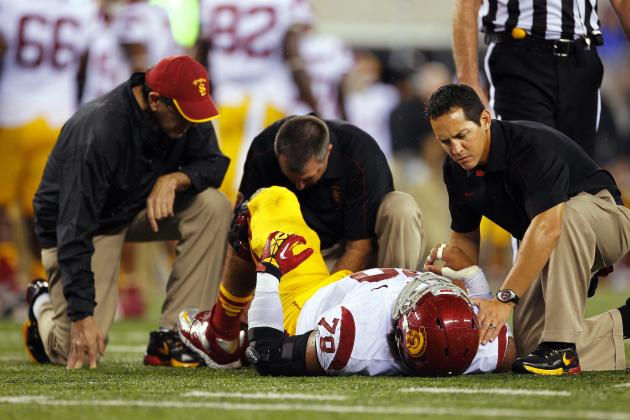 Rich Schultz/Getty Images

USC has released the depth chart for the Stanford game and it is notable for a number of reasons. First of all, the starting tailback, tight end and strong safety have not been determined and secondly, Khaled Holmes is listed as starting center.
Holmes went down and was carted off the field last Saturday versus Syracuse when his leg was trapped beneath another player. I do not expect Holmes to start based on unconfirmed things I am hearing about his injury. Lane Kiffin is notoriously close-mouthed when it comes to discussing injuries, so finding Holmes listed as a starter is no surprise.
Holmes and Barkley have played together all through high school and college, so the loss of him is a huge deal not just to the team, but to Barkley and his rhythm at QB.
After all, last week USC had Kicker Andre Heidari listed as a starter against Syracuse. Heidari didn't even make the trip to New York. In fact, he had arthroscopic surgery on his knee for a tear in his meniscus cartilage and will be out for three weeks.
OFFENSE
QB Matt Barkley
WR Robert Woods, Marqise Lee
RB Curtis McNeal or Silas Redd
LT Aundrey Walker
LG Marcus Martin
C Khaled Holmes
RG John Martinez
RT Kevin Graf
TE Xavier Grimble or Randall Telfer
FB: Soma Vainuku
DEFENSE
DE Wes Horton
NT Antwaun Woods
DT George Uko
DE J.R. Tavai
OLB Dion Bailey
MLB Lamar Dawson
OLB Hayes Pullard
CB Nickell Robey
FS T.J. McDonald
SS Jawanza Starling or Demetrius Wright
CB Anthony Brown
SPECIAL TEAMS
TBD as of 7 p.m. 9/11/12 I cannot find the depth chart. I will add it when I find it.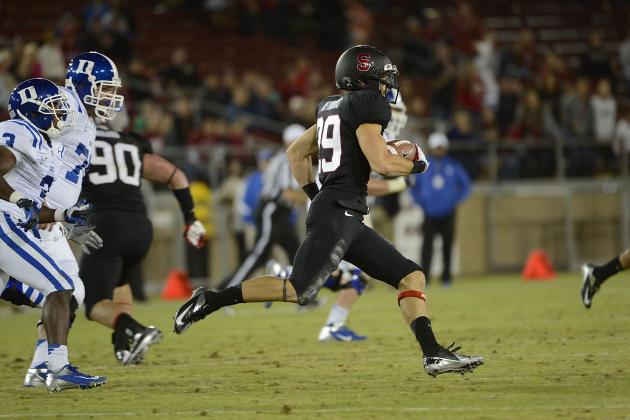 Thearon W. Henderson/Getty Images

OFFENSE
QB – Josh Nunes
RB – Stephan Taylor
FB – Ryan Hewitt or Lee Ward
WR - Drew Terrell, Kelsey Young
TE – Levine Toilolo or Zach Ertz
LT – David Yankey or Andrus Peat
LG _ David Yankey or Khalil Wilkes
C – Sam Schwartzstein
RG – Kevin Danser
RT – Cameron Fleming
DEFENSE
DE – Henry Anderson
NG – Terrence Stephens
DE – Ben Gardner
OLB – Trent Murphy
ILB – James Vaughters
ILB – Shane Skov
OLB – Chase Thomas
LCB – Terrence Brown
FS – Ed Reynolds
SS – Jordan Richards
RCB – Barry Browning or Wayne Lyons
NB – Usua Amanam
SPECIAL TEAMS
PK: Jordan Williamson
P: Daniel Zychlinski
LS: Reed Miller
H: Daniel Zychlinski
KOR: Ty Montgomery
PR: Drew Terrell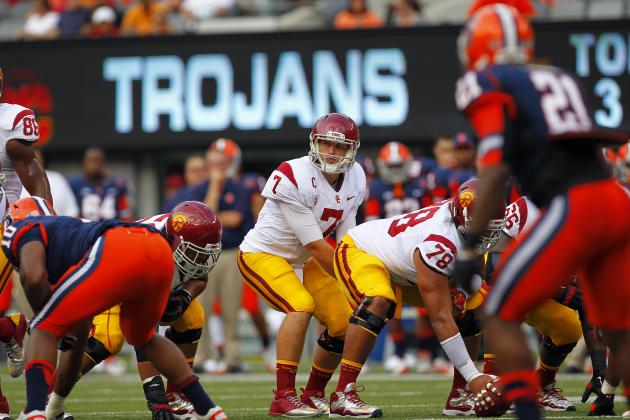 Rich Schultz/Getty Images

Matt Barkley tied his own school record of six touchdown passes in a game in a 42-29 win over the Syracuse Orange at MetLife Stadium. The game was not without its hiccups due to weather and an overmatched Trojan defense.
Flying 3,000 miles and taking on a team in those weather conditions (the game was delayed 69 minutes at the half due to a storm, not to mention the extreme humidity), is not an easy feat.
The Trojans emerged with the win, but looked every bit the early season team. They racked up penalties, the defense missed blocks and Syracuse threw up some effortless touchdowns against the Trojans' worn-out D.
USC heads into Pac-12 play 2-0 and looking to take a decisive win away from the Cardinal, a conference foe that has plagued them in recent years.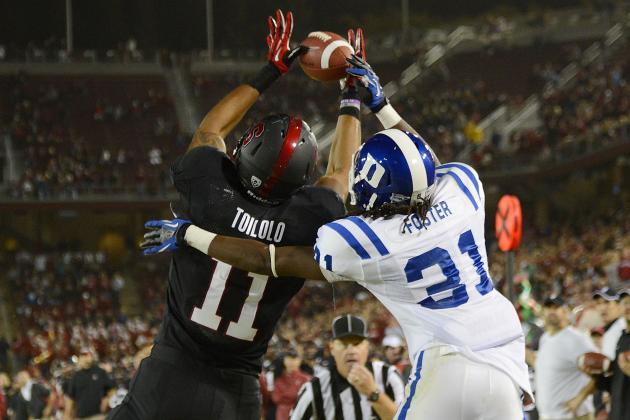 Thearon W. Henderson/Getty Images

Stanford routed Duke at home 50-13 behind new QB Josh Nunes – who had three touchdowns in a decisive victory just a week after slipping past San Jose State 20-17 in the season opener.
Nunes was 16-for-30 with 275 yards and one interception against the Blue Devils. RB Stepfan Taylor had 14 carries for 69 yards and one TD.
Stanford's defense held strong, holding Duke to just 13 points and an abundance of three and outs as the game played out.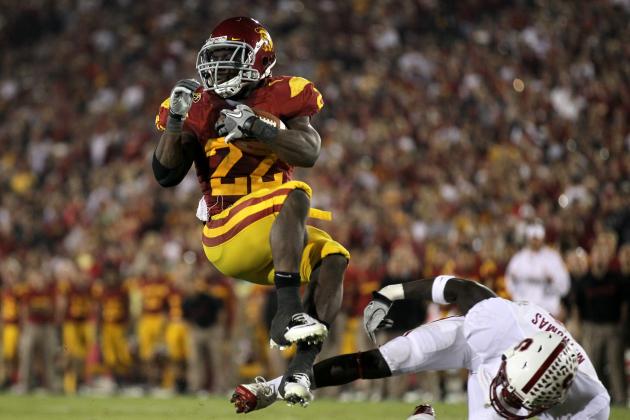 Stephen Dunn/Getty Images

Both the Trojans and the Cardinal open the 2012 Pac-12 season in this game and both have hopes of winning the conference and hopefully advancing at least to the Rose Bowl, if not the BCS National Championship Game.
Admittedly, the National Championship is a bit of a stretch for the Andrew Luck-less No. 21 Stanford Cardinal. However, a fourth consecutive win over USC could go a long ways towards establishing the BCS legitimacy of this program as well as the overall Cardinal swagger.
For the Trojans, the Cardinal presents another instance of unfinished business. Matt Barkley, a four-year starter, team captain and current Heisman Trophy favorite has never beaten the Cardinal in his USC career.

Last year's 56-48 triple overtime loss is especially painful (as one of the best football games I have ever seen in person). Look for the Trojans to come out motivated to restore the natural pecking order in the Pac-12, which places them firmly at the top.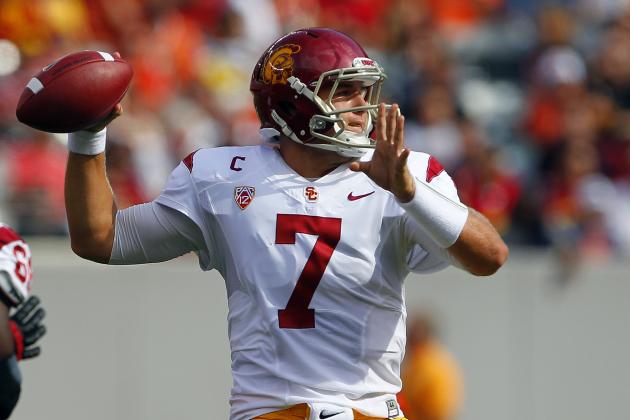 Rich Schultz/Getty Images

USC's key player continues to be Matt Barkley. He is the heart and soul of not just the offense, but the team. When he is on, the team is on. Despite the record-tying six touchdown passes last weekend, Barkley was not his best against Syracuse and it showed.
If Barkley goes into the game focused, and I believe he will since, as I stated before – he has never beaten Stanford, then the Trojans will have an easier time on the Farm.
Stanford presents a much bigger challenge for Barkley and the Trojans than Hawaii and Syracuse did. The Stanford defense, especially the front seven, is strong. Barkley and Kiffin will have to go to the passing game to advance the ball until the offense hits their stride.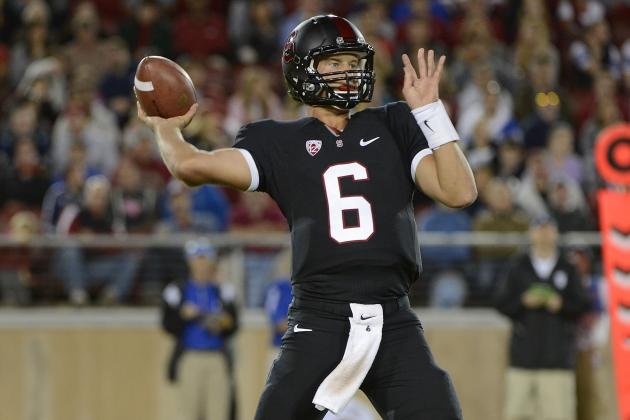 Thearon W. Henderson/Getty Images

Stanford QB Josh Nunes had some big shoes to fill – namely those of No. 1 NFL draft pick Andrew Luck, but he isn't showing as big a drop off as expected for the Stanford offense. Against Duke, Nunes threw for 275 yards, three touchdowns and had just one interception.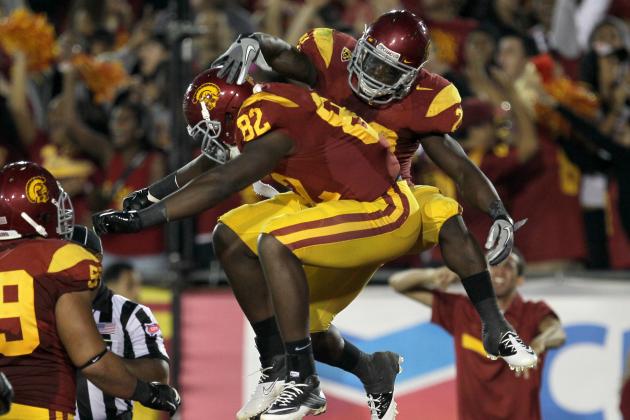 Stephen Dunn/Getty Images

USC will win if they can remain focused. The Trojans cannot be plagued by nearly 100 yards in penalties against the Cardinal (or most of their Pac-12 schedule) and emerge victorious.
The Trojan offense is going to have to give it their all and use Robert Woods, Marqise Lee, Curtis McNeal, Silas Redd, Xavier Grimble and Randall Telfer to their full potential and put up a deluge of points.
The Trojan defense is going to have to step up. Plain and simple. There is no room for mistakes, blown coverage or slowness against the Cardinal. USC has lost three in a row. It will be up to the defense to maintain the line in the sand and secure the Trojan victory.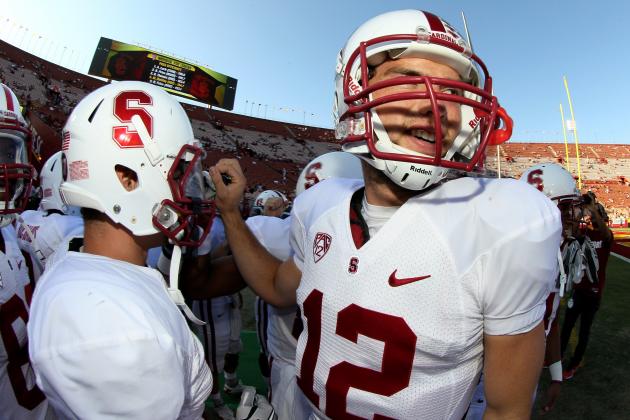 Stephen Dunn/Getty Images

This game, due to the recent history in the series, troubles me. Stanford has a tough defense and a solid running game – they are not Syracuse, they will not let Barkley and his array of offensive weapons get six touchdowns.
The Trojans gave up 455 yards to Syracuse last week. If the Cardinal studies the game film and prepares a similar game (albeit with better athletes playing on the Farm), then they can push the USC D to their limits and make some big plays.
This could be an upset, Trojan fans. USC has lost their first or second Pac-10 or Pac-12 road game in each of the last five seasons with the first loss coming in the first conference game in each of the past three seasons.
This game could easily go Stanford's way if USC does not remain focused, rein in the penalties, perform on offense and step up on defense.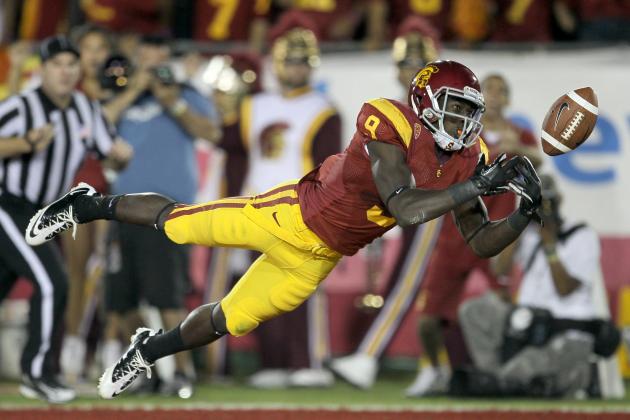 Stephen Dunn/Getty Images

Both teams face their biggest challenge to date in the 2012 season. Stanford has posted victories against cupcakes San Jose State and Duke. USC has posted victories against not-quite-cupcakes Hawaii and Syracuse.
However, if you cannot win out in the Pac-12, you cannot play for the National Championship, plain and simple.
USC 34
Stanford 28