Questions Left Unanswered for Cincinnati Bengals After Week 1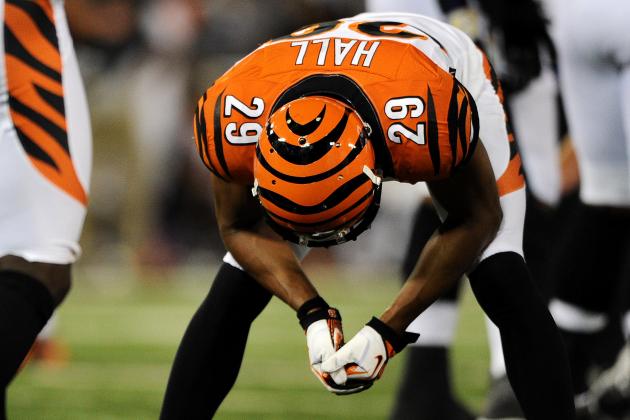 Patrick Smith/Getty Images

The Cincinnati Bengals began their 2012 NFL season against the Baltimore Ravens on Monday Night Football and were thoroughly embarrassed, which has left more questions about the team unanswered than solved.
While the 44-13 beat down in front of a national audience on prime time sounds horrific, there were some good things to take away from the loss. The banged up offensive line looked good, a running game has been found and Andrew Hawkins has emerged as a playmaker on offense.
That's about it.
There were some pressing questions about the 2012 iteration of the Bengals this offseason that were presumably going to be answered right away, and that simply was not the case.
Here are some burning questions about the Bengals that were not answered in Baltimore in Week 1:
Begin Slideshow

»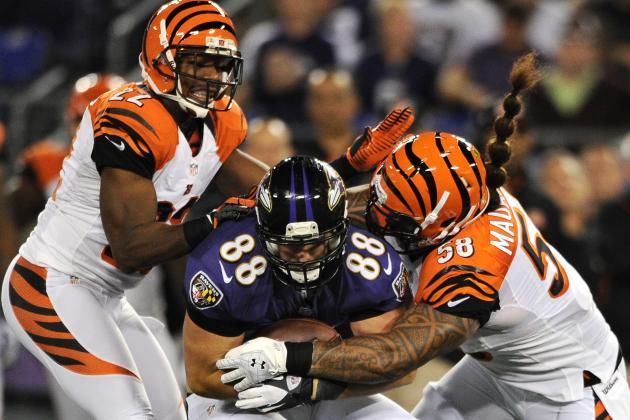 Patrick Smith/Getty Images

Rey Maualuga was coined as the middle linebacker head coach Marvin Lewis had been frantically searching for since the beginning of his tenure in Cincinnati.
Things looked good last season until Maualuga went down with an ankle injury, rushed back and failed to match his early-season play.
If the massarcre in Baltimore is anything to go by, it looks like Maualuga has actually regressed.
Even an untrained eye could see Maualuga was consistently out of position and failing to shed blocks to make plays all night long against the Ravens. As the core in the middle of a defense, his performance makes him a liability.
If Maualuga does not turn things around quickly, the Bengals' fan base will be clamoring for undrafted free agent and feel-good story Vontaze Burfict to replace him—and Lewis might accommodate those demands.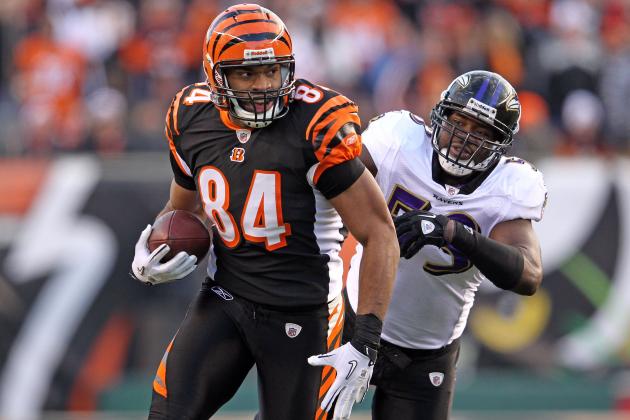 Andy Lyons/Getty Images

It would be easy to assume that in a West Coast offense a 6'5", 260-pound tight end would be a focal point of the offense.
Not in Cincinnati.
One of the critiques of Jay Gruden's new offense with the Bengals has been the lack of involvement for tight end Jermaine Gresham. That continued to kick off the 2012 season against the Ravens.
Gresham only caught three passes for 30 yards despite his great measurable and outstanding talent. He is a mismatch anywhere on the field and Gruden failed to take advantage all night.
If the Bengals want to have a more dynamic offense, making use of Gresham more often would be a good idea. Right now he is simply wasting away in Cincinnati.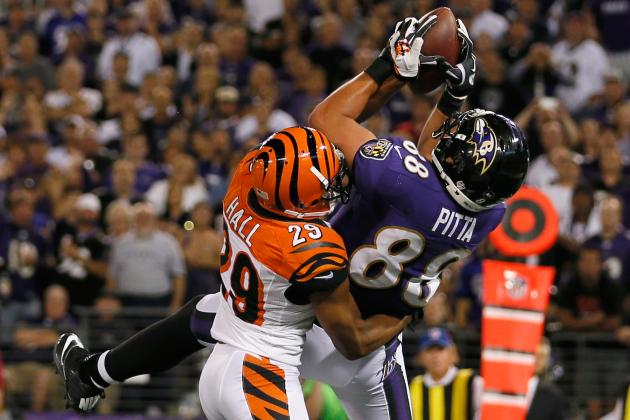 Rob Carr/Getty Images

The Bengals' secondary was the weak link of the defense against the Ravens, and quarterback Joe Flacco made the most of it throwing for 299 yards and two scores while compiling a pristine 128.4 rating—and only having eight incompletions.
Reggie Nelson was the only bright spot in the secondary at free safety. His counterpart, Taylor Mays, was benched after a silly personal foul on a defenseless receiver, and his replacement, Jeromy Miles, was not any better.
The cornerback position did not fare much better. Leon Hall looked average at best, which was to be expected after rebounding from such a serious injury. Terence Newman was consistently torched, as was Nate Clements.
If Hall cannot get back into the swing of things and either one of Clements or Newman fails to step up, it is going to be a miserable season in Cincinnati.
First-round draft pick Dre Kirkpatrick is not ready and won't be a difference maker when he is considering he missed the majority of his rookie preseason with nagging injuries.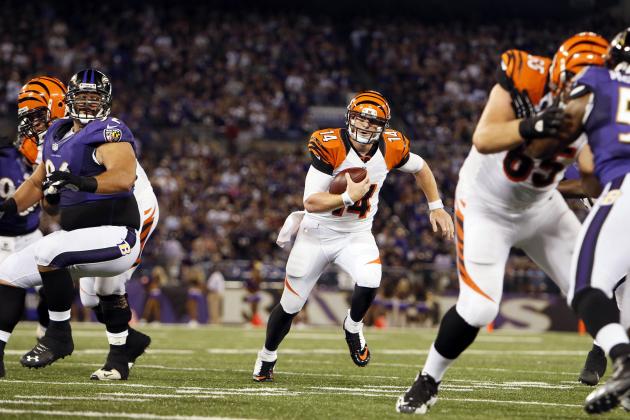 Mitch Stringer-US PRESSWIRE

Andy Dalton had a strange night against the elite defensive unit of the Baltimore Ravens. At times he looked great, zipping passes into tight windows and finding the open man on long drives down the field to eat a large chunk of the clock.
Those times were few and far between.
Dalton was the definition of inconsistent. He was horribly inaccurate on deep throws, even with his receiver beating the defense down the field. There was also the pass that looked like a routine throw that he missed high and it ended up being intercepted and returned for a touchdown to put the game out of reach.
There was a point in time when the buzz around Dalton was at a fever pitch, after all, the Bengals were expanding the playbook and he did not have to suffer through a lockout this offseason.
If his performance against Baltimore is any indication, Dalton is a few years out from standing a chance against the elite defensive units of the NFL.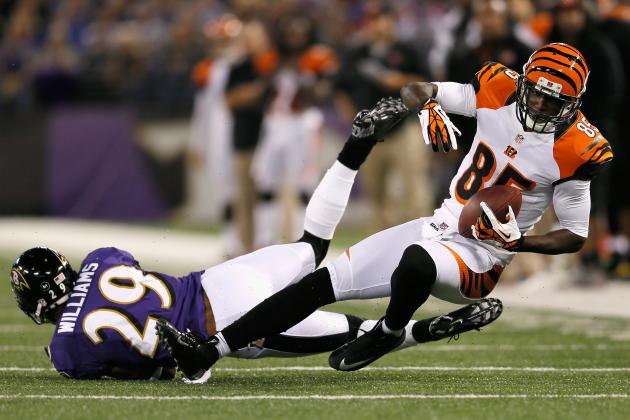 Rob Carr/Getty Images

One of the biggest story lines of the offseason for Cincinnati was the quest for a No. 2 receiver across from A.J. Green, which was partially answered when the team elected to go with a committee approach.
Andrew Hawkins had a breakout game against the Ravens, but is a slot and gadget receiver more than anything. The outside receiver spot opposite of Green remained mostly ineffective despite the efforts of Brandon Tate and Armon Binns.
Binns only caught four passes for 28 yards, Tate one catch for three yards.
The emergence of Hawkins is great, but a reliable threat on the outside is important. If Binns and Tate continue to not get the job done, it will be up to rookies Mohamed Sanu and Marvin Jones to step up.
It does not matter who does it, but the Bengals are going to have a hard time fielding an effective offense with only two reliable receiving threats on every down.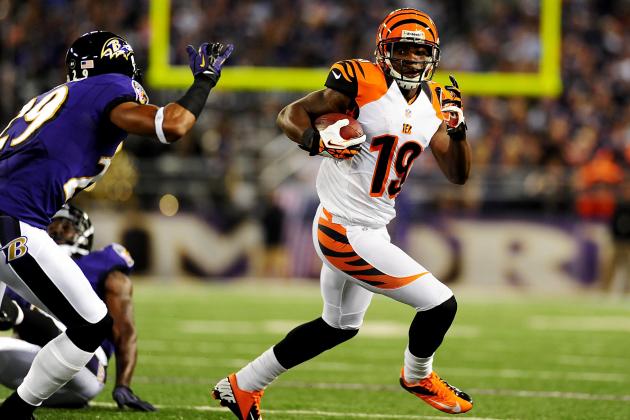 Evan Habeeb-US PRESSWIRE

The Bengals look to have one of the best kick-coverage units in the NFL yet again in 2012. The Ravens failed to make any noise against Cincinnati in the punt and kick return game thanks to the stellar play of the coverage unit.
Likewise, the return units for the Bengals were atrocious. There were no notable punt returns for Cincinnati, and Brandon Tate made several horrendous decisions when returning kick offs, one which resulted in the team starting from their own eight-yard line.
Tate could be in danger of losing his duties on special teams if he continues to make questionable decisions. There are plenty of talented returners on the team such as Adam Jones that could not only make better decisions, but be more effective than Tate.
A huge play here and there on special teams could win the Bengals a few more games in 2012, but they have to find the right person to do so, mentally and physically.