Green Bay Packers Week 1 Unit Grades vs. San Francisco 49ers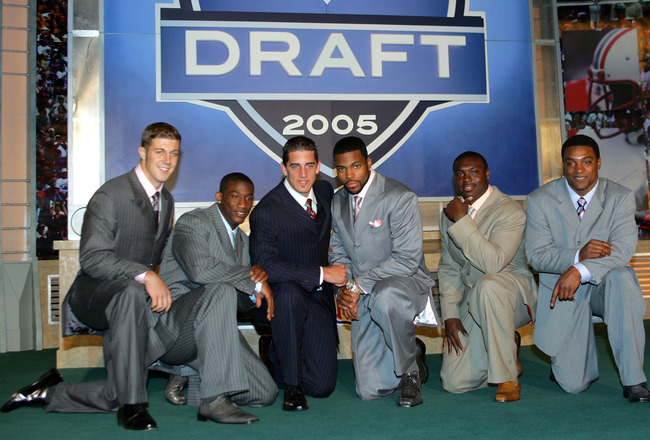 Alex Smith and Aaron Rodgers will always be linked because they were the top two quarterbacks taken in the 2005 NFL Draft
Chris Trotman/Getty Images
Chicago native and ESPN personality Michael Wilbon called the Week 1 matchup between the Green Bay Packers and San Francisco 49ers "the big-boy game."
The teams finished with the top two NFC seeds in last season's playoffs. Both looked to be improved from the units that lost to the eventual champion New York Giants on successive weekends.
It was a classic matchup of offense vs. defense. Green Bay quarterback Aaron Rodgers had an historic season in 2012, generating over 300 passing yards per game and accounting for 48 touchdowns to just six turnovers in 15 games. The Packers have five wide receivers that might be as good as anyone in San Francisco right now.
Meanwhile, the defense they were facing was historic, too. They did not allow a rushing touchdown in their first 14 games last season—not that the Packers were going to run, anyway—and led the league in turnovers forced.
But the Packers had all the intangibles. They held a nine-game winning streak against the City by the Bay, suffering just one loss which was made possible by a terrible call in the last 14 and none at Lambeau Field since 1990.
This one had terrible calls and non-calls, too. Most of them went the way of the visitors, but the most significant one helped the Packers. However, the loss can hardly be blamed on the striped shirts, so which positions let Green Bay down?
Quarterback: B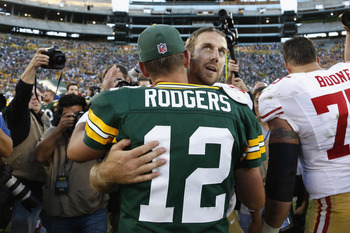 Joe Robbins/Getty Images
Aaron Rodgers was 30-for-44 (.682 completion percentage) with 303 yards (6.9 per attempt), two touchdowns and one interception. He was the leading rusher for the Green Bay Packers with five carries for 27 yards and was sacked three times for 24 yards.
Rodgers was up against an outstanding defense and he once again endured multiple dropped passes. He was the reason the Packers were in the game to the final minute.
But he cannot get an A because that interception was terrible. Navarro Bowman barely moved, and even had Rodgers gotten it over him the safety was closing in. The Niners scored what turned out to be the game-winning score on the next play.
Receivers: C+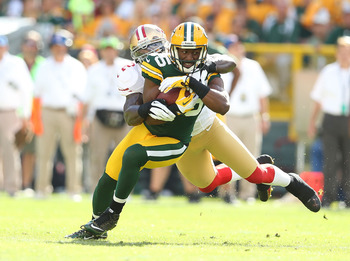 Andy Lyons/Getty Images
It was clear the Green Bay Packers receiving corps suffered without a healthy Greg Jennings. He had five catches, but just 34 yards (6.8 average).
Nevertheless, Aaron Rodgers had plenty of targets to hit. Jermichael Finley had a couple drops, but also made a spectacular catch and had the first touchdown among his seven catches for 47 yards (6.7).
The rest of the crew was especially effective. James Jones led the way with 81 yards on four catches (20.3), including a 49-yard gash and a score. Randall Cobb had the most catches, with nine for 77 yards (8.6). Jordy Nelson added five catches and 64 yards (12.8).
Running Backs: F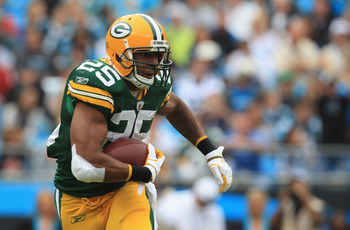 Streeter Lecka/Getty Images
Maybe all the fans who said Cedric Benson was better than Ryan Grant were overreacting to one preseason game against a team he had something to prove to.
Then again, maybe that is an overreaction to one game against an historically good run defense. It is not like the Green Bay Packers expect much from their running backs, so nine carries and 18 yards against the San Francisco 49ers defense is not the same sign of trouble it would be against most teams.
But like coach Mike McCarthy said, it is also not acceptable. It is worse when it is the only yardage out of the backfield—not one catch for anyone and zero rushing attempts outside of Benson and Aaron Rodgers.
This unit's play was so bad that the Packers called passes on the final 22 plays, many times without a back on the field.
Offensive Line: D
Jamie Squire/Getty Images
The Green Bay Packers offensive line faced one of the great front sevens in the salary cap era. They were called upon to pass protect a whopping 52 times in 61 plays (85.2 percent of the time).
But they have to carve holes that allow a running back to get more than four yards at least once in nine carries. They had six penalties for 40 yards.
Their ineptitude forced coach Mike McCarthy to exclusively call pass plays. On them, they did not protect Aaron Rodgers as well as they needed to, allowing three sacks and forcing five scrambles.
There were encouraging signs, however. One of the big matchups coming in was going to be when Justin Smith was being blocked by Marshall Newhouse, who teamed up with T.J. Lang to hold the stud to one tackle.
Defensive Line: D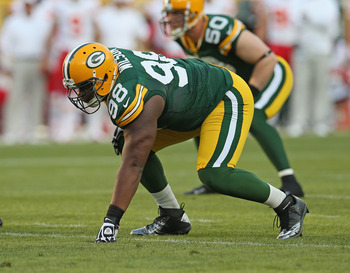 Jonathan Daniel/Getty Images
C.J. Wilson was the best defensive lineman with two tackles and two assists. That is encouraging for the Green Bay Packers' hopes that he can take over the third starting spot on the line.
Unfortunately, B.J. Raji and Ryan Pickett were almost invisible, with a tackle and an assist between them. No other lineman got even that.
Excluding Alex Smith's two kneel-downs, Green Bay allowed 188 yards and a touchdown on 30 carries. One could give the line credit for containment on some those runs and in their pass rush, however, Alex Smith was only able to scramble twice and the Packers did get four sacks, though none from the line.
Linebackers: C+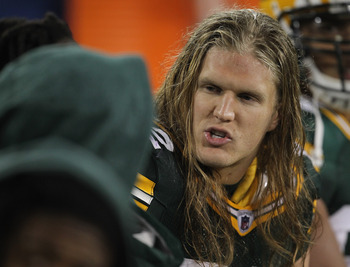 Jonathan Daniel/Getty Images
Just looking at the stats, it would seem the Green Bay Packers linebacker corps played very well.
A.J. Hawk was in on 14 tackles. D.J. Smith made nine solo tackles in his first game as the Packers' new starter. Rookie Nick Perry had six tackles and two assists in his debut.
Clay Matthews had just two tackles and an assist, but had 2.5 sacks and forced a hold on the best San Francisco 49ers lineman—you know, the one Joe Buck kept saying was doing a great job.
That gives the unit 27 tackles, seven assists and 2.5 sacks. They even held the two Pro Bowl players they cover (Vernon Davis and Frank Gore) to a combined four catches for 43 yards and a score while allowing just one catch for 15 yards to the rest of a very capable backfield and tight end roster.
But stats do not show the number of missed tackles and the number of those plays that took place downfield. Almost all of Kendall Hunter's nine carries could have been kept within a couple yards on either side of the line of scrimmage, but he managed 41 (4.6 average) because the linebackers did not make the plays.
Secondary: D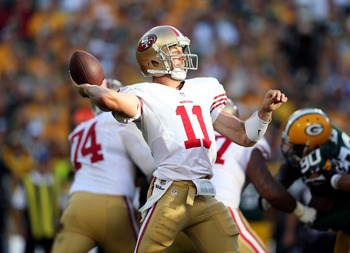 Andy Lyons/Getty Images
Despite being sacked four times, Alex Smith was very effective in the pocket. He picked apart the secondary of the Green Bay Packers to the tune of 20-for-26 (.769 completion percentage) passing, 211 yards (8.1 per attempt) and two scores without a turnover (125.6 passer rating).
The San Francisco 49ers had one catch for three yards from its wide receivers in last season's NFC Championship game. They did make upgrades at the position, but neither receiver they added (Randy Moss, Mario Manningham) would crack the starting lineup for Green Bay, yet 15 catches for 142 yards in this game.
Keeping them from big plays (9.5-yard average, none over 20 yards and just one score) was the only thing this unit did well outside of Charles Woodson (three tackles, two assists, 1.5 sacks and a forced fumble that San Francisco recovered). The rest of the unit had nine tackles and five assists.
Special Teams: B+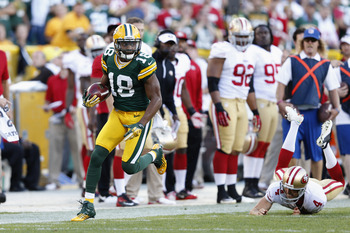 Joe Robbins/Getty Images
The San Francisco 49ers have an exceptional special teams unit. If not for a good bounce on a record-tying 63-yard kick by David Akers, this matchup would have been won by the Green Bay Packers.
Tim Masthay had six punts averaging 48.2 yards. He put four of them inside the 20-yard line and combined with the coverage to allow just one return, though it was for 20 yards.
Mason Crosby hit both extra points (he did not attempt a field goal), put all four of his kickoffs in the end zone and had three touchbacks. The coverage did allow 31 yards on the one return, but that did not lead to great field position for San Francisco.
National pundits who saw only the highlights were quick to point out that Randall Cobb's one good punt return—a 75-yard touchdown—had a block in the back not called. (It had another called and reversed.) But Niners and Packers fans who watched the game know only that this blown call evened the scales of injustice both teams suffered at the hands of officials clearly not ready for the "big-boy game."
(If you bought a Bentley, would you protect it with cut-rate insurance? Then why is the NFL risking a $9 billion product with unqualified refs to save a few bucks?)
In his other two punt returns he had a total of five yards. His 73 total yards on three kick returns was pedestrian. But that play put the Packers back in the game after the kickers did their job to keep it close.
Keep Reading

Green Bay Packers: Like this team?