Massachusetts vs. Michigan: Complete Game Preview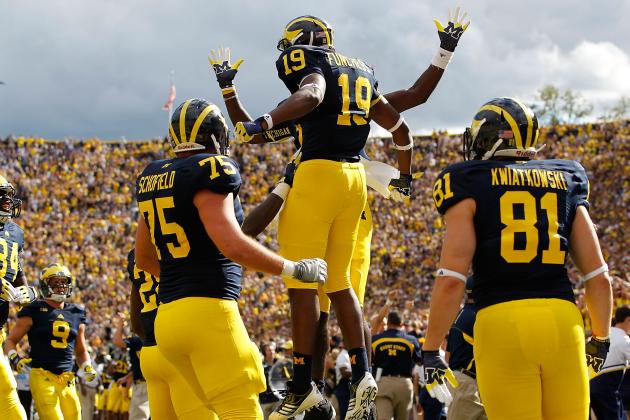 Gregory Shamus/Getty Images
The Michigan Wolverines were aided by freshman Devin Funchess this past Saturday.
The Michigan Wolverines came dangerously close to being upset at The Big House in Ann Arbor this past Saturday, narrowly escaping with a 31-25 victory over the visiting Air Force Falcons.
Despite the slim win, the Wolverines (1-1, 1-0) are still ranked 17th in the nation and play host at 3:30 p.m. Saturday to the Massachusetts Minutemen (0-2, 0-1).
After a tough Week 1 loss to the Alabama Crimson Tide and a meek showing against the Falcons, the Wolverines, who earned a preseason No. 8 ranking, must come out firing this Saturday to avoid being labeled "overrated."
Freshman tight end Devin Funchess showed a world of potential with a 30-yard touchdown catch that accompanied 106 receiving yards against the Falcons, and senior quarterback Denard Robinson unleashed his inner "Shoelace" en route to posting 426 yards of total offense, passing and rushing for over 200 yards for the third time during his collegiate career.
Will Funchess have his way with the Minutemen, or will the Wolverines continue to rely on Robinson's take-charge mindset?
Will the Wolverines' clock be cleaned by the Minutemen, who average just three points per game? Or will they push their game into high gear and show why they were considered one of the Big Ten's elite entering 2012?
Begin Slideshow

»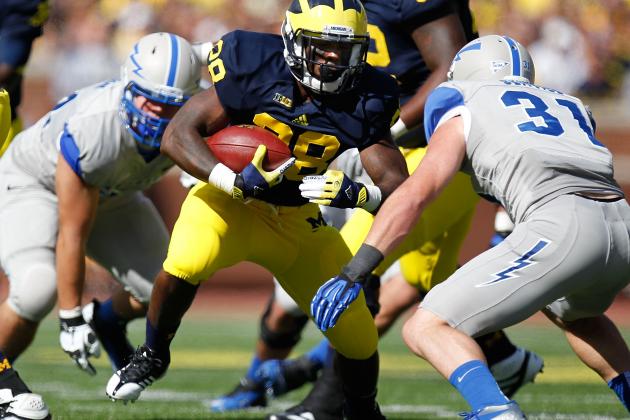 Gregory Shamus/Getty Images
Michigan running back Fitz Toussaint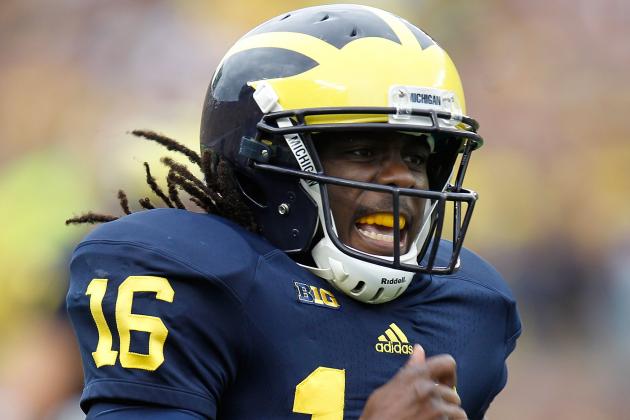 Gregory Shamus/Getty Images
Michigan quarterback Denard Robinson
Depth chart information obtained from TheWolverine.com. (Current as of Sept. 10, with latest update.)

Offense (Power I)
QB: Denard Robinson, Devin Gardner, Russell Bellomy; RB: Fitz Toussaint, Vincent Smith, Thomas Rawls, Justice Hayes; FB: Stephen Hopkins, Joe Kerridge, Paul Gyarmarti; WR:Roy Roundtree, Jerald Robinson, Devin Gardner; WR: Jeremy Gallon, Drew Dileo, Jeremy Jackson; TE: Brandon Moore (questionable, stretched MCL), Mike Kwiatkowski; Devin Funchess (starter Saturday?), AJ Williams LT: Taylor Lewan; RT: Michael Schofield, Erik Gunderson; LG: Elliott Mealer, Joey Burzynski; RG: Patrick Omameh, Joey Burzynski; C: Ricky Barnum, Jack Miller
Defense (4-3)
DE: Jibreel Black, Frank Clark, Brennen Beyer; DE: Craig Roh, Nathan Brink, Keith Heitzman; DT: Quinton Washington, Richard Ash; DT: Will Campbell, Jibreel Black, Nathan Brink; LB: Jake Ryan, Cam Gordon; LB: Desmond Morgan, Brandin Hawthorne; LB: Kenny Demens, Joe Bolden, Mike Jones; CB: Courtney Avery, Raymon Taylor, Terry Richardson; CB: JT Floyd, Raymon Taylor, Delonte Hollowell; S: Jordan Kovacs, Marvin Robinson, Floyd Simmons; S: Thomas Gordon, Jarrod Wilson, Josh Furman
Special teams
K: Brendan Gibbons, Matt Wile; P: Matt Wile, Seth Broekhuizen; LS: Tom Pomparico, Jareth Glanda; Returns: Jeremy Gallon, Dennis Norfleet, Drew Dileo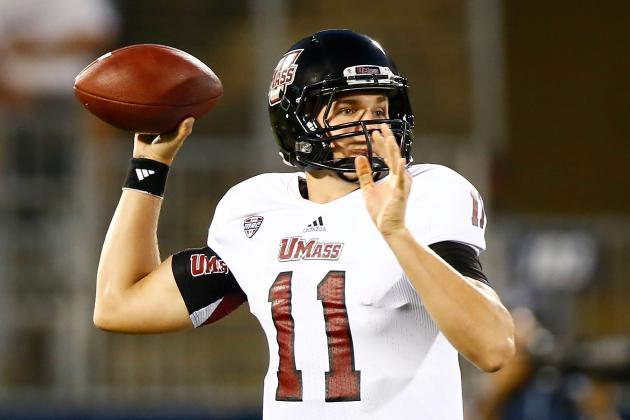 Jared Wickerham/Getty Images
UMass quarterback Mike Wegzyn
The following information, accurate as of Sept. 11, was provided by Matt Vautour of the Daily Hampshire Gazette.
The official UMass site has the 2011 depth chart listed.
Offense
QB: Mike Wegzyn, A.J. Doyle; WR: Alan Williams (will also play RB, according to Vautour), Deion Walker or Tajae Sharp, Marken Michel, TE: Rob Blanchflower, Derek Beck (in place of Brandon Howard); RB: Chris Burns, Michael Cox, Jamar Smith (starter to be determined); C: Quinton Sales
T: Nick Speller, Jamie Cassleberry, Stephane Milhim (starter to be determined); G: Milhim (if not at tackle), John Wallace or Michael Boland
Defense
DE: Stanley Andre, Ryan DeLaire, Kevin Byrne, Brandon Potvin (will rotate); DT: Chaz Thompson, Galen Clemons, Hafis Williams, Daniel Maynes; LB: Perry McIntyre, Tom Brandt, Greg Hilliard; LB reserves: Tim Brandt. D.J. Adeoba. Jovan Santos-Knox. Rob O'Connor, Leo Krizanovic; S: Darren Thellen, Christian Birt - Ed Saint-Vil; CB: Randall Jette, Antoine Tharpe, Trey Dudley Giles, D'Metrius Williams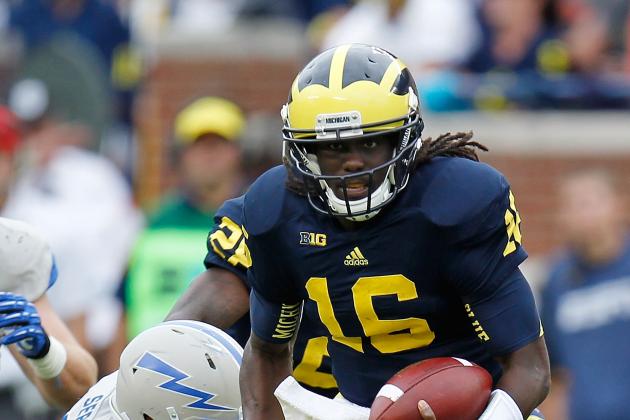 Gregory Shamus/Getty Images
It was the Denard Robinson show this past Saturday
If not for quarterback Denard Robinson, the Michigan Wolverines, then ranked 19th, would have fallen to the high-flying, triple option-loving Air Force Falcons.
Instead, Robinson took the game into his own hands, racking up 426 total yards of offense, highlighted by 79- and 58-yard touchdown scampers.
The "Shoelace Show" dazzled the maize and blue faithful at The Big House, but the Wolverines were extremely lucky that Falcons running back Cody Getz rushed for only 130 yards and three touchdowns.
If not for Jake Ryan batting a ball out of Falcons quarterback Connor Dietz's hand, the Wolverines could have very well lost this past Saturday. With just under two minutes to play, Dietz was looking for it all on 4th-and-16, only to be stopped by Ryan, who was Johnny on the Spot.
The Falcons torched the Wolverines' defense for 417 yards, but thanks to Robinson and Lady Luck, the Wolverines avoided a catastrophic loss.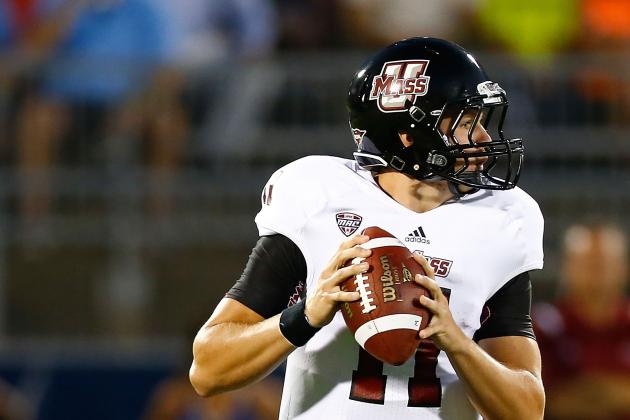 Jared Wickerham/Getty Images
UMass quarterback Mike Wegzyn
The Minutemen have been offensively challenged this season.
The UConn Huskies blasted them 37-0 in their season opener, and the Indiana Hoosiers hung a 45-6 victory on them this past Saturday.
Although the Minutemen didn't turn the ball over against the Hoosiers, they allowed 333 rushing yards. Hoosiers sophomore quarterback Tre Roberson rushed for 114 yards and two touchdowns—and that was just on five carries.
Minutemen freshman quarterback Mike Wegzyn averaged 5.8 yards per completion, connecting on 18-of-26 attempts for 151 yards. Receiver Marken Michel had five receptions, good for 68 yards.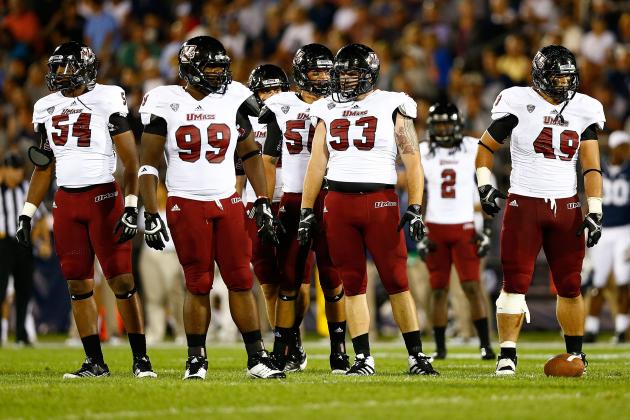 Jared Wickerham/Getty Images
The UMass Minutemen
The stakes for this week's game are much like last week's: It's a must-win for the Michigan Wolverines, and there is a lesser opponent visiting The Big House that's looking for a huge upset.
Obviously, the Wolverines want to get on the right side of .500. That's a given. But Saturday is also their chance to prove that they're at least somewhat deserving of the hype they strutted into the fall with. A loss to Alabama was expected, but scraping by with a victory over the Air Force this past Saturday was unacceptable in the eyes of some Wolverines fans.
Big Ten Network Gerry DiNardo called the Wolverines as he saw them prior to the season: Overrated at No. 8, and that didn't set well with those in Ann Arbor.
But DiNardo's assessment looks truer each week.
If the Minutemen walk away triumphant Saturday, the Wolverines' season will be turned on its head. Remember, the Minutemen nearly knocked off the Wolverines in 2010 thanks to a 20-point fourth quarter. However, that outburst wasn't enough, and the Wolverines escaped with a 42-37 win.
"We don't see it as a team we're going to blow out," Wolverines defensive tackle Will Campbell said (via ESPN/AP).
Should Big Ten Freshman of the Week Devin Funchess get the nod Saturday, he could be a tough load to handle for the Minutemen, who feature a decent-sized secondary and linebacking corps.
At 6'5" and 229 pounds, Funchess is a big-bodied target for quarterback Denard Robinson, who will surely have a say in the outcome of Saturday's game.
But let's think outside the realm of "Shoelace"—of course he's the guy to watch; he threw for 241 yards and two touchdowns and rushed for 104 yards in the Wolverines' 42-37 win over the Minutemen in 2010.
Let's say the Minutemen lock down Robinson, at least on the ground. Funchess would likely be the first option during passing scenarios. Robinson might not want to test his luck with the long ball this week, but Funchess showed that he can reel in the mid- and long-range passes against Air Force.
The UMass Minutemen will likely rely on freshman signal-caller Mike Wegzyn, who completed 18-of-26 passes this past Saturday in a 45-6 loss to the Indiana Hoosiers.
The loss was just Wegzyn's second career start, and he showed the ability to take command, despite a lopsided defeat.
"(Wegzyn) took a step forward but you have to remember he was starting from ground zero, if you remember, if you were at the game last week (vs. UConn)," Minutemen coach Charley Molnar told the Boston Herald. "He took a step forward, a small step. He was more confident (Saturday). His eyes weren't as big.

"He responded to the pressure of the defense. He got off his first receiver. Last week, he just got locked on number one and never got off. He just wouldn't do it. There were one or two times that he may have been a bit skittish in the pocket.

"The film will tell the truth. But, he hung in there for the most part. He was lucid in his descriptions of what he saw happening defensively, so I felt like his eyes were open and he was looking at the right keys."
Denard Robinson can't be the key player every week, can he?
No. But yes.
Choosing Funchess was an attempt to steer away from the "Michigan goes as Denard Robinson goes" conversation. But it's true. Michigan will win Saturday if Robinson does what he did this past Saturday.
And while Funchess could certainly play a significant role as a secondary X-factor, we all know that Robinson will again be the focal point of the opposing defense.
The Wolverines don't want to have a repeat of 2010, so taking the air out of the UMass Minutemen early—and never allowing them to regain it—will be to their advantage this week.
The UMass Minutemen might have a shot at beating Michigan if they allow the players from their 2010 team to take the field.
While that sounds like a blatant attempt to disrespect the Minutemen, it's true.
Scoring six points through two games isn't enough to instill any type of fear into a team, especially a team like the Michigan Wolverines, who definitely have something to prove after two dismal weeks of play.
A lot of luck, illness or injury to half of Michigan's starters, and a strange, once-in-a-century alignment of the stars are the only ways the Minutemen could pull out a victory Saturday.
Now, if Michigan thinks that, then that's to UMass' advantage—hard to give a team much of a chance after being shut out 37-0 by the UConn Huskies and blown out 45-6 by the Indiana Hoosiers.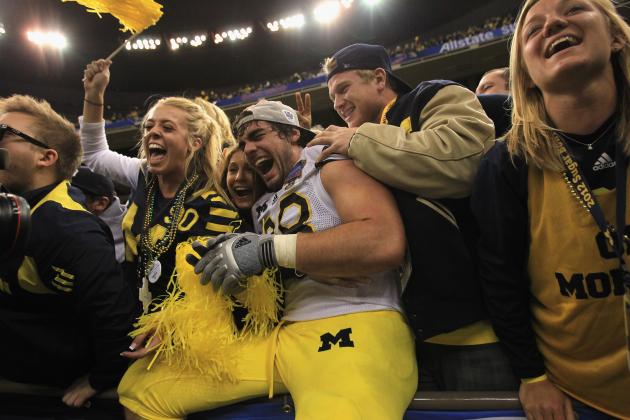 Matthew Stockman/Getty Images
Michigan fans will be happy Saturday after the Wolverines dispose of the UMass Minutemen
We basically covered this in the previous slide. But let's do one better than simply predict the score, which we'll get to later.
Going out on a limb... sort of...
Wolverines quarterback Denard Robinson tops this past Saturday's performance by rushing and passing for over 250 yards. Indiana Hoosiers quarterback Tre Roberson gave the Minutemen fits a week ago, and while he's talented, he's no Robinson.
Michigan's defense is due for a steady showing; the past two weeks have been laughable. So here it goes: The Wolverines sack Minutemen quarterback Mike Wegzyn at least four times, intercept him twice and force AJ Doyle to assume relief duties early in the third quarter.
Jake Ryan is primed for a breakout performance, so I'm going to predict he has a sack and at least four tackles for a loss.
Score: Michigan 48, UMass 10
Note: In my 20 bold predictions for Michigan football, I suggested that Air Force and UMass would give Michigan a scare. Air Force hung around a little longer than I expected, losing 31-25 instead of 38-17 like I predicted. But since Michigan was basically embarrassed by winning such a sloppy game, I see it coming out with a fire unseen in 2012.
Yes, I changed my mind from earlier this year. I don't see this one being close in the least bit.
Follow Bleacher Report's Michigan Wolverines football writer Adam Biggers on Twitter @AdamBiggers81