Alabama vs. Arkansas: How the Injury-Depleted Hogs Can Alter Both SEC Races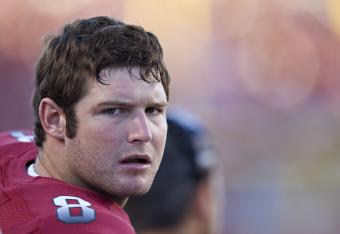 Wesley Hitt/Getty Images
As if it wasn't bad enough that the Arkansas Razorbacks suffered a humiliating loss to Sun Belt also-ran Louisiana-Monroe last week, they got beat up pretty badly in the process. Once thought to be a serious contender for the BCS national title, it seems that nothing has gone right for Arkansas since their late-season loss to LSU last Thanksgiving weekend. As luck would have it, though, both the SEC east and west divisions may be ultimately determined by the Hogs.
The upset loss to the mighty Warhawks of Nowhere-You've-Heard-Of, Louisiana can definitely be attributed in part to the loss of quarterback Tyler Wilson to what is believed to be a concussion. SBNation reports that Wilson did not practice Tuesday due to effects of the injury and his chances of playing this week against top-ranked Alabama are in question. Sophomore cornerback Tevin Mitchel is unlikely to play Saturday as well and freshman running back Kody Walker was lost for the season in the loss to ULM.
This is where it starts to get interesting. In the SEC west, Arkansas is kind of the x-factor this season, just as it was in 2011. Defending national champion Alabama and defending SEC champion LSU are once again the odds on favorites to win the west.
Arkansas, though, came out of the 2011 season loaded with talent and returning both Wilson and sensational running back Knile Davis, who missed most of 2011 with an injury. Until everything in the state started to go south beginning with the entertaining, if not disturbing escapades of former coach Bobby Petrino, the Hogs were considered by many to be the equal of 'Bama and LSU this season.
Alabama and LSU both came into 2012 knowing that they would likely have to run the conference slate to make it to the SEC title game and that Arkansas was the most likely team to throw a wrench into each of their plans.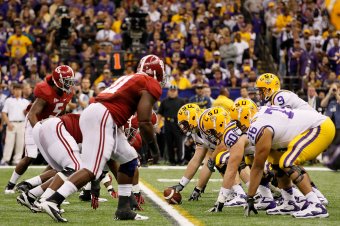 Kevin C. Cox/Getty Images
Possibly the benefactor of the Wilson loss, Alabama travels to Fayetteville this weekend. If Wilson is unavailable, or even limited, the Tide would have a huge advantage in this game and any hopes of an Arkansas upset would be all but dashed. A win over Arkansas would actually give Nick Saban and the Tide a "mulligan" of sorts, as a mid-season loss to Tennessee or Missouri, for example, would not alter their chances of an SEC west title as long as they beat LSU.
As for LSU, speculation would be that Wilson would surely be back to full strength by the time the Hogs and Tigers meet in late November, making Les Miles' attempt to keep the Razorbacks out of the mix considerably more difficult.
And if Arkansas loses to Alabama, well, their chances of winning the west would be out of their hands in just the third week of the season. In a year with a favorable schedule in which they do not play Florida, Georgia, or Tennessee, the Hogs really had a valid reason to think they could win the west. Until now. They really need Tyler Wilson this week.
As oddly as it sounds, Arkansas can play a big part in how the SEC east shapes up as well. There are probably four reasonable contenders for the East. And their opponents from the west will surely play a part in who emerges from this group.
Preseason favorite Georgia was given a free pass by the SEC schedule makers, as they do not play Alabama, LSU, or Arkansas this season. This leaves them with the easiest road to the title game in Atlanta.
Mike Ehrmann/Getty Images
Florida plays host to LSU on October 6th, a game in which they will likely be an underdog. If the Gators lose this one, they would likely have to run the table in the east to come out on top.
Tennessee will renew their annual rivalry with the Tide on the usual third Saturday in October and their fate would be the same as Florida's were they to lose to 'Bama.
South Carolina is the one that makes it interesting. Of the four contenders in the east, the Gamecocks are the only ones that have to play two of the western heavyweights, with Arkansas and LSU both on the schedule. If Wilson were to be held out for longer than the Arkansas program is letting on, or to come back too soon only to re-injure himself, coach Steve Spurrier and his Gamecocks could benefit from it.
At this point the Razorbacks are keeping the full details of the Wilson injury pretty low key, as they should with such a big game coming up this weekend. The 2012 season is just underway, but the conference's biggest injury story thus far has the entire SEC slate in question and could eventually change the entire landscape of the season.
If Wilson returns to his usual form this Saturday, this could still be a banner year for Arkansas and the Hogs would have a legitimate chance to knock the Tide off their perch at the top. If he does not, Alabama will likely trample right over what was expected to be one of its biggest stepping stones. However it plays out, the Wilson injury is one that is getting attention from every coach in the conference, as well it should.
This article is
What is the duplicate article?
Why is this article offensive?
Where is this article plagiarized from?
Why is this article poorly edited?

Alabama Crimson Tide Football: Like this team?