8 Teams That Cannot Wait for Chipper Jones to Retire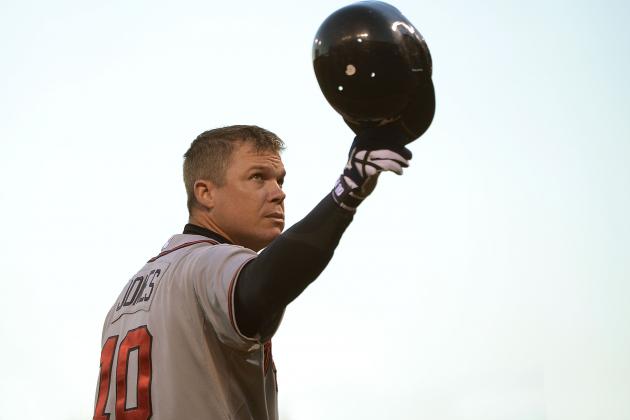 Thearon W. Henderson/Getty Images

In his Hall of Fame career, Chipper Jones has mashed almost every team he has faced. When you end your career with a .304/.401/.531 slash line (a feat which greats Willie Mays, Hank Aaron, Honus Wagner, and Frank Robinson were unable to accomplish) and have almost 470 home runs to your name, this is an inevitability.
Consider this: Chipper has an OPS of .900 or greater against half of the franchises in Major League Baseball.
I'll even do you one better.
Chipper's cumulative statistics (organically calculated, thank you very much) against his current National League Eastern Divisional foes: 3746 at bats, a slash line of .310/.412/.538 (that's a .950 OPS), and 179 home runs.
The word disgusting comes to mind.
Although Chipper Jones has done a lot of good for the game of baseball. a very safe assumption can be made that the 29 other franchises (especially the eight that grace this slideshow) cannot wait for Chipper's bat to leave the game and cease to do them damage.
*All career splits against other franchises are courtesy of Baseball-Reference.
Begin Slideshow

»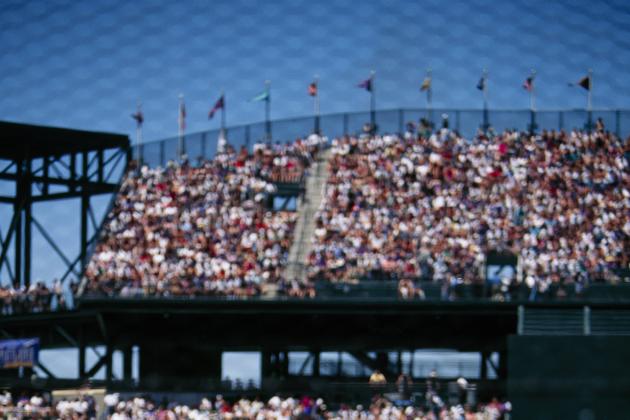 Getty Images/Getty Images

I know, I know. Colorado's Coors Field inflates statistics like no other stadium in the game.
But can you overlook a career line of .323/.426/.603/1.029 to pair with 31 home runs and 105 RBIs in just 474 at-bats?
What may be more impressive is that in 234 at-bats at Coors Field (roughly half of his at-bats against Colorado), Chipper has only hit 13 home runs—meaning 18 of his 31 home runs against Colorado have come in Atlanta.
Even though Chipper has been tearing up Rockies pitching since he came into the league, Rockies fans probably know him best for the 1995 National League Divisional Series, in which Chipper posted a .389/.450/.833/1.283 slash line (yes, he did in fact slug .833), hitting two home runs and garnering 15 total bases in 18 at bats.
And he did that as a 23-year-old.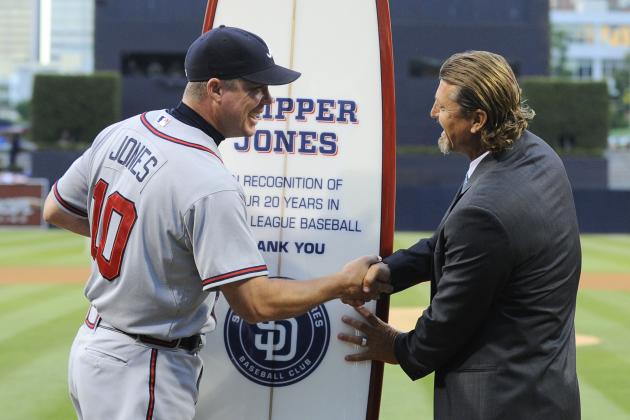 Denis Poroy/Getty Images

Petco Park is a pitcher's paradise.
Chipper Jones begs to differ though, slugging .563 with seven home runs in 119 at bats at Petco.
His exploitations of the Padres doesn't just happen in San Diego though. In his career against the Padres, Chipper has put up a slash line of .315/.417/.553/.970 with 24 home runs in 470 at bats.
The Padres had no reprieve; Chipper hit Padres pitching hard at Qualcomm Stadium, Petco Park, Fulton County Stadium and Turner Field.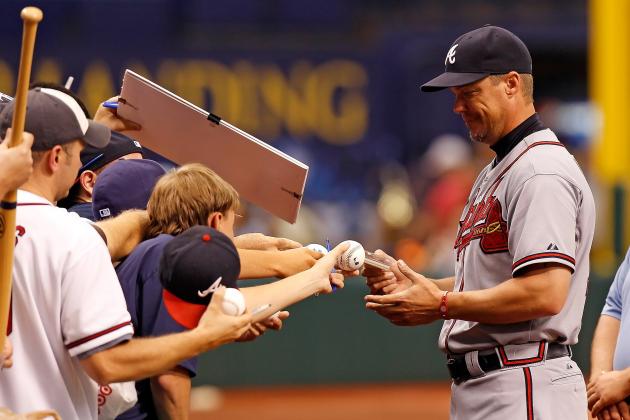 J. Meric/Getty Images

Normally, I wouldn't even consider putting an American League team in here.
Chipper's performance against Tampa Bay though is by no means a normal case; he has absolutely demoralized Rays pitching.
In just 21 games and 83 at bats, Chipper has put up a silly line of .373/.448/.771/1.219 with nine home runs and 64 total bases. Extrapolated over 150 games (which is nonsensical considering Chipper's history with injury), Chipper's home run total is then pushed to 64.
And you thought the .771 SLG was crazy.
I told you it was silly.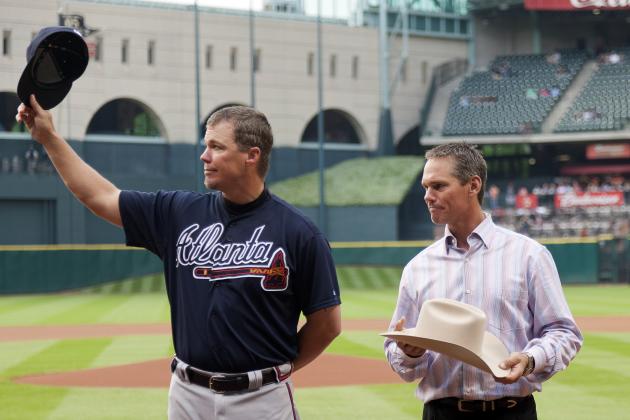 Bob Levey/Getty Images

Chipper Jones loves Minute Maid Park.
In 140 career at bats in the stadium, formerly known as Enron, Chipper has hit .400, slugged .736, OPSed 1.208 (still waiting on Webster's Dictionary to make OPS a verb...), knocked nine balls out of the park and collected 103 total bases.
To put that into comparison, Chipper has collected 102 total bases in almost 90 more at-bats in Chavez Ravine, the home of the Los Angeles Dodgers.
Chipper's comprehensive career against the Astros is slightly more earthly, with a line of .323/.419/.547/.966 with 20 home runs to boot in 470 at-bats.
What Houston fans will remember Chipper most for though, is what he did to them in the playoffs in 1997 and 2001. In the 1997 NLDS, Chipper ripped Astros pitching to the tune of a .500 average and a 1.458 OPS.
The 2001 NLDS was an even better performance for Mr. Jones, as he slugged 1.111 and OPSed 1.694, the highlight of the series being his three-run go-ahead blast off of Billy Wagner. The blow would prove to be the knockout punch of Game One and set the tone for the rest of the series, as the Braves swept the 'Stros.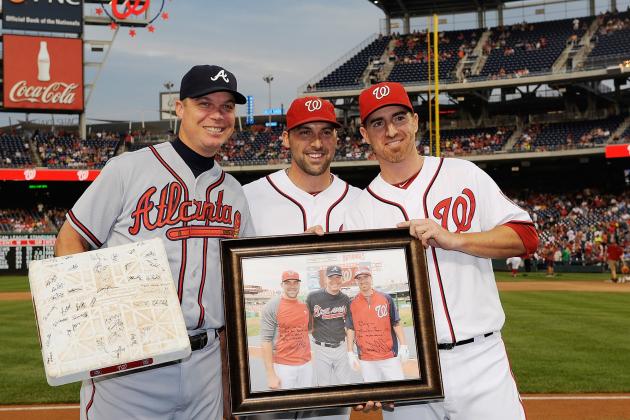 Patrick McDermott/Getty Images

Perhaps its simply greatness, but Chipper always plays well against his divisional foes.
The Nationals are no exception, as Chipper has posted a .299/.405/.505/.911 line against the team formerly from Montreal. Perhaps Chipper can use his remaining series against the Nationals to boost his career average to above the .300 line against the Nats, but even so, he has still had a tremendous career against Washington.
In his career against Washington, Chipper has hit 41 home runs and totaled 472 bases.
Chipper hits well in Washington (.591, .511 slugging percentages in RFK and Nationals Stadium, respectively), but it's obvious that Chipper misses going north of the border into Canada. At Olympic Stadium in Montreal, Chipper enjoyed a .341 average, .448 OBP, .544 SLG, and nearly a 1.000 OPS.
Those are some pretty nice numbers, ay?
I apologize for that.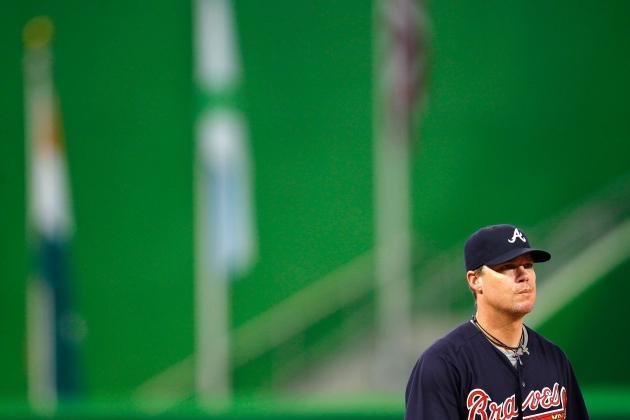 Sarah Glenn/Getty Images

Moving on to the next NL East divisional foe, it is decided that Chipper hates the spacious Marlins Park (.222/.222/.222 in nine at bats).
He was more fond of Pro Player Stadium, OPSing .866 there, but his true damage against the Marlins has come at home in the Ted.
His numbers against the Nationals and Marlins are very similar, as Jones carries a .299/.393/.505/.898 line against the Marlins, hitting 40 home runs while totaling 433 total bases.
Even in the 1997 NLCS loss to the Marlins, Chipper added two home runs and a .583 SLG.
His numbers against the Marlins aren't as gaudy as some of the other teams on this list, but the Marlins get a spot here due to the overall body of Chipper's work against them.
Scott Cunningham/Getty Images

The last two teams on this list simply groan every time Mr. Larry Wayne Jones Junior steps to the plate.
Chipper Jones has nine career walk-off home runs and Two of them are from 2012...against the Philadelphia Phillies. On May 2nd, the Braves had rallied back from a six-run deficit to force extra innings when Chipper hit a walk-off two-run home run to send Atlanta fans home happy.
Exactly four months later, Chipper did it again but with an even bigger flair for the dramatic. Atlanta had not been playing well, and there were whispers of another collapse. Down four runs heading into the ninth inning, the Braves rallied to get within two with two on and two outs, Chipper Jones walking to the plate.
On a one-one count, Jonathan Papelbon tried to sneak a fastball over the outside corner, but he missed over the heart of the plate.
So Chipper sent it into the night, making a statement that the Braves would not succumb to another collapse in his swan song. It might even be the turning point of the season for Atlanta.
Chipper's career stats against Philadelphia are simply exceptional: .332/.442/.599/1.041 with 49 home runs and 501 total bases over the span of 837 at-bats. Chipper misses the Vet though, as he put up a career .350 average and 13 home runs in the old Phillies park.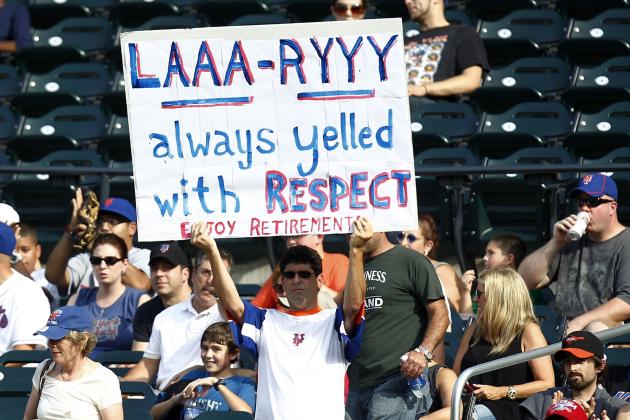 Jeff Zelevansky/Getty Images

Is there any other way to conclude this slideshow?
Chipper's first son is named Shea, after Shea Stadium. Chipper's first home run was a game-winner against the Mets at Shea.
Obviously Chipper Jones loves Shea Stadium. In fact, he is bold enough to protest Citi Field every time he visits, defiantly hitting .190 in 84 plate appearances in the Mets' new park.
Shea Stadium became a home away from home for Chipper, as he put up a nice slash line of .313/.407/.557 with 19 home runs in 323 at bats there.
His overall body of work against New York though, rivals that of his performance against Philadelphia: .311/.408/.548/.956 with 49 home runs and 465 total bases in 848 at bats.
In 1999, his MVP year, Chipper and the Braves were battling the Mets deep into September for the NL East crown. In the first game, Chipper hit two solo home runs, and the Braves went on to win the game 2-1. Chipper's numbers at the end of the series stood as such: .444 average, four home runs, seven RBIs, and two intentional walks.
He not only won the MVP, but the Braves won the NL East crown.
When the Mets faced him in the NLCS that year, Chipper was walked an astounding nine times in 19 plate appearances, pushing his OBP to .517. They wanted no part of Chipper Jones.
While Mets fans cannot wait to see Chipper gone, I cannot help but wonder if they won't miss him, even but just a little bit.
Nah, you're right. They won't.
Chipper will sure miss them though.