WWE Night of Champions 2012: 5 Possible Twists for Sheamus and Del Rio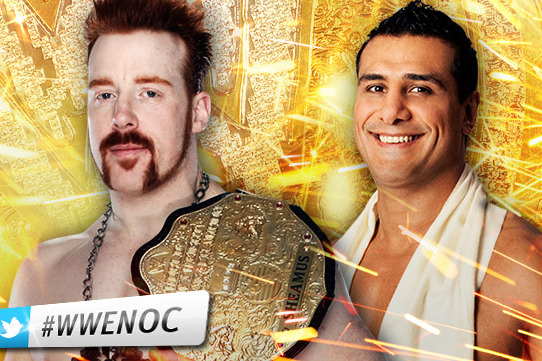 Photo Credit: WWE.com
Sheamus and Alberto Del Rio have put together quite a feud since the night after WrestleMania, when Del Rio first mocked the idea of a low-class hooligan like Sheamus holding the World Heavyweight Championship. Since then, Sheamus has defended the title against many people (Del Rio included) and always walked away the reigning champion.
This Sunday, we will be seeing Del Rio once again receive a title shot against Sheamus. While the quality of the match and the enjoyment of their conflict is for you to decide, one thing is certain: something's gotta give.
We have seen Sheamus defeat Del Rio on a number of occasions, and if we are expected to buy into the idea that Del Rio has earned one more match, the ending is going to have to come about with a little extra spice.
I have thought up five unique ways this match could play out, and as always, I invite everyone to join in and add your own idea for a finish to the World Heavyweight Championship match at Night of Champions. As usual, I do not rank these moments or believe one could happen more than another; they are just concepts.
With that in mind, let the speculation begin!
Begin Slideshow

»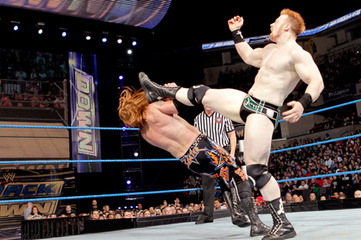 Photo Credit: WWE.com
Since the injury to Ricardo Rodriguez's neck, David Otunga wasted no time pursuing legal action against Sheamus. This resulted in a deposition on Monday night with an ongoing investigation.
Sheamus blatantly disregarded anything that came out of his hearing, sending Otunga to the mat on Raw with the Brogue Kick. This drew the ire of both AJ Lee and Booker T, the latter stating that if Sheamus decides to utilize that move at any point before the investigation is over, he will forfeit his World Heavyweight Championship.
As if that could stop The Great White.
Sheamus has made a career out of playing by his own rules and defying authority. He has already "borrowed" Del Rio's car and taken it for a joy ride, so I don't see a new order regarding one of his finishing moves getting in the way of him doing what he wants.
However, this time, it may come back to bite him in the arse and cause him to lose the title without actually getting beaten. This could open up the door for a tournament to crown a new champion, who could also fall victim to the next possibility...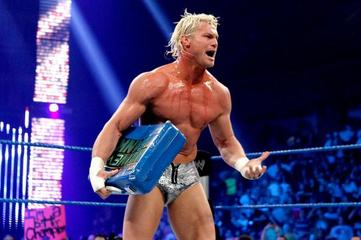 Photo Credit: WWE.com
At some point, that briefcase is going to be used, and Dolph Ziggler will become World Heavyweight Champion. It has been two months and John Cena failed in his opportunity. If Ziggler wants to make a statement, he could cash in before his scheduled appearance at Night of Champions even happens.
Let's say Alberto Del Rio does somehow pull one over on Sheamus and wins the World Heavyweight Championship. Sheamus, furious and overcome with anger, unleashes a Brogue Kick, not caring about the fact that his investigation is still pending now that his title is gone.
Or, Sheamus retains the championship once again and draws the ire of Del Rio and Ricardo Rodriguez who savagely assault him after the match, perhaps with the help of some more hired hands in security or police outfits.
Either way, Ziggler immediately runs out to pin the unconscious champion and celebrates the night before he has even gotten in the ring with Randy Orton. This would not only be a huge occasion for Ziggler, it would be the ultimate way to rub it in to Orton. He could even walk out on the match, preferring to bask in his afterglow instead of wasting the effort on a match with Orton.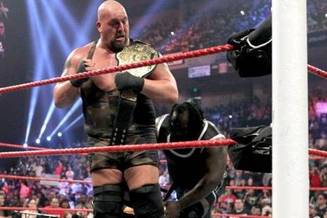 Photo Credit: Maxupdates.tv
If The Big Show does come out of hiding this Sunday, my guess is that he will make an impact during the WWE Championship Match between CM Punk and John Cena, resuming his partnership with former manager Paul Heyman.
However, The Big Show is being advertised for future World Heavyweight Championship matches. This could mark the beginning of his resuming a quest for a different belt, one that does not involve CM Punk or John Cena. Should he get involved and go on to win the belt, it opens up the door for Ziggler to pull a Daniel Bryan and get one up on the giant.
Photo Credit: wwe-raw.org
While there is a supposed investigation going on regarding Sheamus and the brutality of the Brogue Kick, it could all be a ploy by Harvard-educated David Otunga to get the World Heavyweight Championship off somebody like Sheamus and back around the waist of a great man like Alberto Del Rio.
Everyone will be speculating about the new alliance of CM Punk and Paul Heyman along with who they will recruit. We might also be seeing a snotty and elitist group forming to run things on the SmackDown side. If Ricardo's injury was all a ruse set up by Otunga and executed along with Del Rio, this could be the beginnings of a new power elite on Friday nights.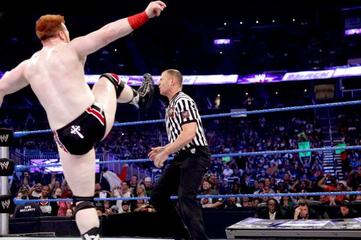 Photo Credit: WWE.com
I was admittedly surprised that David Otunga brought up Sheamus attacking Chad Patton—not because of the continuity issue but because that moment made Sheamus look less like a fun-loving hooligan and more like a monster who could not be controlled.
If Patton is assigned their match on Sunday, he may have reservations about getting involved with awarding Sheamus a victory with the issue of the Brogue Kick suddenly fresh again.
A couple slow counts here and there plus threats to disqualify Sheamus could shorten the Great White's temper to the point where Patton calls for the bell, and we have ourselves something of a screw job.
These are my ideas, and I welcome you to share yours for what could happen between Sheamus, Alberto Del Rio and any other parties who get involved with the match.
Thank you, as always, for reading!