College Football Predictions: How the Top 25 Will Fare in Week 3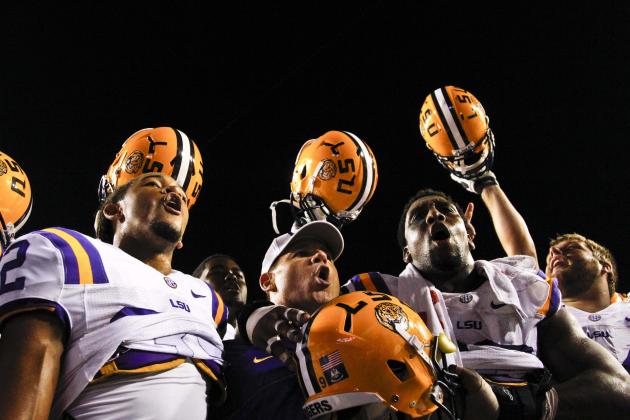 Derick E. Hingle-US PRESSWIRE

I think I can honestly say most of us didn't see this coming. Raise your hand if you saw Arkansas, Wisconsin, and Nebraska out of the Top 25 poll in September. Ok, if your hand is raised, I want exclusive rights to the Sports Almanac you got in Back to the Future Part 2.
All joking aside, this was an awful weekend for the Big Ten and a great weekend for the Pac-12. After all, the conference had three unranked teams that played ranked foes from BCS conferences. Their record: 3-0. Unranked Arizona State also knocked off Illinois, capping a great weekend for the conference.
Oh, and I'm going to try and get a picture of a coach in each of these photos. No game shots this week.
You know, just to switch things up a bit.
Unlike last week, there are three games this week that pit Top 25 teams against one another. That's good for college football, especially when more than a few teams are playing squads from the FCS.
No. 5 Oklahoma is off this week.
Nathan's Week 2 Results: 19-5 (.791)
Nathan's Season Results: 39-7 (.847)
As always, each ranking is taken from the Associated Press Top 25 College Football Poll.
Begin Slideshow

»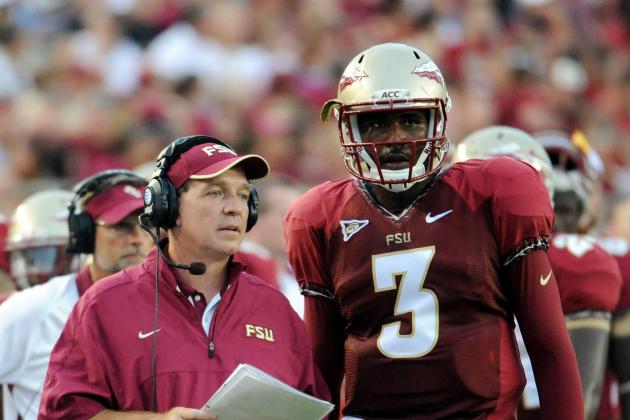 Melina Vastola-US PRESSWIRE

Florida State finally gets to prove they belong in the Top 5. After two dominating performances (one cut short) over two FCS programs, the Seminoles have an early season ACC match up with Wake Forest.
Stats don't usually matter this early in the season, and it's easy to say Florida State's impressive defensive numbers can be a little skewed.
I mean, who gives up 1.5 points per game?
Still, though, they should do very well against a Demon Deacon offense that's ranked No. 79 in the nation in total offense.
The big question here should be whether Wake Forest can keep it close.
Florida State: 37
Wake Forest: 13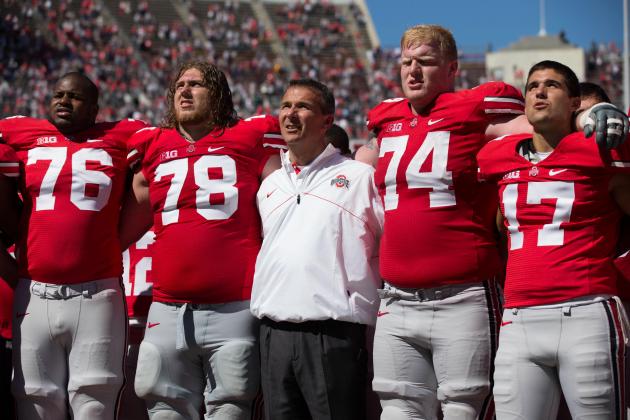 Greg Bartram-US PRESSWIRE

This is a chance for the Big Ten to regain some of its status after multiple losses to the Pac-12 last weekend.
Braxton Miller leads Ohio State. I shouldn't say lead. In effect, he is Ohio State.
Without their sophomore quarterback, it's hard to say how well the Buckeyes would be playing. He is a force when he runs the ball, and his accuracy inside the pocket can be deadly. Overall, with Miller under center, it will be tough to beat the Buckeyes.
Cal, on the other hand, comes into this game trying to find an identity on both sides of the ball. They are No. 76 in total defense and No. 49 in total offense. They surrendered 371 yards and 31 points to Southern Utah.
Nobody is going to mistake them for an offensive juggernaut.
Ohio State: 49
California: 21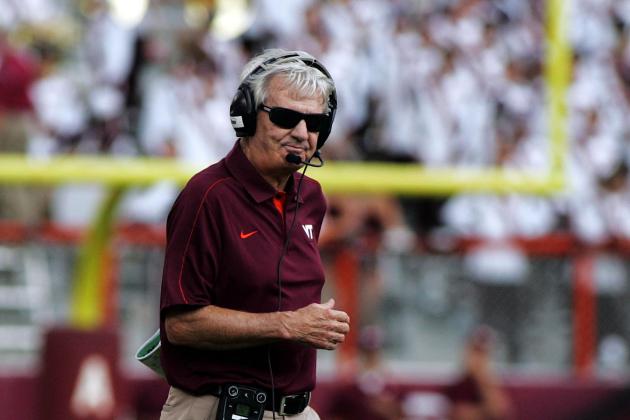 Peter Casey-US PRESSWIRE

Yea Pittsburgh looks just bad. Could it be the coaching carousel that's been happening? I'm going to go ahead and say yes. Either way, though, neither the Panthers nor Penn State are making the state of Pennsylvania look very good.
Not even the Pittsburgh Steelers can win a game.
Virginia Tech, on the other hand, heads in to this game with a boatload of confidence. After they dispatched ACC foe Georgia Tech on Labor Day night, they blasted Austin Peay 42-7 on Saturday. I know you should never really take wins over FCS teams into consideration (I'm looking at you, Oklahoma State), but Virginia Tech just looked good early on this season.
I wish I could give the state of Pennsylvania their first win this season, but I just don't see it happening. Sorry guys. Maybe next week. Or maybe Penn State can beat Navy.
That's possible.
Virginia Tech: 37
Pittsburgh: 13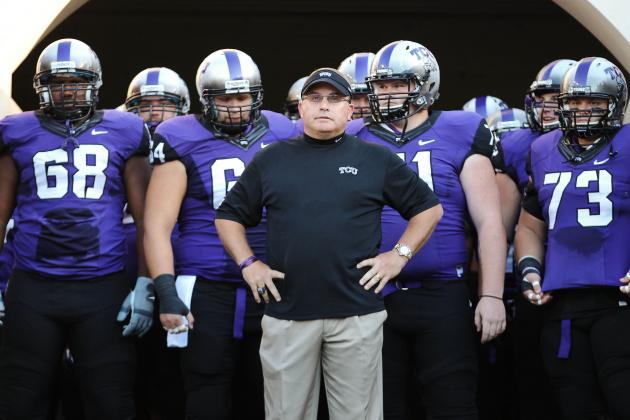 Kevin Jairaj-US PRESSWIRE

This is another one of those games where you don't want to rely on early season stats very much, but TCU looked awfully good on defense again. They have only played one game, but they look like the team we are used to seeing. Then again, it was against Grambling State.
That's not saying much.
Can Kansas rebound after a 25-24 loss to Rice? The Jayhawks were outscored 9-0 in the fourth quarter and watched as Chris Boswell (sweet name, right?) kicked the game-winning 45-yard field goal as time expired.
Ouch.
If Kansas can rebound, this game could be close. Wait, what am I saying? These guys are the cellar-dwellers of the Big 12. It won't be close.
TCU: 42
Kansas: 14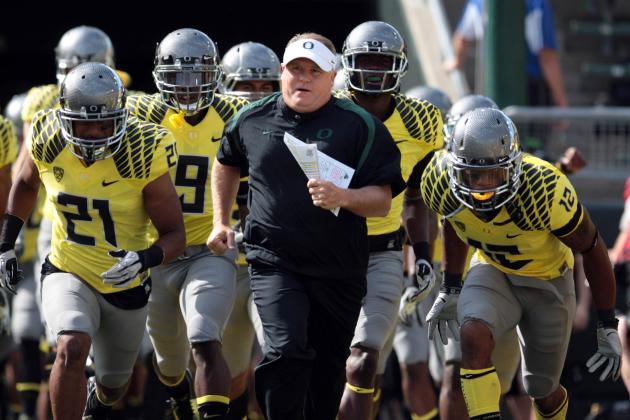 Scott Olmos-US PRESSWIRE

I'm just going to skip to the next slide.
Oregon: 60
Tennessee Tech: 13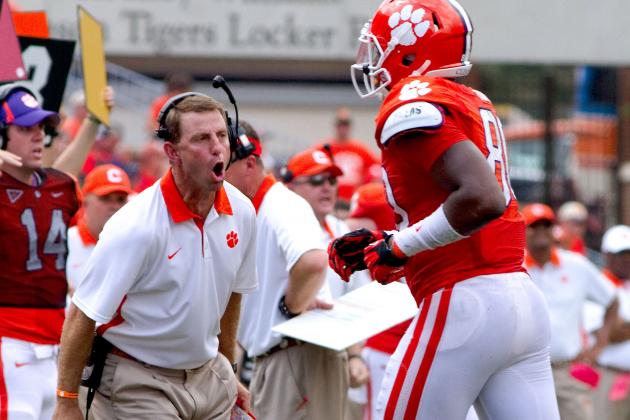 Joshua S. Kelly-US PRESSWIRE

These early season games sometimes make you wonder why on Earth you're watching, don't they? Well, at least Clemson fans will get to see receiver Sammy Watkins back in action.
That's good news. He'll get a warm up game against a pretty awful Furman squad.
The Tigers will surely just hope to avoid any injuries here with a play date at No. 5 Florida State looming next weekend.
Clemson: 49
Furman: 13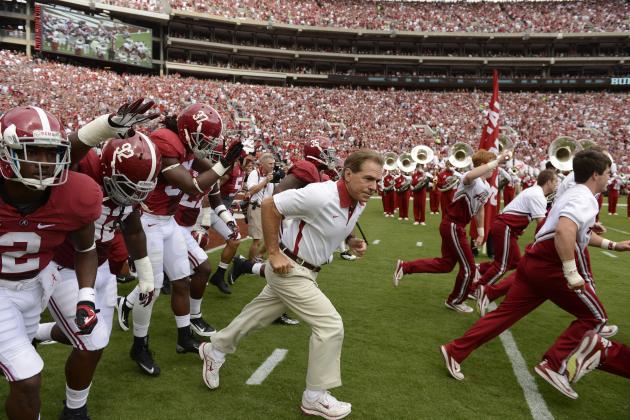 John David Mercer-US PRESSWIRE

This is one of those games that had lots of intrigue when the season started. Alabama is the reigning national champion. Arkansas is looking to stake their claim as an elite in the SEC West.
Then Louisiana-Monroe happened.
Razorbacks quarterback Tyler Wilson was hit in the head and knocked out of the game. The Warhawks came from behind to win 34-31 in overtime, and Wilson is questionable, probably out of the game versus No. 1 Alabama.
That just takes all the fun out of this game.
Alabama looks good. Really good. Well I would hope so. They're the top-ranked team in the nation. I still wanted to see them against a top flight offense, though. There aren't many of them in the SEC.
No, Texas A&M and Missouri, you don't count. We all saw what happened to you guys.
Either way, Arkansas should show up and play with heart. They want very much to get some respect in the SEC. Well, you're going to have to earn it in this one.
Alabama: 34
Arkansas: 13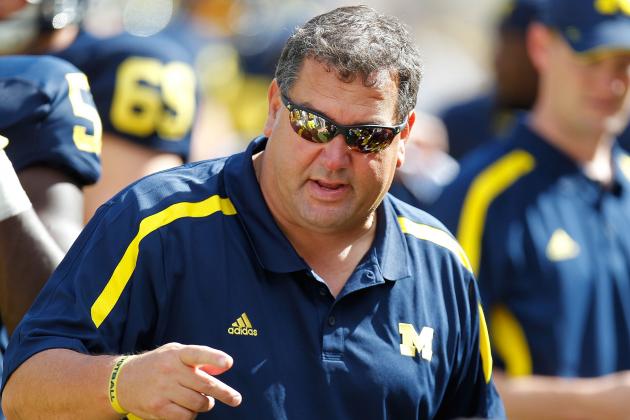 Gregory Shamus/Getty Images

I'm officially tired of spelling out Massachusetts. I wrote about them last week when they were smothered by Indiana, and now I have to write their name again because they're traveling to Michigan. Even their nickname, Minutemen, is terribly long. At least it doesn't have tons of letters put together, though.
How do you live there?
Do you just abbreviate everything?
Anyway.
Indiana roasted these guys. Michigan shouldn't have any trouble. With that being said, the Wolverines have some serious question marks on defense that need to be addressed. I understand Air Force likes to run the ball, but surrendering 290 yards on the ground to an inferior opponent is almost inexcusable. The Wolverines lack of physicality may come back to haunt them in the future.
It won't in this game, though.
Also, let's see if Denard Robinson can have another amazing performance against a weak defense. He thrives on weaker competition, so he will here.
Michigan: 56
Massachusetts: 21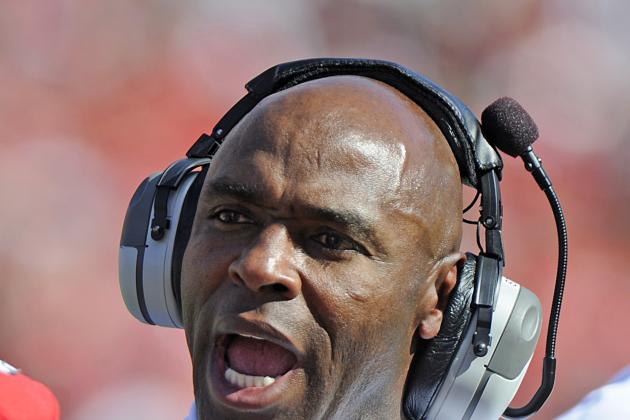 Jamie Rhodes-US PRESSWIRE
Louisville head coach Charlie Strong.
I wasn't sold on Louisville at the beginning of the year. After all, it wasn't like they were impressive in, arguably, the worst BCS conference in college football last season.
They have don't well so far, though. They beat in-state rival Kentucky 32-14 and bested Missouri State 35-7 in consecutive weeks.
That's not bad for the defensive numbers.
They are easily the best team in the Big East right now, and they should do well versus an ACC opponent in North Carolina.
The Tar Heels are coming off a 28-27 last-minute loss to Wake Forest. They did have plenty of rushing yards, but they aren't good enough to overcome eight penalties per game, especially against Louisville.
Louisville: 32
North Carolina: 10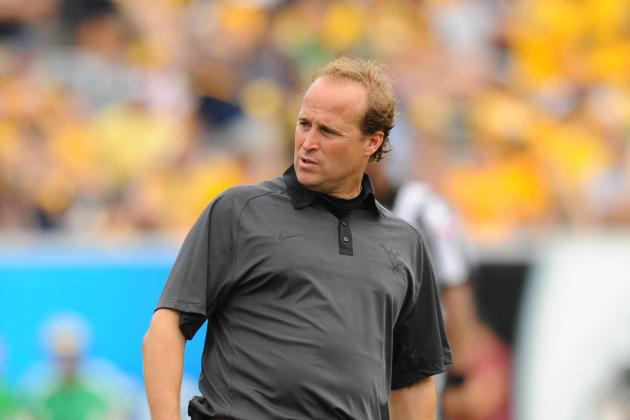 James Lang-US PRESSWIRE

Remember a couple years ago when James Madison knocked off Virginia Tech? I imagine they're probably thinking about doing the same thing to West Virginia.
There's a real problem with that logic: West Virginia, today, is better than the Hokies were then. Geno Smith is the real deal, and his receivers are big, strong, and fast. They're a perfect fit for the Big 12 and a nightmare for teams that can't score a ton of points.
The Mountaineers had a week off to prepare for this "test." They'll pass with flying colors.
Literally. Pass.
West Virginia: 58
James Madison: 13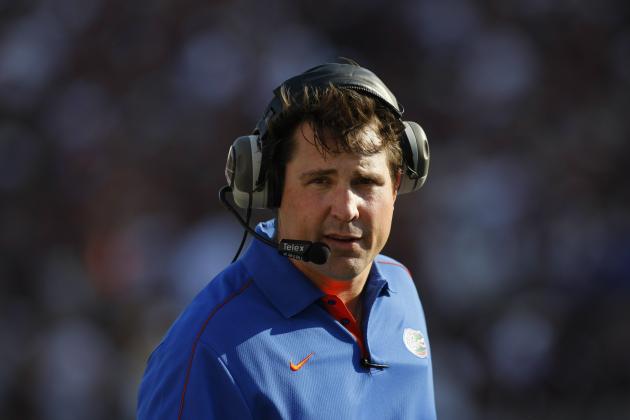 Brett Davis-US PRESSWIRE

I personally think a better game is going to be played up in East Lansing, Michigan, but I guess the College GameDay guys think watching Florida play again is better than watching the Spartans and Irish.
I disagree, but I don't really matter to them.
This is one of those games you didn't expect to see this early in the season. More than a few people disagreed with Florida being ranked to start the season, and nobody, myself included, thought Tennessee would be ranked in September.
Of course, Tennessee will be dropped from the polls again if they lose, and Florida could drop out if Tennessee beats them badly enough.
The Vols had a good start to the season, upending NC State 35-21 and then smacking Georgia State 51-13. Their passing offense is stellar, and they aren't bad on the ground, either.
Florida, meanwhile, has looked average at best. Their best half of football came this past Saturday at Texas A&M, though, and it was good.
After being schooled for most of the first half, the Gators forced six punts in a row and beat Texas A&M 20-17. The defense was the name of the game for Florida, and their offense was sometimes no fun to watch. Quarterback Jeff Driskel was sacked eight times by an Aggie defense not really known for getting to the quarterback.
Last weekend I picked the Gators over the Aggies. Lee Corso disagreed with me. Nathan 1, Corso 0. This week I'm certain he's going to go with Florida.
As he would say, "No so fast my friend."
Tennessee: 28
Florida: 21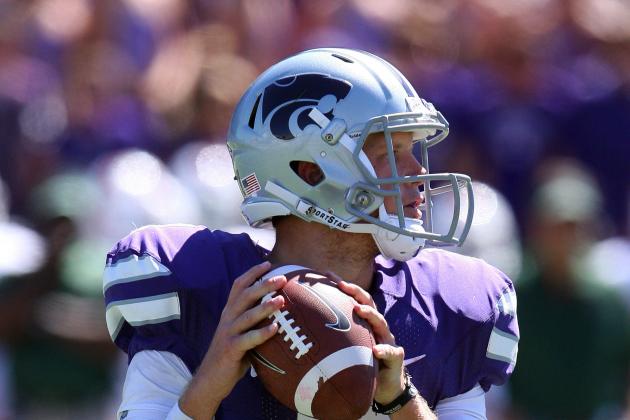 Scott Sewell-US PRESSWIRE

I can't admit anymore than I am right now how wrong I was about the Wildcats last weekend. I picked Miami in the upset, and I guess somebody in Manhattan used my article as bulletin board material.
In a word: wow.
The Wildcats, led by, in my opinion, the best dual threat quarterback in the nation in Collin Klein, absolutely torched the Hurricanes 52-13. I can't really say anything bad about their performance except, um, their second string players let Miami get a late touchdown?
They ran for 288 yards, passed for 210 more, converted eight of their 11 third down attempts, had 27 first downs, and committed just two penalties.
How much more could you want from your offense?
Oh, right. You'd like them to score fast. Well the Wildcats also did that. No drive took longer than five minutes. Yea you read that right. Their 10-play, 97-yard drive that resulted in a touchdown late in the third quarter lasted all of four minutes, fifty-seven seconds.
That was how quickly they scored.
Oh yea. How could I forget? They also held Miami to 40 rushing yards. That's not bad.
Look out, North Texas. We know you beat Texas Southern. We also know you lost to LSU. This could look a lot like the latter.
Kansas State: 52
North Texas: 10
Yes I realize that is a player. I don't care. I owe him his dues.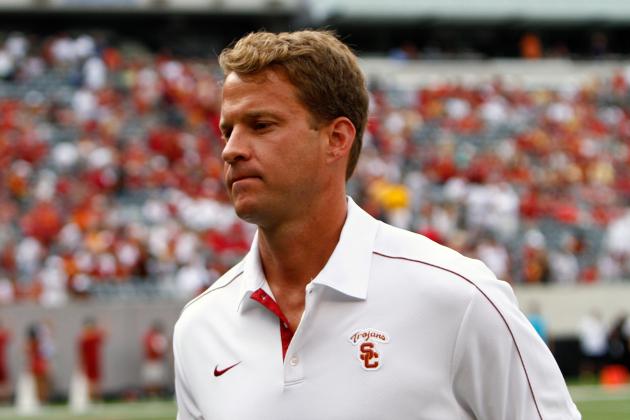 Debby Wong-US PRESSWIRE

This game should be intriguing, right?
After squeaking by San Jose State, Stanford blasted hapless Duke 50-13.
Congrats.
Duke had more yards than the Cardinals. I don't think I've ever written that Duke had more yards than anybody before. Without the four Blue Devil turnovers, this game might have been closer.
Southern Cal didn't look overwhelming against Syracuse, that's for sure. They did, however, score six touchdowns through the air. Six. What is this, Texas Tech? Matt Barkley is the real deal out in Los Angeles.
The big thing about both these teams is their lack of defense. Neither of them can seem to stop other teams. When that happens, it comes down to athletes. Which defense will make the big play when the time comes?
I think that will be Southern Cal. The Trojans just have too many athletes on both sides of the ball.
Southern Cal: 38
Stanford: 35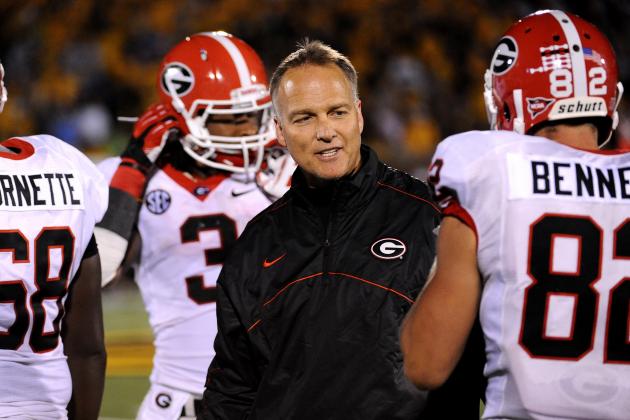 Dak Dillon-US PRESSWIRE

I wish I could say I see this one being close. However, with Georgia getting at least two defensive starters back from suspension, the Bulldogs might just be getting warmed up.
Even without four suspended defensive starters, Georgia stomped on Missouri in the fourth quarter and beat the Tigers 41-20.
They were down 17-9 midway through the third quarter.
Bulldogs quarterback Aaron Murray will look to tear through the Owl defense, and it will be tough for the Florida Atlantic offense to move the ball at all. This one just looks like a mismatch everywhere.
That's because it is.
Georgia: 56
Florida Atlantic: 0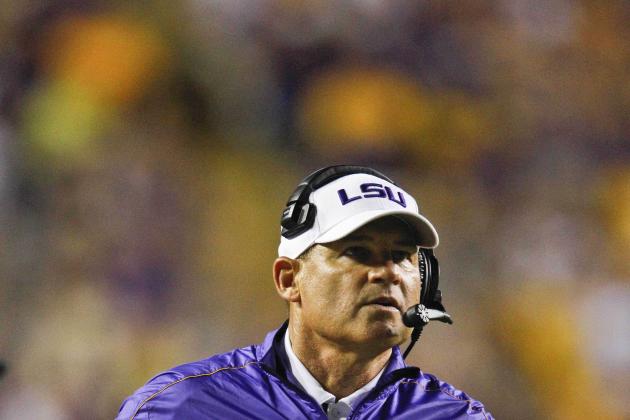 Derick E. Hingle-US PRESSWIRE

I think this is another one of those where I'm going to just move to the next slide.
I mean, why not?
Idaho is awful across the board, and LSU just manhandled Washington 41-3.
Without a rushing attack, which the Vandals don't have, they won't be able to move the ball at all on the Tigers. When that happens, they will have to throw.
I think they might turn the ball over more times than they put points on the board.
LSU: 50
Idaho: 0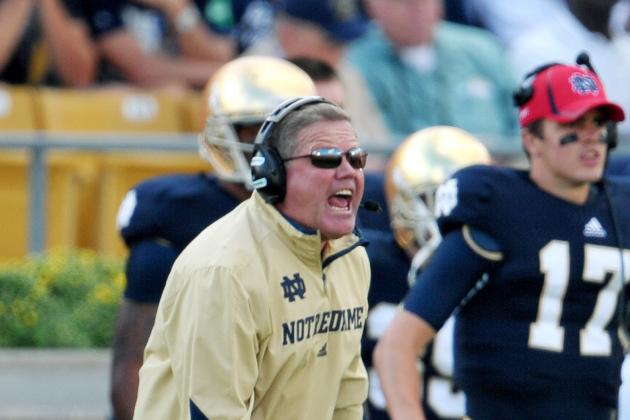 Matt Cashore-US PRESSWIRE

This is where College GameDay should have gone. Michigan State hasn't given up an offensive touchdown this year. Notre Dame is 2-0 and ranked.
That second one is kinda scary, huh?
The main story here will be whether the Irish can move the ball on that elite Spartan defense. Michigan State leads the Big Ten is almost every defensive category, and their offense feeds off what the defense is able to make happen.
That's a lot.
Notre Dame was able to hold off a rally by Purdue and kick a field goal with seven seconds left to escape with a 20-17 win. If they are down late to the Spartans, it will be tough for them to move down the field. Look for the Irish to try and spread out Michigan State and take some shots down the field. If they are unable to get some deep plays, it will be incredibly difficult for them to run at all.
Michigan State: 24
Notre Dame: 17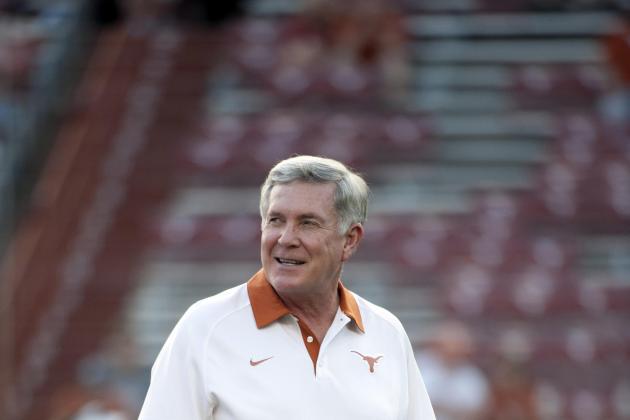 Brendan Maloney-US PRESSWIRE

This is a bit of a late game between the Big 12 and SEC. Texas looks to be the favorite to win here, but the Rebels run the ball very well.
This will be the first real test for the Longhorns this season after opening with wins over Wyoming and New Mexico. Will their offense have gelled yet? That was the big question last year. If Ole Miss is able to score some early points, how will Texas respond?
Ole Miss quarterback Bo Wallace is a dual threat quarterback that can hurt Texas either through the air or on the ground.
If the Longhorns are able to bottle him up, it could be a long day for the Rebels.
Texas, on the other hand, found their niche against New Mexico. They didn't have a bunch of rushing yards, but quarterback David Ash was efficient and accurate, and his passing presence helped keep the Lobos off balance. If that continues against Ole Miss, it could be a long day for the Rebels.
Ole Miss is 2-0 for the first time in ten years. Texas is looking to say they belong again.
Texas: 30
Ole Miss: 21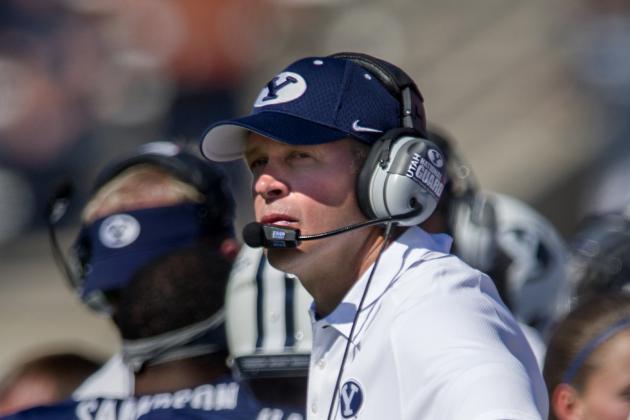 Douglas C. Pizac-US PRESSWIRE

It's affectionately called the Desert Duel Rivalry Game.
Brigham Young and Utah play it every year, and the Utes hold an edge right now. Of course, last year doesn't matter as they aren't the ranked team in this match up.
Utah is coming off a devastating loss at Utah State, and the Cougars are coming off a 45-13 dismantling of Weber State.
That says there is more emotion than usual.
Utah doesn't want to be 1-2 heading into Pac-12 play next weekend, and BYU would love to be 3-0 for the first time since 2008.
This one is a little hard to call, but it looks like the Cougars have the edge in almost every category at this point. Quarterback Riley Nelson looked fantastic against Washington State, and his poise really settles the Cougar offense down.
His leadership could be the difference in a tight game.
BYU: 28
Utah: 24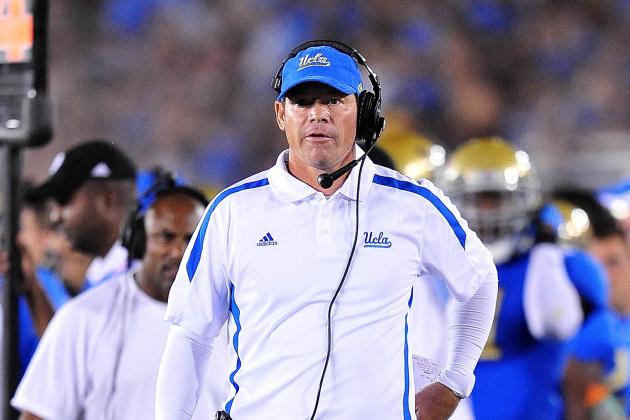 Gary A. Vasquez-US PRESSWIRE

Welcome back to the polls, Bruins. It's been too long.
Let's see how long it takes you to put up 600 yards of total offense on the hapless Cougars this time. I imagine it won't be long. Do us all a favor and try to keep it under 84 points.
Please.
UCLA: 62
Houston: 21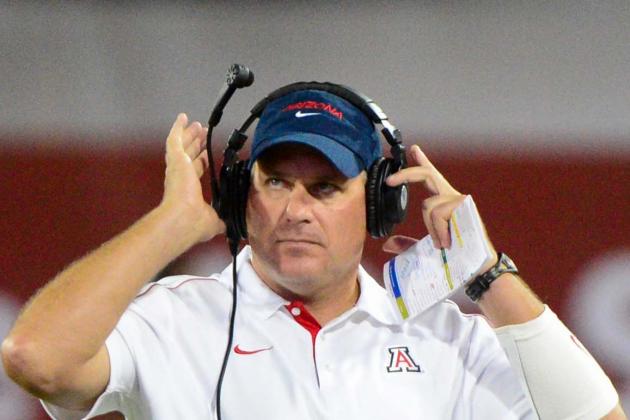 Matt Kartozian-US PRESSWIRE

This is another one of those games that's just no fun to watch after the first half.
Rich Rodriguez may have found his niche in the Arizona offense. After trailing 14-0 early, the Wildcats unleashed 30 straight points in their 59-38 upset of previous No. 18 Oklahoma State.
That was an onslaught.
You can possibly blame Oklahoma State's 15 penalties for 167 yards, but it didn't matter to Arizona. They looked nearly unstoppable at times.
They might not belong in the Top 25, but South Carolina State won't get close.
Arizona: 49
South Carolina State: 21