College Football Recruiting: What Makes a Prospect a 5-Star RB?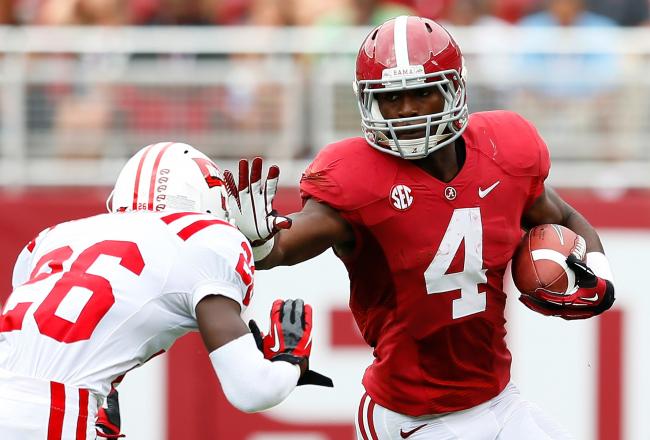 Alabama Freshman T.J. Yeldon was a 5-star RB recruit according to Rivals.com
Kevin C. Cox/Getty Images
What is it that makes a 5-star running back?
In college football recruiting, we categorize how skilled a player is by using a star ranking system. 1-star players hold the lowest ranking, while 5-star players are the best recruits in the country that just about every program wants to sign.
Oftentimes, college football fans just go off what any of the major scouting sites tell them a player is, without really knowing what to look for in a recruit themselves.
While being able to scout these players on your own isn't a must, it certainly does help your overall experience with recruiting. And perhaps you'll be able to alert your friends about a few studs, or duds, before they hit their T.V screens on Saturdays.
So, again, what qualities does a 5-star recruit possess? Let's start with what I look for in running backs.
The Obvious Intangible: Speed
You're not going to be a great running back if you don't have some semblance of speed in your game. I'm not saying that you have to be a world-class sprinter, but a 5-star running back should be the fastest kid on his high school team at the very least.
As you progress from high school to college, the speed of the game and your opponents dramatically increase. In college football, having a back who can hit the edge quick or get through a hole in the second level before the safeties close in on him is a must.
Full+Ride's top RBs of the 2013 class.
Vision
Not all good backs have vision. The kicker is, all the great running backs have vision. Whether it's the ability to see running lanes or predict the flow of the defense to find a cutback lane, vision separates the 4-star running backs from 5-star backs.
Even though a play is a designed run through the A-gap, it's not always the best option depending on how a defense is playing or lined up. 5-star running backs have the natural vision to take what should be a stuffed run up the middle and cut through a different gap for a gain.
Physicality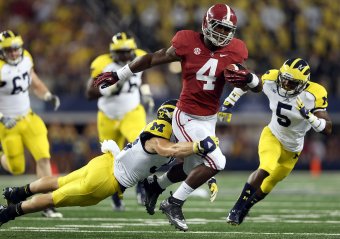 Alabama's 5-star back T.J. Yeldon displays many of these qualities.
Ronald Martinez/Getty Images
I don't know of any great running backs who ever said that they were afraid to get hit. In fact, most of the great running backs look forward to making contact with the defender.
A 5-star running back isn't afraid to lower his shoulders and make contact with the defender. Instead of running out of bounce at the edge, he turns it up-field and runs over the corner for another five yards. Those five yards could be the difference between winning and losing, and a 5-star back understands how important that is.
Right now, the 5-star back that portrays great physicality is Alabama rookie T.J. Yeldon. We've only seen a bit of him so far, but he doesn't look afraid to run hard.

Athleticism
Former 5-star Alabama running back Trent Richardson's athleticism was his difference-maker.
To me, athleticism is the combination of speed, vision and physicality. Many backs have one or two of those qualities, but it's the elite 5-star backs who can combine all of them and utilize them on a game-to-game basis.
Some backs are just speed backs, while others are known as power backs. 5-star backs can run up the middle on 4th-and-1 for a two-yard gain, but they can also take one to the house from 50 yards out by making a linebacker miss and outrunning the safety and the corner. The combination of those skills is what makes the back great.
I believe former Alabama running back Trent Richardson will go down as one of the better 5-star athletic running backs. He had the ability to truck defenders, but at the same time, he could make acrobatic juke moves. He was also one of the fastest runners in the nation.

Blocking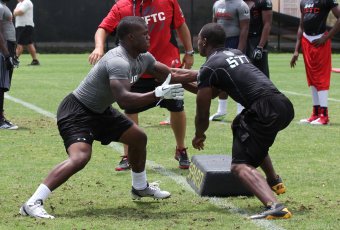 2013 5-star running back Kelvin Taylor (Commited to Florida). Via 247Sports
This is a severely underrated quality, and you're not going to see many YouTube highlight clips of 5-star backs blocking. But believe you me, coaches and scouts will notice if a running back can block.
With blitz schemes and defenses becoming so much faster and aggressive, a quarterback's best asset can be the running back. A 5-star back has a good center of balance and displays toughness while picking up an A-gap blitz head on. He's also quick and agile enough to make it to the edge to help out on anything coming from the outside.
Receiving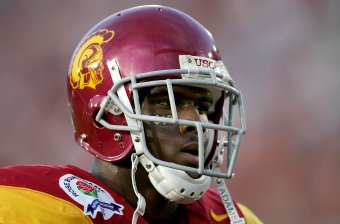 Former USC 5-Star RB Reggie Bush was always a threat as a receiver.
Harry How/Getty Images
This is the final intangible that all 5-star backs have, and it may be the biggest thing that separates the good from the great.
Football has changed in such a way that the power running game can feel obsolete at time. But a 5-star running back is able to make himself dangerous out of the backfield in the passing game. He needs to display good hands and vision coming out of the backfield, as well as the ability to make defenders miss in the flats.
The best of the best are able to line up in the slot and be an effective receiver against bigger but much slower linebackers in empty backfield sets. Running backs are expected to be great runners, but it's the ones who can also be great receivers that become great.
Reggie Bush will always stick out to me as a great back out of the backfield during his years at USC. He was just as dangerous as a receiver as he was a running back, and those skills even transitioned into the NFL.

This article is
What is the duplicate article?
Why is this article offensive?
Where is this article plagiarized from?
Why is this article poorly edited?