UFC 152 Jones vs. Belfort Media Call: Live Blog and Updates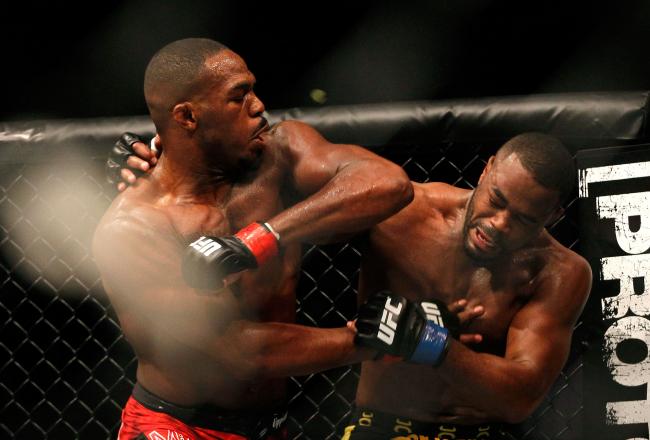 Kevin C. Cox/Getty Images
The Ultimate Fighting Championship will host a media conference call with the main and co-main event stars of the upcoming UFC 152: JONES vs. BELFORT card on Tuesday, September 11, 2012 at 2 p.m. ET/11 a.m. PT.
Reigning UFC light heavyweight champion Jon Jones and his opponent, former champion Vitor Belfort, will be available to discuss their upcoming championship bout in Toronto.
UFC flyweights Joseph Benavidez and Demetrious Johnson will also be available to discuss their battle for the newly created flyweight title.
UFC president Dana White will also be on the call.
Bleacher Report will be on the call and providing updates during the duration.
And we're done. Expect more from Bleacher Report about this call.
Jon Jones - If you talk to me about fighting you may hear something a bit arrogant. I'm not going to apologize if I'm full of myself. I'm not apologetic about that. As a person I'm the nicest person to anyone who ever met me.
Jon Jones - I said it before as far as the lesson that I learned. It's a legit message. At the end of the day people are going to do what's right for themselves. I do acknowledge that people spent a lot of time for an event that didn't happen. I had to do what was right for myself and my brand. Dana White did what was right for him. He's blaming a lot of people around him. At the end of the day people will do what's right for them.
I make a lot of mistakes and say things that make people upset. Five years ago I was an average kid who went to college. I'm a 25 year old. I'm gonna make mistakes. I'm just a dude who says what he feels. Some people dig me and other people think I'm arrogant. I'm just me.
First they said I was too fake and now they want me to hire a PR guy. I'm just me. I'm not perfect. I won't always say things people want to hear. I just did things the way I know how to. I think that I handled a lot of this with grace.
Jon Jones - I'm over it man. I really am. I really am. I'm actually excited to talk to Dana and put this behind us. I had to stand up for myself and do what is right. Dana has a right to say what he said. Fans are using their minds and realizing it wasn't my fault. Dan Henderson got hurt, that's what happened. I'm totally over it and ready to talk to Dana.
Joseph Benavidez - Having a belt will mean a lot to bring to the team. I'm a product of them. It will confirm that we're one of the best lighterweight camps.
Jon Jones - There was something in my bones that didn't allow me to hurt Rashad. He's also a warrior and we're both winners.
Vitor Belfort - The key is just to respect these young fighters. But also how you apply the knowledge you have. You have to evolve. You cannot stay the same. It's how Olympic athletes break records. I think the experience I have helps.
Vitor Belfort - Everyday is a different day. Every season is a different season. I just enjoy it. I try to enjoy myself and the process. Enjoying today.
Vitor Belfort - I don't have management. I'm my own manager. When I was 19 years old winning a UFC tournament, Jon Jones was 9 years old. I'm going out there to compete. I'm not thinking about my career. I did everything. I'm very happy. Now I'm just enjoying the moment and the journey. I hope I can be a mentor for young fighters coming up.
Vitor Belfort - I don't believe that Christianity is a religion. I believe it's a relationship. I have such respect for a man like him. I understand that we all make mistakes. I don't have a right to judge anyone. But I have rights to make my own choices. My choice is to give a life to Christ.
Jon Jones - I don't believe that God gives me an advantage over my opponents. I believe that God lets me live a certain life. I'm trying to grow closer to Christ. I believe that my relationship with Christ allows me to live a better life than most 25 year olds. I don't think God has a favorite in this fight.
Demetrious Johnson - There's a reason why Dana White opened up the flyweights. We're going to show it in Toronto.
Joe Benavidez - I can't wait to get in there. It's a huge opportunity.
Vitor Belfort - I fight for the pleasure. I don't fight for the money. It's a joy to fight and I'm just there having fun. For me to fight Jon Jones, I'd never believe I'd still be fighting at such a high level. I'm like a young dinosaur. It's a challenge.
Jon Jones - I think the Rashad Evans fight was my toughest because of all the controversy. I really want to compete at a high level against a really tough former champion. My name is all over the place right now and I'm looking at the positives of it.
Dan White - Jon Jones is one of the best fighters in the world whether 151 happened or not. It won't change how famous he was before.
Jon Jones - I don't focus on odds. It's a sport. I just focus on increasing my odds of winning.
Jon Jones - I think it's gonna be great. I think a lot of people are going to watch the fight. He's one of the most famous people to come out of Brazil. Brazil is sure to tune in. Americans will surely tune in. He hits the generation of old MMA fans and new MMA fans. A lot of people will tune in to watch.
Dana White - It started with Machida. He thought if he had time he could beat Jones. He didn't think he had enough time and so you start going down the line. Vitor is a former champion at 205 and heavyweight. He's fought everybody. If the Vitor Belfort with explosive knockout power shows up, this is a bad fight for Jon Jones.
Dana White - Vitor was already in camp. He was already training. It made sense. Chael wasn't training at all. If you're being critical about this fight then don't watch it.
Dana White - People talk a lot of sh*t but no one wants to jump in and actually fight Jon Jones. Vitor Belfort is the only guy who really stepped up. He called Lorenzo up and Vitor got the fight.
Dana White - I don't wish I could take it back. Jon and I will have to talk face to face. Jon Jones isn't a bad guy so no I don't take anything back. He and I will talk face to face in Toronto.
Jon Jones - I'm at the point in my career where people hang on to every word I say. It's whatever. It's flattering at times. I am staying focused on the goal. Now that I'm fighting Vitor all I'm doing is watch his fights.
Vitor Belfort is introduced as a former-champion. I'm sure Jonathan Snowden is stoked about that.
Waiting on hold for the call to begin.
This article is
What is the duplicate article?
Why is this article offensive?
Where is this article plagiarized from?
Why is this article poorly edited?