NFL Week 2 Picks: 3 Teams That Should Be on Upset Alert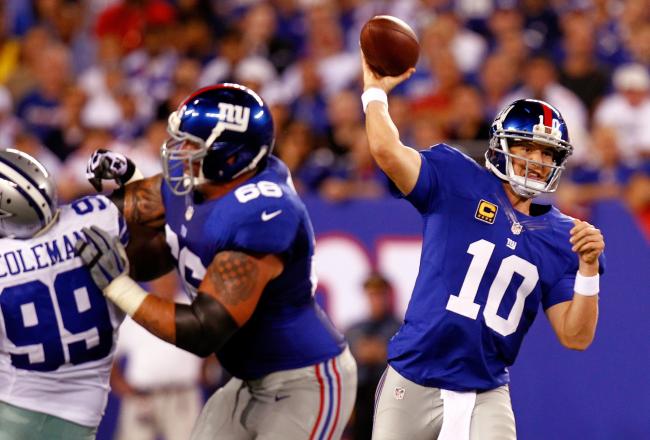 Eli Manning of the New York Giants
Jeff Zelevansky/Getty Images
Week 1 of the 2012 NFL Season was rather uneventful. The biggest surprise of the week wasn't even a matter of winning or losing, it was that the Jets, yes the Jets, put up 48 points! As Week 2 nears (the first Thursday night game is this week) teams are stepping up their preparations. There a few marquee matchups in Week 2, including Chicago at Green Bay and Baltimore at Philadelphia.
However, it's not the marquee matchups that you should be concerned with. A topic that is often a key point of college football talks is when a team is on upset alert. I'm going to apply that to the NFL and give you three teams that should be on upset alert in Week 2.
New Orleans Saints
Matchup: @ Carolina
The New Orleans Saints are coming off of an upset in Week 1 at the hands of Robert Griffin III and the Redskins. That doesn't mean that they shouldn't be on upset alert in Week 2. Cam Newton and the Carolina Panthers will play host to the Saints.
Newton had a lackluster showing in Week 1. While it may be the start of the dreaded sophomore slump, I think that Cam has the talent to overcome it. I can't see him having more INT's than TD's again. I expect Carolina to come out and really put an emphasis on the running game. It was pretty much abandoned in Week 1, and if Cam Newton is going to have any success, this team will have to mix up the play calls.
The Saints should be very concerned. They let a rookie quarterback rip their secondary to pieces. Who's to say the more experienced Cam Newton won't do that as well. The Saints had no answer defensively, so how much better could they really be?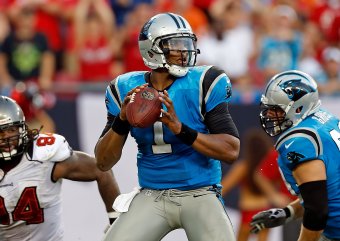 Panthers quarterback Cam Newton
J. Meric/Getty Images
The Saints offense played well in the loss, and while Carolina doesn't have a great defense either, the Saints cannot be lackadaisical in Week 2, or they are going to start the season 0-2.
New York Giants
Matchup: vs. Tampa Bay
The Giants were surprised in Week 1 against the Cowboys. They were outplayed in all facets of the game, and it showed in the end result.
The Buccaneers, on the other hand, played good enough to win in Week 1. Josh Freeman played mistake free and rookie Doug Martin had a solid day on the ground. New addition at wide receiver, Vincent Jackson, lead the team in receptions.
The Bucs defense played exceptionally, holding Carolina to only 10 points. They are going to need another strong performance from the defense against the Giants. They have to get pressure on Eli Manning so he can't settle into a rhythm with his all-star cast of wide outs.
Tampa will have to play well on offense, but the key will be to slow down New York's pass rush. If Freeman can get going early, the Bucs should find success. Doug Martin is going to have to carry the load as well, because the Bucs will have to keep the Giants off of the field.
The Giants should be concerned in Week 2, and if they overlook Tampa Bay, they too could be looking at an 0-2 start.
San Francisco 49ers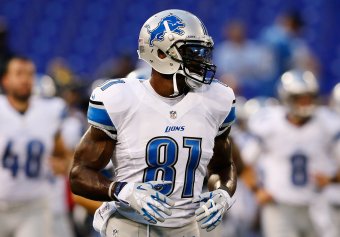 Lions wide receiver Calvin Johnson
Rob Carr/Getty Images
Matchup: vs. Detroit
The San Francisco 49ers showed that they are the best team in the NFL in Week 1. They outplayed the Packers in every manner. It was a word to the NFL about just how good this team is.
The defense played incredibly, as expected. But the offense really stepped up. Alex Smith hooked up with new additions Randy Moss and Mario Manningham early and often in the passing game. Vernon Davis did his part and Frank Gore was the workhorse they needed.
The Detroit Lions, however, are a team that has the ability to knock off the 49ers. In the passing game, Stafford and Co. can cause mismatches for the 49ers secondary. Calvin Johnson cannot be stopped, and Brandon Pettigrew is looking to have a breakout campaign.
Stafford played poorly in Week 1, throwing three interceptions. But he is going to come back focused, and he will be on top of his game in Week 2.
The 49ers should also be concerned about the penetration that the Lions can get defensively. Their defensive line is extremely solid.
If San Fran wants to start 2-0, they are going to have to be on top of their game. But the Lions are not going to roll over, so the 49ers can't take any plays off. One of these teams is going 2-0, and San Francisco better be careful or they are going to come out of it 1-1.
This article is
What is the duplicate article?
Why is this article offensive?
Where is this article plagiarized from?
Why is this article poorly edited?