Sergio Martinez vs. Julio Cesar Chavez Jr.: Why This Will Be Fight of the Year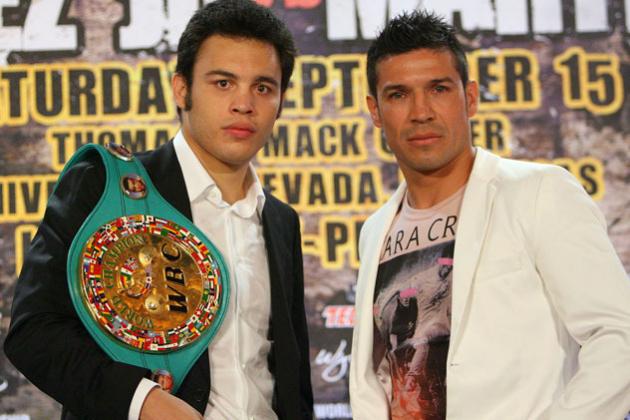 Courtesy of: www.fightnews.com
It is finally fight week for Sergio Martinez and Julio Cesar Chavez Jr., as they are set to battle it out for the WBC and The Ring middleweight titles at the Thomas and Mack Center in Las Vegas, Nev., and this bout has all the makings to be fight of the year.
Martinez (49-2-2, 28 KOs) and Chavez Jr. (46-0-1, 32 KOs) are both middleweight champs who have everything to prove in the biggest fight of both of their careers, so the action in the ring should be non-stop.
Here are the four reasons why the Martinez-Chavez Jr. fight will end up as the year's best fight once the action goes down Saturday night.
Begin Slideshow

»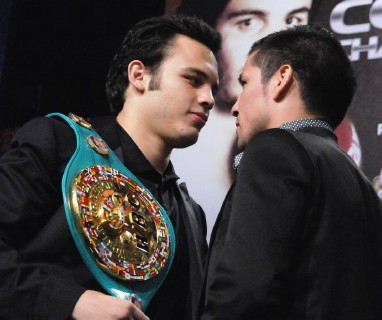 Courtesy of: www.boxingnews24.com
After about a year of both Sergio Martinez and Julio Cesar Chavez Jr. calling each other out and trash-talking one another to the media, the two middleweight champs finally get the long-awaited chance to fight each other Saturday night.
Both Martinez and Chavez Jr. seem to have a lack of respect for each other and will both be going for a knockout victory in what should be a great back-and-fourth bout.
Martinez and Chavez Jr. will be sure to taunt each other on the ring as well, adding an extra level of entertainment in the fight.
With all the action and their strong characters, it's hard to see this fight not being entertaining, making the pay-per-view event must-see T.V. come Saturday.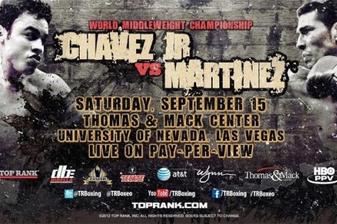 Courtesy of: www.boxingsociety.com
Although Sergio Martinez has been considered one of the best pound-for-pound best boxers over the past few years, he had minimal T.V. success. That will change Saturday night against Julio Cesar Chavez Jr.
Even with the opposing fight down the street at the MGM Grand, the pay-per-view buys should be decent for a non-Floyd Mayweather-Manny Pacquiao event.This bout could send both boxers' careers to a new level.
Knowing that this is the biggest fight of their careers, so far, the two should leave it all in the ring, essentially fighting for more PPV bouts and big paydays down the line.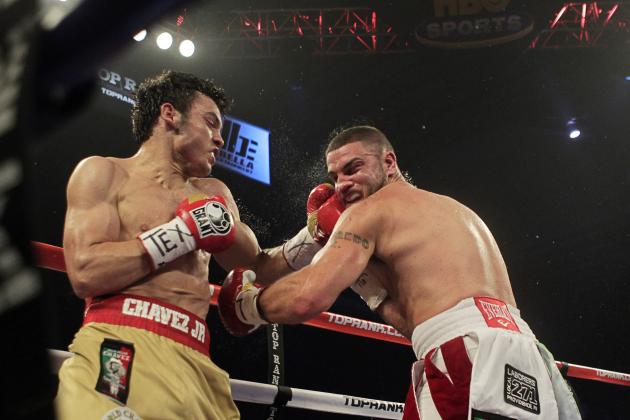 Bob Levey/Getty Images

Julio Cesar Chavez Jr. is an exciting fighter who likes to push the action which usually makes for a very entertaining fight.
With his bigger than usual size on fight night for a middleweight, he uses his size to try and bully his opponents, and it will be interesting to see what Sergio Martinez does to counter the bullish Chavez Jr.
Martinez is more of a skilled boxer than Chavez Jr., so the clash of styles will definitely make for a highly interesting bout.
As Chavez Jr. pushes the action forward, look for Martinez to try and pick his spots to land counter-shouts and catch Chavez Jr. if it becomes too aggressive for his own good.
But, don't count out Martinez's power either, as, even though his knockout ratio is not that impressive—28 KOs in 49 wins—he has essentially won by KO in each of his last four fights. Three ended by KO or TKO, and his last bout with Matthew Macklin this past March was stopped by Macklin's corner after Macklin was knocked down multiple times late in the bout.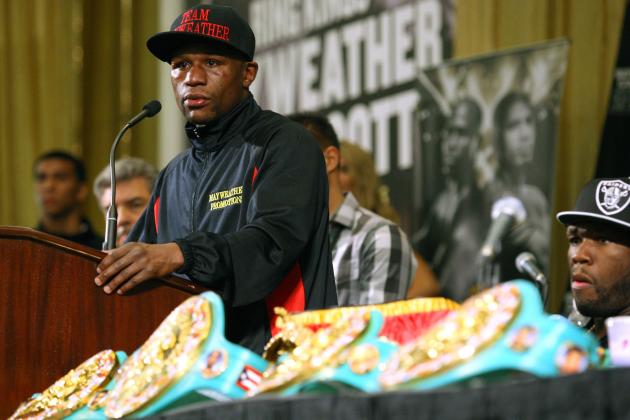 Jake Roth-US PRESSWIRE

As the two most popular fighters of the last decade, Floyd Mayweather Jr. and Manny Pacquiao's careers are getting close to the end. Boxing will be looking for new superstars to carry the sport once its cash cows are retired.
This Saturday's Sergio Martinez-Julio Cesar Chavez Jr. bout will be somewhat of a audition for the two, as the winner will have a huge opportunity to become one of the faces of boxing once its pay-per-view kings have called it a career.
Super middleweight champion Andre Ward made a huge step to be one of those to take the sport on his shoulders, beating light heavyweight title holder Chad Dawson last weekend. Both Chavez Jr. and Martinez have a chance to make an equally as big statement with a win Saturday night.
Knowing that all eyes will be on them, it would be surprising if Martinez and Chavez Jr. didn't give the performances of their careers, trying to win the fans over for their support to become boxing's next big star.