Peyton Manning Returns and Plays as If He'd Never Been Away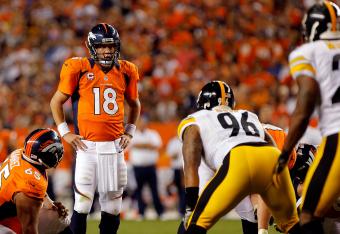 Peyton Manning
Doug Pensinger/Getty Images
It seemed like he'd never been away. It's really tough to reconcile the play of Peyton Manning in Week 1 with the fact that he missed the entire 2011 season. Rust? Peyton doesn't deal with no freaking rust.
His line was vintage #18. He completed 19-of-26 for 253 yards with two touchdowns and no interceptions in leading the Broncos to a win over the Steelers.
As always, the cerebral part of Manning's game was even better than his physical play. Time after time at the line of scrimmage Peyton countered the Steelers' defensive movement with an adjustment that put the Broncos in the right play.
The greatest always have great weapons:
Jim Brown's power.
Barry Sanders' cutting ability.
John Elway's ridiculous arm and athleticism.
Joe Montana's accuracy and efficiency.
Jerry Rice's work ethic.
Of all the great weapons that great players possess, there's been none better and more impressive than Peyton Manning's mind.
Broncos' coach John Fox's role in the offense? If he's smart, he sticks his head in the offensive meeting room from time to time to see if Manning needs a cold drink or anything. Then he dives into the defensive game plan with a huge smile on his face.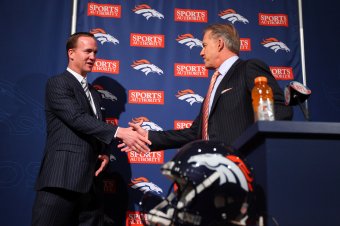 Doug Pensinger/Getty Images
Can there be anyone happier in the NFL than Fox and Broncos' head honcho John Elway? Neither of whom wanted anything to do with Tim Tebow being behind center for their team.
Let's turn back the clock to realize how the landscape of the NFL has changed because of Peyton Manning.
If Manning doesn't have his neck issue, he is still a Colt. The Colts go something like 10-6 or 9-7 last year and are nowhere near the Andrew Luck sweepstakes.
Let's just assume they drop to 20th or so in the draft and the top of the draft remained as it was. The St. Louis Rams and not the Indianapolis Colts would have had the first pick. Would they draft Luck or stick with Sam Bradford? Given the money invested in Bradford as the first overall pick just two years earlier, I would think the Rams would trade the first pick, as they did for real with the second pick of the 2012 draft.
Would the Rams make the same trade with the Washington Redskins? Most likely. But in our hypothetical world they would now have the choice of Robert Griffin III or Andrew Luck. It's easy for Redskins to say back in April that Griffin is the guy they wanted when they knew the Colts were taking Luck.
Regardless of whether Washington takes Luck or RG3, the Minnesota Vikings would be next on the clock. In the real world last April, they traded that pick to Cleveland, moving down one spot and still getting their guy, USC stud offensive tackle Matt Kalil. That allowed the Browns to get Alabama running back Trent Richardson.
But in our bizarro draft, the Vikings can have either Luck or RG3 to replace Christian Ponder, taken with the 12th pick the year before. They would jump on that.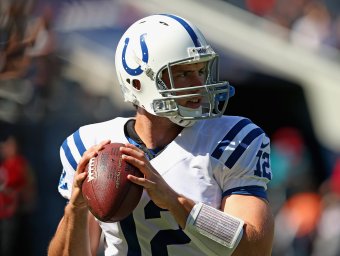 Jonathan Daniel/Getty Images
All of this movement would mean Fox and Elway would not have been smiling so broadly at the end of Week 1. My guess is that the Tim Tebow-led Broncos would have fallen to the Steelers and the John's would be miserable trying to figure out how to get away from this 6'3" 250-pound H-back masquerading as a quarterback. They couldn't have gotten rid of Tebow without bringing Manning to Denver.
Smiling almost as big as Fox and Elway should be Indianapolis Colts fans. Look at the perfect storm that let them go from one Hall of Fame quarterback to another with that potential in Luck. Ask Miami Dolphins or Buffalo Bills fans about replacing great quarterbacks. It's not supposed to be as easy as Luck being there the very year Manning goes down.
That horseshoe sure is powerful.
Follow me on Twitter @sprtsramblngman
This article is
What is the duplicate article?
Why is this article offensive?
Where is this article plagiarized from?
Why is this article poorly edited?

Denver Broncos: Like this team?