The 20 Biggest Sport-Switching Fails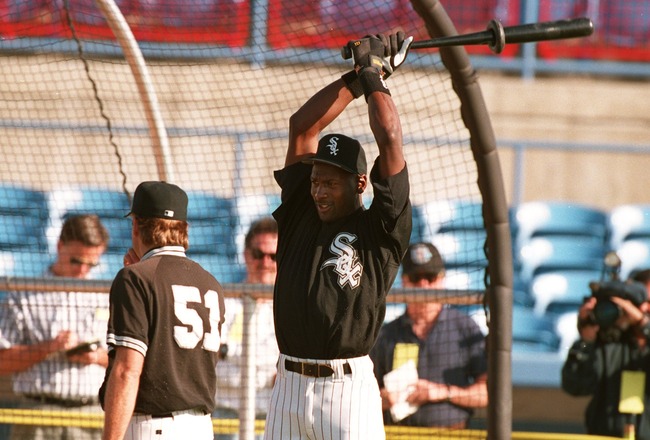 Al Bello/Getty Images
All professional athletes are light years beyond their mortal competition. After finding a niche in one sport, they're often capable of finding a spot on any playing surface. That being said, there have been many epic fails in the history of sport-switching, and we're here to dwell on them.
These spotlighted competitors made names for themselves in one sport before deciding to dabble in another. Unfortunately, these results weren't visually or statistically pleasing.
Prepare for an onslaught of athletic failure. These are the 20 biggest sport-switching fails in history.
Lead image courtesy of lordofrings.gr.
20. Chad Johnson, Soccer
The pinnacle of Chad Johnson's drop-off from elite star to borderline reserve came when he embarked on a four-day trial in hopes of joining the MLS' Sporting Kansas City during the 2011 NFL lockout.
The six-time Pro Bowl receiver actually appeared in a match with the reserve team and was given an honorary spot. But that was where his soccer journey ended, although his ball skills deserve some attention (if only for comedic value).
Some may call it a failure, but Johnson felt blessed, saying, "Sporting KC went out of their way to make me an honorary member and allowed me to stay with the reserves. That's ice cream on the cake."
19. Justin Gatlin, Football
Doug Benc/Getty Images
When he tested positive for a banned substance in 2006 and received a four-year ban from the track, Olympic gold medalist Justin Gatlin decided to test his speed on the gridiron. And he had fantasy football enthusiasts shaking with excitement.
Since 2006, rumors of Gatlin working or trying out with various NFL clubs surfaced. Then, in 2008, he dominated the Titans' pro day (4.42 in the 40, 40-inch vertical jump, 11-foot long jump, 4.4 short shuttle, 7.36 cone drill and 12 reps in the bench press).
But alas, the sprinter was never signed.
18. Rick Rhoden, Golf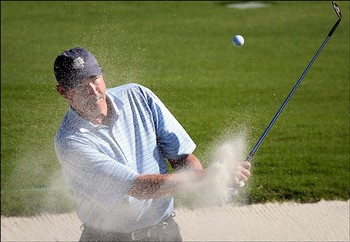 Image via naplesnews.com
After retiring from the diamond in 1989 with 151 career wins and a 3.59 ERA, right-handed hurler Rick Rhoden approached the tee. He'd been a dominant player on the Celebrity Players Tour (winning in 1991, 1993, 1995, 1997, 1999, 2003, 2008 and 2009), so success was expected.
And while he's been solid, Rhoden only has three career top-10 finishes in Champions Tour events. We expect better from the three-time Silver Slugging pitcher.
17. Shaquille O'Neal, Volleyball
If there's anything we've learned from Da Diesel during this memorable volleyball footage, it's that betting against gold medalists is a bad idea.
In 2009, Shaq was set to partner with volleyball gold medalist Todd Rogers in a game against the prodigious Walsh-Treanor tandem. If he lost to the talented women, Shaq would have to walk two miles in a pink Speedo (or rather, in his opponents' shoes, so to speak).
"Three sizes too small," he said. And they were.
16. Chris Chelios, Bobsled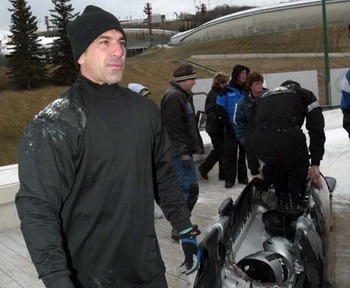 Image via faceoff.com
Now that he's working in the Red Wings front office, Chris Chelios' bobsledding dream seems long gone.
It was back in 2004 when the blue-line legend was gunning for a spot on the Greek bobsled team, hoping to represent another country and sport at the Olympics.
In the end, he had to settle for captaining another U.S. hockey team.
15. Terrell Owens, Basketball
Just to be clear, we're judging the attention-whoring Terrell Owens on a professional sports scale. Sure, he played basketball at the University of Tennessee at Chattanooga and completed a scintillating dunk at Rucker Park, but he also got completely posterized by a man dubbed Miles High and seemed unable to keep up with the young bucks sprinting up and down the hardwood.
However, he did get his shot back in 2002, with the USBL's Adirondack Wildcats. And while he scored seven points in his promising debut, Owens mostly rode the pine during his hardwood tenure.
Perhaps former NBA WAG Jennifer Williams can help his game.
14. Jeff Wilson, Cricket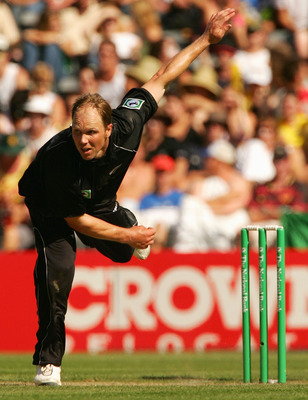 Hamish Blair/Getty Images
This New Zealand sportsman has represented his country in both rugby and cricket, the latter a late-career endeavor that was less than legendary.
After dabbling with cricket during his rugby career but realizing the two sports overlapped, Jeff Wilson decided to wait until his rugby career was over to pursue the art of hitting a bounced pitch.
In the end, his 103 runs at an average of 20.60 and a strike rate of 92 for batting, along with four wickets at an economy rate of 6.44 runs per over in bowling during the One Day Internationals didn't pop any eyes.
After six appearances, he was finished.
13. Tie Domi, Football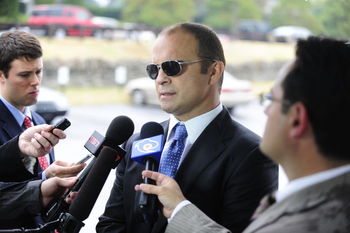 Image via torontosun.com
With the third-most penalty minutes in NHL history, aging enforcer Tie Domi must've figured it was time to test a more relaxing position...placekicker.
Since he'd played a full season with Kosovo of the Canadian International Soccer League during the summer of 1995, a kicking career seemed doable.
But after two preseason games with the CFL's Toronto Argonauts in an attempt to raise money for charity, Domi was finished.
12. Ken Harrelson, Golf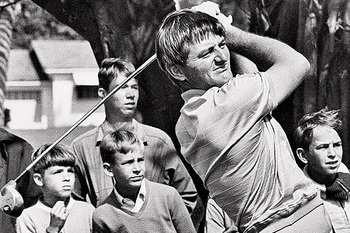 Image via chicagomag.com
Named "The Hawk" during his playing days, beaked first baseman/outfielder Ken Harrelson is remembered more for popularizing the batting glove (then a golf glove) than he is for slugging 131 home runs and batting .239.
When Chris Chambliss arrived in Cleveland to take over first base, Harrelson decided to pursue his dream of playing golf. In nine total tournaments, he made one cut and earned a total of $570 ($210 of which came during his tour debut).
11. Brock Lesnar, NFL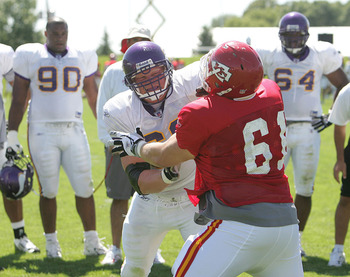 Image via sportsillustrated.cnn.com
Following his final match at WrestleMania XX in 2004, wrestling icon Brock Lesnar decided to pursue a lifelong dream. However, the 285-pound Lesnar became the prime example of why size isn't the only ingredient required on the gridiron.
He made it to the preseason with the Minnesota Vikings but ended up being a late cut. He was recommended for NFL Europe, but declined.
In the end, Lesnar's NFL career featured more minor fights than tackles.
10. Tyreke Evans, Golf
With a swing that makes Charles Barkley look as graceful as Jack Nicklaus during his prime, blossoming NBA star Tyreke Evans convinces us that athletic ability can only take a man so far.
Stick to the hardwood, champ.
9. Marion Jones, Basketball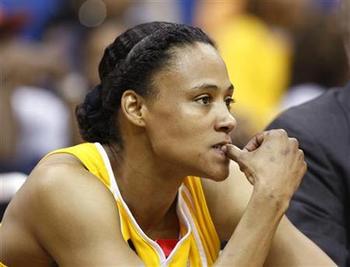 Image via reuters.com
Revered for winning five medals at the 2000 Summer Olympics and despised for giving them up due to PED admissions, former track star Marion Jones made headlines once again when she approached the hardwood scene.
Having played on UNC's 1994 championship squad, Jones seemed capable of draining a ball in a basket. She'd even been drafted in the third round of the 2003 WNBA draft by the Phoenix Mercury.
But after a brief stint with the Tulsa Shock pine, Jones was cut in favor of Abi Olajuwon (Hakeem's daughter) right before the All-Star break. She's been missing in action ever since.
8. John Smoltz, Golf
A future Hall of Fame pitcher who excelled as a starter and a closer, former Brave John Smoltz seems capable of anything. Adding a plus-two handicap and a vouching from buddy Tiger Woods, we almost expected greatness.
But things didn't work out as expected for Smoltz, as he shot 84, 87 in the South Georgia Classic in 2011 to miss the cut by 27 shots. To put that in perspective, he was nine strokes worse than the next-to-last golfer.
At least he can do a mean Happy Gilmore.
7. Carl Lewis, Singing
On the track, Carl Lewis was a lightning-rod of talent, winning nine gold medals and breaking 10 seconds in the 100-meter 15 times. The man was simply a legend.
But with a mic in his hands, the talented Olympian was either hilarious or disturbingly awful. As far as we're concerned, singing is temporarily a sport.
Enjoy.
6. Michael Jordan, Baseball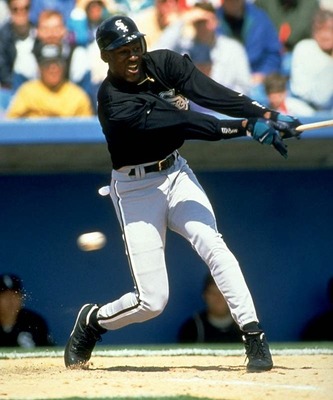 Image via blog.kickofflabs.com
As perhaps the biggest star Chi-town has ever enjoyed, Michael Jordan undoubtedly had the opportunity to dabble in anything he pleased. Lion taming, banana ripening, fortune cookie writing...you name it.
But apparently it was his father's dream for Jordan to play baseball, and the future NBA legend was eager to fulfill James Jordan's dream. When his father was killed in 1993, a distraught Jordan knew it was time to leave the game he loved.
In 127 games with the 1994 Terry Francona-led Birmingham Barons (the White Sox Double-A affiliate), Jordan slugged three home runs and hit .202, while fumbling fly balls and flailing at bad pitches. Keep in mind, however, that Air Jordan did hit .252 in the Arizona Fall League against top prospects.
But it wasn't enough. He would return to the NBA in March of '95.
5. Jose Canseco, Boxing and MMA
When he left the professional diamond for the first time in 2002 (it would be his last in the MLB), outfielder Jose Canseco had 462 home runs, six All-Star nods and a Most Valuable Player award to his name, as well as association with the term "performance-enhancing drugs."
In May of 2008, the former juicer found a new money maker, challenging 5'9" former NFL back Vai Sikahema to a boxing match for $30,000. After getting knocked out in the first round, it was clear he wasn't cut out for martial arts, despite claiming he'd earned a black belt in Kung Fu and Taekwondo. Looking to put food on the table, Canseco continued his search for willing opponents.
Next was radio personality and former child actor Danny Bonaduce in 2009. Their ridiculous three-round bout would end in majority draw.
Canseco desperately turned to mixed martial arts, where he fought 7'2" kickboxer Choi Hong-man in his debut. Canseco resembled a fish out of water in his first-round defeat.

4. Jerry Rice, Golf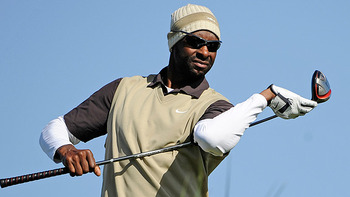 Image via sports.espn.go.com
Hall of Fame receiver Jerry Rice oozed talent during his days on the gridiron. He yearned for it on the golf course.
Rice's debut was a sign of things to come. The legendary receiver missed the cut after finishing 17-over and 151st among the 152 players who completed two rounds.
Before being disqualified from the Nationwide Tour event in 2010 because his caddie used a scope to check yardages, Rice was playing like a mere mortal, shooting a 92 (the highest score ever at the tournament).
After missing the cut for two years—ironically as the host—Rice then shot 23 over par for 27 holes this year. He eventually withdrew during the second round of the Nationwide Tour's rain-delayed TPC Stonebrae Championship.
3. Joe Frazier, Swimming
It was in 1973 when The Superstars, a decathlon-esque competition between various athletes, was first broadcast on ABC. And the opening 50-meter swimming heats couldn't have gone any stranger for heavyweight legend Joe Frazier.
His slow defeat was simultaneously painful and euphoric.
2. Drew Henson, Everything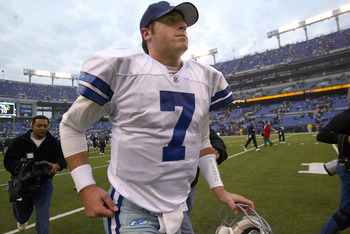 Doug Pensinger/Getty Images
Two overlapping careers were essentially equal in mediocrity. While at Michigan, Drew Henson was a star baseball player and a promising backup to Tom Brady.
In 1998, Henson was drafted in the third round of the MLB draft by the New York Yankees, immediately joining their Single-A Tampa club. After hitting .280 with 13 home runs, his future seemed bright. Several trades later, and he'd come full circle to rejoin the Yanks, where he eventually joined the major league club. After several games, and only one hit in nine at-bats, Henson retired from baseball.
He then went back to football, where he'd been drafted in the sixth round of the '03 draft by the Houston Texans. The quarterback-needy Cowboys decided to trade a third-round pick for Henson's services. Four journeyman seasons later, he retired (released by the Detroit Lions, his third team) with one touchdown, one interception, 98 yards and a 64.2 rating. Along with a load of question marks.
1. Johnnie Morton, MMA
When he finished his football career with 624 receptions for 8,719 yards and 43 touchdowns, receiver Johnnie Morton wasn't done competing.
In 2007, Morton decided to give mixed martial arts a try. After getting embarrassingly knocked out by Bernard Ackah 38 seconds into his debut, Morton refused to give a urine sample for drug testing and was suspended by the California State Athletic Commission.
The fight began gracefully, and it eventually took a sudden tumble.
Follow me for more failed attempts...

Keep Reading