Breaking Down the Differences Between Dwight Howard and Andrew Bynum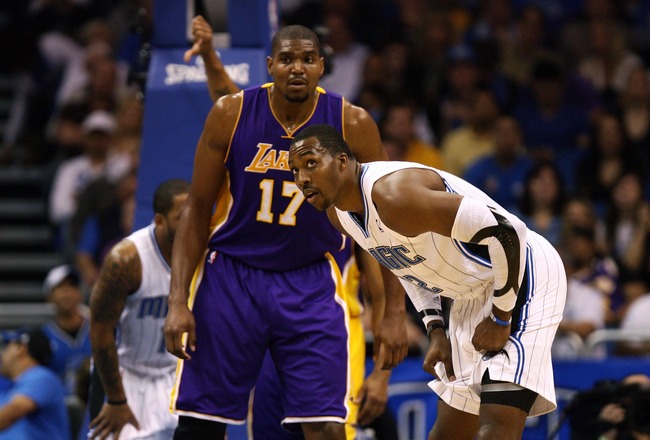 Douglas Jones-US PRESSWIRE
On paper, the Los Angeles Lakers this summer replaced the second-best center in the NBA, Andrew Bynum, with the best center in the NBA, Dwight Howard.
Bynum might have a 2-0 lead over Howard in terms of NBA championships, but Howard holds the 3-0 advantage over Bynum with Defensive Player of the Year awards.
After Shaquille O'Neal retired in 2011, Howard and Bynum were the two true centers most likely to take up O'Neal's throne as the NBA's most dominant big man.
To this point, Howard holds the advantage over Bynum, but not by as much as one might think. Could Bynum overtake Howard in the next few years? It's not out of the question.
Let's take a look at the respective strengths and weaknesses of both Bynum and Howard, to get a sense of how the Lakers must change this upcoming season.
Shooting Ability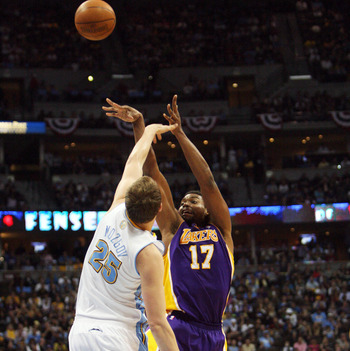 Chris Humphreys-US PRESSWIRE
Let's be real: As true back-to-the-basket centers, both Howard and Bynum do their best work inside the paint. Their respective teams likely don't want them taking many shots outside of 10 feet.
When either player does drift outside the perimeter, both of their shooting percentages plummet dramatically, as you might expect.
Last season, Bynum finished 73.2 percent of his shots at the rim, but only 26.5 percent from 10-15 feet and 26 percent from 16-23 feet, according to HoopData.com.
Howard's percentages from 2011-12 are even more skewed: He averaged 74.4 percent shooting at the rim, but only 33.3 percent from 10-15 feet and 11 percent from 16-23 feet, according to HoopData.
Overall, both players largely make their living at the rim, and rightfully so. If one has to take a mid-range jumper, though, Bynum holds a slight advantage over Howard in that department.
Post Game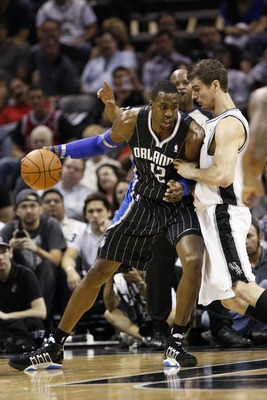 Soobum Im-US PRESSWIRE
Both Howard and Bynum do a majority of their offensive work inside of 10 feet, making their respective post games that much more critical to their success.
In his early days with the Los Angeles Lakers, Bynum worked with Laker legend Kareem Abdul-Jabbar, the NBA's all-time leading scorer, to refine his offensive moves.
As Bynum confessed in his opening press conference with the Philadelphia 76ers, he never could master Abdul-Jabbar's famous skyhook, but did benefit from learning the fundamentals of post play from one of the greatest ever to play the game.
In recent years, Dwight Howard spent some time working with Houston Rockets legend Hakeem Olajuwon to develop his arsenal of post moves. The work has paid off, especially with Howard's footwork, as he's become much less of a liability if he catches the ball more than a few feet away from the basket.
The 7'0, 285-pound Bynum has the slight size advantage over the 6'11", 265-pound Howard, but Howard's newfound versatility in the post, especially with his footwork, gives him the slight advantage in this department over Bynum.
Free Throws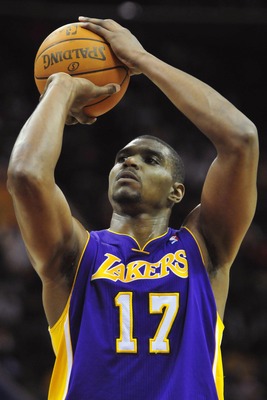 Jason Miller-US PRESSWIRE
This category is a no-contest between the two, as Howard's free-throw shooting conjures memories of Shaquille O'Neal, which is certainly no compliment.
As if Howard's career free-throw average of 58.8 percent weren't bad enough, Howard didn't even manage to knock down half of his free throws (49.1 percent) in the 2011-12 season.
For a player who's led the league in free throw attempts in four of the past five seasons, that lackluster free-throw shooting makes Howard an offensive liability in the closing minutes of close games, as opponents can turn to a Hack-a-Howard strategy without much fear.
Bynum won't be mistaken for Steve Nash anytime soon, with a career free-throw shooting average of 68.7 percent, but compared to Howard, he's significantly more reliable from the line.
In the last six seasons, Bynum hasn't finished below 66 percent free-throw shooting in any given year; Howard hasn't averaged above 60 percent in any of the past six seasons. Bynum takes the cake here, no questions asked.
Passing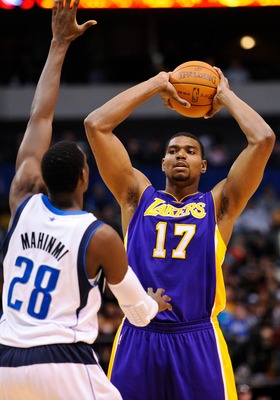 Jerome Miron-US PRESSWIRE
If Bynum is to succeed as the No. 1 offensive option in Philadelphia, he'll need to prove a more willing passer than he has to this point in his career.
To date, Bynum has only averaged a shade over one assist per game throughout his seven-year career. His assist rate (the rate of assists to possessions) has been higher than Howard's in four of the past six seasons, but during his time with the L.A. Lakers, Bynum often struggled passing out of double-teams.
Statistically, Howard appears to be the weaker passer, having not cracked an assist rate of 10 in the past five seasons and with a turnover rate in the high teens. To Howard's credit, he did average a career-high 1.9 assists per game last season, which was half an assist more than Bynum averaged per game.
Don't be fooled by those low numbers, though. While Howard could also stand to improve on his recognition of double-teams and his ability to find his open teammate in those cases, the Orlando Magic structured their offense around Howard in the middle and four players on the wing for a reason.
This one's close, but for now, Bynum holds the edge over Howard. Bynum's higher assist rate and lower turnover rate, especially earlier in his career, hints at what the Philadelphia 76ers might expect this year when structuring their offense around Bynum.
Rebounding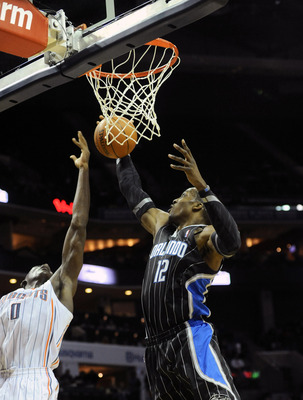 Sam Sharpe-US PRESSWIRE
Both Howard and Bynum are beasts on the boards and two of the best rebounders in the NBA today.
Bynum's career average of 7.8 rebounds per game might not suggest it, but his 11.8 boards per game last season speak more to his rebounding ability. He's averaged nearly 11 rebounds per 36 minutes over the course of his career, including 3.4 offensive rebounds per 36 minutes.
Of players who played 20+ minutes per game last season in 20 or more games, Bynum ranked seventh in the NBA in total rebounding rate. That said, Howard ranked second in the league last season, falling behind only Marcus Camby.
In his eight-year career, Howard has already led the league six times in total rebounds, five times in total defensive rebounds and four times in total rebounds per game. He already ranks 42nd in the NBA's all-time defensive rebound leaders.
Howard has never averaged fewer than 10 rebounds per game, and hasn't fallen short of 12 rebounds per game since his rookie season. Bynum may have been contending for rebounds with Pau Gasol over the last few seasons, but Howard holds the clear advantage here, especially in terms of offensive rebounds.
Shot Blocking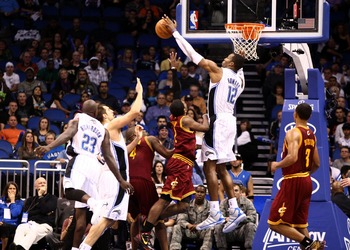 Douglas Jones-US PRESSWIRE
What makes Howard such a terrifying defensive presence is not only his rebounding ability, but his propensity to reject shot attempts from all challengers.
Howard led the league in blocks in back-to-back seasons (2008-09 and 2009-10), finishing with nearly three blocks per game in each of those seasons. He's never finished a season with fewer than 115 blocks, as his footwork allows him to rotate around the rim to challenge defenders at all angles.
Statistically speaking, Bynum doesn't have anything close to Howard's shot-blocking resume. He's only averaged above two blocks per game twice in his career, while Howard has done it each of the past five seasons.
Keep in mind, though, many of Bynum's early years were marred by injury. Per 36 minutes, Bynum's block averages actually dwarf Howard's in four of the past seven seasons, while Howard holds the advantage in two. Each player finished with exactly 116 blocks last season, although Bynum appeared in six more games than Howard.
Bynum is a force to be reckoned with around the rim, but he lacks Howard's quickness and footwork. The Philadelphia 76ers lack any other legitimate shot-blockers, unless you count Kwame Brown (and you shouldn't), so Bynum will have plenty of opportunities this season to prove that he can be as dominant of a shot-blocker as Howard.
For now, though, Howard gets the gold star here.
Defense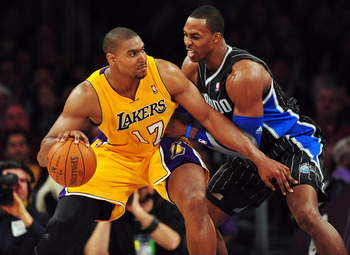 Gary A. Vasquez-US PRESSWIRE
The L.A. Lakers and Philadelphia 76ers have the two most defensively dominant centers in the league this upcoming season in Howard and Bynum, plain and simple.
Could Bynum use some work learning to rotate out to the perimeter? Sure. Could he improve his pick-and-roll defense? Who couldn't?
Will a 7'0", 285-pound man-child dissuade numerous opponents from trying to drive into the paint this season? Absolutely. His size, shot-blocking talents and rebounding ability make Bynum one of the better franchise cornerstones to build around, when healthy.
Howard presents the same challenges defensively for opponents, as evidenced by his three NBA Defensive Player of the Year awards. If you manage to avoid getting your shot rejected, chances are, you still have no change at overpowering Howard for the rebound.
Howard's better with defensive footwork than Bynum, which allows him to cover the pick-and-roll more efficiently. That, more than anything, is what makes Howard a better defensive player than Bynum to date.
So... Who's Better?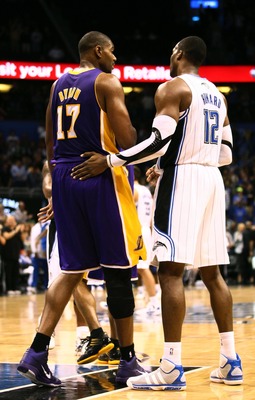 Douglas Jones-US PRESSWIRE
As you can see, it's a close competition between Bynum and Howard. Bynum holds the advantage in most of the offensive categories, but Howard's defensive abilities set him apart, for now.
Granted, much can change in a year's time. Bynum gets his first opportunity to be a No. 1 option for a franchise in Philadelphia this season, and we're still awaiting word on when Howard will even be allowed back on a court following back surgery from earlier this year.
Since Spencer Hawes isn't exactly Pau Gasol, Bynum will have free range, especially on the defensive end, to prove his worth. The Sixers should be expecting at least 10-12 rebounds and two blocks per game out of Bynum this upcoming season.
Howard, statistically, may decline once he joins his new L.A. Lakers teammates. With Gasol, Kobe Bryant and Steve Nash all competing for touches, Howard might not be the offensive focal point that he was back in Orlando.
Defensively, though, it all starts with Howard for the Lakers this season. Gasol hasn't ever been known for his defense, but the Howard-Gasol combination could evolve into a brutal 1-2 punch on the defensive end for the Lakers' opponents.
Keep Reading

Los Angeles Lakers: Like this team?