The end of another international break sees matches in the English Premier League continue this coming week.
Brendan Rodgers takes his new look Liverpool team to the Stadium of Light to take on fellow strugglers Sunderland.
Fellow strugglers; yes, that is how I would describe the Reds currently. It would take a fan wearing rose-coloured spectacles to suggest that Rodgers' team were not struggling.
Be that as it may Liverpool fans, it is by no means time to hit the panic button.
Before a ball was even kicked at the start of the season, fans were talking about this year being one of tremendous change at Anfield with the arrival of a new manager with his own ideas on how the game should be played The fact that his chosen style of play is actual a throw back to the way in which Liverpool used to play under the guidance of former managers Bill Shankly and Bob Paisley is beside the point—it would still be a departure from our recent style of play.
A completely new 4-3-3 formation replaced the rather dated and static 4-4-2 that prevailed last season and, in itself, needs time for the players to adapt to.
The Liverpool midfield has been completely overhauled and supplemented with advancing, attacking fullbacks. Of the three places up for grabs in the Reds' engine room, one would think that Steven Gerrard and Joe Allen have secured two of them. This leaves the final place for the player who impresses Rodgers the most.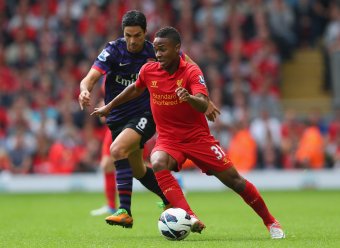 Alex Livesey/Getty Images
There has been a real surge of youth on the Liverpool first-team squad and in their starting XI. This is a wonderful welcome and all the hard work that has been put into the players at the Academy is now looking to pay off.
Raheem Sterling and Martin Kelly have made great progress and are real contenders for regular first-team spots.
There is every reason for fans to be positive and not to preach doom and gloom three games into a 38-game season.
As soon as the fixture computer threw out Liverpool's 2012-13 season fixture list, it was evident that Rodgers could not have been given a much tougher start to his Liverpool career. The first five games featured the top three teams from last season.
If fans were asked to be realistic before the referee blew his whistle to start this current season, would we have really predicted the Reds to have been in the top-half of the table? I certainly did not.
My optimistic expectations going into the international break were to have put five points in the bank. My pessimistic predictions would have been a point. It appears my pessimistic position has come to pass.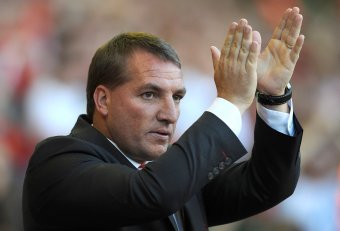 Chris Brunskill/Getty Images
So is it time to panic? No, is the simple answer.
International breaks this season will not be welcomed by Rodgers, as he wants as much time with his team as possible to begin to imbed his ideas and philosophies into his players. The more time the squad spends together, the better it will perform.
Rodgers is moving the team and the club in the right direction and his footballing ethos will produce results and a winning way for Liverpool in the not so distant future. This should begin a new successful era in our great club's history.
Fans must trust in the Rodgers revolution and not set off the alarm bells this early in his tenure.