Realistic Stat Projections for Each Minnesota Timberwolves Rotation Player
Mike Ehrmann/Getty Images

Predicting statistics can be tricky business, particularly for a team that has a number of moving parts like the Minnesota Timberwolves.
We have one player returning from a torn ACL, one returning from retirement, another returning from a year spent with a Russian Euroleague club and yet another from that same club who hasn't logged one minute in the NBA.
They're a complex soup, these Timberwolves. But in the following slides, I've used past performance and anticipated roles to peg each rotation player with his output for the 2012-13 season.
Begin Slideshow

»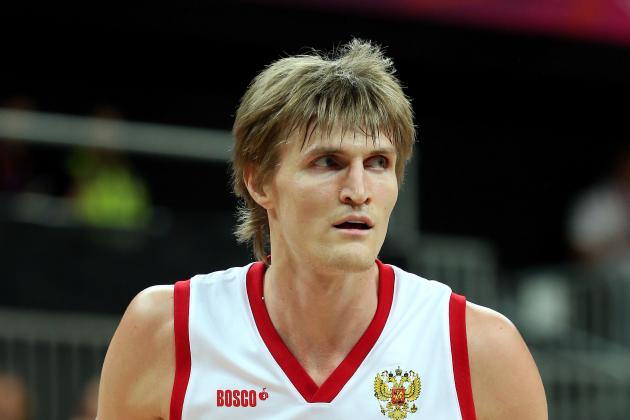 Christian Petersen/Getty Images

47% / 75% / 12.1 points/ 5.6 rebounds / 3.4 assists / 1.4 stls / 1.3 blocks
Kirilenko's always been a stat-stuffer. And now that he's reportedly been invigorated by his time spent with CSKA Moscow, we should see a continuation of that trend.
Expect AK-47 to post elite steals and blocks for a small forward, as well as strong assist totals on an Adelman team that will emphasize ball movement.
Kirilenko should fit like with this club. I see no reason that he can't match the production of his Utah days.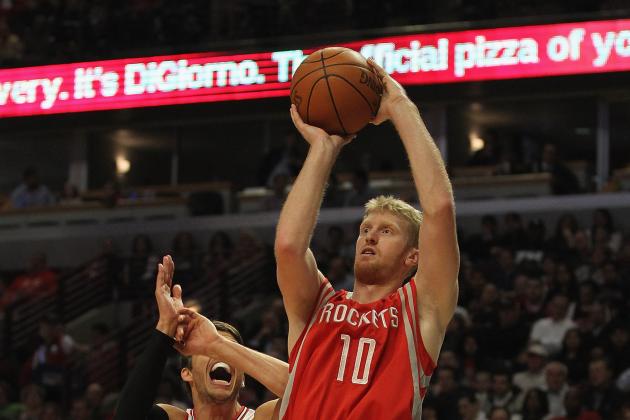 Jonathan Daniel/Getty Images

46% / 81% / 7.8 points/ 3.1 rebounds / 1.0 assists / .4 stls / .1 blocks
Budinger's role as the purest shooter on the team will guarantee him minutes. And the Minnesota's stable of above-average passers (Rubio, Roy, Shved, Love) will guarantee him plenty of clean looks.
Don't expect much more than good percentages and modest point production, though. Budinger's never boasted an all-around game and there's no reason to believe that will change now.
But the wrinkle here could be his athleticism. Rubio has a knack for throwing lob (in case that breaking news missed you), and Budinger, who's an excellent leaper, could be a beneficiary.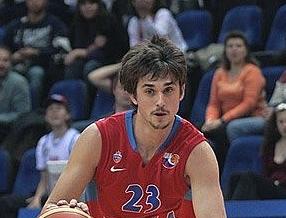 44% / 78% / 8.8 points/ 3.4 rebounds / 4.7 assists / 1.3 stls / .4 blocks
Alexy Shved's contribution will be the biggest wild card on a Timberwolves roster with no shortage of them.
Here's what we know: He played both guard positions for CSKA Moscow. He had some strong showings in the Olympics for the Russian national team, but was plagued with inconsistency. He has enough length to guard the shooting guard position, but may struggle with the speed of NBA point guards.
And here's what we don't: Is his shot NBA-ready? Does he have the handle or instincts to play significant minutes at the 1? Can he be counted on as a starter if Brandon Roy goes down?
I'm high on his future, but will mark him down for modest numbers in his first NBA season. It'll take time for him to adjust to the speed of the league, and his opportunities to shine will diminish significantly once Rubio returns to action.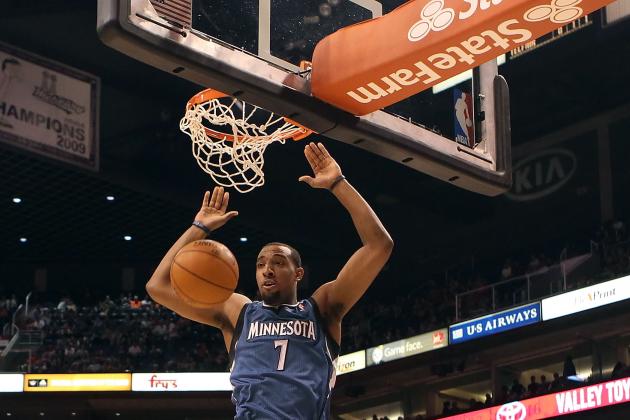 Christian Petersen/Getty Images

44% / 81% / 9.7 points/ 5.8 rebounds / 1.2 assists / .9 stls / .6 blocks
Here we go. Year two.
After a maligned a rookie season followed by a summer of trade rumors, it's hard to get excited about Derrick Williams' sophomore campaign.
But in fairness, there are some reasons for optimism. He's lost some weight to prepare for minutes at small forward. And he had a solid summer league, one highlight being his 40 trips to the charity strip over a three-game stretch.
But even in the best-case scenario, his minutes will come behind Kevin Love and Andrei Kirilenko. That means gaudy stats won't be in the cards, regardless of his improvement.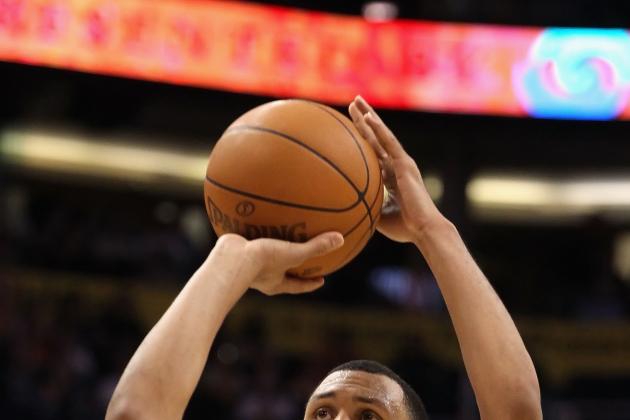 Christian Petersen/Getty Images

45% / 81% / 14.1 points/ 4.1 rebounds / 3.4 assists / .7 steals / .1 blocks
I for one believe that Brandon Roy will look a lot like Brandon Roy. We're just going to see a lot less of him than we're used to.
It's a long season, after all. And if the Timberwolves want the freshly-rehabbed shooting guard to be around at the end of it, they'll cap his minutes at around 28 per game and pray those knees hold.
That'll mean muted numbers across the board, but that's a small price to pay for having one of the game's best closers still up and running come the playoffs.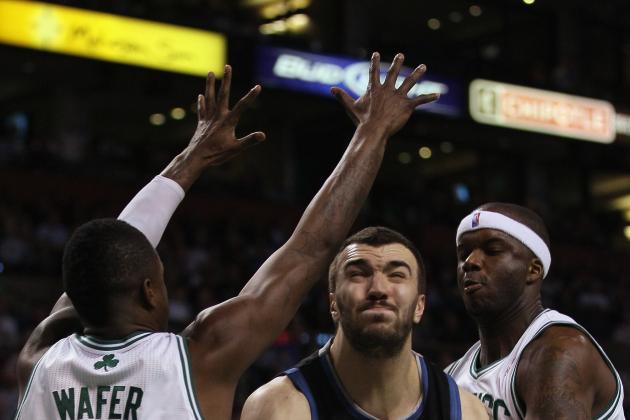 Elsa/Getty Images

54% FT / 76% FT / 16.7 points / 9.5 rebs / 1.3 assists / .8 steals / .9 blocks
Pekovic is back. Darko Milicic and Anthony Randolph aren't.
That means Coach Adelman will lean even more heavily on his Montenegrin center in the upcoming season.
Don't forget. Pek' played just 26.9 minutes per game last season. Prorate his stats to 36 minutes per game, and he averaged 18.5 points and 9.9 rebounds. Given another year of experience and fewer bodies at his position, I expect to see the scoring uptick that he's so obviously capable of.
Jamie Squire/Getty Images

48% FT / 84% FT / 24.1 points / 15.8 rebs / 3.3 assists / .8 steals / .5 blocks
There's no reason Kevin Love can't become a more efficient player.
He posted a strong but not elite 56.8 true shooting percentage in 2011-12. He'll eclipse that mark with another year of development on his three-point shot and, just as importantly, more time to develop chemistry with the prodigy at the 1 spot, Ricky Rubio.
But on a team with more talent than the 2011-12 roster, we should see a slight downtick in Love's scoring to accommodate Brandon Roy, Andrei Kirilenko and an improving Derrick Williams.
Whatever energy Love is able to conserve on offense should go straight toward his rebounding output. Especially after a summer playing with Team USA, where cleaning the glass was his first, second and third priority. Expect Love to best his league-leading 15.2 rebounds per game from 2010-11.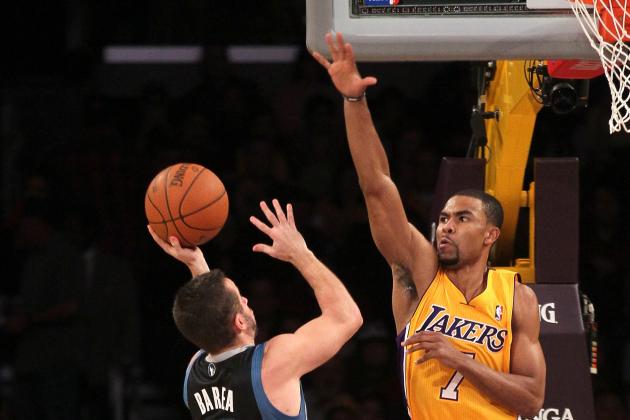 Stephen Dunn/Getty Images

43% FT / 81% FT / 8.2 points / 1.9 rebs / 4.2 assists / .4 steals / .1 blocks
This will be a tale of two seasons for Jose Barea.
Prior to Rubio's return, we'll see Unfettered Barea. The guy who posted 16 points and 9.3 assists as a starter last year, channeling his 2011 Finals performance against a shell-shocked Miami Heat team.
But all bets are off once the Spaniard hits the floor. Barea will then be one of two point guards vying for backup minutes, and while he's a good enough scorer to play minutes at shooting guard, the Timberwolves have a couple of those in the rotation as well (Roy, Shved).
Look for reduced numbers this season as Barea carves a role as Minnesota's seventh or eighth man.
.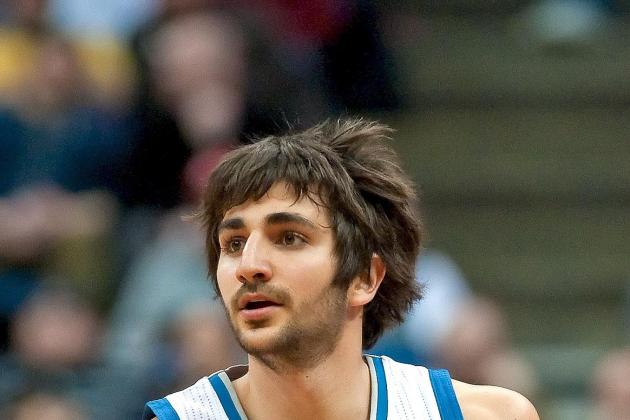 Greg Smith-US PRESSWIRE

41% FT / 83% FT / 14.3 points / 4.7 rebs / 11.8 assists / 2.9 steals / .2 blocks
This is where it gets interesting.
Rubio has the talent to lead the league in both assists and steals this season. That much is clear. What's less obvious is how much his jumper will improve. He shot a putrid 35.7 percent from the field, and at times, looked shaken after consecutive misses.
But he's still young, and his jumper isn't broken; it just needs refinement. He'll have plenty of time to add it before he's cleared for full-contact practice.
I expect that his field-goal percentage to buoy above the 40 percent mark and his scoring to rise accordingly.