Oakland Raiders: 10 Things We Learned from Week 1 Loss to San Diego Chargers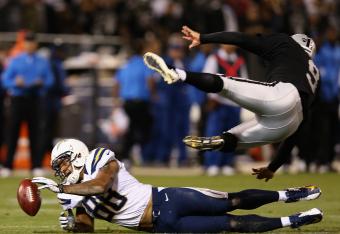 (Shane Lechler's blocked punt)
Ezra Shaw/Getty Images
The Raiders had a great chance at home to open the season 1-0 but instead head down to Miami 0-1.
Here are 10 things learned from the loss:
1. Raiders' New Offense
The Raiders offense was very efficient but lacked big plays. McFadden was the main outlet of the offense, and after the Chargers shut him down, the offense came to a halt.
Overall the offense did well but faltered in the red zone, mental errors and failure at creating the big play.
2. Carson Palmer's Safety Blanket
Carson Palmer had a very solid night statistically but failed to open the passing game and settled for a lot of check downs to his safety blanket McFadden. He will have to take a lot more chances for the Raiders to get wins.
3. McFadden Will Get a Lot of Touches This Year
McFadden had 15 carries and caught 13 passes for 86 yards.
With a run-heavy offense and Palmer throwing to him a lot, McFadden—if he can stay healthy—will put up big numbers this year.
4. Raiders' New Defense
The Raiders defense was the highlight of the game, especially against the run, which has been a major problem for the Raiders in recent years. Tonight, the defense gave up only 34 yards on 19 carries.
The secondary did well also but still gave up crucial plays on third down and one big passing play to Robert Meachem in the first half.
5. Raiders Defensive Line Needs to Step up on Passing Downs
With San Diego starting UDFA Mike Harris on its offensive line, the Raiders' pass rush was suppose to get to Rivers and disrupt him. Instead it recorded only one sack.
While it didn't get to the QB, the Raider defensive line did shine in stopping the run game, plugging gaps and closing down run lanes.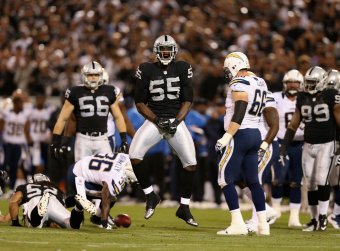 Ezra Shaw/Getty Images
6. Special Teams Needs Help
Special teams was the big let down of the game for the Raiders—not just the kicking game but the return game, too. It seems like they need to add a veteran presence to help shore up some of the problems.
Or, the special teams coach needs to refine his tactics.
7. Long Snappers Matter
Once Pro Bowl long snapper Jon Condo went down to injury, the whole kicking game went downhill, as backup Travis Goethel had two bad snaps, and the Chargers also blocked a punt.
8. Raiders Linebackers Show Promise
Former first-round pick and much-scrutinized linebacker Rolando McClain played a very solid game. He did a good job lining up the defense and was a force in the run game. He wasn't picked on in coverage, and he had his hand in putting pressure on Rivers for the Raiders only sack.
LB Philip Wheeler could be the free agent steal of the season as he did everything: One play he would be lined up on Antonio Gates; the next he would be rushing the QB. Wheeler will be key for this defense going forward.
And, finally, Mile Burris. He, too, was all over the field, finishing with seven tackles, making plays in the run game and holding up well in coverage.
A great showing from the rookie.
9. A Winnable Game
While it was a tough loss, it was not by any means a blowout, and the Raiders could have won this game had things gone there way.
There were chances in the red zone to put up more then three points, but the Raiders couldn't capitalize, if they want to win games in the NFL, they need to capitalize on all opportunities.
10. Have to Look at the Positives
While we did have a loss at home, there are positives from this game.
The defense looked good, we still have the return of injured players like Denarius Moore and Jacoby Ford to look forward to. They should add firepower to the offense and help shore up special teams play in coming weeks.
The Raiders have to move on from this loss and be ready to take on a woeful Dolphins team next Sunday down in Miami.
This article is
What is the duplicate article?
Why is this article offensive?
Where is this article plagiarized from?
Why is this article poorly edited?

Oakland Raiders: Like this team?