8 NFL Players, Teams and Coaches Who Shut Up Critics in Week 1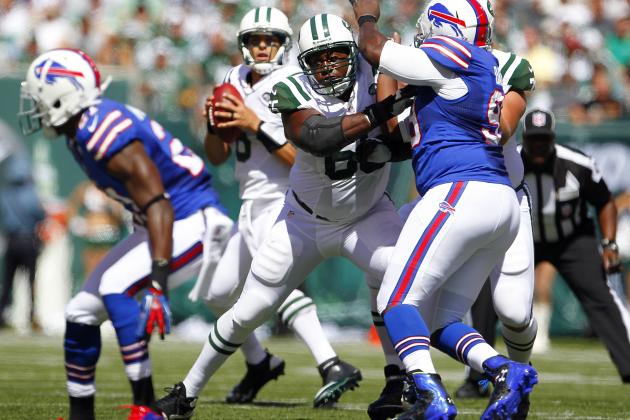 Rich Schultz/Getty Images

For seven months all NFL fans had to satisfy their insatiable thirst for the pigskin was speculation.
How would the presence of Tim Tebow affect Jets starter Mark Sanchez?
Would Andy Reid prove he was worth one more year in Philly?
And, probably the hottest topic of the offseason, would Peyton Manning be worth the money Denver paid for him coming off his latest neck surgery?
Week 1 in the NFL answered many of those questions. For some. For now.
But some under the microscope folded, while others shined.
So, who shut up the critics in the first full week of NFL games? Read on.
Begin Slideshow

»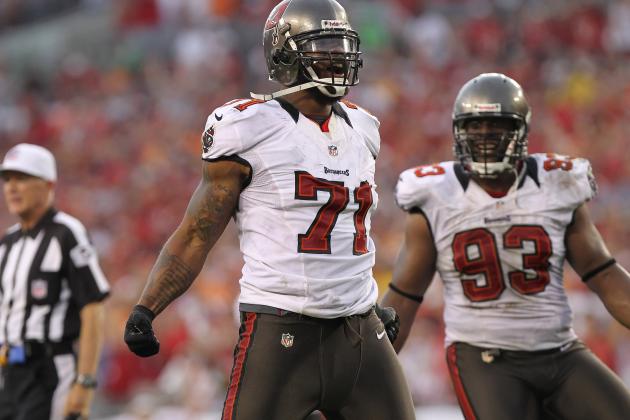 Kim Klement-US PRESSWIRE

Ronde Barber and the Tampa Bay Buccaneers silenced critics Sunday, erasing a 10-game losing streak dating back to last year, holding the Carolina Panthers to just 10 points and winning head coach Greg Schiano's debut along the way.
Tampa looked like the Bucs of a decade ago—not last year—with a swarming defense, gang tackling, punishing sacks and opportunistic interceptions.
Barber, the last holdover of the Bucs' lone Super Bowl team of 10 years ago, had an interception, a sack and helped the Bucs keep Newton out of the end zone on all but one drive.
The Bucs still have a lot to prove coming off a devastating year, but with one of the best draft classes of 2012 and a promising coach in Schiano, they look on the way to respectability.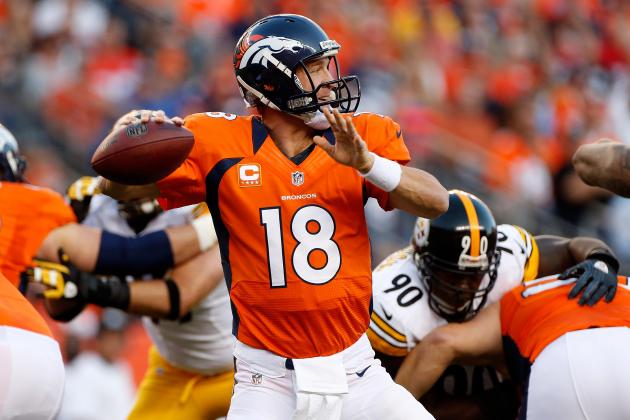 Doug Pensinger/Getty Images

File this one under D for Duh.
You knew Peyton Manning was gonna be here. No secret here. He had to be.
The four-time MVP put on a convincing show Sunday, completing 19-of-26 passes for 253 yards and two touchdowns.
More importantly, Manning popped up off the grass after two sacks that tested his neck, which is purportedly healed by four surgeries.
It's only one game, and Manning will face fiercer defenses than the one Pittsburgh put on the field, but he passed his opening day test with flying colors.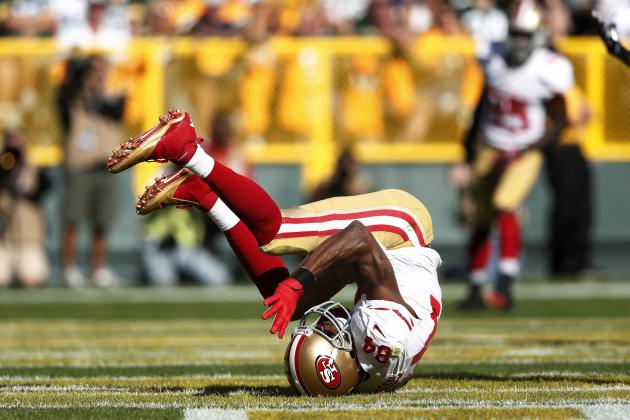 Joe Robbins/Getty Images

Moss would be No. 1 in the players-who-missed-last-year category, if not for Peyton Manning.
Moss caught four passes for 47 yards, including a 14-yard touchdown over the middle in the second quarter that gave the San Francisco 49ers a 10-0 lead over the Green Bay Packers.
Moss's touchdown was the 154th of his career, making him No. 2 in the NFL, behind another 49ers receiver you may have heard of, a Mr. Jerry Rice.
Moss celebrated by pointing to the name on his jersey—as if Niners fans needed to be reminded.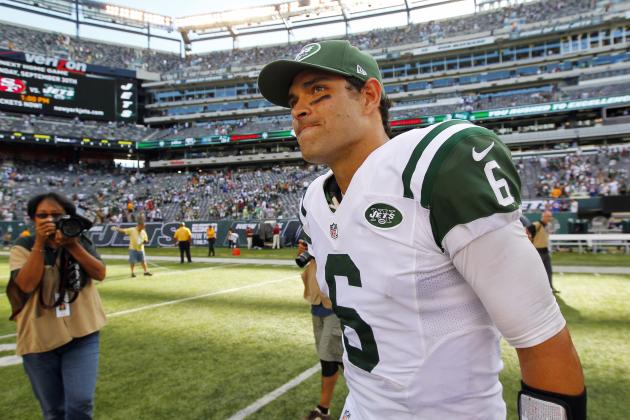 Rich Schultz/Getty Images

You have to single out Sanchez's performance—maybe the best by a skill player whose skills were most in doubt by critics and Jets fans alike.
However, you can't ignore the Jets performance on both sides of the ball either.
Sanchez went 19-of-27 for three touchdowns and one meaningless pick. He took charge in the huddle from the start and seemed impervious to the eager Tim Tebow on the sideline.
Sanchez was so efficient that new offensive coordinator Tony Sparano did not let Tebow attempt a pass.
But as good as Sanchez was throwing the ball, Ryan Fitzpatrick performed worse than Tebow on the day.
Antonio Cromartie and the Jets defense intercepted Fitzpatrick three times—with Cromartie tacking it all the way back for a pick-six.
No one saw this coming. No one.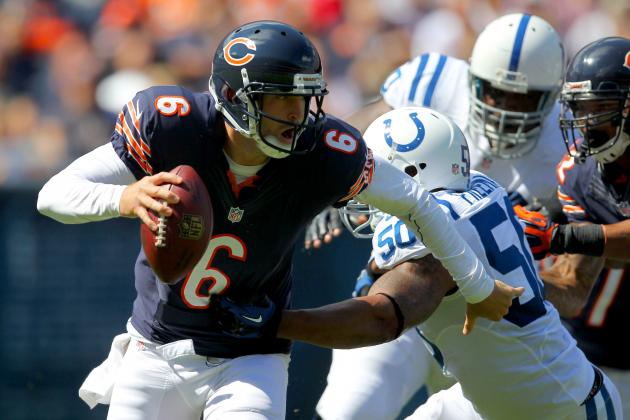 Dennis Wierzbicki-US PRESSWIRE

Jay Cutler can't seem to escape his critics.
He's not tough enough. He's not a true leader. He doesn't make the guys around him better.
That and more has been said about Cutler.
But on Sunday, Cutler stuffed the Indianapolis Colts and his naysayers with one of the week's top performances, throwing for 333 yards and two touchdowns for a 98.9 QB rating.
Cutler and the Bears were expected to beat the Colts and No. 1 pick Andrew Luck. But sometimes, for the Bears and Cutler, winning the games you're expected to win doesn't always come easy.
Last year, the Bears lost to Seattle and Kansas City at Soldier Field, with Cutler managing a mere 17 points in those two games.
Cutler and the Bears look for real in 2012.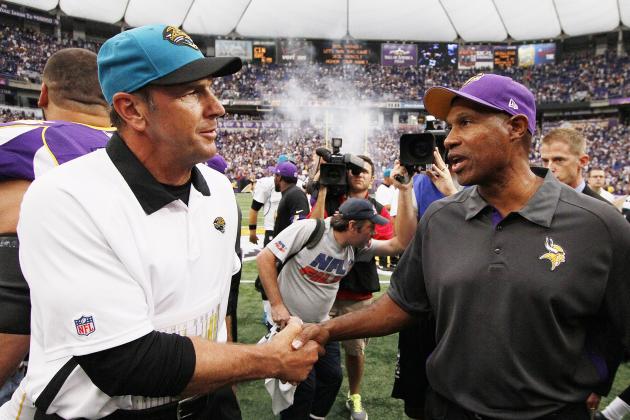 Andy King/Getty Images

Jeopardy query: Down goes Frazier, down goes Frazier.
Question: What is one of the most iconic boxing calls of all-time and a headline waiting to happen in Minnesota any week now?
But not this week.
Because the Vikings much maligned head coach, Leslie Frazier, survived the opener against the Jacksonville Jaguars, thanks mostly to a game-day decision to start Adrian Peterson and a solid game plan.
Frazier, starting his second full season as head coach, continues to preach and play his style of ball control, run-first, throw-later football. On Sunday, it worked.
The Vikings ran the ball 34 times against the Jaguars, gaining 113 yards and providing just enough guesswork for Jacksonville that Christian Ponder put together a solid game. Ponder threw for 270 yards but left the red-zone heavy lifting to the running game.
Frazier survived round one. More to come.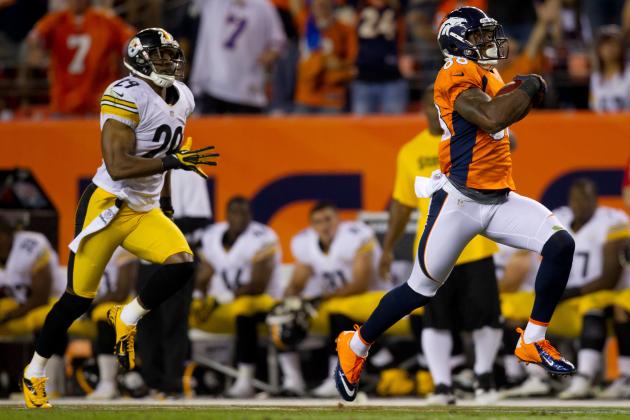 Justin Edmonds/Getty Images

Demaryius Thomas, the Broncos first-round pick in 2010, was considered by many a disappointment in his first two years, despite some slack offered for the fact he spent last year catching balls from Tim Tebow.
But this year, with four-time MVP Peyton Manning at the helm, there would be no more excuses for the former Georgia Tech standout.
Thomas offered no excuses Sunday, just catch after catch after catch.
The Broncos wideout caught five passes for 110 yards and one TD, helping Peyton and Denver overcome the Pittsburgh Steelers for a 31-19 win.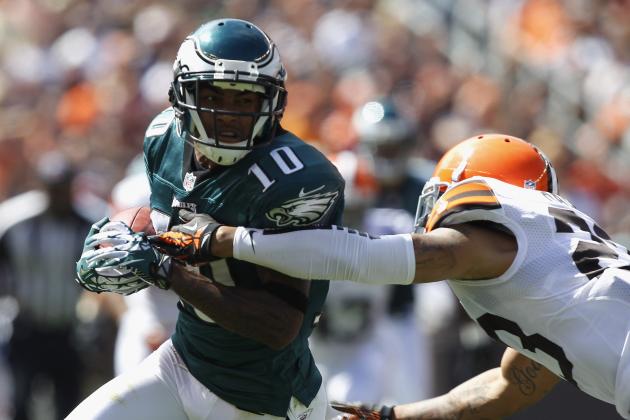 Matt Sullivan/Getty Images

DeSean Jackson has something to prove in 2012 and he started with a solid performance against the Cleveland Browns.
Jackson, who did not top 1,000 yards for the first time in his career in 2011, caught four passes for 77 yards against the Browns, though did not get into the end zone.
Jackson is an All-Pro talent with an All-Pro ego in the final year of his contract.
Would you have expected anything less than a stellar performance Sunday? Look for him to break out in the next few games if Vick gets his game back in shape.