Bengals vs Ravens: 10 Things We Learned from Cincinnati's 44-13 Loss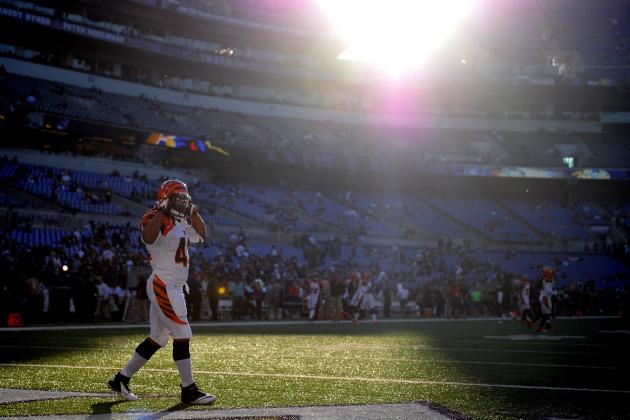 Patrick Smith/Getty Images

It was always going to be an uphill battle.
The Cincinnati Bengals traveled to Baltimore for their season opener and suffered a brutal defeat at the hands of the Ravens, 44-13.
John Harbaugh's side were in division-winning form on Monday night and proved a bridge too far for Andy Dalton and the Bengals.
The (0-1) Bengals host the (0-1) Cleveland Browns next week in their home opener and will be hoping for a quick turnaround in performance.
Here's 10 things we learned from Monday's action.
Begin Slideshow

»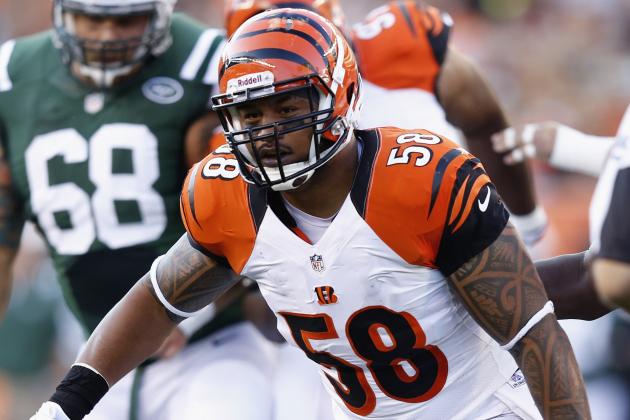 Joe Robbins/Getty Images

Prior to Monday night's game, Rey Maualuga said that his plan for this year was to "tackle the guy with the ball."
Unfortunately, his play didn't come close to backing up that simple statement.
Maualuga had his moments, one in particular came when he batted down a pass that he came close to picking off.
However, when it came to stopping the run, Maualuga was paper thin, ironic given his increasing waistline.
He struggled to get his feet set and found himself flattened, knocked over or driven out of the way on multiple occasions.
When the opposing team starts targeting the guy who is supposed to be your defensive talisman, something's not right.
The chants for Vontaze Burfict are beginning.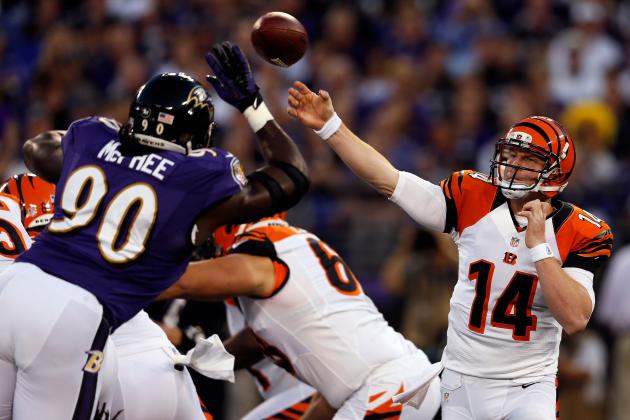 Rob Carr/Getty Images

The Bengals took a long time to get going on Monday night.
Dalton and the Cincinnati offense failed to get much going in the preseason, and their struggles spilled over into the regular season in Week 1.
The Bengals offense was made to look all the more stagnant as the Baltimore Ravens put up 17 points in their first three possessions.
Cincy trailed 17-3 in the early going, and the defense had little in the way of an answer to Joe Flacco's high-tempo offense.
The Bengals got back into game just before halftime, but with the defense having a horrendous day, Dalton and the offense never stood a chance.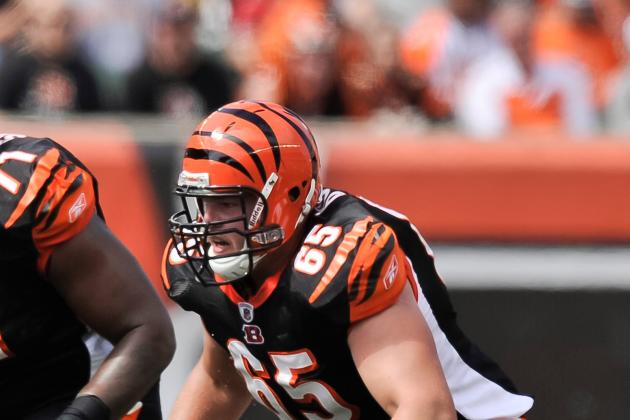 Jamie Sabau/Getty Images

Preseason injuries to Travelle Wharton and Kyle Cook thrust Jeff Faine and Clint Boling into the limelight on Monday night, alongside rookie RG Kevin Zeitler.
The run game was expected to suffer as a result of the upheaval, but the new-look offensive line gave BenJarvus Green-Ellis more than enough room to run.
However, with the Ravens scoring for fun in the second half, a tired and frustrated Bengals offensive line saw a lot of playing time.
They did not take it well.
Andy Dalton took hit after hit in the fourth quarter, and Andre Smith looked to have given up completely in the game's latter stages.
The Baltimore Ravens proved a tough test for the forced together line, and Cincinnati certainly struggled.
It's still early, but with the defense struggling, the O-line needs to give Dalton a chance to put points on the board.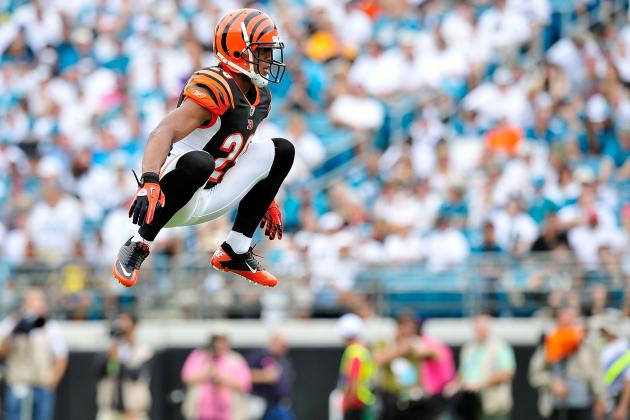 Grant Halverson/Getty Images

Leon Hall looked several steps behind in Baltimore.
Returning from a season-ending Achilles injury, Hall failed to impress for much of the season opener.
He looked visually frustrated, getting in the faces of Ravens receivers whom largely had his number all night.
His frustration seemed to get the better of him, and his standard of play was far removed from what we have come to expect from him.
A silly pass-interference penalty didn't help his case either.
Rust has to be expected when returning from such a serious injury. Hall still appears to be on the mend.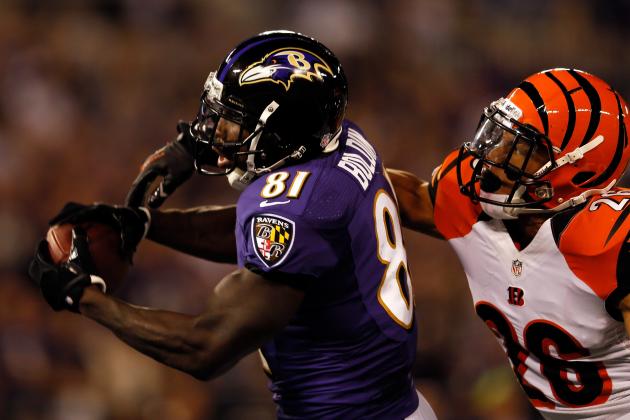 Rob Carr/Getty Images

Taylor Mays' contribution left a lot to be desired.
Mays was outclassed by Anquan Boldin for an early touchdown that he did a poor job of defending.
He also put in a brutal helmet-to-helmet hit on Ed Dickson for which he is sure to be reprimanded.
Mays was pulled shortly after and it seems his starting days are over for now.
Rookie George Iloka suffered an ankle injury in the first half and didn't return.
Jeromy Miles stepped in and put together a competent performance. He showed Mays how its done, going low on TE Dickson and sending him soaring through the air.
Miles looks to be the safe bet to start in Cleveland, but the Bengals can't be happy about the circumstances of his emergence.
Otto Greule Jr/Getty Images

Andrew Hawkins was Andy Dalton's only competent pair of hands on Monday Night.
The former Montreal Alouette showed why he is such an important player to this team by making some crucial plays and turning nothing into something on more than one occasion.
He lead the team in receiving and caught eight of the nine passes thrown his way.
With 86 yards and an average of 10.8 yards per catch, Hawkins proved reliable and consistent when the Bengals needed to move the chains.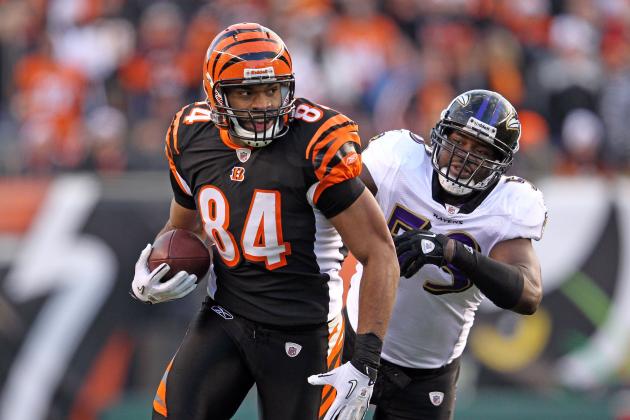 Andy Lyons/Getty Images

Will he or won't he?
Before Rob Gronkowski took the TE position up into the stratosphere in 2011, Jermaine Gresham had been touted as a future star at the position.
Flash forward to today and Gresham has yet to justify that projection.
He featured little in the preseason, and was all but a non-factor in Week 1.
Hawkins seems to have supplanted Gresham as Dalton's second favorite target, but he doesn't have the physical attributes that make Gresham so valuable.
Unfortunately, Gresham didn't break the one-catch mark until the Bengals were trailing 41-13. Far too little, far too late.
Gresham finished the day with three receptions for 30 yards and was targeted eight times.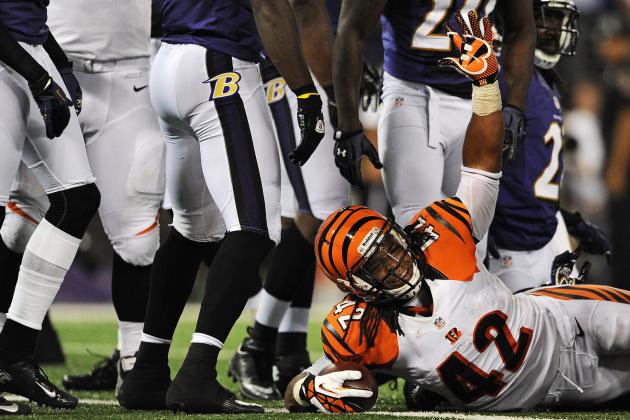 Patrick Smith/Getty Images

BenJarvus Green-Ellis did everything asked of him on Monday night.
Former Bengals bell cow Cedric Benson left behind a legacy of botched third downs, red-zone ineffectiveness and fumbles.
Green-Ellis showed none of these traits in Baltimore. He was money on third and fourth down, carrying the ball confidently in both situations.
He produced positive yardage and stayed on his feet after contact. The Law Firm also grabbed himself a touchdown on a play that saw him plow through several Ravens defenders.
BJGE showed just why the Bengals were right to sign him, and his performance showed him to be a legitimate offensive weapon going forward.
He finished the day with 91 yards and one TD on 18 carries, averaging 5.1 yards per attempt.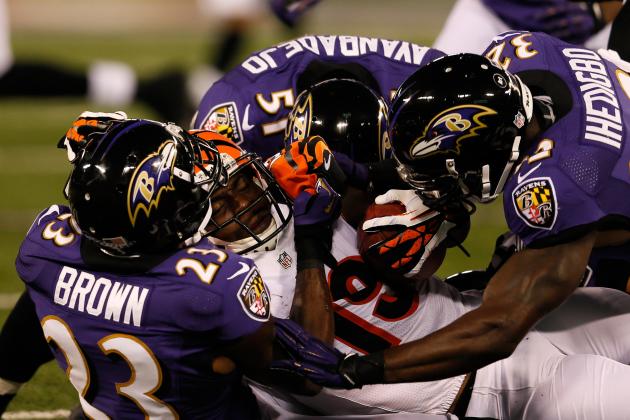 Rob Carr/Getty Images

There is no nicer way of describing Tate's performance than by saying it was woeful.
The adjacent picture sums up Tate's night.
Tate showed poor decision-making skills in the return game and was justifiably screamed at by Cedric Peerman.
The fact that Tate holds the franchise record for returns is not a reflection of his prowess, but one of the Bengals' ineptitude in the return game.
Brandon Tate also did little in the passing game to redeem himself.
Tate was targeted twice, hauling in one pass for a grand total of three yards.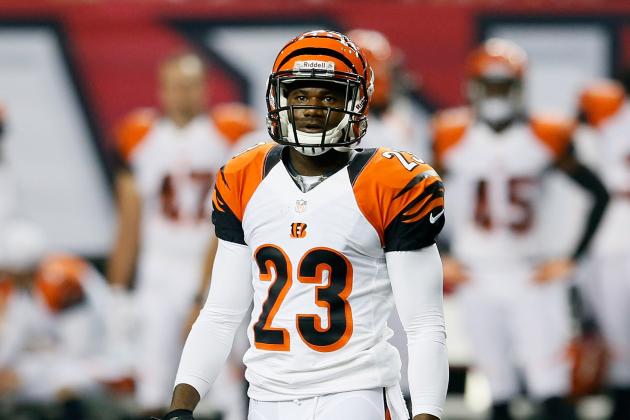 Kevin C. Cox/Getty Images

The Bengals' struggles at corner seem set to continue.
While Adam Jones relished a smaller role that saw him grab a sack, his replacement appeared to be just as ineffective.
Joe Flacco relied on Terence Newman to give up the big play and looked in the direction of the veteran corner often on Monday.
At 34 years old, Newman seems to have slowed down considerably. He struggled in Dallas last year and doesn't seem up to the task of retooling his career in Cincinnati.
Given the ageless ability of Ray Lewis and Ed Reed on display, Newman was simply incomparable on Monday night.
He got burned all night, and really played to his age.
The Bengals may have a number of names at corner, but in Week 1 they had no answers.