New York Jets: Week 2 Position-by-Position Preview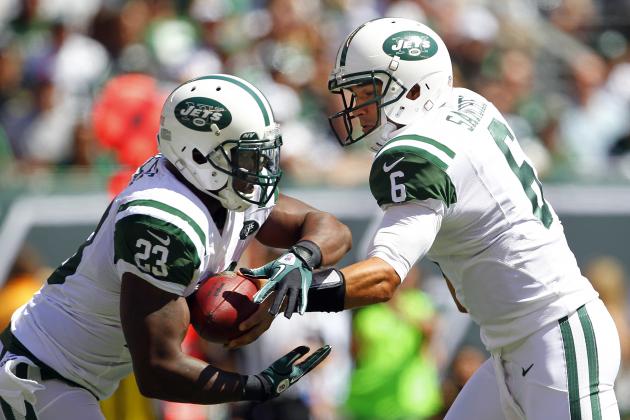 Rich Schultz/Getty Images

The Jets are riding high into Week 2 after absolutely dismantling the Bills last Sunday.
Yes, dropping 48 on a key divisional rival at home is impressive, but the team faces a much tougher challenge in Week 2.
We are likely to find out how good New York really is in the game against Pittsburgh.
Here is a position-by-position preview for the Jets in Sunday's huge contest.
Begin Slideshow

»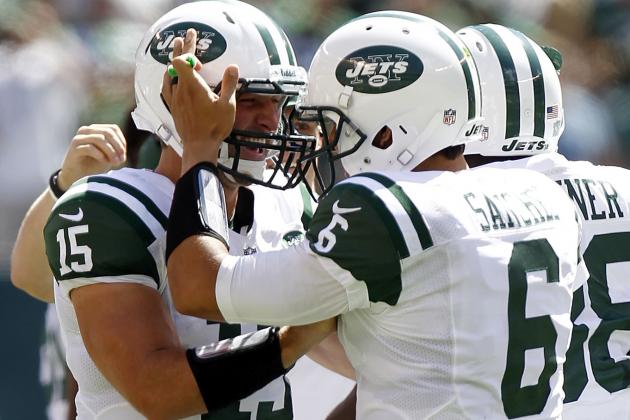 Jeff Zelevansky/Getty Images

Mark Sanchez was fantastic against the Bills as he consistently made nice decisions while avoiding the Bills pass rush.
He finished the game with 266 yards and three touchdowns while only tossing one interception.
Despite his success against the Bills, Sanchez is unlikely to repeat his numbers, as he will face one of the best defenses in the league in the Steelers.
The Steelers were the best pass defense in the league last season, but they struggled to contain Peyton Manning and his weapons in Week 1.
If Sanchez is to build on his success, he needs to attack the Steelers' second cornerback.
Pittsburgh lost William Gay to free agency, and they have yet to replace him accordingly. Keenan Lewis and Cortez Allen are highly susceptible to allowing the big play.
Don't bank on Sanchez to repeat his performance against the Bills, but don't expect him to be horrific either.
As for Tebow, expect him to be on the field for a handful of plays once again.
The former Heisman winner will struggle to get the running game going, but he might find success with a few passes out of the Wildcat.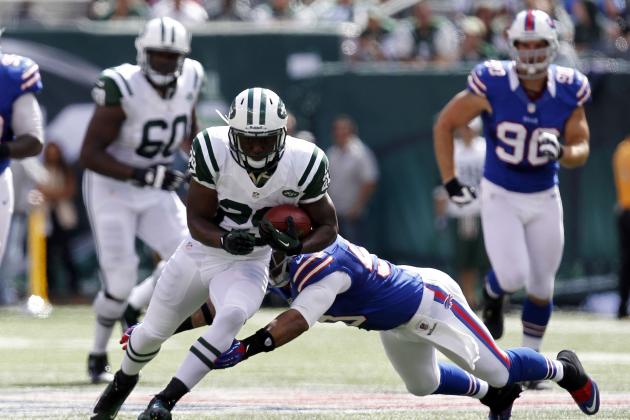 Jeff Zelevansky/Getty Images

Despite exploding on offense, the Jets running game wasn't very effective in Week 1.
The team ran the ball 36 times for just 118 yards, good for a lowly 3.3 yards per carry.
The Steelers rush defense is above-average, but it isn't elite. The unit didn't exactly dominate Willis McGahee last week.
New York will be able to run the ball, but they'll find it difficult to explode for big plays on a consistent basis.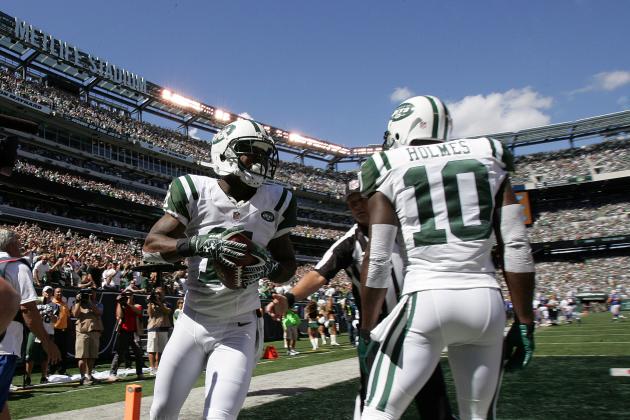 Rich Schultz/Getty Images

Wide receiver was considered one of the team's weak points heading into the season, but the corps was impressive against the Bills' inexperienced secondary.
But Pittsburgh will pose a whole different kind of challenge for New York's wideouts.
Troy Polamalu and Ryan Clark are likely to shut down anything over the middle, severely limiting Dustin Keller's and Jeff Cumberland's impacts.
Ike Taylor will also pose a difficult matchup for Santonio Holmes.
However, the corps may be able to exploit the Steelers weakness at the other cornerback spot.
Cortez Allen has struggled at times, and he has allowed a variety of big plays. The much-maligned corner will likely be matched up with rookie Stephen Hill.
Hill has the ability to dominate Allen with his combination of size and speed. He will definitely be the X-factor for the Jets offense.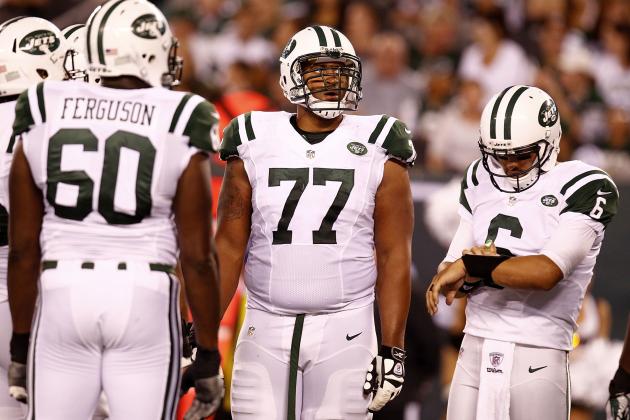 Jeff Zelevansky/Getty Images

New York's offensive line was superb against the Bills pass rush on Sunday; they did not even allow a quarterback hit, let alone a sack.
But the line will have a tough time repeating that stat against the Steelers.
Pittsburgh has a solid pass rush led by Pro Bowl outside linebackers James Harrison and LaMarr Woodley.
Both Woodley and Harrison have had at least nine sacks in every season since 2008.
Austin Howard will have to be unbelievable to prevent those ferocious linebackers from getting past him.
As for the run game, the unit may struggle to gain any sort of push.
The Steelers defensive line is stuffed with star power, none of which are bigger than mammoth nose tackle Casey Hampton.
Nick Mangold will have himself a challenge on Sunday.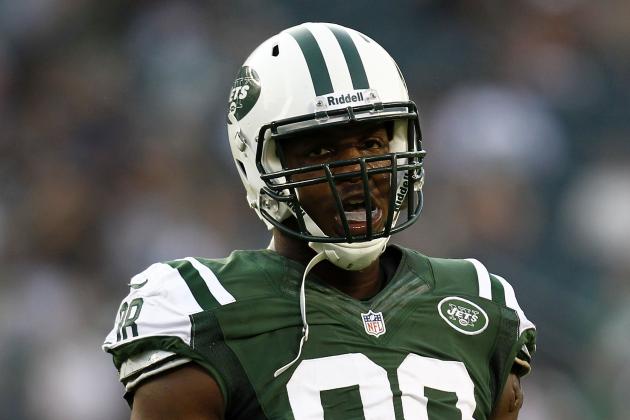 Jeff Zelevansky/Getty Images

The defensive line had extremely high expectations heading into this season, but it disappointed in Week 1.
The line allowed C.J. Spiller to run all over the field, and it was also unable to get to Ryan Fitzpatrick.
Against a horrific Steelers offensive line, the unit should excel.
Pittsburgh has had one of the worst offensive lines in the league for a while now, and it allowed five sacks against the Broncos last Sunday.
It will be without David DeCastro for the season, and Ramon Foster and Marcus Gilbert are also battling injuries.
Sione Pouha will be back in uniform for New York. His presence will drastically help the run defense, which is likely to have its way with the Steelers.
Quinton Coples may be due for a breakout game, and Calvin Pace and Muhammad Wilkerson could also rack up the sacks.
Getting a pass rush on Sunday is critical for New York to get the victory.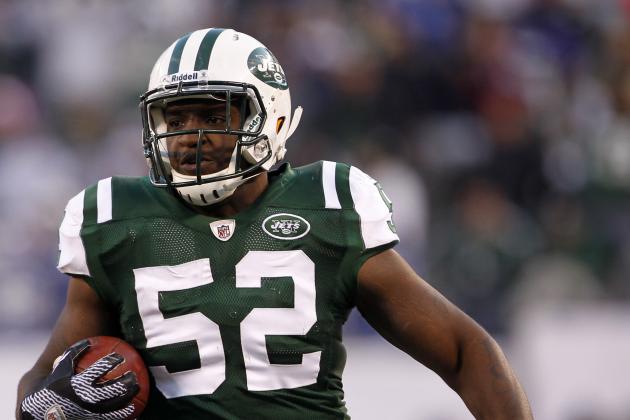 Rich Schultz/Getty Images

The Jets linebackers will have a variety of roles on Sunday.
David Harris and company will be relied upon to drop back in coverage, stack the box and defend the run as well as rush the passer.
It is key for the linebacker corps to have a good performance, as they struggled at times against the Bills.
David Harris should have a huge impact. He will be looked upon to cover both Heath Miller across the middle and get to Ben Roethlisberger in set pieces.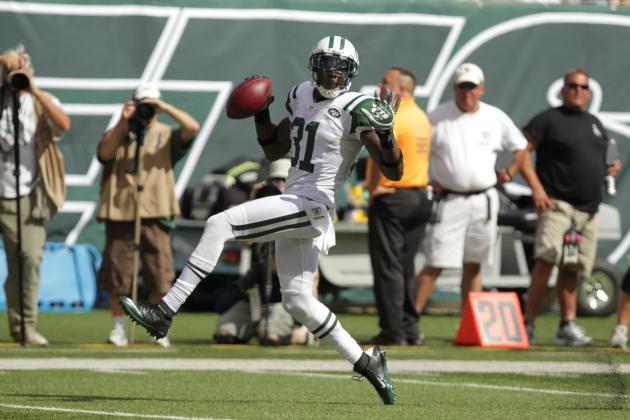 The Star-Ledger-US PRESSWIRE

Gang Green's secondary is one of the best in the game.
The unit is a tough matchup for even the finest passing attacks, and they should have a field day against Ben Roethlisberger and company.
Roethlisberger is prone to making mistakes, due to the inability of Pittsburgh's offensive line to protect him.
New York's secondary have shown they can make the most of their opponent's mistakes, as they forced four turnovers from the Bills offense last Sunday.
Darrelle Revis and Antonio Cromartie match up perfectly with Steelers speedsters Mike Wallace and Antonio Brown, and LaRon Landry and Yeremiah Bell should be able to limit Heath Miller.
New York's secondary has the advantage over Pittsburgh's passing game.
However, if Revis misses the game because of a concussion, it is a whole different story. The Steelers passing game may have the advantage in that situation.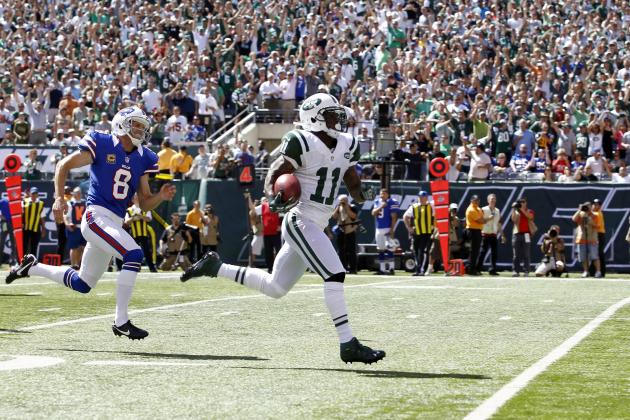 Jeff Zelevansky/Getty Images

New York's special teams has been a strength in recent years, and last Sunday showed the unit is still one of the best in the league.
Jeremy Kerley is one of the most dangerous punt returners in football, and Joe McKnight can also take it to the house at any time on kickoffs.
New addition Robert Malone is a significant upgrade in the punting game. He will help New York win field position throughout the defensive struggle-to-be in Pittsburgh.
Nick Folk is also a trusted kicking option, and he holds the advantage over Steelers kicker Shane Suisham.