San Diego Chargers vs. Oakland Raiders: Live Score, Analysis for Week 1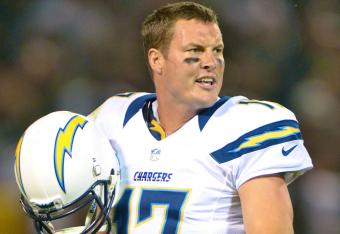 Initially, it was a hard-fought battle between the San Diego Chargers and Oakland Raiders on Monday night, but the Chargers managed to pull away with a 22-16 victory in the second half.
Philip Rivers was San Diego's only hope on offense, throwing for 231 yards and a touchdown. San Diego's running game collected just 32 yards, forcing Rivers to step up and lead his team to victory.
Oakland, on the other hand, looked strong early, but costly turnovers and miscues caused the Raiders to fall apart in the second half. The biggest story of the night was the loss of Oakland long snapper John Condo to a concussion, which resulted in the Raiders using LB Travis Goethel as a replacement. Unfortunately, Goethel's lack of experience snapping the ball resulted in a blocked punt and loss of field position on several botched snaps.
The good news for Oakland, however, was the performances of Carson Palmer and Darren McFadden. Palmer threw for one touchdown pass and 297 yards, while McFadden was equally efficient running the ball and catching passes. Obviously, these two are in sync, but it wasn't enough to get them the win. Also, Oakland's defense was impressive in stopping the Chargers' running game from getting going at all.
Overall, it was just another heated rivalry between the Chargers and Raiders on Monday Night Football.
Thanks for following us here on Bleacher Report during Week 1 of the NFL season. Be sure to keep it locked here for all your NFL games in the future, and look for all our articles providing you with team-by-team analysis.
Good night folks!
I really thought the Raiders played well despite the loss. Their defense looked phenomenal and the duo of Carson Palmer and Darren McFadden had their moments on offense.
As for the Chargers, just a dominant performance passing the ball and shutting down the Raiders' scoring opportunities.
No doubt, the second meeting between these two will be even better after getting a feel for how each other performed tonight.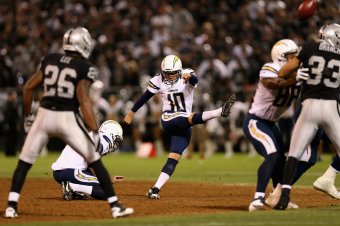 Ezra Shaw/Getty Images
And that's it folks. The Chargers hold off the Raiders for a 22-16 victory.
This should do it as the Chargers begin kneeling the ball. Like any Chargers-Raiders rivalry, these guys aren't shaking hands or saying good game. Lot of extra curricular activities going on, shoving and such.
Melvin Ingram with a smart play on that onside kick. Instead of trying to run the ball for extra yardage, he wisely gets to the ground.
The Raiders aren't quitting.
Rod Streater catches a two-yard touchdown pass from Carson Palmer. Streater also catches the two-point conversion to make this one 22-14, Chargers leading.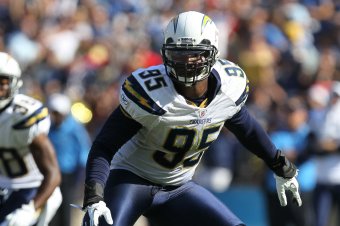 Stephen Dunn/Getty Images
Shaun Phillips gets his third sack of the night. Impressive, but the Raiders may be out of gas and giving up already. Tough to see this team unable to keep this one close.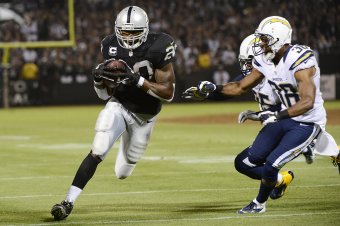 Thearon W. Henderson/Getty Images
Darren McFadden looks exhausted. This guy has been carrying the Raiders on offense since the kickoff.
San Diego is beginning to pull away, and this one might be just about over.
Kaeding hits a 45-yarder to increase San Diego's lead over Oakland 22-6 with 4:46 left in the game.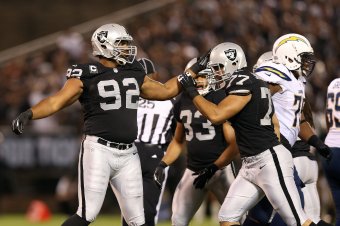 Ezra Shaw/Getty Images
I can't tell if San Diego's run game is just that bad or if Oakland's front seven is just that good. It seems like every time the Chargers run the ball, a defensive lineman is already past the line of scrimmage at the snap.
Wow. What is going on with Goethel? I commend the guy for stepping up and filling in but he's costing Oakland field position. That last snap got like an inch of air underneath it.
I bet fans will have a better appreciation for long snappers now. It's a skill that not many can master.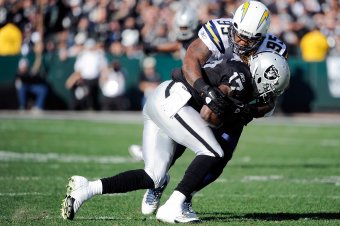 Thearon W. Henderson/Getty Images
A little spark of life from San Diego's pass rush showing up.
Shaun Phillips gets around the edge to hassle Palmer, and Donald Butler finishes the job for a sack. San Diego needs more of that right now.
Nate Kaeding is getting a ton of work tonight.
Kaeding hits a 41-yarder to give the Chargers a 19-6 lead over the Raiders with 12:48 left in the fourth quarter.
Rachel Nichols just gave us an update on Oakland's long snapper situation. Apparently, Goethel was a long snapper in high school. That was a long time ago. I guess that qualifies him for that position.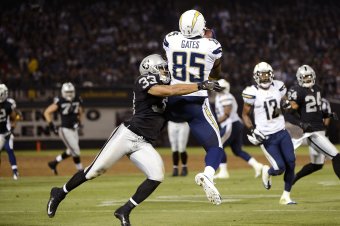 Thearon W. Henderson/Getty Images
Looks like Gates is back in, seeing as how he just came up with his fourth catch of the game. You have to give him props for playing through the pain, but he's one big hit away from missing even more time.
San Diego's defense is starting to get it together. They force a punt on that last drive. Still no pressure being put on Palmer, but the secondary is getting pass deflections and big hits on guys.
Atari Bigby nearly laid out McFadden on that last incomplete pass.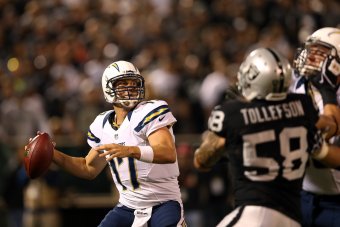 Ezra Shaw/Getty Images
Even with the great field position, the Chargers fail to punch it in. Where's the running game? Rivers can't do it alone. This Raiders defense is too good to get beat on the ground.
Nate Kaeding tacks on three more points with a 19-yard field goal to increase San Diego's lead over Oakland 16-6 with 1:49 left in the third quarter.
Yup. Remember that whole long snapper issue? That's what happened just now.
Goethel's snap was accurate but a little slow. As a result, Chargers TE Dante Rosario runs in and blocks the punt.
Nate Kaeding hits a 28-yard field goal to make it 13-6, Chargers over the Raiders with 6:01 left in the third quarter.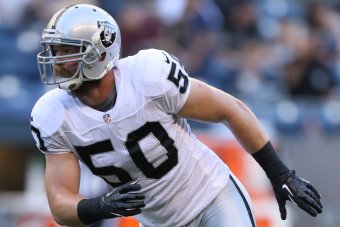 Otto Greule Jr/Getty Images
Interesting factoid on that last botched snap by Oakland on the punt. Long snapper John Condo left the game earlier with a concussion, and in his place was LB Travis Goethel. Probably a good reason for the snap error. Keep an eye on that later when the Raiders have to punt again.
ESPN's Rachel Nichols is reporting that Gates has a rib injury and is questionable to return to this game. What a huge blow that is. Gates was looking exceptional on offense, and losing him makes things tougher for Philip Rivers.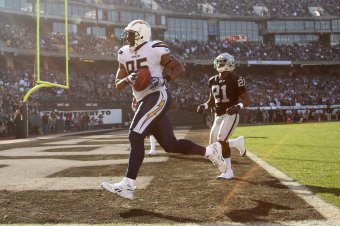 Ezra Shaw/Getty Images
Antonio Gates has headed into the locker room. He looks fine, jogging comfortably with the training staff, but no word yet on what happened.
And we're back with the start of the second half. The Chargers will receive the ball.
Go ahead and refill the snack bowl, grab another drink and empty out your bladders. This game is far from over.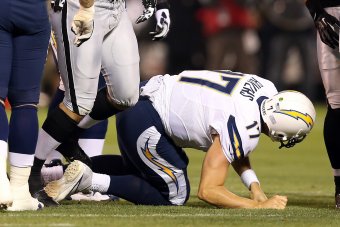 Ezra Shaw/Getty Images
At halftime, the Chargers lead the Raiders 10-6.
What a game so far. The Raiders looked very strong in the first half, both running and passing the football. The duo of Carson Palmer and Darren McFadden has looked unstoppable. It may not show it on the scoreboard, but the Raiders are still hanging tough with the Chargers.
A little bit of a different story for the Chargers. San Diego is winning this one, but it's really been Philip Rivers carrying this team. The running game is non-existent, and Oakland's defense has been getting pressure on Rivers in the pocket. How long can Rivers keep this up?
This article is
What is the duplicate article?
Why is this article offensive?
Where is this article plagiarized from?
Why is this article poorly edited?