The 7 Biggest Obstacles to an L.A. Lakers Championship Run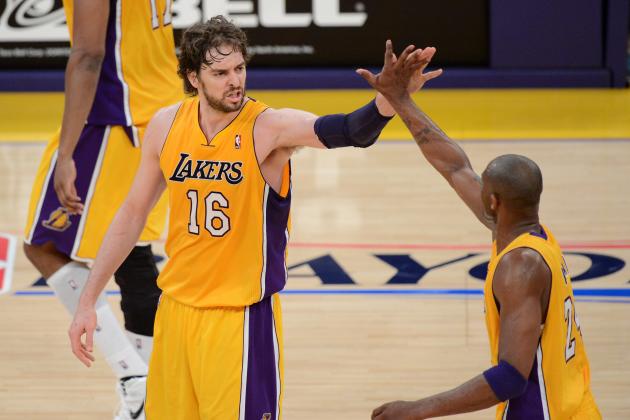 Kevork Djansezian/Getty Images
Pau Gasol and Kobe Bryant remain on the same page for the Lakers.
The Los Angeles Lakers will start the 2012-13 season as the favorites to win the NBA championship in 2013.
Talk about pressure.
Las Vegas oddsmakers peg the Lakers at 5-2 to win the crown next June, ahead of defending champion Miami (9-2) and runner-up Oklahoma City (9-4). Chicago and San Antonio are both at 10-1 to win it all.
In the course of just a few days this summer, the Lakers went from being playoff castoffs to legitimate contenders, thanks mainly to the arrival of Steve Nash and Dwight Howard. The four-team trade that sent Andrew Bynum to Philadelphia and brought D12 to L.A. was a game-changer for Los Angeles, especially considering that premier power forward Pau Gasol was not uprooted and remains with the Lakers.
Yet, being a championship-looking team on paper and actually going onto the court and achieving that are two vastly different realities. The Lakers will be hard-pressed to get to another finals and ultimately win their 17th world championship.
The Lakers will encounter numerous roadblocks, both real and imagined, along the way to a title. They will need hard work, tremendous coaching, career years from role players and luck to get to the NBA's promised land.
In a recent poll conducted by L.A. Times beat writer Mark Medina, an overwhelming 91 percent of respondents predicted that the Lakers would win the championship this season.
A lot of pieces must fall into place for that to happen. Let's take a look at the obstacles that could impede the Lakers' march to victory next June.
Begin Slideshow

»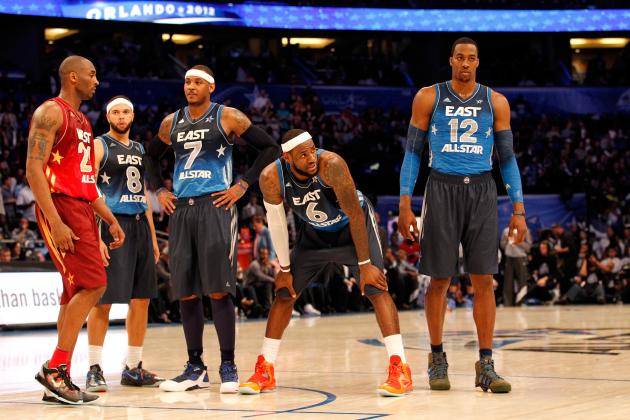 Ronald Martinez/Getty Images
Kobe Bryant and Dwight Howard have both battled injuries.
Having your star players healthy and fit throughout the season and deep into the playoffs is always a major concern in any sport. And for the Lakers, those concerns are not just for the obvious superstars Kobe Bryant and Dwight Howard.
The entire projected starting lineup of the Lakers has suffered rather serious injuries in recent years. Steve Nash (back), Howard (back), Bryant (finger, knees, nose), Metta World Peace (ankle) and Pau Gasol (shoulder, but mostly fatigue) all have suffered major wear and tear. Any long layoff could derail the team in its quest for the Larry O'Brien Trophy.
Howard's back surgery this past spring has been deemed a success, and most observers predict an early-season return to action for the 6'11" All-World center. Still, history has shown that the majority of professional athletes who suffered back injuries never fully recovered from them, and that has to give pause to any concerned fan of the team.
As inspiration, Howard can look to his new teammate Steve Nash. The 38-year-old point guard has played with back pain for much of his career and learned to effectively control the discomfort that comes with the everyday pounding.
If he needs further inspiration, there is always Kobe. Bryant has played with broken and bruised bones for long stretches of time over many years. His threshold for pain is off the charts.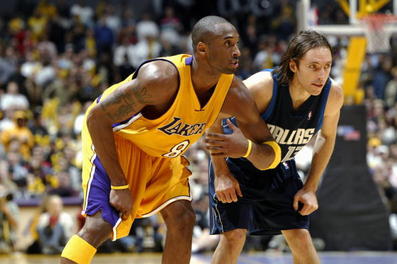 Jeff Gross/Getty Images
Bryant and Nash—fierce competitors their entire careers.
Any time you shake up a roster like the Lakers did this summer, you have to wonder if it will affect team chemistry.
Then again, it's not as if the Lakers of 2011-12 with Andrew Bynum and Ramon Sessions were the basketball version of TV's The Waltons. Bynum was often at odds with head coach Mike Brown, and Sessions never was around long enough to even wear out a welcome mat.
That said, the Lakers have assembled a monstrous lineup with egos as big as Dwight Howard's wingspan. Can Howard and Kobe Bryant put the conversation behind them from a year ago when the Mamba reportedly told D12 he would be the third scoring option if he came to Los Angeles?
Bryant vehemently denied that conversation every took place.
Will Steve Nash ever get used to playing for the team he ALWAYS wanted to beat and said as recently as June that he could not envision wearing the purple and gold? Nash and Bryant spent much of their careers growling at each other from opposite sides of the ball. Now, they must share it for 48 minutes as they gun for a world title.
The Lakers and their fans seem to thrive on drama, whether it is welcomed or not. The comparisons of this team with that of the 2004-05 group that brought in aging superstars Karl Malone and Gary Payton don't really hold water.
Howard is still in his prime at 26, and Nash is playing at a very high level at 38. Malone and Payton were not the same dominating players when they got to L.A., and it showed.
Howard and Bryant have the biggest egos, and if the team slumps, the fingers may start pointing. It will be interesting to see just how they all mesh and how focused they all are on the big prize.
Stephen Dunn/Getty Images
Mike Brown has new assistants and no excuses for not winning big this year.
The Lakers are expected to win a title every year—the pressure is enormous and anything less is considered a failure. Head coach Mike Brown can certainly attest to that.
ESPN analyst and former Laker legend Earvin "Magic Johnson" (h/t Dave McMenamin of ESPN) harshly criticized Brown as L.A. prepared to play Denver in Game 7 of their first-round playoff series last spring.
On air, Johnson said, "Mike Brown will not be coaching the Lakers if they lose this game. There would be so much pressure on (Lakers executive vice president of player personnel) Jim Buss and the Laker organization to get rid of him."
The Lakers won that game to advance to the second round, only to get crushed by Oklahoma City in five games. This year, the critics are quick to note that Brown and his newly assembled group of specialty assistants no longer have the luxury of adjustment periods.
The Lakers, with Kobe Bryant, Steve Nash, Pau Gasol and Dwight Howard, are favorites to win the Western Conference and play for an NBA title next June.
Brown hired Eddie Jordan as an assistant to help the Lakers employ a version of the Princeton offense, a system not unlike the Phil Jackson pass-happy Triangle that worked so well for so many years. Last season, the Lakers offense was about as stagnant as a non-moving stream of the L.A. River on a hot August afternoon.
Brown also brought in Steve Clifford, the same defensive whiz who mentored Dwight Howard for four seasons in Orlando. Clifford patterns his style after Chicago's Tom Thibodeau, one of the best defensive minds in the game.
The Lakers have addressed the coaching situation and look to be much stronger than a year ago. Time will tell.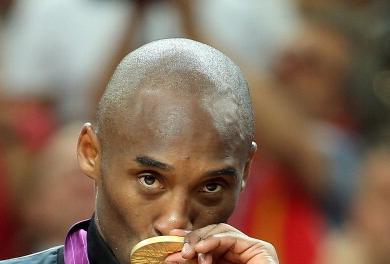 Christian Petersen/Getty Images
Kobe Bryant turned 34 in August. Even he knows his time is running out.
Aging and professional sports do not normally mix well. There are exceptions, and this year's Lakers have to hope in they are in that latter category.
Kobe is 34, Gasol is 32, MWP is 32, Steve Nash is 38 and Antawn Jamison is 36. Between them, they have averaged 90 points per game for their careers. Can they continue that level of play at their age?
Nash and Bryant have both played 16 years, Jamison has played 14, MWP has played 13 and Gasol has played 11. Pau also plays regularly with his Spanish national team, so you can add another few years to his total.
The big question is just how much gas is left in the respective tanks of these tremendous athletes? The Lakers will need plenty of minutes, plenty of points and plenty of excellent defense from Dwight Howard and their role players in order to keep the old guys fresh as the season progresses.
If Howard can average near the 20 points per game he has averaged four of the last five years and if the team can count on such backups as guard Jodie Meeks, Steve Blake and forward Jordan Hill to contribute, the Lakers should be more than OK.
Nash, Jamison, Gasol and Bryant may be older, but all are still capable of scoring the points they have averaged over their careers. Barring any major injuries, age should not matter for this group; still, it has to be a consideration.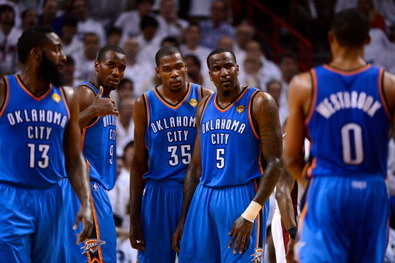 Ronald Martinez/Getty Images
James Harden, Serge Ibaka, Kevin Durant, Kenrick Perkins and Russell Westbrook present a huge obstacle.
The Lakers may be drastically better than the L.A. team that lost to the Thunder in the playoffs, but OKC is bound to be improved as well—and hungry to get back to the finals.
Three members of the Thunder played on the U.S. Olympic Team that won gold in London this summer, including high-flying Kevin Durant who solidified his place as top-scoring dog with the most points (156) and a 19.5 points per game average.
Russell Westbrook, James Harden (NBA's Sixth Man Award), Serge Ibaka and Kendrick Perkins all return for the Western Conference champions. So too do Nick Collison and defensive ace Thabo Sefolosha.
The Thunder are young, quick and one big roadblock for the Lakers. Howard matches up well with any center in basketball and should dominate over Perkins, but Westbrook will give Nash fits with his speed and ability to jump over and around just about anyone.
Durant led the NBA in scoring last year, finishing just ahead of Bryant at 28 points per game. He also shot 39 percent from beyond the arc—no one on the new-look Lakers really matches up that well with him.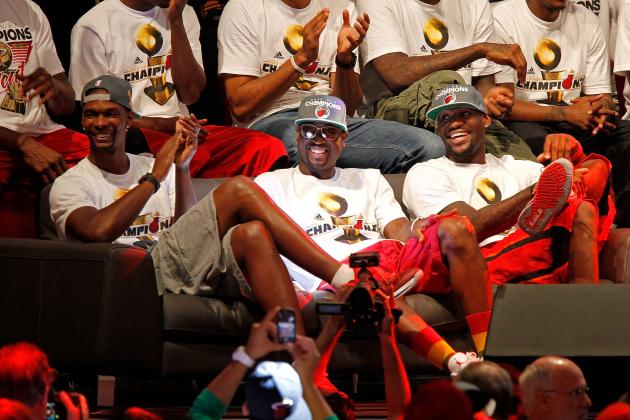 Mike Ehrmann/Getty Images
The Heat are hot in South Beach. LeBron will be looking to repeat.
LeBron James is All-Universe, and he proved that this past season and again at the Summer Games in London. His teammates in Miami, including Chris Bosh and Dwayne Wade, are not content with just one championship and are favored to get back to the finals again in 2013.
You have got to believe that many fans of the game would like nothing more than to see the Lakers and Heat do battle for the title next June and to see if Kobe Bryant can rise to the occasion one last time and stake his claim for a sixth ring.
James was simply magnificent during the regular season, averaging 27 points on 53 percent shooting (36 percent from three-point range).
In addition, his eight rebounds, six assists and two steals per game dwarfed Kobe's stats of 43 percent shooting (30 percent from beyond the arc), five rebounds, five assists and one steal per contest. Kobe averaged 27.9 points but took 1,336 shots, compared to 1,169 for James.
A Lakers-Heat final would present a number of intriguing matchups, including Wade against Kobe in the backcourt and James against everyone.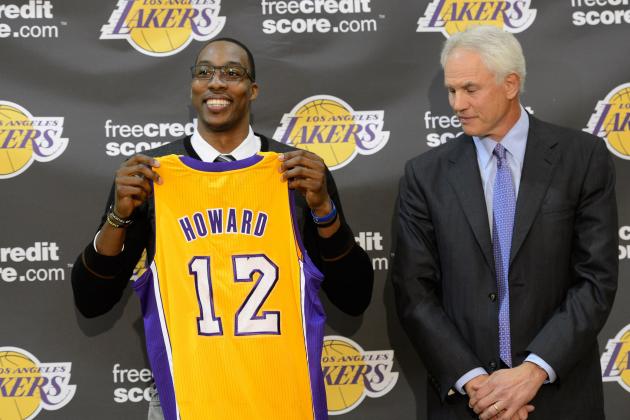 Kevork Djansezian/Getty Images
Get healthy Dwight; Lakers fans are throwing out the red carpet.
To say expectations are high in Los Angeles would be a major understatement. This team better embrace the pressure because there will be plenty to go around from the moment training camp opens in early October.
How can there not be sky-high expectations when the roster names include four future first-ballot Hall of Famers in Kobe Bryant, Dwight Howard, Pau Gasol and Steve Nash? If the league handed out trophies for rosters, the Lakers would be polishing theirs by now.
Mike Brown welcomes the pressure and the expectations that come with being head coach of this Lakers team.
"That's what I like about this job," Mike Brown told Brian Kamenetzky of ESPNLosAngeles.com. "The level of expectations that we have as an organization doesn't sit with just making the playoffs. Every year, ownership and management want to compete for a championship.
"Everybody says that — expectations, expectations, pressure, pressure, pressure. Pressure to me occurs if you're not prepared, and we'll be prepared.
"Having said that, yes, you understand people's thoughts and expectations, but I'm telling you this: I don't think there was anybody last year that expected us and said it was OK that we got knocked out in the second round, or that we didn't win the West. I don't think there's one person in L.A. that can honestly say they didn't expect more."
This year, those same people are expecting much, much more. Anything less will be considered a failure.
Now that is pressure.