Green Bay Packers: 5 Areas That Will Improve Against the Chicago Bears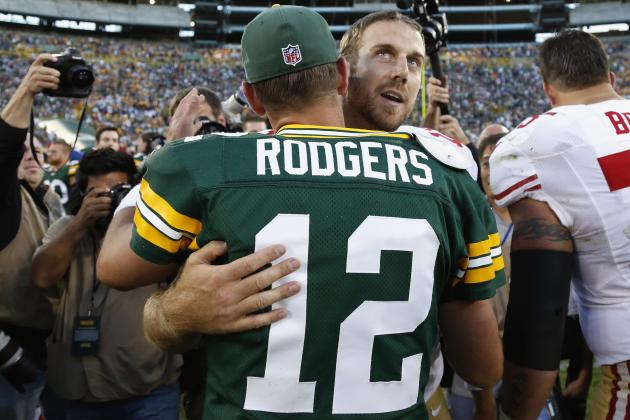 Joe Robbins/Getty Images

The Green Bay Packers' frustrating 30-22 defeat to the San Francisco 49ers happened for one reason and one reason only—the 49ers flat out beat them.
San Francisco is above average in nearly ever facet of the game, and the Packers were out-muscled in the trenches and out-smarted by the 49ers' secondary, with the Aaron Rodgers' deep ball getting swatted down on multiple occasions. The Packers' secondary had issues of their own, and all in all, it didn't appear much had changed on the Green Bay defense from a year ago.
But, let's face facts—the 49ers could very well be the best team in the NFC, if not the entire NFL. It's Week 1. There is almost nowhere to go but up.
Five aspects of the game will show improvement during Thursday's matchup with the Chicago Bears.
Begin Slideshow

»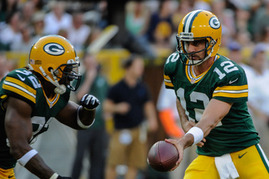 With James Starks (toe) inactive on Sunday, Cedric Benson was the lone running back for the Packers to carry the pigskin. Green Bay might have been better off not running at all, as Benson only managed 18 yards on nine carries. In fact, Aaron Rodgers was the team's leading rusher, which isn't saying much—he only totaled 27 yards.
Why did the Packers perform so poorly on the ground? You can criticize the offensive line all you want, but the fact of the matter is, the 49ers have the best run defense in the NFL, and it's not even close.
It wasn't until San Francisco's 15th game last season when the defense gave up its first rushing touchdown, and at this rate, it could go on a similar run this season.
Benson and the offensive line didn't stand much of a chance on Sunday, but on Thursday, Benson is going to pick up more than 18 yards. It would be foolish to think otherwise.
Yes, the Bears had a top ten run defense in 2011, but they had their fair share of problems against Indianapolis and Donald Brown before the Colts got behind and were forced to throw the football.
The rushing attack might not quite be where Packers' fans want it on Thursday, but it will take a step forward against the Bears.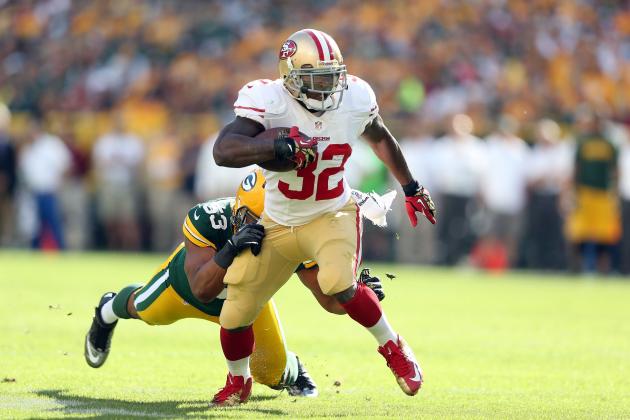 Andy Lyons/Getty Images

Where the Packers struggled, the 49ers prospered. San Francisco racked up 186 yards on the ground against the Green Bay front, and backup quarterback Colin Kaepernick nearly matched Cedric Benson's total output in one play.
The 49ers compiled 5.8 yards per carry, and that's over a yard more per carry than what the Packers allowed last season.
San Francisco's bread and butter is pounding the rock, and that along with their stingy D propelled the Niners to the NFC Championship game in 2011. Yet, that's no excuse for giving up this kind of yardage, especially after targeting defense in the NFL Draft.
Pointed fingers will be directed at the defensive line, as they probably should be. They allowed gaping holes to be formed, and the best tackler from the D-line was CJ Wilson with four—good for eighth on the team. Ouch.
There was also some poor tackling, most notably from DJ Smith and Jarrett Bush on a few separate occasions. These issues will be pinpointed before Thursday, and although the Packers will be going up against another talented running back, Matt Forte, not to mention Michael Bush, they held Forte to a whopping two yards in a Week 3 matchup last season.
This defense knows a thing or two about how to stop Matt Forte, and as a result, you'll see an improved run defense Thursday against the Bears.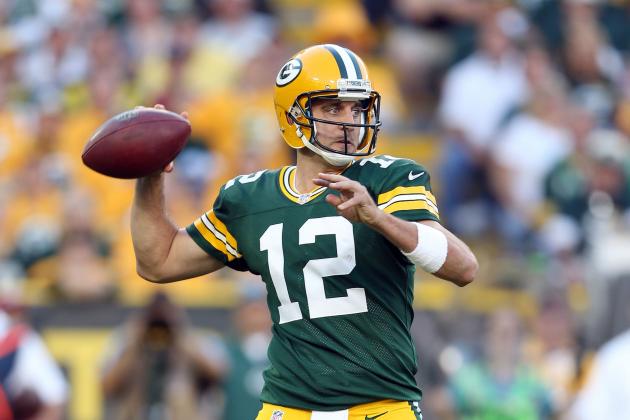 Andy Lyons/Getty Images

There's no question that Aaron Rodgers kept the Packers in Sunday's game until the very end, but we saw a few imperfections from A-Rodg against San Francisco.
The most crucial of those mistakes came in the fourth quarter with the Packers down 23-15, when Rodgers failed to see linebacker NaVorro Bowman drop into coverage and threw the ball right to him. One play later, it was 30-15, and victory became all the more difficult to obtain.
Rodgers also failed to connect on the deep ball, as his usual pinpoint accuracy abandoned him at times. As I've already done multiple times, I must dish out more credit to the 49ers as their secondary was like white on rice when it came to the Packers' receivers. Literally.
The Niner D-backs appeared to get away with their fair share of contact. If the Bears attempt to get away with a similar brand of physicality with the Green Bay wideouts, they probably won't be as lucky as San Francisco.
Up until 2011, the Bears had essentially shut down Rodgers, but last season was a different story, with Rodgers throwing for nearly 300 yards in each game against Chicago.
It was Week 1, and Rodgers wasn't quite himself. That's fair. Week 2, Rodgers' eyes should light up at the prospect of throwing against his arch rivals and one of the worst pass defenses from a year ago.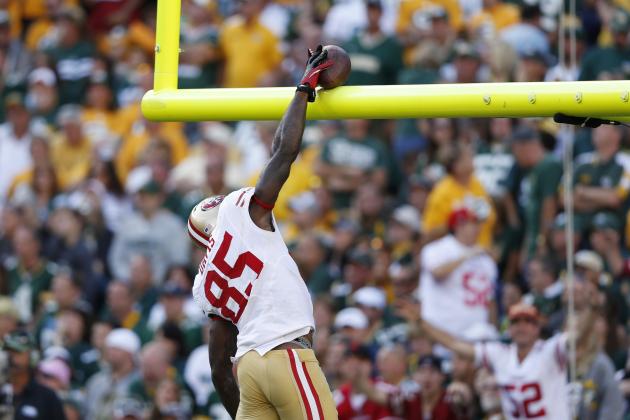 Joe Robbins/Getty Images

As opposed to last season, the Packers set up in their base defense for a majority of the snaps against the 49ers. It didn't exactly work.
There's always cause for concern when you allow Alex Smith to complete 20-of-26 passes and force zero turnovers, although Clay Matthews and Charles Woodson were able to combine for four sacks of Smith.
But, pressure on the quarterback isn't the issue here—it's figuring out how to drop back into coverage and what personnel should be used for each scheme. From what I saw on Sunday, there are a few guys who shouldn't be in coverage—and one of them is a cornerback.
The leash on Jarrett Bush is growing shorter and shorter. Had Devon House (shoulder) stayed healthy in the preseason, this wouldn't be an issue, but such is not the case. House has been limited in practice, but Casey Hayward is healthy and rearing to get a chance opposite of Tramon Williams.
There were also more secondary problems, as nickel safety MD Jennings blew an open field tackle and was subsequently replaced by Jerron McMillan. There was also a clear miscommunication on the Randy Moss touchdown reception.
Finally, watching DJ Smith and Nick Perry in coverage—especially Perry when matched with Michael Crabtree—was brutal. The loss of Desmond Bishop is huge, no doubt, but it was as if these guys were just thrown into the fire. Errr. Never mind.
The 49ers game should open the eyes of Dom Capers when it comes to who should be in for each situation. The overuse of the base defense led to linebackers matching up with receivers, and that just can't be happening if the Packers want to succeed at defending the pass.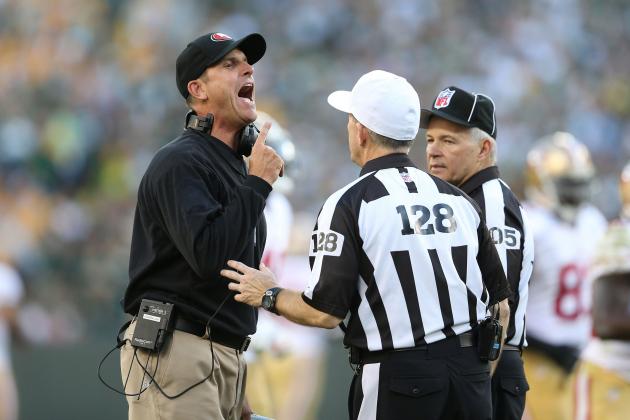 Andy Lyons/Getty Images

Yes. I'm going there.
How the Packers and 49ers were dealt one of the worst replacement officiating crews for the biggest Week 1 game on the slate will forever puzzle me, but that's what happened, and it showed—big time.
I'm aware each team was robbed on a few different occasions—the missed block in the back on Randall Cobb's return, the missed false starts and pass interference calls on the 49ers, the phantom roughing the passer call on Clay Matthews—but poor officiating is taking away from the game.
On Thursday night, all eyes will be on the Packers and Bears—at least for those of you with NFL Network. You can bet your bottom dollar that Roger Goodell won't want this game to become a mockery.
He will have one of his best, if not the best, referee crews on this one, for whatever that's worth. Thank your lucky stars, because the officiating will be improved when Chicago comes to Titletown.