Predicting the Next Hall of Famer for All 30 MLB Franchises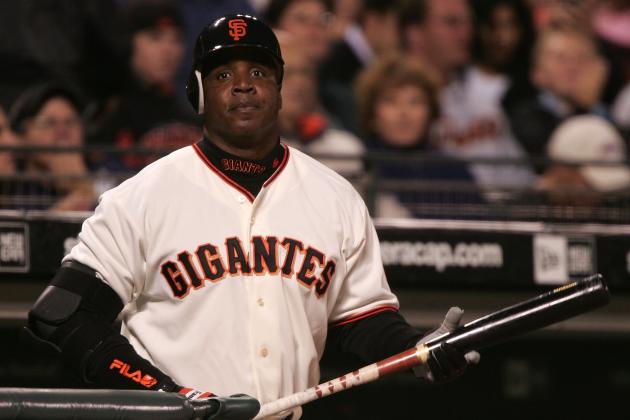 Jed Jacobsohn/Getty Images

The MLB Hall of Fame is a constant source of debate among MLB fans and analysts alike, as there will always be players on the fringe of induction who some believe should be in and they are joined each year by a fresh crop of eligible players.
The upcoming wave of sluggers from the Steroid Era (and Roger Clemens) should make for interesting ballot results the next few seasons and whether or not the public's opinion changes on how PED users fit into the history of the game will be a major factor.
With all of that taken into account, here are my predictions on who the next player from each MLB franchise to earn Hall of Fame induction will be. I'm not saying I think all of these players are deserving, but simply predicting who will join the all-time greats in Cooperstown in the years ahead.
Begin Slideshow

»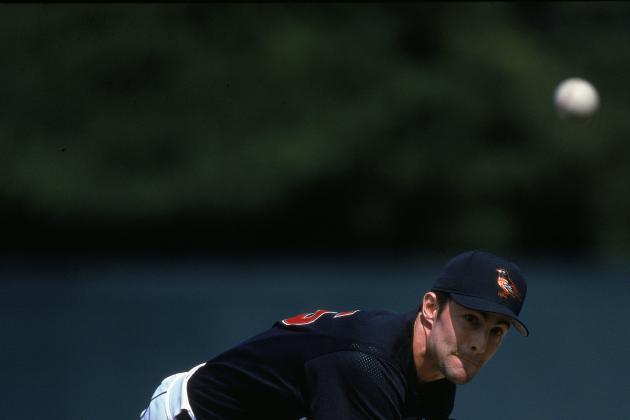 Harry How/Getty Images

Career Stats
270-153, 3.68 ERA, 123 ERA+, 2,813 Ks, 3,562.2 IP
Teams
Orioles (1991-2000), Yankees (2001-2008)
Career Review
Perhaps the most underrated starter of the 1990s, Mussina won at least 15 games 11 different times during his 18-year career. He finished in the top ten in Cy Young voting nine times and made five All-Star teams.
His 270 wins leaves him short of the magic 300 milestone, but his peripheral numbers boost his Hall of Fame credentials. His 78.1 career WAR ranks 20th all-time among pitchers and given the fact that he pitched at such a high level during a time when offense reigned should be enough to earn him induction.
Ezra Shaw/Getty Images

Career Stats
219-100, 2.93 ERA, 154 ERA+, 3,154 Ks, 2,827.1 IP
Teams
Dodgers (1992-1993), Expos (1994-1997), Red Sox (1998-2004), Mets (2005-2008), Phillies (2009)
Career Review
Martinez began his career as a lights-out reliever with the Dodgers, before joining the Expos in a one-for-one deal for Delino DeShields in a trade that has gone down as a one of the most lopsided in baseball history.
His final season in Montreal resulted in his first Cy Young award, and kicked off what was perhaps the greatest seven-year pitching stretch in baseball history. He went 118-36 with a 2.20 ERA, pitching the next six seasons with the Red Sox. During that span, he won five ERA titles, three strikeout titles and three Cy Young awards.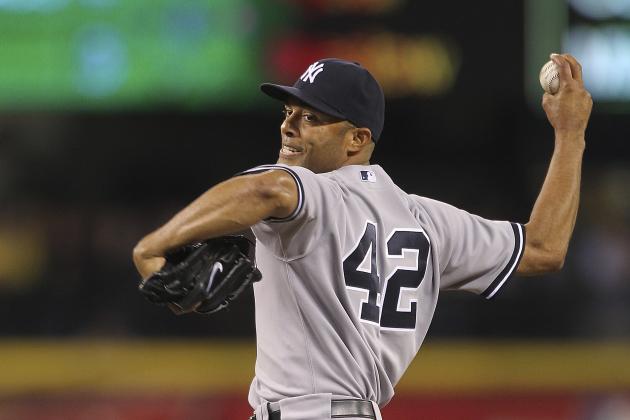 Otto Greule Jr/Getty Images

Career Stats (as of 9/11/12)
1,051 G, 76-58, 608 SV, 2.21 ERA, 1,119 Ks, 1,219.2 IP
Teams
Yankees (1995-2012)
Career Review
Rivera took over as the Yankees closer when John Wetteland departed following the 1996 season, and in his first year in the role saved 43 games while posting a 1.88 ERA.
Using almost exclusively a cut fastball, Rivera went on to become the best reliever in baseball history as he's racked up a record 608 saves during the regular season and tacked on another 42 saves and a 0.70 ERA in 96 postseason appearances. He'll attempt to come back from tearing his ACL next season, but even if his career has come to an end he should be a first-ballot Hall of Famer.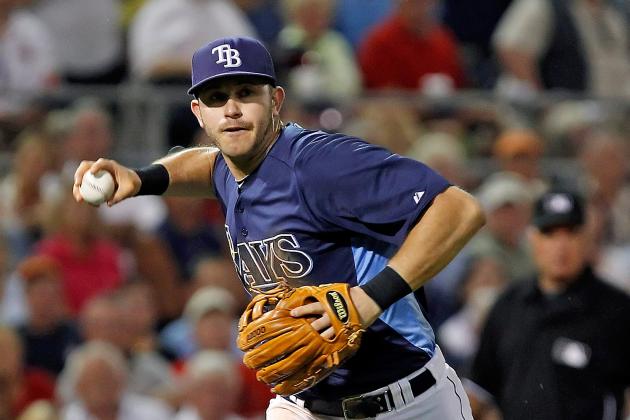 J. Meric/Getty Images

Career Stats (as of 9/11/12)
.276/.360/.514, 629 H, 124 HR, 441 RBI, 367 R
Teams
Rays (2008-2012)
Career Review
To date, no one has made the Hall of Fame for the Rays, although Wade Boggs did close out his Hall of Fame career with the team.
Only 26 years old and in just his fifth big league season, and argument can already be made that Longoria is the greatest player in franchise history. He's signed with option years through 2016, so he'll be in Tampa Bay for some time and if he can stay healthy and play into his late-30s he could certainly put himself in position to be a Hall of Famer.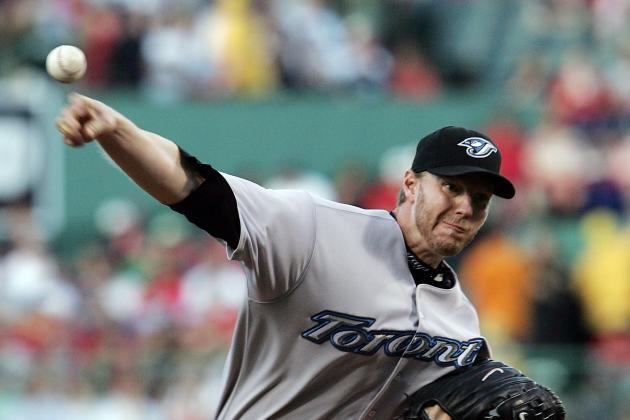 Elsa/Getty Images

Career Stats (as of 9/11/12)
197-99, 3.26 ERA, 136 ERA+, 2,043 Ks, 2,668.1 IP
Teams
Blue Jays (1998-2009), Phillies (2010-2012)
Career Review
Halladay will be an interesting case when it comes to his Hall of Fame candidacy, as his numbers will likely wind up well short of the usual Hall of Fame benchmarks.
However, he is unquestionably one of the best pitchers of his era and we are in an age where 250 wins could very well be the new 300 wins. He has a pair of Cy Young awards and eight season with at least 15 wins, while ranking as the workhorse of his generation with the league-lead in complete games seven times and shutouts four times.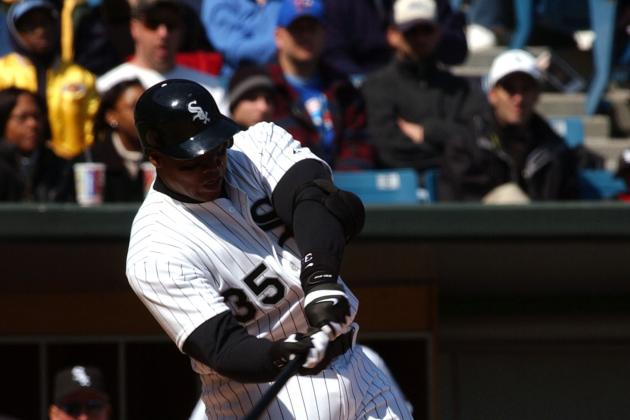 Jonathan Daniel/Getty Images

Career Stats
.301/.419/.555, 2,468 H, 521 HR, 1,704 RBI, 1,494 R
Teams
White Sox (1990-2005), A's (2006), Blue Jays (2007-2008), A's (2008)
Career Review
There may have been no more feared slugger in baseball during the 1990s than Frank Thomas. He racked up a .320/.440/.573, 301 HR, 1,040 RBI line during the decade and won a pair of MVP awards in the process.
As good as he was during the 1990s, few players have put up better numbers in their age 38 and 39 seasons, as he hit .274/.379/.511, 65 HR, 209 RBI over the last two full years of his career. He did spend a good deal of his career at DH, but that likely won't be enough to make voters think twice about his candidacy.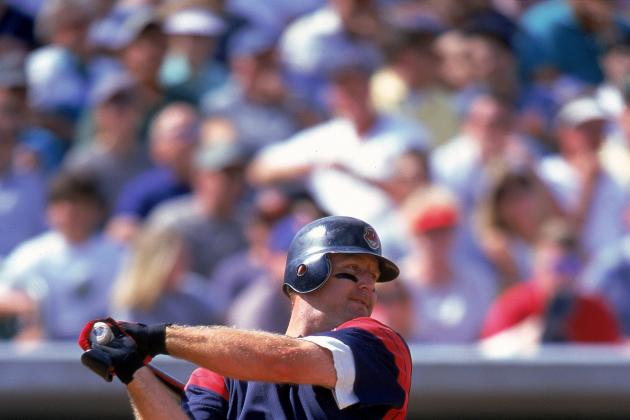 Jed Jacobsohn/Getty Images

Career Stats (as of 9/10/12)
.277/.402/.555, 2,320 H, 611 HR, 1,695 RBI, 1,581 R
Teams
Indians (1991-2002), Phillies (2003-2005), White Sox (2006-2009), Dodgers (2009), Twins (2010-2011), Indians (2011), Phillies (2012), Orioles (2012)
Career Review
One of the most consistent power hitters of all time, Thome has recorded 12 seasons of 30-plus home runs during his career, including six with 40-plus. He also has phenomenal plate discipline, with nine seasons of over 100 walks and a .402 career on-base percentage.
He currently sits at seventh on the all-time home run list, and needs 20 more to pass Ken Griffey Jr. to move into sixth place. He's never been a big headline grabber, but he's put together one of the greatest offensive careers of all-time and he has always been one of genuinely good guys in the sport.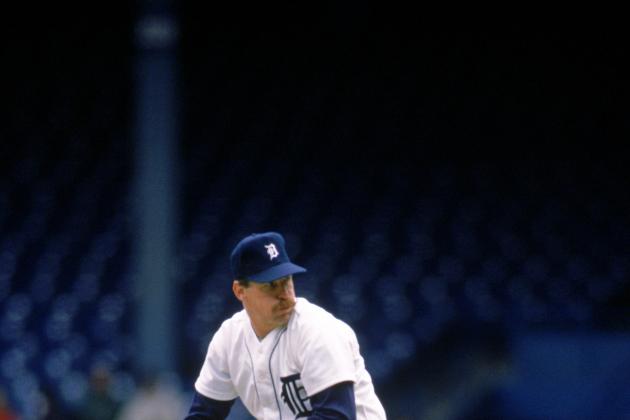 Rick Stewart/Getty Images

Career Stats
254-186, 3.90 ERA, 105 ERA+, 2,478 Ks, 3,824 IP
Teams
Tigers (1977-1990), Twins (1991), Blue Jays (1992-1993), Indians (1994)
Career Review
Morris will be entering his 14th year on the Hall of Fame ballot this next time around, and he is coming off his biggest year of support yet as he received 66.7 percent of the vote last time.
His ERA would be among the highest of anyone inducted and he doesn't have the gaudy win total, but Morris was arguably the best pitcher of the 1980s and a proven big-game pitcher. His 10-inning shutout of the Braves in Game 7 of the 1991 World Series ranks as one of the greatest pitching performances in baseball history.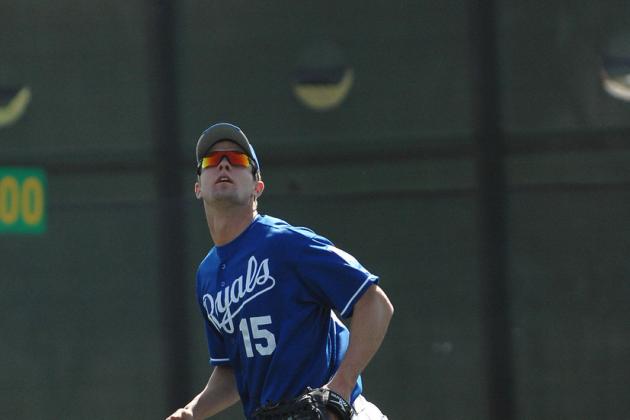 Photo Credit: Royals Review
Career Stats (as of 9/11/12)
.275/.371/.485, 55 H, 10 HR, 33 RBI, 35 R, 10 SB in Rookie League
Teams
Royals farm system (2012)
Career Review
And we officially have our first outlandish prediction, as Starling is all of 20 years old and has 53 games at the lowest level of the minors under his belt after being taken fifth overall in the 2011 draft.
There is still a long road ahead, but even where he's at in his progression right now few players have the raw tools that Starling does as he is a true five-tool talent. He has as good a chance as any prospect of being a Hall of Famer, and if he can reach his potential ceiling he could very well do just that.
Photo Credit: Topps
Career Stats
283-237, 3.45 ERA, 108 ERA+, 2,461 Ks, 4,530.1 IP
Teams
Senators (1959-1960), Twins (1961-1973), White Sox (1973-1975), Phillies (1976-1979), Yankees (1979-1980), Cardinals (1980-1983)
Career Review
Over a career spanning 25 seasons, Kaat reached double digits in wins 15 straight seasons from 1962-1976, topping 20 wins three times, including a league-high 25 in 1966. He was also a fantastic defensive pitcher, winning 16 Gold Glove awards.
Kaat appeared on the Veteran's Committee ballot last time around, receiving nine of a necessary 12 votes for induction. Given that boost in support, there is a good chance that next time around could be the one that results in the now-73-year-old earning enshrinement.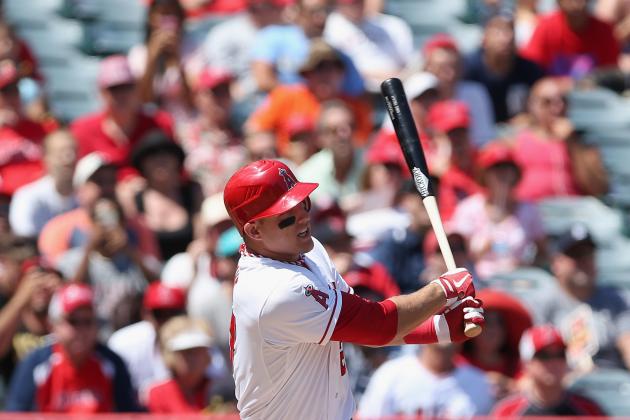 Jeff Gross/Getty Images

Career Stats (as of 9/11/12)
.306/.371/.553, 185 H, 32 HR, 93 RBI, 133 R, 49 SB
Teams
Angels (2011-2012)
Career Review
Too soon? Sure he's just over a month removed from his 21st birthday, but what Trout has done this season as a rookie screams future Hall of Famer. He's not only a lay-up choice for AL Rookie of the Year, but a legitimate MVP contender with a .328 BA, 27 HR, 77 RBI, 113 R, 45 SB line as he leads the AL in batting average, runs and steals.
He's got a lot of career ahead of him, and it's certainly too soon to call him anything but a terrific young player, but if I had to put money on who would be the next enshrined Angels player mine would be on the current team's phenom.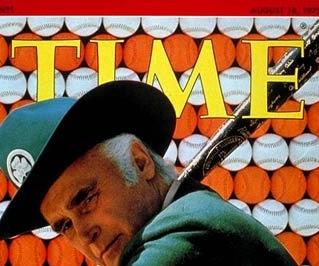 Photo Credit: Time Magazine
Career Stats
N/A
Teams
A's Owner (1961-1980)
Career Review
This is a bit of a cop out, as Finley was not a player, but the simple fact is that no one past, present or for the foreseeable future with the A's is headed for enshrinement. Sorry Mark McGwire, it's just not going to happen any time soon.
Finley, on the other hand, could be a Veteran's Committee selection very soon after appearing on the ballot that eventually elected Ron Santo. Finley was one of the most innovative owners in baseball history as this article shows (h/t to myself), and he helped lead the A's to five straight playoff appearances and three straight World Series titles during the 1970s.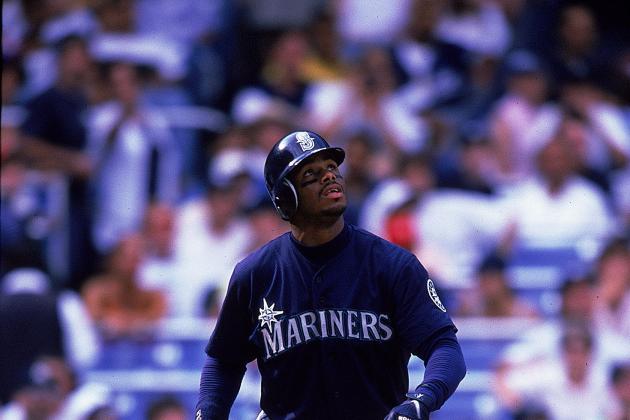 Ezra Shaw/Getty Images

Career Stats
.284/.370/.538, 2,781 H, 630 HR, 1,836 RBI, 1,662 R
Teams
Mariners (1989-1999), Reds (2000-2008), White Sox (2008), Mariners (2009-2010)
Career Review
One of the biggest "what ifs" in sports history, Griffey still put together one of the greatest careers in baseball history despite missing time due to injury year-in and year-out during his prime.
Currently sixth on the all-time home run list, he very well could have been the all-time home run leader if he had stayed healthy. Still, his numbers speak for themselves, and outside of his production on the field he was a fan favorite not just in Seattle but league-wide as the face of the sport during the 1990s.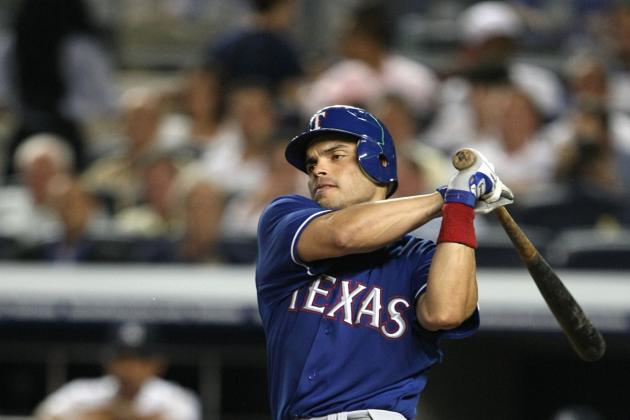 Al Bello/Getty Images

Career Stats
.296/.334/.464, 2,844 H, 311 HR, 1,332 RBI, 1,354 R
Teams
Rangers (1991-2002), Marlins (2003), Tigers (2004-2008), Yankees (2008), Astros (2009), Rangers (2009), Nationals (2010-2011)
Career Review
While he was unable to become the first catcher to reach the 3,000 hit milestone, Rodriguez wrapped up his career as one of the greatest backstops to ever play the game.
He has the record for most games caught, hits by a catcher, caught-stealing percentage (46 percent) and ranks second to Johnny Bench with a career 63.7 WAR. He won 13 Gold Glove awards, made 14 All-Star teams and was named AL MVP in 1999. Bench may get the nod, but Rodriguez is squarely in the discussion for greatest catcher of all-time.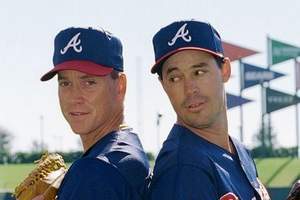 Photo Credit: Rowland's Office
Maddux Career Stats
355-227, 3.16 ERA, 132 ERA+, 3,371 Ks, 5,008.1 IP
Glavine Career Stats
305-203, 3.54 ERA, 118 ERA+, 2,607 Ks, 4,413.1 IP
Maddux Teams
Cubs (1986-1992), Braves (1993-2003), Cubs (2004-2006), Dodgers (2006), Padres (2007-2008), Dodgers (2008)
Glavine Teams
Braves (1987-2002), Mets (2003-2007), Braves (2008)
Career Review
Maddux and Glavine rank not only among the best pitchers of the past 30 years, but are two of the greatest pitchers of all time. They also just so happened to be teammates from 1993-2002 as they teamed with fellow Hall of Fame candidate John Smoltz to form one of the greatest rotations of all time.
The pair combined for six Cy Young awards and 25 postseason victories, and it was only fitting that they retired the same season and will no doubt be enshrined together in 2014.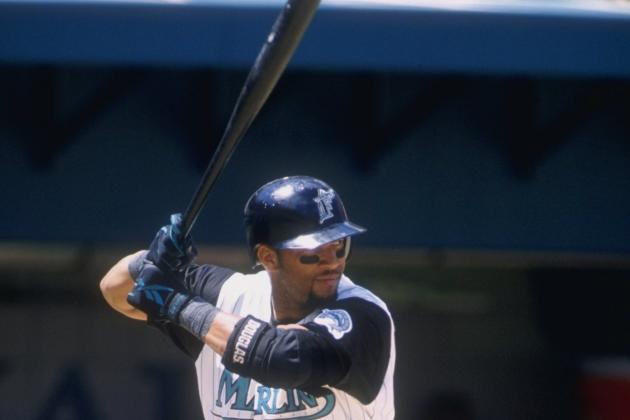 Scott Halleran/Getty Images

Career Stats
.292/.393/.514, 2,689 H, 509 HR, 1,676 RBI, 1,636 R, 253 SB
Teams
Brewers (1988-1991), Padres (1992-1993), Marlins (1993-1998), Dodgers (1998-2001), Braves (2002-2003), Yankees (2004-2006), Tigers (2007-2008), Mets (2009)
Career Review
Let me first clarify this by saying I don't think that Sheffield is going to be enshrined anytime soon, as steroid allegations will likely hang over his candidacy for quite a while.
However, he's currently the only Marlins player past or present who has any shot at making the Hall. If the opinion on PED users place in the Hall changes, as many think it will down the line, Sheffield certainly has the numbers and the track record as a dominant and feared player that could result in enshrinement. Again though, it'll likely take a while if it happens at all.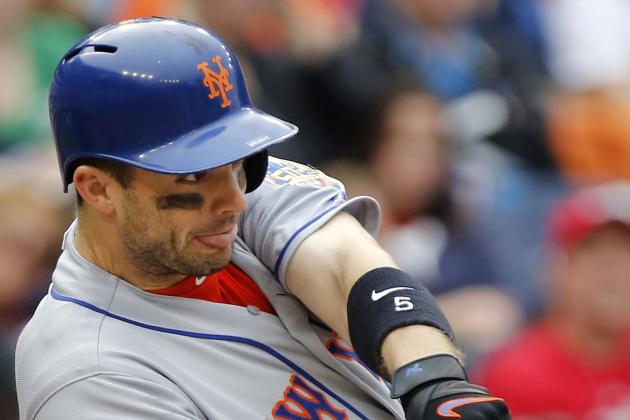 Jonathan Ernst/Getty Images

Career Stats (as of 9/11/12)
.301/.382/.506, 1,406 H, 200 HR, 805 RBI, 780 R
Teams
Mets (2004-2012)
Career Review
Wright had enjoyed a solid bounce-back season this year after missing significant time in 2011, and he is likely headed for a major payday when his current contract expires after next season.
He's already put up terrific career numbers at the age of 29, and if he can remain healthy moving forward he should retire among the most prolific third basemen of all-time. Compared to other third baseman at the age of 29 he ranks fifth in RBI to a pair of Hall of Famers in Ron Santo and Eddie Mathews and a pair of aging greats in Adrian Beltre and Scott Rolen.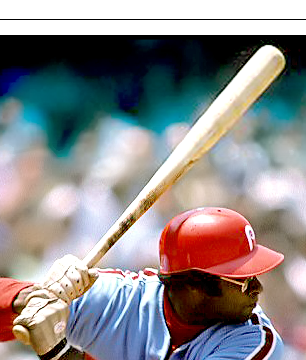 Photo Credit: Dick Allen HOF (blogspot)
Career Stats
.292/.378/.534, 1,848 H, 351 HR, 1,119 RBI, 1,099 R
Teams
Phillies (1963-1969), Cardinals (1970), Dodgers (1971), White Sox (1972-1974), Phillies (1975-1976), A's (1977)
Career Review
One of the most feared sluggers of the 1960s, Allen has yet to earn enshrinement due largely to his somewhat short career. However, he still managed to pile up the statistics during his 15-year career as he tallied six seasons of over 30 home runs as he led the league in longballs twice.
Allen appeared on the last Veteran's Committee ballot, and his strongest point may be his 156 OPS+ which ranks fourth among players not enshrined. He didn't bring the best presence to the clubhouse, but he wouldn't be the first Hall of Famer to fall into that category. As of now, he has the best chance of any Phillies player to be enshrined in my mind.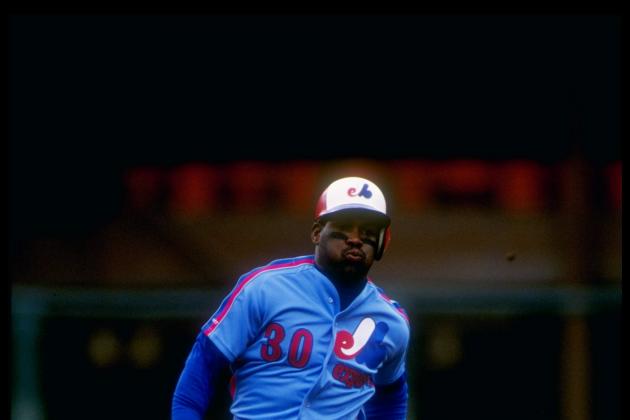 Otto Greule Jr/Getty Images

Career Stats
.294/.385/.425, 2,605 H, 170 HR, 980 RBI, 1,571 R, 808 SB
Teams
Expos (1979-1990), White Sox (1991-1995), Yankees (1996-1998), A's (1999), Expos (2001), Orioles (2001), Marlins (2002)
Career Review
Raines is entering his sixth year on the ballot and has seen his support slowly increase each season to a high of 48.7 percent this past year. It will likely be at least a few years before he is enshrined, given the upcoming classes of players, but he has the credentials to eventually wind up in Cooperstown.
He is one of the best leadoff hitters of all time, leading the league in steals four times and eclipsing the 70-steal mark six times in his career en route to ranking fifth all-time in thefts. With a strong on-base percentage and solid numbers across the board throughout his 23-year career, he'll wind up enshrined sooner or later.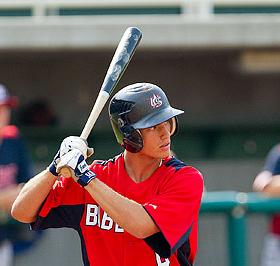 Photo Credit: ESPN
Career Stats (as of 9/11/12)
.321/.331/.464, 45 H, 2 HR, 19 RBI, 27 R in minors
Teams
Cubs farm system (2012)
Career Review
The Cubs first-round selection, sixth overall in this past year's draft, Almora was viewed by many as the best all-around prospect and perhaps the safest selection in the draft.
A terrific leader and great clubhouse guy by all accounts, Almora has significant experience playing for Team USA and has the tools to move quickly through the Cubs system despite being taken out of high school. He could be a cornerstone of the team's return to contention and if he reaches the ceiling many believe he has then the sky is the limit.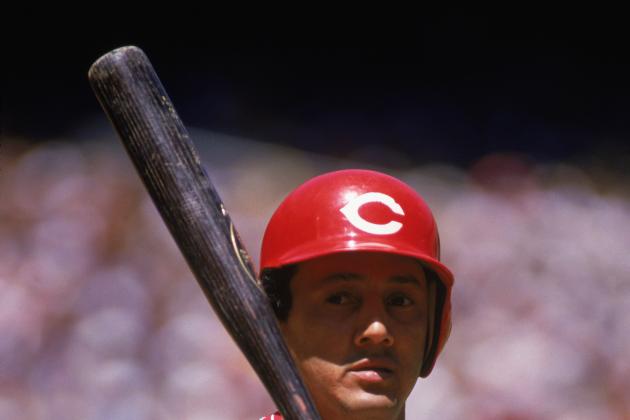 Otto Greule Jr/Getty Images

Career Stats
.267/.322/.357, 2,326 H, 101 HR, 950 RBI, 993 R, 321 SB
Teams
Reds (1970-1988)
Career Review
Let me preface this by saying that I do not think that Concepcion is Hall of Fame-worthy, as his numbers simply don't stack up, especially given the fact that he played 19 seasons.
However, his last time on the Veteran's Committee ballot he received eight of the necessary 12 votes and it seems as though a number of contemporaries and former teammates are pulling for him to join Johnny Bench, Joe Morgan and Tony Perez as enshrined members of the Big Red Machine. As far as snubbed Reds, I think Vada Pinson is more deserving, but I think Concepcion gets the nod soon.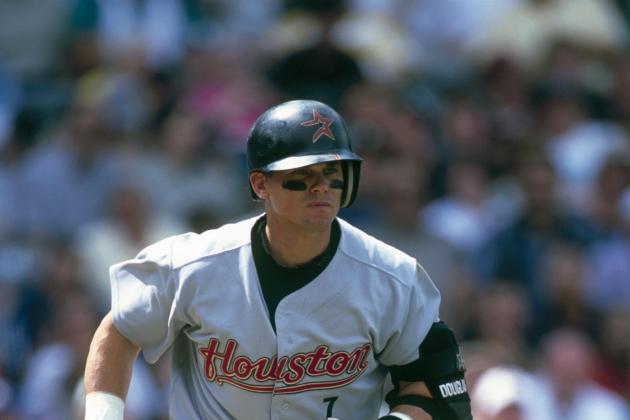 Harry How/Getty Images

Career Stats
.281/.363/.433, 3,060 H, 291 HR, 1,175 RBI, 1,844 R, 414 SB
Teams
Astros (1988-2007)
Career Review
While he began his career as a catcher, Biggio made a name for himself as the best second baseman in the National League during the 1990s. He had a terrific combination of power and speed hitting atop of some very good Astros lineups and is a big reason why Jeff Bagwell has so many RBI in his career.
He'll be on the ballot for the first time this coming season, and with 3,060 hits, 1,844 runs (15th all-time) and 668 doubles (fifth all-time) he should be a first-ballot selection. I do believe Jeff Bagwell will eventually earn induction, but I think Biggio will get in first.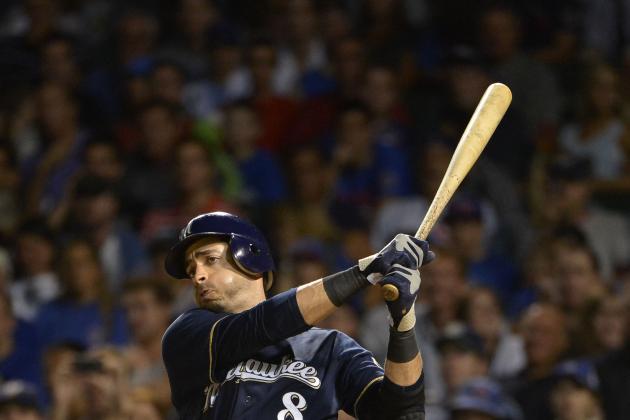 Brian Kersey/Getty Images

Career Stats (as of 9/11/12)
.312/.373/.568, 1,059 H, 199 HR, 631 RBI, 598 R, 119 SB
Teams
Brewers (2007-2012)
Career Review
Braun has an uphill battle as far as his Hall of Fame case is concerned, as the PED allegations that led to controversy last offseason will likely follow him throughout his career. However, he's likely at least 15 years from being eligible and by then the public's opinion on where players from the Steroid Era fit into the Hall of Fame picture may very well have changed.
His numbers through his first six season in the league are eye-popping. As long as he stays healthy he will likely have Hall of Fame-worthy numbers once he hangs it up. Time will tell if he can overcome what has become a tarnished image.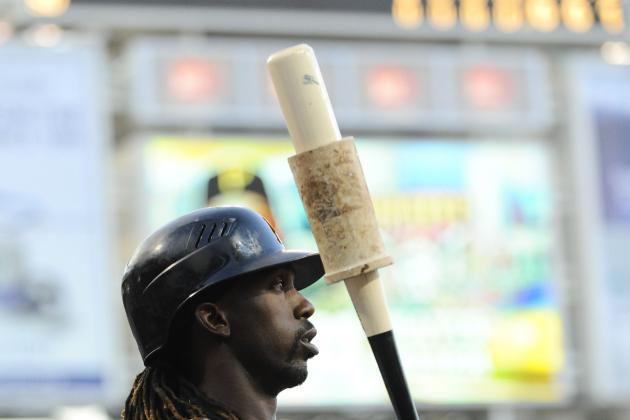 Denis Poroy/Getty Images

Career Stats (as of 9/11/12
.292/.375/.484, 610 H, 77 HR, 284 RBI, 351 R, 94 SB
Teams
Pirates (2009-2012)
Career Review
Much like Mike Trout, it's way too early to call McCutchen anything but a solid player but he has a bright future ahead of him and has emerged as a superstar this season with a .341 BA, 26 HR, 85 RBI, 16 SB line on the year.
He may not reach any significant milestones, but he is capable of reaching the 300 HR, 300 SB which is something only eight players have done. Of those eight players, only Willie Mays and Alex Rodriguez hit over .300 for their career and that is also something McCutchen is more than capable of doing. He's certainly one to watch and enjoy moving forward.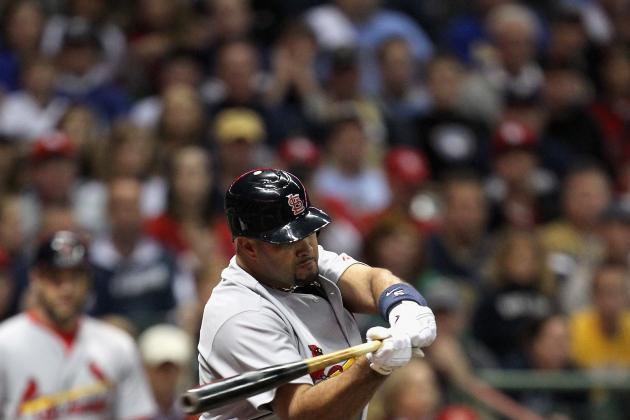 Jonathan Daniel/Getty Images

Career Stats (as of 9/10/12)
.325/.415/.611, 2,224 H, 474 HR, 1,423 RBI, 1,370 R
Teams
Cardinals (2001-2011), Angels (2012)
Career Review
No player has had a better start to his career than Pujols, and he would be a first ballot Hall of Famer if he retired today. However, he's far from retired as he signed a massive 10-year, $240 million contract that will keep him with the Angels through 2021.
After a horrible start to this season, he's turned things around and put together a .287 BA, 29 HR, 94 RBI season thus far. If he can continue producing at his current level for the next several seasons, he should be able to make a legitimate run at the all-time home run record. While he could break significant records as an Angel, my bet is he will be enshrined as a Cardinal regardless of what happens.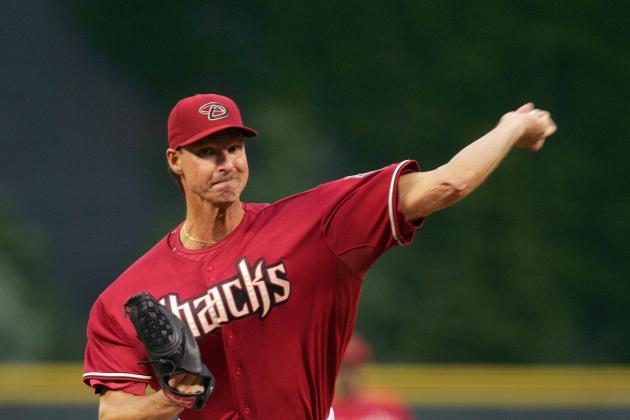 Doug Pensinger/Getty Images

Career Stats
303-166, 3.29 ERA, 135 ERA+, 4,875 Ks, 4,135.1 IP
Teams
Expos (1988-1989), Mariners (1989-1998), Astros (1998), Diamondbacks (1999-2004), Yankees (2005-2006), Diamondbacks (2007-2008), Giants (2009)
Career Review
Johnson is a sure-fire Hall of Famer, as he ranks as perhaps the greatest left-hander of all time. He was as imposing a figure as there has ever been on the mound with a blazing fastball and buckling slider.
The biggest question is what hat he'll wear on his plaque. He spent ten seasons with the Mariners and went 130-74 with a 3.42 ERA winning one Cy Young, compared to eight season with the Diamondbacks in which he went 118-62 with a 2.83 ERA and won four straight Cy Youngs and a World Series title. My guess is he becomes the first player enshrined as a member of the Diamondbacks.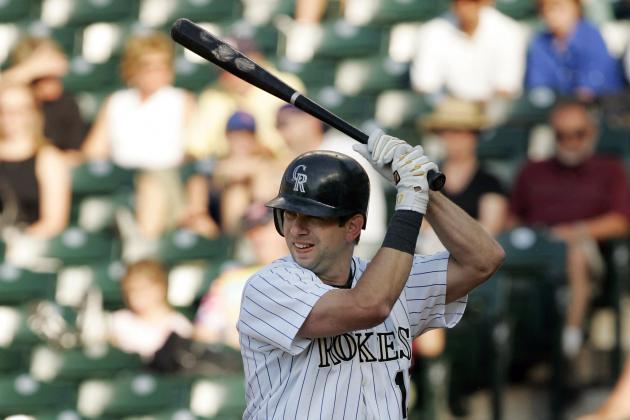 Brian Bahr/Getty Images

Career Stats (as of 9/11/12)
.320/.419/.545, 2,420 H, 354 HR, 1,345 RBI, 1,360 R
Teams
Rockies (1997-2012)
Career Review
Given the tough assignment of filling Andres Galarraga's shoes, Helton was terrific right out of the gate for the Rockies and quickly became one of the game's most productive hitters. His 2000 season was particularly dominant as he hit .372 BA, 42 HR, 147 RBI and made a legitimate run at a .400 average.
Critics will point to the fact that he called Coors Field home throughout his career, and there is something to that as his home slash line (.350/.447/.613) far outshines his road line (.289/.389/.475)/ But, in the end, he fits the bill of being one of the most dominant of his era and deserves credit for spending his entire career with the Rockies in an era where players regularly shuffle teams.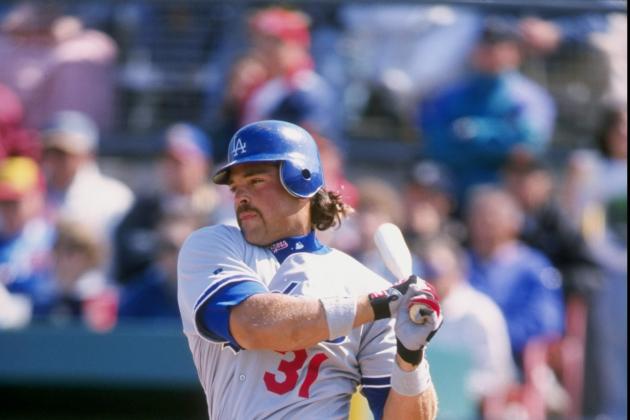 David Seelig/Getty Images

Career Stats
.308/.377/.545, 2,127 H, 427 HR, 1,335 RBI, 1,048 R
Teams
Dodgers (1992-1998), Marlins (1998), Mets (1998-2005), Padres (2006), A's (2007)
Career Overview
Piazza certainly didn't start his career as a future Hall of Famer when he was selected in the 62nd round of the 1988 draft. However, just five years later he was the Dodgers everyday catcher and NL Rookie of the Year with a .318 BA, 35 HR, 112 RBI debut season.
The most prolific offensive catcher of all-time, Piazza hit .331 BA, 177 HR, 563 RBI in seven seasons with the Dodgers compared to .296 BA, 220 HR, 655 RBI in seven seasons with the Mets. That raise the question as to what hat he will wear on his plaque, and while Piazza has indicated that he would prefer it be a Mets' hat (h/t NY Times), my guess is the Hall goes with the Dodgers where he was at his best.
Stephen Dunn/Getty Images

Career Stats
1,035 G, 61-75, 601 SV, 2.87 ERA, 1,133 Ks, 1,089.1 IP
Teams
Marlins (1993), Padres (1993-2008), Brewers (2009-2010)
Career Overview
Hoffman held the all-time saves mark for just five seasons before being passed by Mariano Rivera, but his 601 career saves are nonetheless an impressive mark as he is undoubtedly one of the greatest relievers of all-time.
He saved 40-plus games nine times, and did it without prototypical overpowering stuff as he used one of the best changeups the game has seen to lock down the ninth inning in San Diego for 16 seasons. The Hall has not been quick to enshrine relievers to this point, but Hoffman should make his way into the Hall fairly quickly.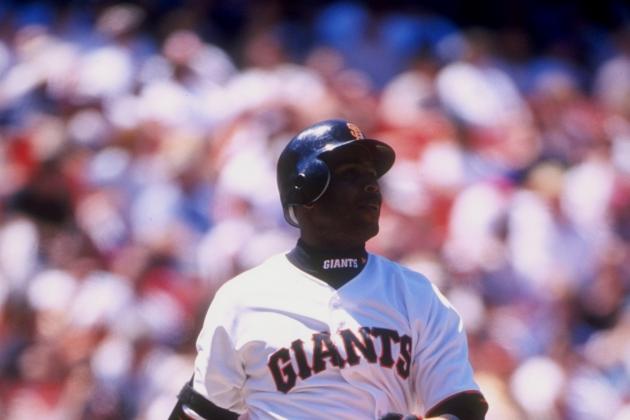 Otto Greule Jr/Getty Images

Career Stats
.298/.444/.607, 2,935 H, 762 HR, 1,996 RBI, 2,227 R, 514 SB
Teams
Pirates (1986-1992), Giants (1993-2007)
Career Review
Bonds will be Hall of Fame eligible for the first time this coming season, and his case will be an interesting one as he was an unquestioned Hall of Famer before he allegedly started using steroids.
His numbers speak for themselves, and certainly won't be what keeps him out of Cooperstown. My guess is it takes him a few years, but he is enshrined in a move that could very well open the door for some other PED users to earn enshrinement as well.