Bengals vs. Ravens: Final Report Card, Player Grades for Cincinnati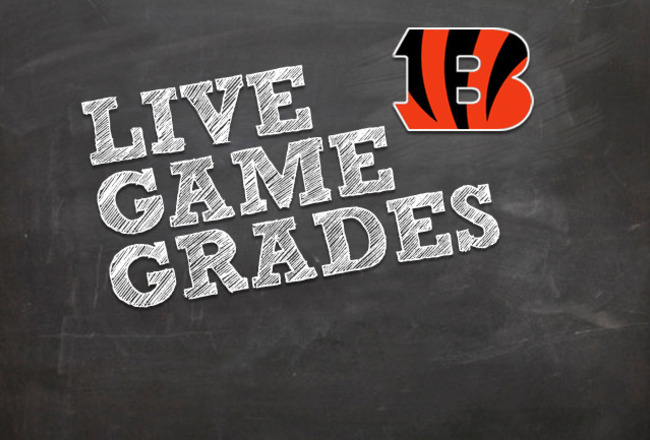 The Cincinnati Bengals started their season off flat against the Baltimore Ravens on Monday Night Football, falling to the Ravens 44-13. It's a crucial loss for Cincinnati as the team has more questions than answers after dropping a game in the AFC North.
Let's take a look at the Bengals' final postgame grades and evaluations.
Quarterbacks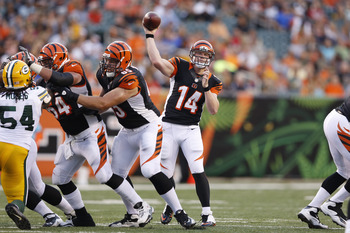 Joe Robbins/Getty Images
Andy Dalton — C
Not a great showing for Dalton. Things looked average in the first half, but he did a nice job of orchestrating drives that ate clock effectively. He was highly inconsistent, at times hitting receivers in tight windows and other times over-throwing open receivers by a large margin.
Things got worse in the second half, with the low point being an awful pass that the Ravens' Ed Reed intercepted and returned for a touchdown.
It's not the end of the world for Dalton, especially against such a tough opponent. With that being said, he needs to be more consistent over the course of a full game.
Running Backs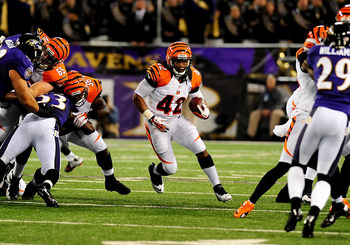 Evan Habeeb-US PRESSWIRE
BenJarvus Green-Ellis — B
Green-Ellis would have a higher grade if he was not so inconsistent in pass-blocking all night. At times he picked up the blitz great, and at other times completely whiffed which ruined the timing of a play or got Andy Dalton hit.
Still, it is hard to hate what he did against the Ravens, especially in short-yardage situations. It's a breath of fresh air for a franchise that a year ago could not convert in crucial areas. 91 yards and a touchdown on fourth down is not a horrible line against Baltimore.
Brian Leonard — C
Leonard was not in the game much, but looked good in pass protection. He was not effective in garbage time after the game was already decided.
Wide Receivers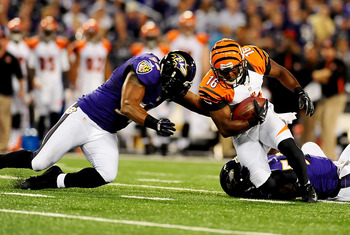 Evan Habeeb-US PRESSWIRE
A.J. Green — B
Green had a good night, but had some noticeable drops. With five receptions for only 70 yards, Green did not exactly have the major impact the Bengals needed him to. The erratic play of Andy Dalton did not help, especially when Green was open and Dalton missed him.
Brandon Tate — D
Tate caught one pass for three yards, a similar performance to his impact last year. The real knock on his game was his awful decision making on returns, with one horrendous decision resulting in the Bengals starting from their own eight yard-line.
Armon Binns — C
Binns had four catches for 28 yards and looked inconsistent at best as the main No. 2 receiver across from Green. He had some nice grabs, but clearly had issues getting separation from Ravens' players.
Andrew Hawkins — A
Hawkins was a nice surprise and had a breakout game on national television. He caught eight passes for 86 yards and consistently converted in key situations and made Ravens' defenders miss. He may be small in stature, but his play was huge when the Bengals needed it most.
Tight Ends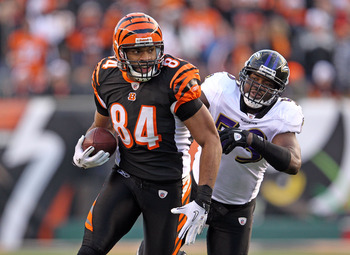 Andy Lyons/Getty Images
Jermaine Gresham — C
Gresham was not a factor in the passing game at all, which is mostly the fault of some mediocre decisions made by the coaching staff. He caught three passes for 30 yards.
He looked great in pass-blocking when called upon, but the lack of balls thrown his way does not make sense considering his ability.
Offensive Line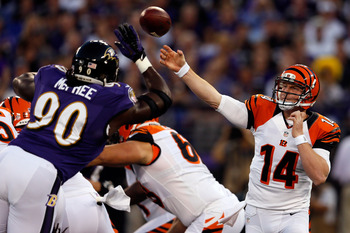 Rob Carr/Getty Images
Andrew Whitworth — B
After a mediocre preseason, Whitworth seemed to bounce back against the Ravens' defense. He looked solid in run situations and inconsistent at best in passing scenarios.
Clint Boling — B
Boling continues to be a nice surprise after a miserable rookie season in spot duty. He was a big part of effective runs to the left side and held his own in the passing game.
Jeff Faine — B
It's hard to knock Faine's play considering he only had two days of practice with the team after being signed. He wasn't good or bad, which is just fine for someone in his situation.
Kevin Zeitler — B+
Zeitler was arguably the best lineman on the field for the Bengals against Baltimore, which is great news considering the team drafted him in the first round. He was a force in the run game and did not appear to give up a lot of pressure.
Andre Smith — B
Smith has a lot of pressure on him this season thanks to it being a contract year, and he responded in Baltimore. He wasn't perfect by any means, but if he keeps his solid play up the Bengals will pay him.
Defensive Line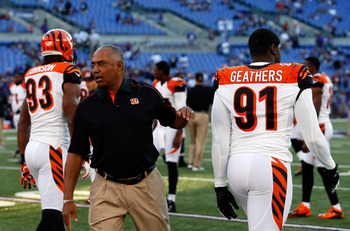 Rob Carr/Getty Images
Geno Atkins — B+
Atkins was the lone bright spot for the Bengals all night, racking up two sacks and consistently disrupting passing plays. He's the type of player that makes those around him better, and he came through for the team in a big way on national television.
Domata Peko — C+
Peko had his highlight-worthy moments in Baltimore. He had some nice quarterback pressures, but like everyone on the team struggled against the run.
Devon Still — D
Still struggled all night long as Atkins' replacement on passing downs in the nickel defense. He did not get any push against the run and failed to apply any pressure.
Michael Johnson — B
Johnson added weight this offseason and it showed against the Ravens. He was solid against the run when it was in his direction, but did not generate a lot of pressure on the passer.
Robert Geathers — C
Geathers did not really make his presence known all night. He was not bad or good. Stout as ever in the run game when it came his way, but no major pressures on the quarterback to speak of all night.
Linebackers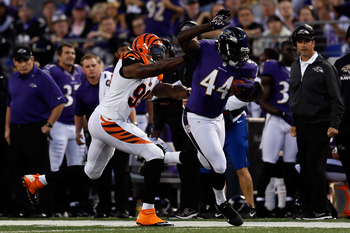 Rob Carr/Getty Images
Thomas Howard — B+
Howard was everywhere on the field for the Bengals in Baltimore, but it was not enough thanks to those around him. He recorded three tackles and a sack.
Stout in the run as always, Howard did not have any issues plugging holes or covering receivers.
Rey Maualuga — D
Maualuga continues to disappoint. Against Baltimore he was consistently out of position and was always sucked into blocks instead of shedding them and making a play. He was a liability in both running and passing situations.
Manny Lawson — C
Lawson had an average game, but it became clear very early that he did not stand a chance when covering tight ends. For his position Lawson needs to have that ability, and he certainly showed nothing in that department against the Ravens.
Dan Skuta — C
Skuta had a nice impact on special teams as always. It was interesting to see him line up at defensive end in the nickel defense. He ended up with one tackle.
Defensive Backs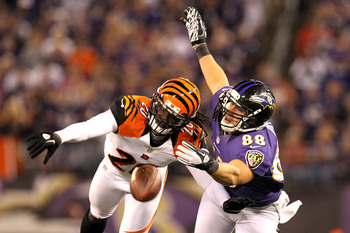 Mitch Stringer-US PRESSWIRE
Reggie Nelson — B
Nelson led the team in tackles with seven. He was arguably the best player on the defense a year ago, and one of the better safeties in the league.
Against Baltimore Nelson was where he needed to be most of the time, but like the rest of the secondary, had trouble covering anyone.
Taylor Mays — F
Mays was benched about halfway through the game because he couldn't cover anyone and had a pointless helmet-to-helmet hit in a key scenario.
It is becoming clear that Mays simply doesn't have it. He struggles in coverage and is a loose cannon with his attempts for big hits.
Jeromy Miles — C
Miles was not much better once he replaced Mays, but it was better to have a player at strong safety that could cover and was not reckless to all involved.
Leon Hall — D
In not-so-shocking news, Hall looked average or worst most of the game, which is not surprising considering the severity of the injury he is attempting to come back from. Hall struggled to cover everyone, and was horribly mis-matched against a tight end in the endzone and gave up the touchdown.
Terence Newman — C
Newman had some horrible moments in coverage, but that is to be expected if his stint in Dallas is any indication. He was hit-or-miss when covering the pass and simply average against the run.
Nate Clements — B
Clements saw time at corner and safety and did not really have a major impact at either. He gets a high grade for his versatility and his outstanding pass breakup in the endzone on third down that prevented yet another Ravens touchdown.
Adam Jones — C
Jones finally managed to get healthy and saw a few snaps against Baltimore. Nothing great or horrible out of Jones, so a neutral grade here.
Special Teams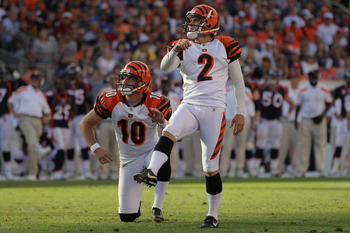 Doug Pensinger/Getty Images
Mike Nugent — B
Nugent was perfect on attempts, but it would have been nice to see him prevent the Ravens from returning kicks.
Kevin Huber — C
Huber had a horrendous first punt, but seemed to get it together after that. He had a few nice punts as the game wore on, but the first one hurts.
Coaching
Mark Zerof-US PRESSWIRE
Marvin Lewis — C
Lewis did not make any huge mistakes when it comes to game management, which seems like a positive given his history. His gameplan was not perfect, but his players were generally in a position to succeed and he and his staff were simply mediocre in adjusting to what Baltimore was doing.
Jay Gruden — D
Gruden had a tough night in Baltimore. After rolling with a simplistic playbook last year to accommodate rookies in a lockout, this year was supposed to be an expanded offense. The running game was nice, but the lack of involvement for tight end Jermaine Gresham is mind-boggling.
Mike Zimmer — C
It's hard to hate what Zimmer did in Baltimore despite the lopsided final score. He placed his players in a position to make plays, but they simply didn't.
Keep Reading

Cincinnati Bengals: Like this team?