Updated NFL MVP Odds After Week 1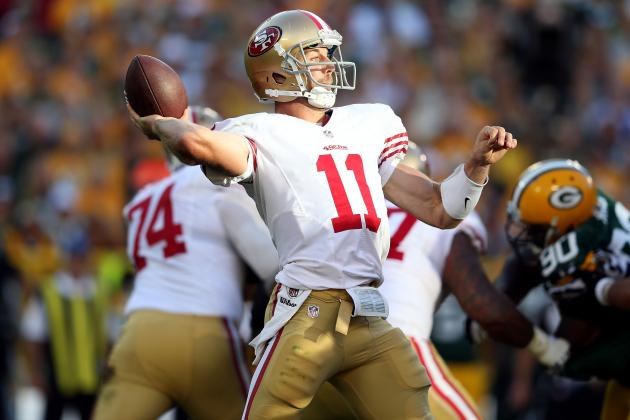 Andy Lyons/Getty Images

Week 1 in the NFL is in the books, and so are some epic performances. I ranked the MVP favorites heading into this NFL season, and some of them look to be on the early campaign trail.
Where does Matt Ryan stand after his huge game against the Chiefs? Did Aaron Rodgers' loss to the 49ers knock him off the top spot?
It's early, but here are some updated MVP odds for major players and dark horses after the first week of action.
Begin Slideshow

»
Chris Graythen/Getty Images

24. Maurice Jones-Drew
He was all but out of the top 25 after his contract holdout threatened to limit his production in the first few weeks, but Jones-Drew proved the doubters wrong once again, carrying the load when Rashad Jennings went down with an injury.
His modest 77-yard performance still knocked him down a few pegs, but MJD can bounce back easily.
Odds: 50/1
Big Ben had a pretty good game going against the Broncos on the road, until he pulled a Peyton Manning and threw a pick-six to Tracy Porter that iced the game for Denver.
His MVP stock was on shaky ground when his offensive line splintered during the preseason. The Steelers are going to have a fight on their hands just to make the playoffs at this rate.
Odds: 40/1
22. NaVorro Bowman
Bowman got off to a fantastic start in Green Bay, getting in on 11 tackles and intercepting Aaron Rodgers to help that defense stave off the Packers on the road.
Odds: 45/1
21. Mark Sanchez
Maybe the offseason circus lit a fire under Sanchez. He lit up the Bills for three touchdowns on pretty passes while Tim Tebow was relegated to special teams and spot duty in Wildcat sets. Can he do it again or was this a one-week affair?
Odds: 45/1
20. Matt Schaub
Schaub had a nice day against the Dolphins, but this was a team victory. He will be hard-pressed to make any headway in MVP stature on this balanced team.
Odds: 40/1
19. Philip Rivers
He had a rather uninspiring game against the Raiders in a road victory. Of course, that can happen when Norv Turner is taking "Martyball" to a new level.
Odds: 35/1
18. Joe Flacco
Perhaps there is something to the cockiness that Flacco brings to the table.
Odds: 30/1
17. Robert Griffin III
What a debut by the rookie, who outdid Cam Newton's first game in the NFL. The Redskins raised some eyebrows with a huge victory over the Saints on the road, and Robert Griffin was a huge reason.
Odds: 35/1
16. Calvin Johnson
Megatron had a relatively quiet game against the Rams—if you can call a 100-yard game "quiet"—but he remains Matthew Stafford's best target and is still a long-shot MVP threat.
Odds: 40/1
15. Alex Smith
The 49ers went into Lambeau Field, smacked the Packers in the mouth and came away with a convincing victory.
While the defense got a ton of credit for keeping Aaron Rodgers at bay, Alex Smith looked like a man on a mission. He missed on just four aimed throws—in other words, he was 83.3 percent accurate—and he coolly led the 49ers offense on several key drives down the stretch.
Odds: 25/1
14. LeSean McCoy
McCoy somehow turned in a 100-yard game despite the Eagles' ineptitude.
Odds: 35/1
13. Cam Newton
Cam Newton got off to a rough start in his sophomore season, throwing two interceptions in a 16-10 loss to the Buccaneers. Having said that, he still managed to throw for over 300 yards in a sub-par performance. Newton is too talented and hungry to not put up monster numbers this year, but he might have put himself behind the eight ball when it comes to the MVP race.
Odds: 30/1
12. Michael Vick
It was a gruesome scene at the Dawg Pound, as Vick threw four interceptions and almost gifted the game to his opponent. He has greater odds than Foster because he is a quarterback, but his initial performance was not promising.
Odds: 20/1
11. Arian Foster
He salvaged his day with two touchdowns after Miami turnovers, but Foster averaged just 3.0 yards per carry against the Dolphins. Despite a knee issue going into the game and Ben Tate behind him, the Texans still gave Foster 26 carries—a sign that he will be Houston's workhorse no matter what.
Odds: 30/1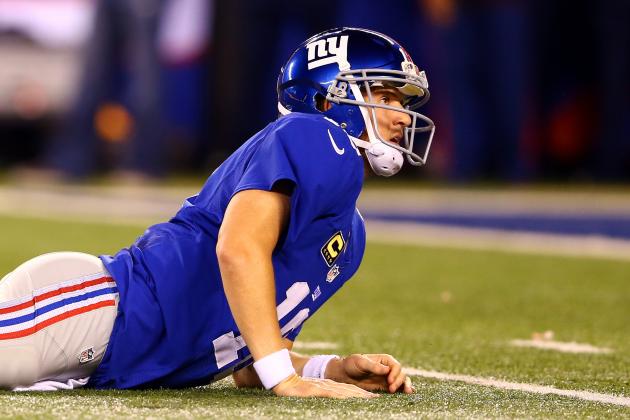 Al Bello/Getty Images

2011's King of the Fourth Quarter did not retain his crown, at least not in Week 1.
New York got off to a flat start and could not recover against the Cowboys at home. He could only muster 213 yards and one touchdown, though some drops by his receivers did not help.
Dallas' improved defense was the big culprit, but Manning simply did not have the magic he had a year ago.He will need to recapture that if he wants to get into the race.
Odds: 25/1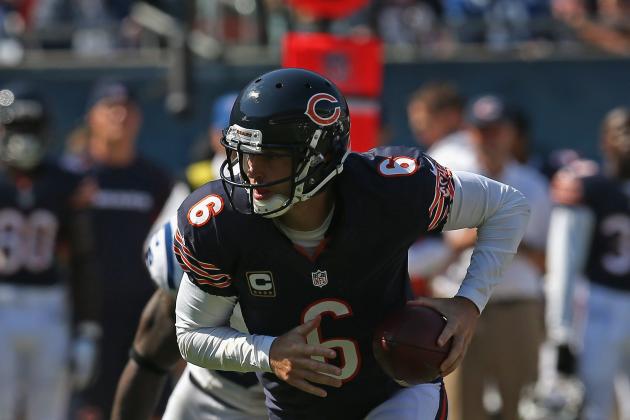 Jonathan Daniel/Getty Images

Common sense told you Jay Cutler would be better with Brandon Marshall and Alshon Jeffery. Common sense was right.
Granted, the Bears were playing against the rebuilding Colts at home, and Cutler did throw an early pick-six that gave the Colts a lead. He was unfazed, however.
He marched the Bears back to a lead they would not relinquish, throwing for 333 yards and two touchdowns in the process.
Cutler makes three NFC North quarterbacks in the top 10 right now. The division winner will have a leg up on the others.
Odds: 25/1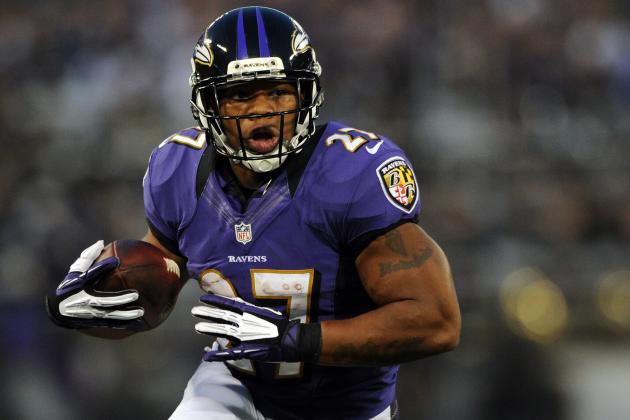 Patrick Smith/Getty Images

The Ravens practically sauntered their way to a big victory, the same way Ray Rice did into the end zone. Rice scored two touchdowns despite getting just 10 carries in the game.
It is this effort to keep Rice fresh that might have him fall short of MVP-like numbers. The emergence of Joe Flacco is another reason.
Still, Rice is the best bet to win this award at running back given his skill and lead back role.
Odds: 20/1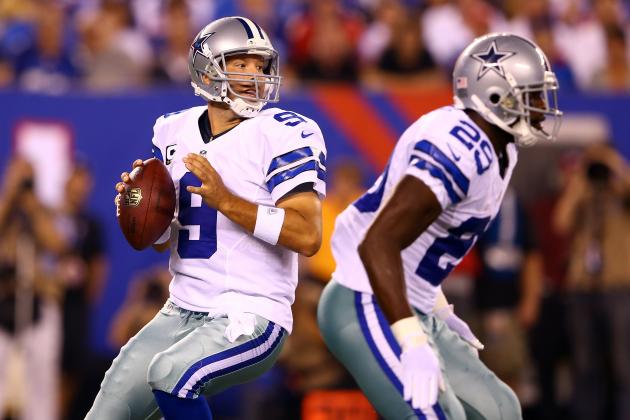 Al Bello/Getty Images

Romo exorcised some demons in New York with a fantastic opening game against the Giants.
After a slow start that nearly matched Eli for sluggishness, Romo led his team to a solid victory on the wings of a 300-yard, three-touchdown performance. Is this the year he finally puts everything together for an entire season?
Odds: 16/1
Doug Pensinger/Getty Images

He's back.
Peyton Manning not only played well, he led his team to a come-from-behind victory against the Steelers. One might even say it was Tebow-esque.
Okay, there was nothing Tebow-like about Peyton's performance. He simply looked like the Manning of old—a Manning who won an MVP award or two.
Odds: 12/1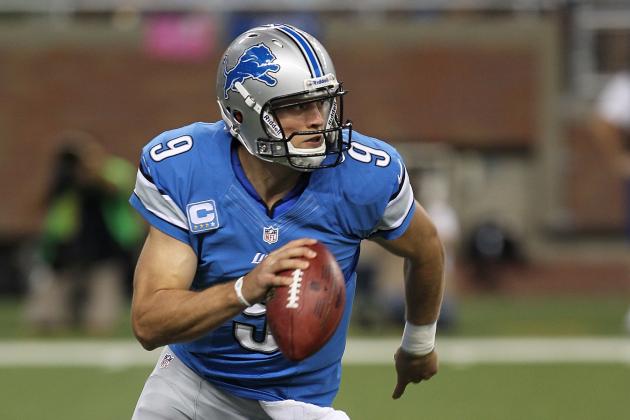 Dave Reginek/Getty Images

The Motown Marvel had a shaky game against St. Louis, but he pulled out a late-game victory against a Rams team that looks vastly improved on defense.
Stafford threw three interceptions that nearly cost the Lions the game. That was not a very good start to the season for the Lions quarterback, but he still got over 300 yards and led his team to a game-winning drive with seconds left on the clock. And he did it without tossing a touchdown to his favorite receiver!
He gets a real test this week against the 49ers, who beat Stafford and the Lions last year. San Francisco's D just put a dent in Aaron Rodgers' MVP campaign, so Stafford must improve in Week 2 in order to compete.
Odds: 10/1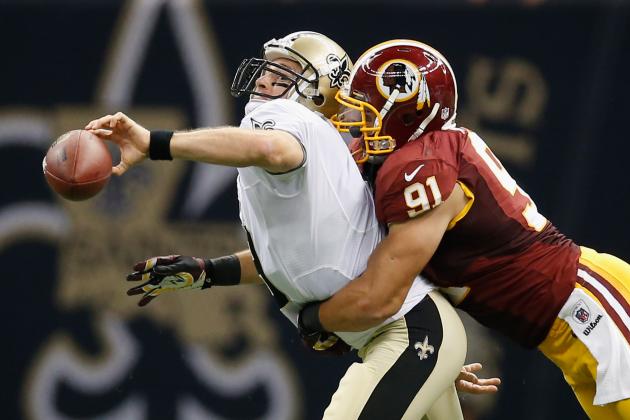 Chris Graythen/Getty Images

Perhaps no storyline was more interesting heading into the season than the Saints and the bounty scandal.
How would they react? Would they miss Sean Payton? Would they be fired up?
Few could have predicted the throttling they got from Robert Griffin III and the Redskins, but Drew Brees did his best to keep pace. He had a fine statistical day, but a home loss to a perennial cellar-dweller with a rookie quarterback was not a good omen.
Brees kept pulling the Saints to within eight points in a 339-yard, three-touchdown performance, until he finally threw a terrible game-icing interception.
In what promises to be a close MVP race, that one costly interception could be the thing that costs Brees the award.
Odds: 8/1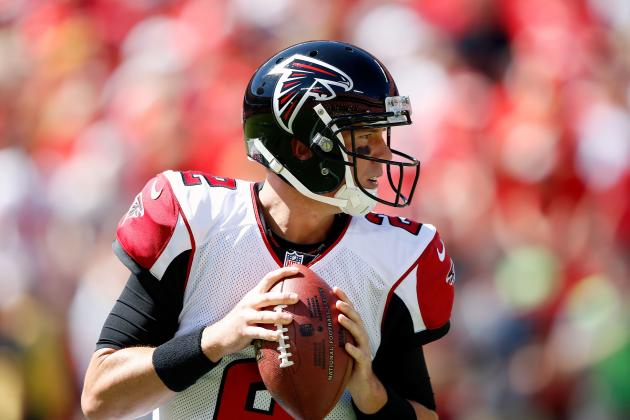 Jamie Squire/Getty Images

Matty Ice played with fire against the Chiefs in Arrowhead Stadium, a daunting venue for many a visiting quarterback.
Ryan got off to a hot start in 2012, torching Kansas City for 299 yards passing and four total touchdowns while leading his team to a 40-24 victory. It helps that he has emerging superstar Julio Jones to throw to.
He gets a jump on the NFC South with the victory and the big game. If this is indicative of the new normal in Atlanta, Ryan will be in the thick of the MVP race come season's end.
Odds: 8/1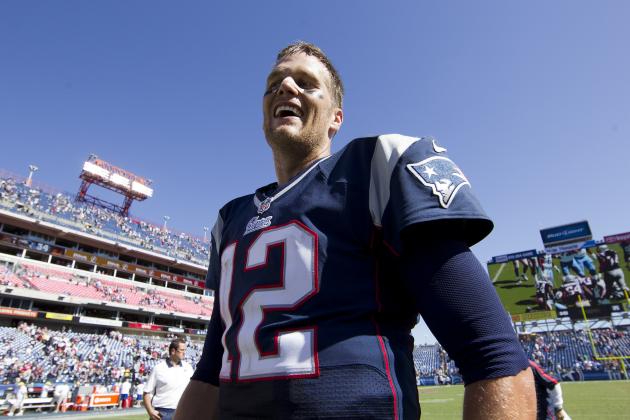 Wesley Hitt/Getty Images

The Patriots ran over the Titans on the road, and Tom Brady was predictably good.
He got some help from second-year running back Stevan Ridley, who rumbled to 125 rushing yards and a touchdown himself. If he can keep that up, Brady's stats might not be so inflated.
Indeed, Brady threw for "just" 236 yards and two touchdowns, in part because there was little need for more out of the 35-year-old stud. He gains on Rodgers by virtue of victory here.
Odds: 4/1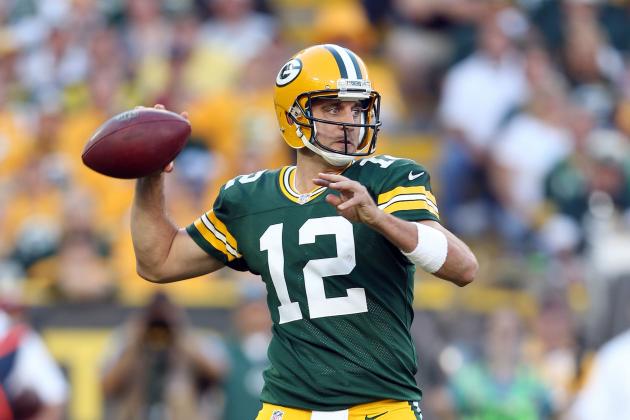 Andy Lyons/Getty Images

Sure, the Packers opened up their season with a loss at home, and Aaron Rodgers failed yet again to bring his team back in the fourth quarter.
Does this mean he is no longer the favorite to win the MVP?
The truth is that the 49ers boast an elite defense that was able to keep Rodgers & Co. in check, much like they did with Drew Brees for three of four quarters in last season's playoffs.
The reigning MVP still managed to throw for 303 yards and two touchdowns, though his passer rating was a mortal 93.7.
Thankfully for his MVP campaign, Rodgers will not have to face the 49ers defense again until the playoffs.
Odds: 4/1