Predicting the New York Mets' Opening Day 25-Man Roster for 2013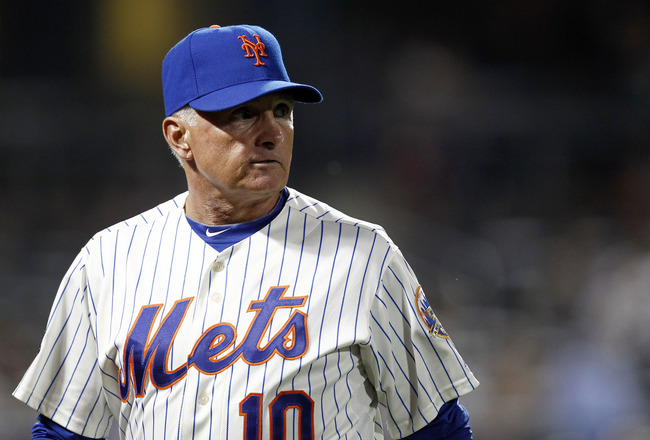 Jeff Zelevansky/Getty Images
Like so many seasons in the past, New York Mets fans find themselves relieved to reach the month of September.
The ninth month of the year brings the end of the baseball season for non-playoff teams, allowing the Mets faithful to get on with their lives.
The 2012 season has been filled with countless ups and downs, a characteristic that is typical of many Mets seasons.
April, May, June and the first half of July injected life into Flushing, as the Mets showed the MLB that they would not mail it in despite the bleak preseason predictions.
The season went south fast following the All-Star break, but the suffering will end soon. Fortunately, another season of Mets baseball is set to begin in April (far away, I know).
Here you will find predictions for the Mets' opening day 25-man roster for 2013.
Starting Catcher: Josh Thole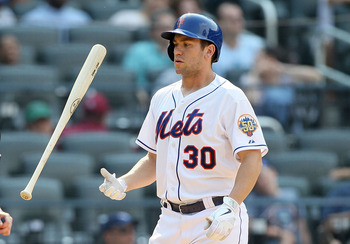 Jim McIsaac/Getty Images
This season, Josh Thole repeatedly showed that he is not the guy who should be behind the plate for the New York Mets for the next few seasons.
But for some reason, the front office looks like it will give him another chance.
Thole will likely get the starting nod, even with the addition of Kelly Shoppach, simply because he is seven years younger.
Starting First Baseman: Ike Davis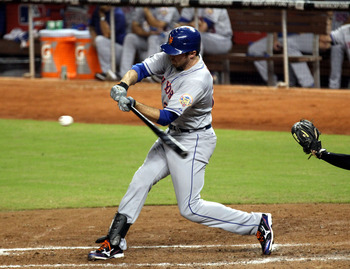 Marc Serota/Getty Images
Ike Davis' first half was painful to watch, there's no doubt about that.
Luckily for him, he turned things around after the All-Star break, raising his average from a paltry .201 to a semi-respectable .227.
It is likely that he will be able to finish with almost 30 homers and around 90 RBI, statistics that seemed unattainable after his awful start to the year.
Starting Second Baseman: Daniel Murphy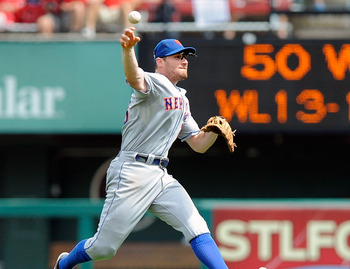 Jeff Curry/Getty Images
There are people who follow the New York Mets who don't believe that Daniel Murphy is the long-term answer at second base, but his numbers argue otherwise.
Obviously, there is a lack of power, but his 38 doubles make up for that.
Murphy's fielding has improved substantially since Opening Day, and while he still isn't where he needs to be, a full offseason should help that.
Don't expect Murphy to turn into an upper-echelon second baseman, but he'll be average at the very worst.
Starting Third Baseman: David Wright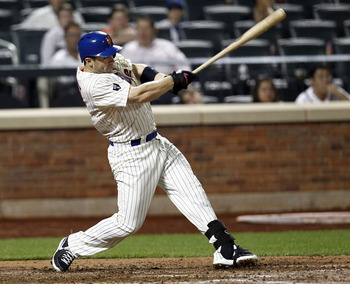 Jeff Zelevansky/Getty Images
David Wright got off to the best start in the majors, posting a .360 average into late June.
Unfortunately for the Mets, his production has tailed off significantly, which has caused his batting average to fall to .313.
With virtually no serious protection in the lineup, Wright has had an impressive season. He figures to look just as good next season if Ike Davis can get off to a hot start and offer him some protection in the lineup.
Wright will be in a contract year, so huge numbers aren't out of the question.
Starting Shortstop: Ruben Tejada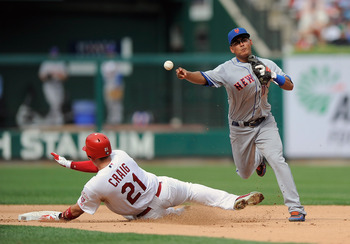 Jeff Curry/Getty Images
Following the departure of Jose Reyes, Ruben Tejada was a pleasant surprise for the Mets this season.
Injuries hampered Tejada's campaign, but he proved that he is a vital part of the Mets' lineup at the top of the order.
He missed nearly 50 games due to injuries. If he can avoid the disabled list next year, he'll prove to be an above-average National League shortstop.
Left Field Platoon: Mike Baxter and Jason Bay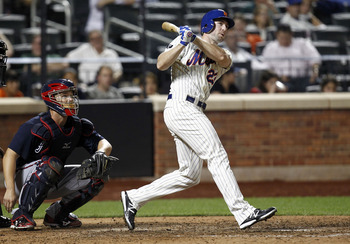 Jeff Zelevansky/Getty Images
The Mets may be looking at a platoon in left field next season.
Because of his massive contract and the Mets' aversion to paying the price to release him, Jason Bay is likely to return, unless he retires.
Mike Baxter is a great energy guy for the Mets. Terry Collins loves him, his teammates do, too, and so does every Mets fan, thanks to his no-hitter-saving catch.
Neither of these guys are ideal left fielders, but maybe the duo can be somewhere near adequate.
Starting Center Fielder: Kirk Nieuwenhuis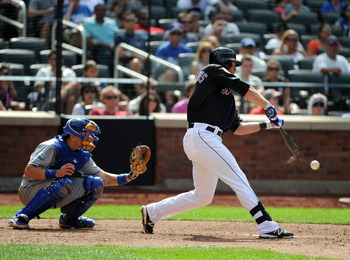 Christopher Pasatieri/Getty Images
Yes, Kirk Nieuwenhuis was brutal to watch following the All-Star break. He was so brutal that he is no longer on the major league roster. But the Mets don't have a proven center fielder in the organization.
Andres Torres probably won't be re-signed, and Jordany Valdespin hasn't shown that he can patrol cavernous Citi Field on a day-to-day basis.
This isn't ideal, but unless a trade is made or another minor leaguer steps up during spring training, Nieuwenhuis might be back in center.
Starting Right Fielder: Lucas Duda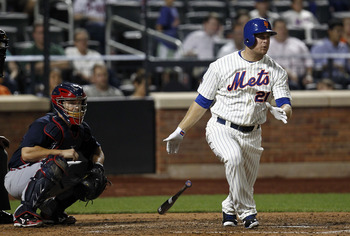 Jeff Zelevansky/Getty Images
Lucas Duda was demoted for his ineffectiveness this season, but the Mets still have a lot invested in the 6'4", 250-pound left fielder.
The progression from a player's second full season to his third is often very telling of his future.
Duda will be entering his third full season next year, and it may be his last chance to solidify his spot on the major league roster.
Bench: Scott Hairston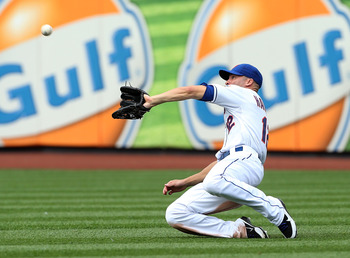 Jim McIsaac/Getty Images
Scott Hairston's return will depend on whether Fred and Jeff Wilpon want to spend the money.
The market for a right-handed power bat will be huge this offseason, meaning that Hairston should get a nice payday this winter.
That being said, the offers he is likely to receive won't break the bank for the Mets, especially during a time when ownership needs to re-establish its commitment to the team.
Bench: Kelly Shoppach
Jeff Zelevansky/Getty Images
If the Mets don't bring back Kelly Shoppach, and Josh Thole once again demonstrates his ineptitude, the catcher position will be a disaster for all of 2013.
The Mets have one of the worst crop of catchers in baseball. Despite Shoppach's age (32), he provided a nice spark in the lineup.
I'm not convinced that Thole is the answer, but I am convinced that Rob Johnson and Mike Nickeas don't belong in the big leagues.
Bench: Justin Turner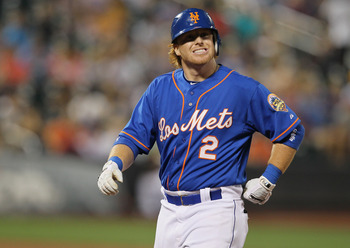 Mike Stobe/Getty Images
In case you haven't noticed, Justin Turner isn't anything special at the dish or in the field.
However, he is the consummate utility man who can play every infield position—a type of player that every team needs.
Turner doesn't do anything particularly well, but he isn't lacking in many areas, either.
Bench: Jordany Valdespin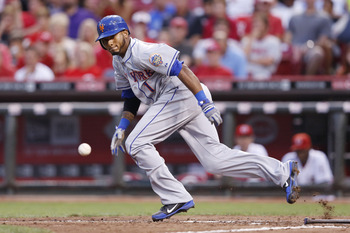 Joe Robbins/Getty Images
Jordany Valdespin clearly has to learn more about baseball, but his raw abilities have been impressive.
We have witnessed his clutch hitting on multiple occasions. He can play various positions in both the infield and the outfield, and he is the kind of young, high-energy guy that Mets fans always appreciate.
"Spinsanity" has a long way to go, but I don't doubt his ability to become a valuable asset to the organization.
Starting Pitcher: R.A. Dickey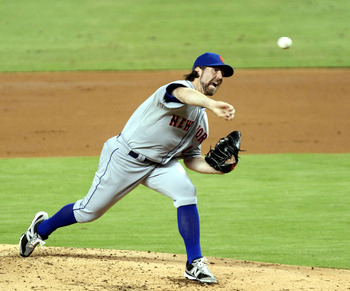 Marc Serota/Getty Images
R.A. Dickey has been one of the biggest surprises in baseball this year, and his ridiculous season doesn't need to be looked back on here.
He is the only reason why some New York Mets fans still tune in every fifth day. So it will be interesting to see if he can come anywhere near replicating this effort in 2013.
Starting Pitcher: Johan Santana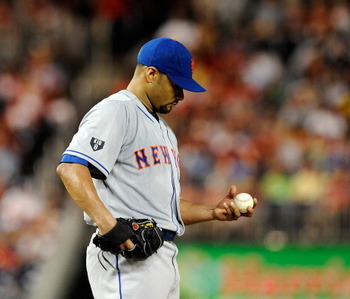 Patrick McDermott/Getty Images
There's no telling where Johan Santana will land in the starting rotation next season. But if he can at least be a middle-of-the-rotation guy, the should be okay.
It's hard to believe how ineffective he's been the second half of this season, and he has been shut down because of a back injury.
But I still think he will prove to be an average pitcher next season.
Starting Pitcher: Jonathan Niese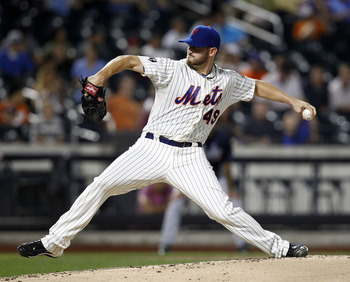 Jeff Zelevansky/Getty Images
Jonathan Niese is going to be a great No. 2 starter for the Mets next season.
His stuff isn't electric enough to be an ace, but he has the skills to take the hill on the second day of the 2013 season.
Niese showed flashes of brilliance this season, but he wasn't as consistent as Terry Collins and the rest of the organization had hoped.
His ERA dropped nearly a full point from last season (4.40 to 3.47), and his progress in 2012 leads me to believe that he will take another step forward in 2013.
Starting Pitcher: Matt Harvey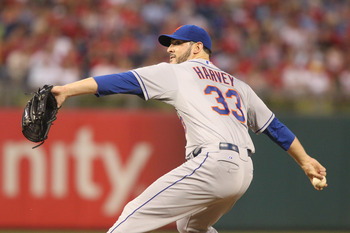 Hunter Martin/Getty Images
Matt Harvey will soon reach his innings limit and be shut down for the season, but the rookie has done enough to make Mets fans believe he is for real.
The Connecticut native is obviously the future of the organization (along with Zach Wheeler), so Sandy Alderson will keep him on the roster for next season unless he wants a riot at Citi Field.
Starting Pitcher: Dillon Gee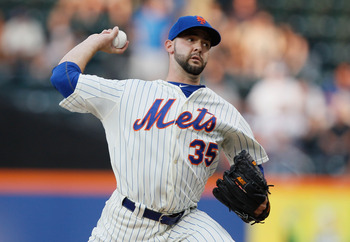 Mike Stobe/Getty Images
It may be a coincidence that the Mets' slide started right after Dillon Gee suffered a season-ending shoulder injury, but it also could be a testament to his value.
Gee is one of the best No. 5 starters in the National League and threw at least six innings in nine of his last 10 starts.
If he gets healthy, he's not going anywhere before Opening Day.
.
Relief Pitcher: Chris Young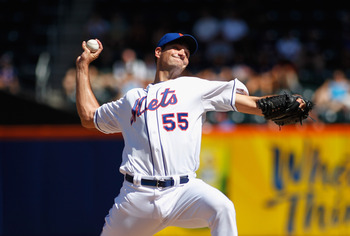 Andy Marlin/Getty Images
Chris Young isn't dominant by any stretch of the imagination, but he would be a smart option for the New Mets in a long relief role.
The 6'10" behemoth has shown that he can only go a maximum of six innings before losing his effectiveness, so a mop-up role would be perfect for him.
There won't be many takers for a 33-year-old spot starter on the decline, so the Mets may get a relative bargain in Young.
Relief Pitcher: Collin McHugh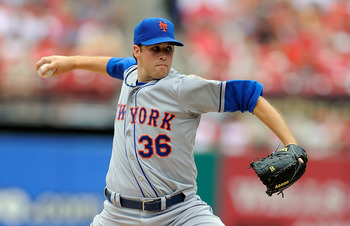 Jeff Curry/Getty Images
I'm a bit hesitant to include Collin McHugh on the Opening Day due to his lack of experience, but I liked what I saw in his first start against the Colorado Rockies.
His cause was undoubtedly helped by the opposition, but seven innings of two-hit ball is nothing to sneeze at, no matter what team you are up against.
McHugh is my reach pick, so don't be surprised if you see him in the minor leagues in April.
Relief Pitcher: Jenrry Mejia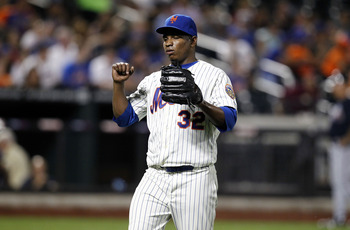 Jeff Zelevansky/Getty Images
Now that he is fully recovered from Tommy John surgery, the time has come for Jenrry Mejia to become a viable option out of the bullpen for the Mets.
It feels like we have been hearing about how lights-out Mejia is going to be for a long time, but fans have yet to see it.
Next year will be pivotal in Mejia's development.
Relief Pitcher: Josh Edgin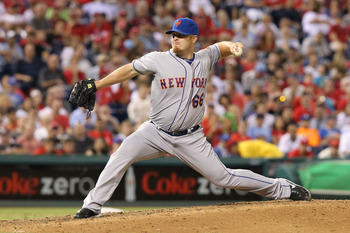 Hunter Martin/Getty Images
Josh Edgin was given a chance to assume the lefty specialist role for the Mets when Tim Byrdak was placed on the disabled list, and he has filled in quite nicely.
It was revealed that Byrdak has a torn shoulder capsule, so it looks like Edgin will get an opportunity to make the team in spring training.
Even if Byrdak makes a miraculous recovery, Edgin should make the Opening Day roster after posting a 3.52 ERA in 23 innings.
Relief Pitcher: Jon Rauch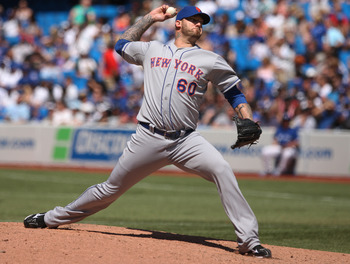 Tom Szczerbowski/Getty Images
Jon Rauch was not a pitcher the Mets wanted to have on the mound in a big spot throughout the first half of the season. But the big righty has since silenced his critics.
Rauch's ERA ballooned to 4.88 on June 10 when he allowed a walk-off homer to Russell Martin at Yankee Stadium. Since then, Rauch has given up an extremely impressive three earned runs in almost three months.
Unless he is signed by another team at a steep price, Rauch will be brought back by Sandy Alderson and the front office.
Relief Pitcher: Frank Francisco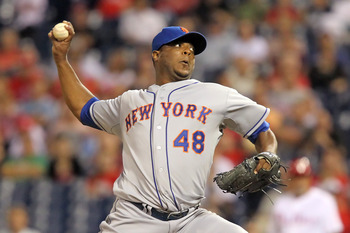 Hunter Martin/Getty Images
Frank Francisco is one of the Mets who can't wait for this season to be over.
Sandy Alderson signed Francisco to a two-year, $12 million deal last offseason, so you can bet that he'll get another chance to make the Mets forget about his ugly season.
I'm not saying that it's a great idea to bring him back. But proven closers are hard to come by on the free-agent market, and despite his woes in 2012, Francisco is exactly that.
Relief Pitcher: Bobby Parnell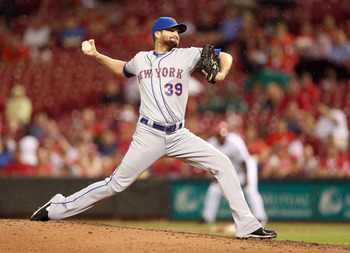 Andy Lyons/Getty Images
Bobby Parnell has a lot of work to do if he is going to become the relief pitcher the Mets need him to be. But he certainly has the stuff to become a great setup man or closer.
For all the flak Parnell has caught this season, his ERA stands at 2.98. Just because many fans don't take notice of that doesn't mean that Sandy Alderson and his charges don't.
Parnell will be on the Opening Day roster barring a trade, so get ready for another season of Cholula Hot Sauce advertisements.
Keep Reading

New York Mets: Like this team?