Cincinnati Bengals vs. Baltimore Ravens: Live Score, Analysis for Week 1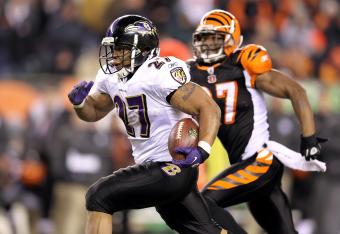 Andy Lyons/Getty Images
Ravens defeated the Bengals 41-13 at M&T Bank Stadium tonight. Great win for Baltimore against a tough division rival. With the victory the Ravens are in sole possession of 1st place in the AFC North. Next week the Ravens travel to Philly to play the Eagles while the Bengals host the Browns.
Quick Notes: For the Bengals, quarterback Andy Dalton was ineffective. Green-Ellis looked surprisingly good against a stout Ravens defense. Cincinnati might have found a weapon opposite A.J. Green in the form of Andrew Hawkins. The speedster finished with eight catches for 86 yards. This is a good young team but they need to work on things if they want to compete in the AFC North this season.
Obviously the most impressive part of this game was the performance of Joe Flacco. Almost every single one of his passes looked strong and he was extremely accurate, completing 20/29 for 299 yards and two touchdowns. You can't discount the impact Jim Caldwell has had on him.
Justin Tucker hits another field goal. This one for 39 yards. Ravens lead the Bengals 44-13 with 3:03 left in the 4th quarter.
Joe Flacco is done for the night. Backup Tyrod Taylor is in the game at quarterback. Smart move by Harbaugh. No reason to play your starters at this point.
Haloti Ngata picks up his second sack of the night. With Suggs out someone needs to provide consistent pass rush and it looks like it will be Ngata.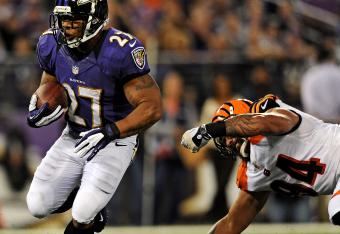 Ray Rice sneaks over the goal line for a 1-yard touchdown run. Ravens are dominating this game, now lead 41-13 with just over 14 minutes to play.
Lardarius Webb comes up with the Andy Dalton fumble. Another turnover for the Ravens defense. They don't look too old to me!
Ed Reed picks off Andy Dalton and returns it for a 34-yard touchdown. Ravens now lead the Bengals 33-13 heading into the 4th quarter.
The future Hall of Famer appeared to cramp up after the play but still it's impressive to see Reed still making plays. That's Ed Reed's 58th career interception. He now leads the NFL's all-time interception return yards with 1,497 yards.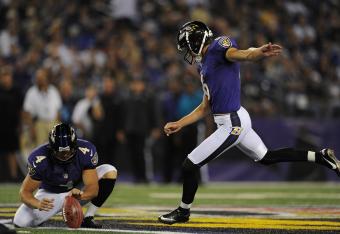 Justin Tucker nails a 40-yard field goal to make the score 27-13 with 1:13 remaining in the 3rd quarter.
Looks like the Ravens made the right decision in choosing the former Texas Longhorn over Billy Cundiff. Lead is back to two touchdowns.
Ravens put together another long drive but they are stalled after a great play by Nate Clements. Forced to try a field goal.
Great to see the Orioles supporting their hometown team!
Joe Flacco with a 10 yard touchdown pass to Dennis Pitta over the much smaller Leon Hall. Ravens now lead 24-13.
As I mentioned Flacco loves him some Dennis Pitta. Good to see him healthy again and making plays. He's got the best hands on the team and his size makes him a mismatch against cornerbacks.
Ray Rice is running all over the Bengals on this drive. Ravens now inside the redzone. Look for Flacco to target Boldin here.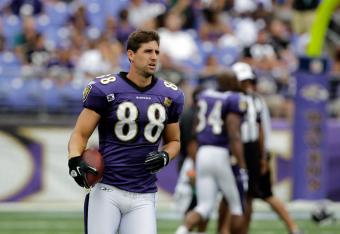 Good to see Dennis Pitta back on the field. Three catches so far. He's always been Flacco's favorite target.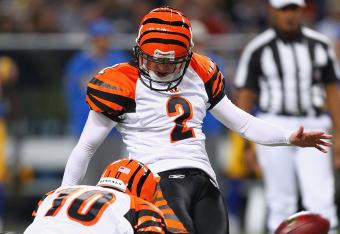 Cincinnati Bengals kicker Mike Nugent hits 19 yard field goal. Ravens lead 17-13 with 9:47 left in the 3rd quarter.
A scramble by Andy Dalton got his team down to the two yard line but they will again settle for a field goal. This game is far from over. Ravens defense looks old and tired.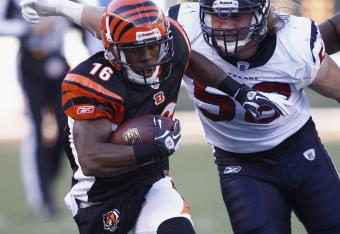 Andrew Hawkins is a speedster for the Bengals. Might end up being the starter opposite A.J. Green for this team. Bengals now in the redzone.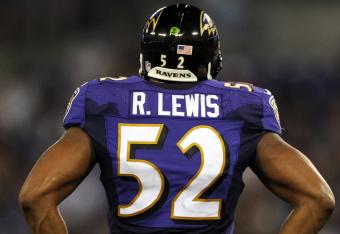 Bengals moving the ball effortlessly to start the 2nd half. Ravens defense doesn't look effective at the moment, despite just getting a breather in the locker room.
Never get tired of this ESPN Sportscenter commercial
Joe Flacco is 12-of-15 for 183 yards and one touchdown in the first half. Andy Dalton is 12/19 for 112 yards. Both guys have been effective, throwing passes to six different players each. It's obvious the Bengals are starving for a better option opposite A.J. Green.
I thought we were heading for a blowout when it was 17-3 in the 2nd quarter but the Bengals are right back in this thing. Should be a great 2nd half between these two playoff caliber teams.
The most impressive player so far has been Bengals running back BenJarvus Green-Ellis, who has rumbled for 62 yards and a touchdown. He's running hard and provides Cincy with that consistent running back that haven't since Cedric Benson's first season in town.
A.J. Green has been held to only three catches for 39 yards thus far. It's clear that the Ravens are doing anything they can to limit his effectiveness.
At halftime the Ravens lead 17-10 over the rival Bengals.
Joe Flacco has looked confident and crisp, connecting to Torrey Smith on some deep passes and a beautiful touchdown pass to Anquan Boldin. Cincinnati dropped a couple near interceptions but those will be forgotten by tomorrow morning.
BenJarvus Green-Ellis with a six yard touchdown run. Ravens lead 17-10 with :08 left in the 1st half.
What a run by The Law Firm. He literally dragged two Hall of Famers into the endzone on that play. Great free agent pickup by the Bengals. He's been running hard all night.
Ray Lewis tips the Dalton pass in the end zone and forces 4th and 1. He's still got it folks.
It'll be HUGE if the Ravens can hold the Bengals here on 3rd and 1 and limit Cincy to another field goal.
Bengals offense is moving pretty well. Dalton hooked up with Hawkins on a 27 yard run and catch. Brandon Tate getting some action too. Looking for options with A.J. Green being blanketed.
This article is
What is the duplicate article?
Why is this article offensive?
Where is this article plagiarized from?
Why is this article poorly edited?