Step-by-Step Guide for L.A. Lakers to Win the 2013 NBA Title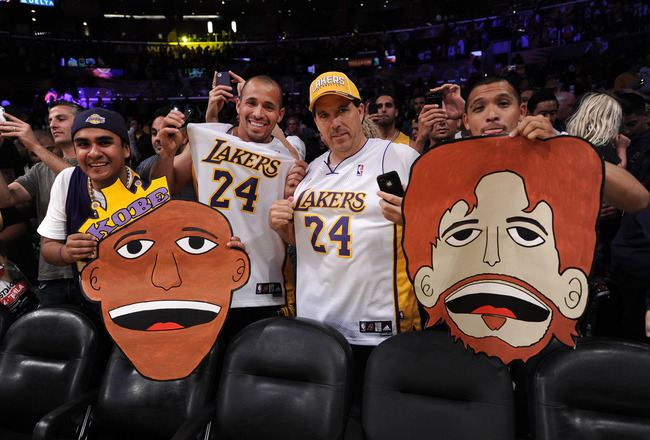 Harry How/Getty Images
When a foundation is set in place, a plan must be created to maximize the potential of such a layered congregation of pieces. Upon following that plan and executing each point of attack to perfection, there is no reason to doubt that the end goal can be reached.
For the Los Angeles Lakers, that paragraph is of supreme importance.
There is no way to avoid how talented this roster is. With All-NBA acquisitions Steve Nash and Dwight Howard, the Lakers have gone from one of the most star-studded franchises in all of basketball to the single most powerful collection of players around.
If the team is unable to take home championship gold, however, none of this truly matters.
To help guide the Los Angeles Lakers to a title, the following slides will outline what it is that the unit needs to do on a step-by-step basis. From the individuals in need of definition to the team-wide chemistry issues, there is an uphill battle ahead of the second-coming of Showtime.
Should they follow the following slides to perfection, however, a title will be coming to Los Angeles.
1. Eliminate the "My Team" Mentality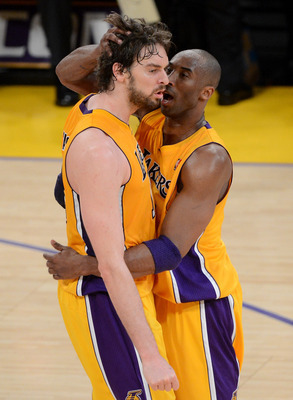 Kevork Djansezian/Getty Images
If the Los Angeles Lakers are to coexist with four All-Stars and a 17-point-per-game scorer in Antawn Jamison, there cannot be an interior battle of wills. In other words, the Los Angeles Lakers cannot be labeled as one man's team.
Not when Kobe Bryant, Pau Gasol, Dwight Howard and Steve Nash are all attempting to coexist.
The truth of the matter is, each and every one of the players previously listed is good enough to lead a team to the postseason. This has been proven by the fact that they have all done so before any of them came together in the first place.
Each and every time, the team was led by one of the Lakers' "Core Four."
Prior to any alterations to their on-court strategy, it must be defined that no individual will lead this team. The group must be able to play as one if it is to emerge from a stacked Western Conference or potentially take down the Miami Heat.
Abandoning the "my team" mentality is the first, and most pivotal, step to success.
2. Accept Pick-and-Roll as the Primary Source of Offense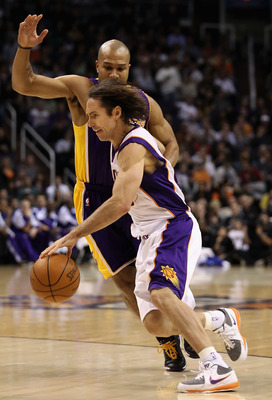 Christian Petersen/Getty Images
Although Kobe Bryant remains a key component to the Los Angeles Lakers' offensive attack, the team cannot fool themselves into thinking an infusion of talent is enough. No longer will Bryant play the role of primary ball-handler or facilitator, of course, but that does not mean that the problem is solved.
An alteration of the offensive strategy must occur.
Not only did the Los Angeles Lakers acquire one of the greatest pick-and-roll artists of all time in Steve Nash, but they picked up one of the game's current best finishers in Dwight Howard. With Pau Gasol also in the Lakers' dynamic frontcourt, it's quite clear which approach the Lakers must take.
The team's ability to score must begin and end with the pick-and-roll. As Shawn Marion and Joe Johnson showed us in Phoenix, Nash will get his perimeter scorers involved once this pattern has been established.
Fear not, Kobe fans, he will be just as productive as he's always been. The difference is, the Los Angeles Lakers will not live and die by his ability to score.
3. Allow Steve Nash to Dictate the Pace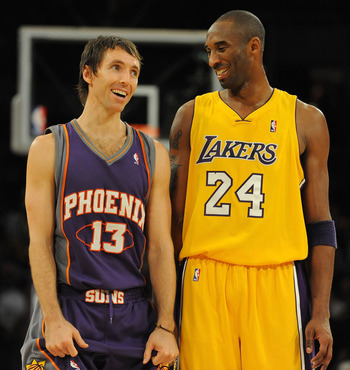 Harry How/Getty Images
If the Los Angeles Lakers are hoping to improve upon their offensive production, the best way to achieve such a feat is to place the ball in Steve Nash's hands and let him go to work. One way or another, the two-time MVP has proven time and time again that he will make it all work.
Any fan of the Los Angeles Lakers is well-aware of that fact after witnessing such transpire against them for the better part of a decade.
While Kobe Bryant has always excelled in the role of pacemaker, Nash is an offensive maestro like no other. His ability to get big men involved should lead to a bounce-back postseason from Pau Gasol and even greater production from Dwight Howard.
As for that Kobe guy, not having to create every shot he takes sure seems like it will help his aging legs.
To put it frankly, Bryant must swallow his pride here. There is no doubt about how his greatness or what he's capable of achieving. There is also no question that he is the go-to guy in the clutch. He simply cannot be the player with the ball in his hands on every given possession.
The offense must now run through Steve Nash.
4. Define Metta World Peace's Role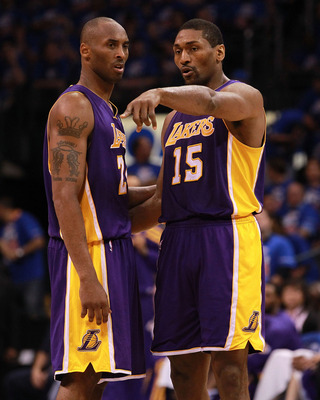 Ronald Martinez/Getty Images
With all of the hype surrounding the Los Angeles Lakers fearsome foursome, it appears as spectators have forgotten about the fact that a basketball game is played with five players on the floor. For the Los Angeles Lakers, that fifth man just so happens to be small forward Metta World Peace.
Or as some know him, the Artist Formerly Known as Ron Artest.
When he's not bashing skulls with wild elbows, MWP is playing top-notch perimeter defense. Although he's far from the athlete he once was, his strength and physicality remain an asset on the perimeter.
And that's something that the Los Angeles Lakers must embrace entering the 2012-13 NBA season.
Steve Nash is an underrated team defender. With that being said, he's weak in man-on-man coverage and Kobe Bryant simply cannot be expected to slow down an elite point guard. Due to this fact, World Peace must have his role defined early in the season.
While Dwight Howard standing behind you might be comforting, it's far from definite that he will stop every pass. More importantly, it's essential that the Lakers hold perimeter scoring to a minimum.
Otherwise, Metta World Peace's abilities will be lost and the improvement of their interior defense will be null and void.
5. Get Jodie Meeks on the Floor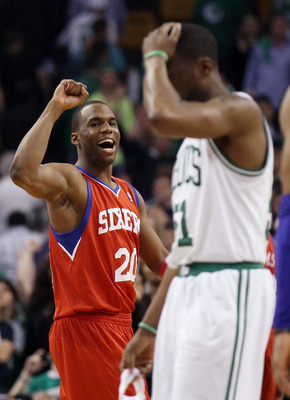 Elsa/Getty Images
Over the past two seasons of disappointment, the Los Angeles Lakers have failed to address their greatest weakness. That, of course, is the presence of a second perimeter scorer who can shoot the ball from beyond the arc.
Last season, the best three players in that category were Steve Blake, Derek Fisher, Metta World Peace and Ramon Sessions. In other words, the Lakers just didn't have anyone for Kobe to pass to.
With the signing of former Philadelphia 76ers sharpshooter Jodie Meeks, that issue has become a non-factor.
During the 2011-12 NBA regular season, the Los Angeles Lakers shot just 32.6 percent from beyond the arc. The year before, the team shot 35.2 percent but made an average of just 6.4 from distance. Jodie Meeks, meanwhile, averaged 1.5 of his own.
Consider Meeks the cure-all to the true area that the Los Angeles Lakers needed to address.
Unlike Jason Kapono and Troy Murphy, Jodie Meeks is not beyond his prime. Due to this fact, the Lakers must find a way to get the youngster on the court early and often. His ability to spot-up and shoot will spread the floor for Pau Gasol and Dwight Howard, as no one on the roster was able to do a year ago.
If the Lakers fail to do this, one of the best under-the-radar pickups of the offseason will lose his value. Even worse, the Los Angeles Lakers will not be able to contend in the three-happy league that the NBA has become.
6. Embrace the Bigs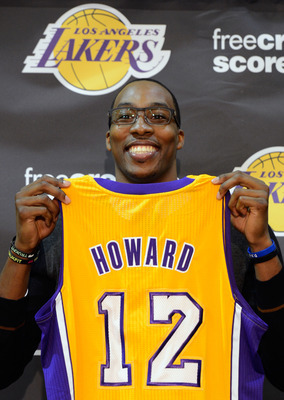 Kevork Djansezian/Getty Images
The Los Angeles Lakers have positional advantages virtually everywhere but small forward. Their greatest edge, however, is present against each and every opponent the NBA has to offer.
That, of course, would come with their unparalleled frontcourt tandem of Pau Gasol and Dwight Howard.
Rarely do you see a team form the perfect balance of an elite offensive weapon with a dominant defensive force. The Los Angeles Lakers have done just that by pairing Gasol and Howard, much like the 2004 NBA champion Detroit Pistons had Rasheed and Ben Wallace.
Or, possibly more fitting, how the 1999 San Antonio Spurs paired Tim Duncan with David Robinson.
This is not to compare the quality of each individual player with one another, but instead to acknowledge what the Lakers have created. That, of course, would be an as well-balanced a frontcourt as we have seen in recent memory.
As a result, the Los Angeles Lakers can now ride this duo to the promised land. At least, they should.
Pau Gasol may have been the subject of extreme criticism, but he remains one of the most skilled players in the NBA. His ability to score in a variety of ways and pass out of the post is as valuable as Dwight Howard's elite shot-blocking and alteration.
One way or another, turning to Gasol and Howard will lead to positive results. Each and every time out.
7. Accept Mike Brown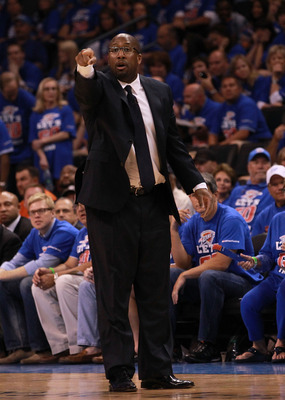 Ronald Martinez/Getty Images
Whether you love him or hate him, there is no way around the fact that Mike Brown is the head coach of the Los Angeles Lakers. For that reason, the entire organization must accept that as fact and move forward under his guidance.
Otherwise, this conglomeration of talent will be no more than that: a group of skilled players with no chemistry between them.
During the 2011-12 NBA season, it was an undeniable fact that the doubt surrounding Mike Brown's capability to lead the Lakers to a title was a distraction. As the 2012-13 regular season approaches, that can no longer be of issue.
The Lakers' players and fanbase must buy into Brown's preachings and accept him as their leader. If they are unable to do so, one of the greatest lineups ever formed will be of little to no value.
Keep Reading

Los Angeles Lakers: Like this team?